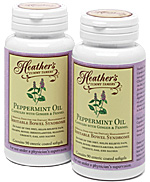 Peppermint & Fennel Oil Capsules

Help prevent abdominal pain, gas, and bloating!



In this Issue...

Food & Recipes

Special Events

Rx News & Research

Ask Heather






Get Heather's IBS Cheat Sheet!

Download, Print, and Post It!





Did you miss the latest
IBS newsletter and
Simple Carrot Ginger Bisque?

Past issues
are posted here!






















































































































































Heather's IBS Newsletter ~ For Irritable Bowel Syndrome

Did your email mangle this newsletter? Go here to view this online

November 1, 2005

This week - A Chart for Choosing IBS Treatments by Symptom

Hello to everyone -

This week we have a delicious, old-fashioned cookie recipe that's perfect for upcoming holiday baking. It's a luscious lemon bar that is, amazingly, low fat and completely dairy-free. It's also incredibly fast and easy to make.

In response to many reader questions about how to match a Tummy Care product to their specific IBS symptoms, we have a nifty new reference chart that will help you make the perfect choice! We've also got new stores carrying Heather's Tummy Care products, and, as always, the latest IBS news and research. Enjoy!

Best Wishes,
Heather Van Vorous

Did a friend send you this newsletter? Sign up here for your own free subscription.

Luscious Lemon Bars

Makes about 20 bars

Crust:
grated zest of one lemon (use the small hole side of cheese grater to zest the yellow part of the rind)
1 C all-purpose white flour
1/4 C powdered sugar
3-4 T Organic Spectrum spread (or other non-hydrogenated vegetable shortening such as Soy Garden)

Preheat oven to 350F. In a small bowl, blend all crust ingredients with your finger tips until crumbly. Press mixture firmly into an 8x8" square baking pan that has been lightly sprayed with cooking oil. Bake for 15-20 minutes, until pale golden brown.

Filling:
1 T canola oil
4 organic egg whites
1 C sugar
2 T all-purpose white flour
zest of one lemon
4 T fresh lemon juice
1/2 t baking powder

In a large bowl, blend all ingredients gently but thoroughly. Pour filling over crust (crust can be hot from oven) and bake 18-22 minutes until golden brown. Cool on rack. Dust lightly with powdered sugar before serving if you like.

For oodles of other delicious recipes, come visit the IBS Recipe Exchange board!

Are you just learning how to eat for IBS? A little intimidated at the thought of special IBS recipes? Not quite sure just what makes these recipes special in the first place? Don't worry! Come see the IBS Diet pages, and find the answers to all your questions.

~ Heather's Tummy Fiber ~
For the Dietary Management of Abdominal Pain, Diarrhea, &, Constipation



Organic Acacia ~ Pure Soluble Fiber

The prebiotic fiber that relieves both diarrhea and constipation! New Retail Stores Carrying Heather's Tummy Care Products
We're continuing our special rebate offer for people who buy Tummy Care products at their local stores, and we have new store announcements this week as well!

California
Melinda Choy, LAC
3077 Fresno Ave
South Lake Tahoe, CA 96150
530-541-9355
Please call for hours and availability

Mother's Market
225 E. 17th St.
Costa Mesa, CA 92627
949-631-4741 x2241

Pennsylvania
Bloom Naturally
330 East 5th St.
Bloomsburg, PA 17815
570-784-3357

Washington
Arbor Vitae Natural Medicine
9001A 35th Avenue SW
Seattle, WA 98126
206-933-6087

If you don't have a store in your area carrying Tummy Care products yet, please give them this flyer to ask them. Brain Activation Responses to Auditory Stimuli in IBS
A recent report in Neurogastroenterology and Motility noted that visceral hypersensitivity in irritable bowel syndrome (IBS) has been associated with altered cerebral activations in response to visceral stimuli. It is unclear whether these processing alterations are specific for visceral sensation. The results of this study indicate that a hyperreactivity to auditory stimuli suggests that altered sensory processing in IBS may not be restricted to visceral sensation. Go here for more information about this study...

Colonic Immune Activity in Patients With Irritable Bowel Syndrome
a recent article in Clinical Gastroenterology and Hepatology noted that the mechanisms behind irritable bowel syndrome (IBS) are incompletely understood. Recently several studies have suggested a low-grade colonic inflammation as initiator of the gut dysfunctions recorded in this patient group. The aim of this study was to characterize the phenotype and homing properties of colonic and peripheral blood lymphocytes in patients with IBS. The study data further support the hypothesis of IBS being at least partially an inflammatory disorder. Go here for more information about this study...

Melatonin May Reduce the Pain of Irritable Bowel Syndrome
Melatonin may reduce the pain associated with irritable bowel syndrome (IBS), according to the results of a small, double-blind study reported in the October issue of Gut. "Melatonin, a sleep promoting agent, is involved in the regulation of gastrointestinal [GI] motility and sensation," write G. H. Song, MD, from the National University of Singapore, and colleagues. "In view of the high prevalence of sleep disturbance in IBS patients, and the possible double effects of melatonin in regulating sleep pattern and bowel function, we hypothesised that melatonin may be useful in the treatment of IBS, and its therapeutic effects might be most evident if it was used in IBS patients who suffer from concomitant sleep disturbance." Go here for more information about this study...

Non-Toxic Wheat May Be an Answer to Celiac Disease
It may be possible to produce varieties of wheat that can be safely consumed by patients with celiac disease, according to Dutch researchers in the Septemberr issue of Gastroenterology. Lead investigators indicate that not all wheat varieties appear to be equally harmful for patients. This suggests that through breeding programs new varieties may be generated that will be acceptable for consumption by celiac disease patients. Moreover, such varieties may be used to prevent disease in individuals at risk. Go here for more information about this study...

Exercise Could Ease IBS
Physical activity may help reduce gastrointestinal (GI) symptoms in people who are obese. In a recent study in Clinical Gastroenterology and Hepatology, researchers found that a high body mass index (BMI) and lack of physical activity were associated with an increase in GI symptoms such as stomach pain, diarrhea, constipation and irritable bowel syndrome (IBS). Go here for more information about this study...

Looking for more IBS research and news? Check the IBS Research Library! A Tummy Care Symptom Chart?
"I'd like to try some Tummy Care products, but I'm not sure how to find the ones that are the best match for my IBS symptoms." ~ Caryn Massey, Boston

Not to worry! One of the best things about using non-drug therapies for IBS is that they're quite likely to effectively address more than one symptom at a time. They're also very unlikely to inadvertently worsen one symptom while helping another. So, you have much to gain and little to lose no matter what option you choose.

A great way to start is with products that address global IBS symptoms - the best choices here are Acacia Tummy Fiber, the First Year IBS book, and the IBS Hypnotherapy Program.

For symptom-specific choices, check the chart below, and find the options that suit your symptoms best. From diarrhea and abdominal pain (try Peppermint Capsules and Pepermint Tummy Tea for both), to constipation and bloating (try a combination of Acacia and Fennel Tummy Tea), there's a safe and effective choice just for you. For comprehensive information about any of the products, and how they specifically address IBS symptoms, just click on their pictures.

Not sure that your symptoms actually are IBS? It's important that you don't self-diagnose this disorder - only a doctor can tell you that you do in fact have Irritable Bowel Syndrome, as other diseases can cause similar symptoms. If you're unsure, there's full diagnostic information and medical facts in the IBS Glossary. Inform yourself first, make sure you get a valid diagnosis from your physician, and then you'll be ready to start tackling your most troublesome symptoms. ~ Heather

Please note that products are checked for the very best matches. Most products help multiple symptoms, so even if a particular symptom is not checked it may well be a secondary benefit of a product.

You are receiving this email because you have expressed interest in IBS news and information.




Change your newsletter email address here.

If you are viewing this newsletter on a website and would like to subscribe for email delivery, please "Join the IBS Newsletter" here.

ANTI-SPAM PRIVACY & SECURITY POLICY

HelpForIBS.com
Heather's Tummy Care
80 S. Washington St, #304
Seattle, WA 98104 USA

© 2005 Heather Van Vorous, Heather's Tummy Care. All rights reserved.