About Heather Van Vorous, HelpForIBS.com, & Heather's Tummy Care
We are dedicated to serving people with IBS.
IBS advocate, author, and patient expert Heather Van Vorous is our founder. Our mission is to offer education, support, and help that allows people with Irritable Bowel Syndrome to successfully manage their symptoms through simple, safe and effective lifestyle changes.
Our patient support site HelpForIBS.com provides comprehensive diagnostic and treatment information for adults and children with Irritable Bowel Syndrome. Our IBS shopping site
HeathersTummyCare.com
offers tangible help and products for preventing and relieving IBS symptoms. Both are owned and operated by Heather & Company for IBS, LLC.
We were founded in 2001 by
Heather Van Vorous
. Heather now offers
private IBS coaching
. Appointment availability is limited.
Heather Van Vorous

, BA, MA, an IBS sufferer since age 9, is the company founder, CEO, and

author

of the two best-selling IBS books in North America, Eating for IBS and the First Year: IBS. Her husband, William Van Vorous, is the company COO.

HelpForIBS.com is the largest IBS organization in the world. Please contact Heather's Tummy Care for more information.


| | | |
| --- | --- | --- |
| |      | Our mission is to offer education, support, and help that allows people with Irritable Bowel Syndrome to successfully manage their symptoms through simple, safe and effective lifestyle changes. |
Who's Heather?
Read her story
"I have had IBS for more than forty years, beginning in childhood, although I was undiagnosed for the first six years (and told by my pediatrician to "quit whining" as the pain was "all in my head"). I had no choice but to try and learn how to control the disorder on my own, which took many years of (often excruciating) first-hand experience and a great deal of research. I'm now a health and special diet cookbook author, the developer of organic medical foods for managing IBS symptoms, and I have an ongoing personal interest in helping others with bowel disorders.


Video Interview with Heather Van Vorous ~
Irritable Bowel Syndrome: The Importance of Diagnosis

This website truly originated in 1998 as an email letter I sent to other people with IBS, simply sharing what had helped me in the hopes that it would work for them as well. That letter grew to over 200 pages and eventually evolved into Eating for IBS the only explicit dietary guide and cookbook for people with bowel disorders. Eating for IBS then led to my second book, The First Year: IBS, a comprehensive view of the disorder and every way to successfully manage it. Together, these works have become the two best-selling, best-reviewed IBS books in America, and resulted in my inclusion in the Marquis 4th edition of Who's Who in Medicine and Healthcare. Foreign publication is now in progress as well.

Eating for IBS was honored as a finalist for an IACP Julia Child Cookbook Award. The International Association of Culinary Professionals named Eating for IBS as one of three award finalists in their Health and Special Diet Category. The IACP Julia Child Cookbook Awards annually celebrate the most outstanding food and beverage publications. The award, the "Crystal Whisk", has become the industry's most coveted acknowledgement of excellence in the cookbook publishing world.

Eating for IBS excerpts and recipes have been licensed by Novartis Pharmaceuticals, and the dietary information has been used by physicians and dietitians across the USA, Canada, UK, and Australia for IBS patient distribution. Eating for IBS is recommended by the Radiology Department of the Cancer Centre in Birmingham, England, for treatment of radiation enteritis, under the leadership of Dr. John E. Arnfield BSC, Senior Radiographer.

My writing has led to an ongoing Canadian clinical research study of the groundbreaking dietary guidelines in Eating for IBS, in the gastroenterology practice of Dr. Noel Hershfield, MD, at the University of Calgary. Today's Dietitian has featured my IBS dietary guidelines, and I regularly exhibit at the international Digestive Disease Week conference to reach gastroenterologists and internists. I have appeared on News Night MD with Dr. Theodore Bayless, professor of medicine and director emeritus of the Meyerhoff Digestive Disease-Inflammatory Bowel Disease Center at Johns Hopkins Medicine, and with Dr. David B. Posner, Chief of Gastroenterology at Mercy Medical Center in Baltimore.

My work in IBS has been cited for excellence and used by the Dutch IBS Association, and presented to the European Associations for IBS by President Fien Stellingwerff Beintema in Paris, since September 2003.

I founded the Heather's Tummy Care line of organic medical foods for the dietary management of IBS symptoms in 2003. Ongoing IBS events, awards, and accolades are detailed here. As a result, I've become recognized as the foremost "patient-expert" on Irritable Bowel Syndrome in America, and I am included in Google Scholar.

I hosted Heather Cooks!, the television cooking show for good digestive health, and I'm currently at work on my next IBS book. I can't honestly say that I'm grateful for having IBS, but I am truly thankful for all of the positive things that have (very unexpectedly!) come from it, and for all of the wonderful other folks with IBS whom I've now met along the way. Thousands of these people, from countries all over the globe, have written personal thank you letters to me, and have touched my heart.

For far too many years I thought I was the only person in the world with IBS - but now I know for a fact that I am not alone.
"
Who's Will?
"I'm the person who first encouraged Heather to turn her ideas and work towards helping people with IBS into a true business venture. Her calling has now become a full-time profession for both of us. I've seen first-hand the devastating impact IBS can have on a person's life, and how dramatic the improvements can be when someone is simply given the information and tangible help they need to control their symptoms. To this end, I feel quite privileged to be part of a company dedicated to helping so many millions of people who have previously had nowhere else to turn."
Heather's Tummy Care currently offers extensive information, products and services for Irritable Bowel Syndrome, including distribution of the world's best-selling and best-reviewed books for IBS. Our
products
are available online or across the US in
stores and medical practices
. Heather's Tummy Care wholesale information for vendors is
available here
.
We provide the internet's most helpful IBS web site resources, a twice-monthly
IBS Newsletter
(the web's largest), seminars and classes,
dietary brochures
for patient distribution by health care professionals, and
Heather Cooks!
, a healthy cooking show on Seattle television and DVD. Much of our work is based on Heather's development of the first and only comprehensive IBS dietary guidelines and recipes, an achievement which has earned her numerous
awards and accolades
.
Heather's Tummy Care also provides the only patient-expert moderated
Irritable Bowel Syndrome Message Boards
on the internet with forums for diet, recipes, hypnotherapy, yoga, Crohn's and Colitis, plus the IBS Research Library. We support and coordinate the formation and continuation of local in-person IBS support groups across the USA, Canada, the UK, Australia, and New Zealand.
Our company is committed to caring for the environment and society.
To that end, we are an
organic certified facility
, a
kosher certfied facility
, and we feature cruelty-free organic certified products in re-fillable / re-useable containers. What does it mean that we're organic? Among other things, it means that we use:
* no pesticides
* no synthetic or sewage fertilizers
* no herbicides
* no GMO (genetically modified organisms)
* no preservatives
* no chemical additives
* no irradiation
* no animal testing
Organic certification also means that our products are harvested using good ecology, resulting in enriched soil, less soil erosion, and farming which respects the environment. We source materials from vendors who work in cooperation with local farmers to support their communities and promote sustainable agricultural practices.
We use recycled materials whenever possible and our corporate office recycles all paper, glass, plastic, and cardboard. We are in the process of becoming a solar-powered facility. We are dedicated to fair worker policies including livable wages, health care, free public transportation, and safe working environments.
Our goal is to do good in the world - not just for IBS, but for our employees, our customers, our natural world and its magnificent creatures, and both our local and global communities. We contribute to national and international environmental and wildlife protection funds.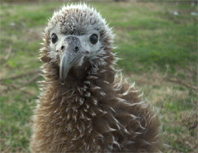 Midway albatross chicks starve
to death on plastic ocean garbage.
Speak Up, Act Now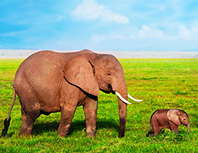 Help us end elephant slaughter.
Speak Up, Act Now
Our website receives 5 million visits each year, and our newsletter is sent to over 250,000 subscribers with IBS.
We are regular exhibitors at the Digestive Disease Week and Natural Products West Expo conferences.