IBS News & Heather's IBS Blog Newsletter

The best source of Irritable Bowel Syndrome news! To join the blog newsletter, subscribe below.
Or jump right to the
IBS Message Boards
for an active community of help!
All past newsletters are
archived here
, as are
IBS Quick Tips.
The IBS Newsletter features news, diet info & recipes, research, and more.
Change your email address here
if you're already subscribed.
Full Archive: IBS Blog Newsletter 2002 - Current
Recent Blog Newsletter Highlights...
Prebiotics More Effective than Low FODMAP Diet for IBS?
Heather's Tummy Tamers Peppermint Oil Caps Now Soy & Allergen Free!
Is Coffee an IBS Trigger?
Watch the Brain-Gut Disorder Behind IBS Attacks
Quick Tip! Safe Drinks for IBS?
Heather's Tummy Fiber is a Slay Ingredient in JJ Smith's Green Smoothie!
Special Letter - After 15 Years a Wonderful IBS Update!
Heather's IBS diagnosis interview. Her story &amp how to avoid the same struggles.
IBS News Briefs 06/07/17 - Trauma changes gut bacteria! Change your brain, change your bowels. Chewing gum and C-sections?
All About IBS: The Real Raw Truth, What Helps, What Hurts!


IBS News Briefs 03/21/17 - FDA gives IBS drug Viberzi warning. Gut bacteria, IBS and brain disorders.

Fun Interview with Heather: Healthy Living with Chef AJ


IBS News Briefs 02/26/17 - IBS challenging for docs. 5 foods to avoid. What does your gut think?


Interview with Heather: Podcast #028, Journey into the Low FODMAP Diet:
Heather Van Vorous Explains The Benefits Of An IBS Diet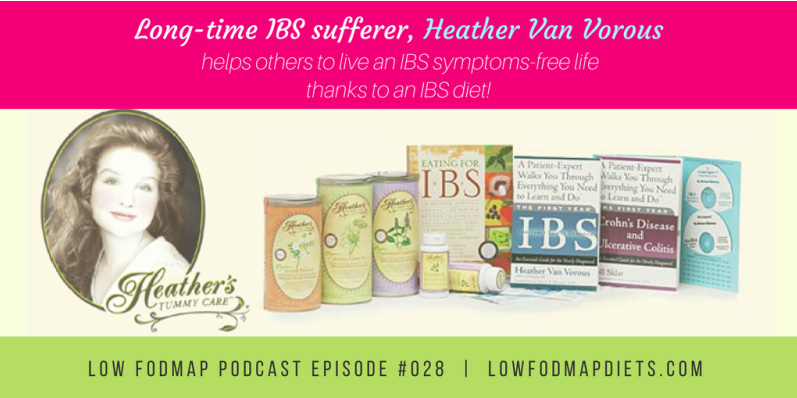 CVS Stores Carry Heather's Tummy Tamers Peppermint Oil Caps Nationwide