IBS News & Heather's IBS Newsletter

The best source of Irritable Bowel Syndrome news! To join the newsletter, subscribe below.
All past newsletters are
archived here
, as are
IBS Quick Tips.
The IBS Newsletter features news, diet info & recipes, research, and more.
Change your email address here
if you're already subscribed.
Full Archive: IBS Newsletters 2002 - Current
Recent Newsletter Highlights...
04/17/18 - Bowel fermentation? Can't get off antidepressants? 10 recent IBS findings!
03/22/18 - Watch the Brain-Gut Disorder Behind IBS Attacks
What's So Special about High Volatile Oil Peppermint for IBS Pain, Spasms and Cramps?
Quick Tip! Safe Drinks for IBS?
Heather's Tummy Fiber is a Slay Ingredient in JJ Smith's Green Smoothie!
Special Letter - After 15 Years a Wonderful IBS Update!
Heather's IBS diagnosis interview. Her story &amp how to avoid the same struggles.
IBS News Briefs 06/07/17 - Trauma changes gut bacteria! Change your brain, change your bowels. Chewing gum and C-sections?
All About IBS: The Real Raw Truth, What Helps, What Hurts!


IBS News Briefs 03/21/17 - FDA gives IBS drug Viberzi warning. Gut bacteria, IBS and brain disorders.

Fun Interview with Heather: Healthy Living with Chef AJ


IBS News Briefs 02/26/17 - IBS challenging for docs. 5 foods to avoid. What does your gut think?


Interview with Heather: Podcast #028, Journey into the Low FODMAP Diet:
Heather Van Vorous Explains The Benefits Of An IBS Diet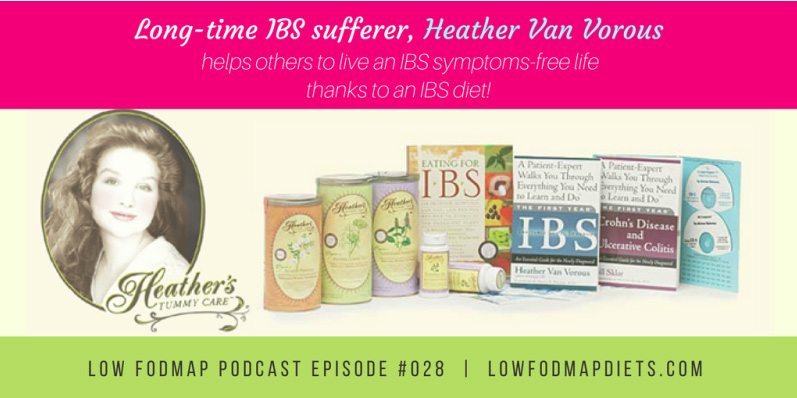 CVS Stores Carry Heather's Tummy Tamers Peppermint Oil Caps Nationwide