Heather's IBS Diet Chart Cheat Sheet
Gives you the IBS diet plan you need to stay stable, right at your fingertips! Printer-friendly, full color with easy to read charts.
Learn all about:
IBS Trigger Foods

The stimulant and irritant foods that trigger the dysfunctional gastrocolic reflex that underlies IBS symptoms.

IBS Safe Foods

These help prevent IBS symptoms in the first place.

Soluble Vs. Insoluble Fiber for IBS

What's the difference? One fiber helps, but the other fiber can hurt!

The 10 Commandments of Eating for IBS

It's not just WHAT you eat with IBS, it's also HOW you eat. Learn the key diet strategies to keep all IBS symptoms stable.

More! IBS recipe tips, cooking tricks, and fast facts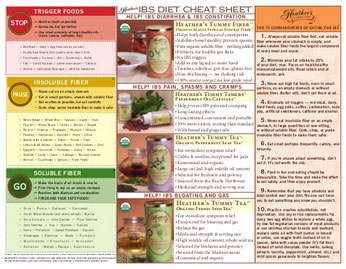 The IBS Diet Cheat Sheet is meant to be printed out, and is suitable for use by both health care professionals and IBS patients. Once the chart is printed you can carry the IBS info with you, tape it up on the fridge at home, keep a copy in the car for tips when traveling, etc.
The IBS diet cheat sheet is your instant guide to IBS safe foods, IBS trigger foods,
how
to eat for IBS, the 10 Commandments of Eating for IBS, and other crucial IBS diet information!
Take immediate control of your IBS symptoms with the IBS Diet Kit.
Wondering if the
Eating for IBS
diet info really helps?
See what people have to say
.
Who is Heather and where did the
Eating for IBS
diet come from?
Read her story
.
IBS Diet Chart - Excerpted from Eating for IBS.
All IBS dietary information is copyrighted and MAY NOT BE REPRODUCED without permission.