Did your email mangle this newsletter? Copy and paste this address into your browser window:
http://www.helpforibs.com/news/newsletter/052405.html or go here to see it online.



May 24, 2005

This week - Peppermint Tummy Tea and Fennel Tummy Tea in Cans and on Sale!

Hello to everyone -

This week we have something super special for members of the IBS Newsletter. We finally have Fennel Tummy Tea and Peppermint Tummy Tea in canisters, and they're both on sale only through this newsletter!

Have you been considering trying these incredibly helpful herbs for your IBS symptoms? Check this week's Ask Heather column to learn why you should. The tea canisters hold organic, high volatile oil fennel or peppermint teas developed specifically for IBS. The cans are fully re-sealable, durable, and beautiful, and easily re-filled with Tummy Teas from the bulk foil bags. Even better, we're continuing our special rebate offer for people who buy at their local stores.

Plus, we've got a fantastic Italian pasta recipe, and, as always, the latest IBS news and research, too. Enjoy!

Best Wishes,
Heather Van Vorous

Did a friend send you this newsletter? Sign up here for your own free subscription.

Linguine with Calamari and Garlic White Wine Sauce

This recipe is a delicious example of how insoluble fiber foods that are healthy for you (garlic, basil leaves) but potentially IBS triggers can be safely incorporated into a soluble fiber foundation (from pasta). Boiling the sauce evaporates the alcohol from the wine, leaving only the wonderful flavor behind. Remember, eating for IBS never means sacrificing good taste!

Makes 6-8 Servings

16 oz. dried linguine
1 tablespoon olive oil
8 anchovies, rinsed of oil and drained
6 large garlic cloves, minced
1/4 cup capers
1 1/2 cups dry white wine
1/2 cup packed basil leaves, finely shredded
1 lb. calamari steaks, cut into bite size pieces

Cook pasta in a large pot of boiling water until just tender but still firm to bite. Drain pasta, reserving 1 cup cooking water.

In a large non-stick skillet heat the olive oil and saute anchovies and garlic until anchovies melt and garlic is golden. Stir in the capers and wine and boil until sauce is slightly reduced, about 3 minutes. Stir in basil. Reduce heat to medium low and add calamari, cooking and stirring until just opaque. Do not overcook or calamari will be tough. Add pasta to skillet, tossing until heated through, adding reserved pasta cooking water as necessary. Serve immediately.

For oodles of other delicious recipes, come visit the IBS Recipe Exchange board!

Are you just learning how to eat for IBS? A little intimidated at the thought of special IBS recipes? Not quite sure just what makes these recipes special in the first place? Don't worry! Come see the IBS Diet pages, and find the answers to all your questions.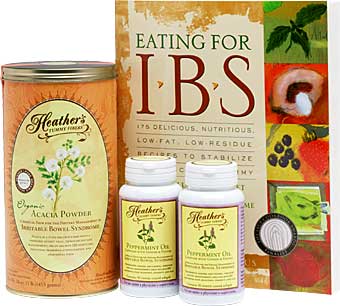 Try the IBS Diet Kit #2 - for Diarrhea AND Constipation!

Here's the immediate, tangible help you need to take control of your IBS symptoms through diet. Includes the book Eating for IBS, Tummy Fiber Acacia, and Peppermint Oil Tummy Tamers. Help regulate bowel motility and prevent painful IBS spasms!



Clinical Pharmacology of New Motility Promoting Agents
A recent Neurogastroenterology and Motility discusses recent research about drugs that could be used to treat functional motility disorders. Promotility drugs accelerate gastric emptying or colonic transit and these properties may contribute to their efficacy in treating symptoms associated with gastroparesis, functional dyspepsia or constipation. 5-Hydroxytryptamine4 receptors are targets for drugs (tegaserod, renzapride) that treat symptoms in constipated irritable bowel syndrome patients and in gastroparesis. Drugs acting at motilin (erythromycin) and cholecystokinin-1 (dexloxiglumide) receptors accelerate gastric emptying. Dexloxiglumide might be useful in the treatment of functional dyspepsia particularly that associated with lipid intake. Go here for more information about this study...

FDA Revisions to Safety Labeling for Lotronex (alosetron )
The FDA has approved revisions to the safety labeling for alosetron HCl tablets (Lotronex, made by GlaxoSmithKline) to advise of contraindications and warnings associated with its use. The FDA warns that use of alosetron has been associated with infrequent reports of serious gastrointestinal tract adverse events such as ischemic colitis and complications of constipation. Some of these events have occurred without warning and have resulted in hospitalization, but rarely have resulted in blood transfusion, surgery, or death.

Serious complications of constipation, including obstruction, ileus, impaction, toxic megacolon, and secondary bowel ischemia, have been reported in alosetron clinical trials and during postapproval use. Intestinal surgery, including colectomy, has been required in some cases. Postmarketing reports have also included rare incidences of perforation and death. The FDA notes that the risk of serious complications of constipation may be increased in patients who are elderly, debilitated, or concurrently receiving medications that reduce gastrointestinal motility. Alosetron therapy has also been associated with rare reports of ischemic colitis in clinical trials and during postapproval use. Go here for more information about this study...

IBD Patients May Benefit From Folic Acid Supplementation
A recent study in the American Journal of Gastroenterology found that homocysteine levels are increased in both the mucosa and blood of patients with Crohn's disease and ulcerative colitis, suggesting that this molecule may play a pathogenic role in intestinal inflammation. Further, the effect could be abolished by folate supplementation. The research team also observed low folate levels in the IBD patients. Folate levels were inversely correlated with homocysteine levels and, in in vitro studies, the addition of folic acid, a homocysteine scavenger, blocked the homocysteine-triggered inflammatory effects. The researchers concluded that it was reasonable to assume a beneficial effect of folic acid supplementation in IBD patients. Go here for more information about this study...

Non-Gastrointestinal Symptoms of IBS
A recent study in the Canadian Journal of Gastroenterology by Dr. Noel Hershfield noted that Irritable bowel syndrome (IBS) is the most prevalent gastrointestinal problem faced by practicing gastroenterologists. For many years, nongastrointestinal symptoms have been documented in IBS patients, but the medical literature does not emphasize them. The study explored how IBS and inflammatory bowel disease patients differ in their reporting of nongastrointestinal symptoms. Comparison of the data revealed that IBS patients describe certain nongastrointestinal symptoms far more frequently than do those with inflammatory bowel disease. Go here for more information about this study...

Dr. Hershfield is currently conducting a groundbreaking clinical trial of the dietary guidelines original to the book Eating for IBS. You can participate in his study, and help change the way all physicians treat their IBS patients!

Looking for comprehensive IBS research and news?
Check here in the IBS Research Library!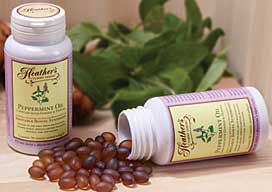 Peppermint Oil Caps with Fennel and Ginger Are Amazing!

Our Peppermint Oil Caps, with the added benefits of fennel and ginger oils,
are a medical food truly unbeatable for the dietary management of IBS abdominal pain, spasms, and bloating!

Herbs for IBS
"I'd rather not take prescription drugs for my IBS, but I'm not sure what natural alternatives are safe and effective. Are there herbal medicines for IBS abdominal pain, bloating, and gas? ~ Erika Strom, Surrey, BC

The idea that herbs are nature's medicines is especially true when it comes to IBS. According to the American Botanical Council, whose mission continues the historical tradition of disseminating scientific information that promotes the safe and effective use of medicinal plants, two herbs are particularly effective for IBS symptoms: peppermint and fennel.

Peppermint is an exceptional stand-out for its multi-symptom effectiveness. This herb is safe for daily use and has no risk of short- or long-term side effects, which is a terrific plus when you compare it to prescription drugs.

Mint is actually one of the oldest of herbs. It was used by the ancient Assyrians, and was common to the ancient Greeks and Romans, who recognized it as a pain-killer. The mint-after-a meal custom in fact dates back to ancient Rome, and Pliny, the first-century Roman historian and scientist, included mint in his Natural History in 77 A.D. Mint was not used formally in medicine until the mid-18th century, but mint tea has been a favorite cure for indigestion since Biblical times. Modern peppermint is actually a hybrid of water mint and spearmint, and has stronger medicinal properties than either of the two originating plants.

Peppermint's pain-killing properties have been recognized for millenia. Menthol and methyl salicylate are the main active ingredients of peppermint. Internally, they have anti-spasmodic actions, with calming effects on the muscles of the stomach, intestinal tract, and uterus. They also have powerful analgesic (pain-killing) properties, which are mediated, in part, through activation of kappa-opioid receptors, which help block pain signal transmission.

Peppermint is extremely useful for indigestion, gastrointestinal spasms, and menstrual cramps. It is anti-bacterial, increases gastric juices, and relieves gas, nausea, vomiting, and morning sickness. Peppermint also contains essential oils that stimulate the gallbladder to secrete its store of bile, which the body uses to digest fats. This makes peppermint a wonderful digestive aid after heavy meals. It also improves the function of the muscles that line the stomach and intestines, relieves diarrhea, and has a calming, numbing effect on the entire GI tract.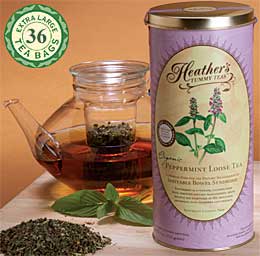 Peppermint Tummy Tea ~ On Sale!

My Peppermint Tummy Tea™ was actually developed as an organic medical food that, through dietary management, helps relieve the symptoms of IBS. Clinical studies have shown that peppermint is exceptionally beneficial for IBS abdominal pain and spasms, diarrhea, and urgency.

Tummy Tea™ is unique because it is specially formulated to contain a very large leaf size and the highest possible volatile oil content (both factors are integral to the quality and potency of peppermint). Our peppermint is organically grown in the Pacific Northwest, which is renowned for producing the best peppermint leaf in the world. It comes from the most recent possible harvest date, it is processed for minimal volatile oil dissipation, and it is packed to stay as fresh as possible. It is the volatile oils in peppermint that make it so effective for the dietary management of IBS symptoms. Tummy Tea™ has a volatile oil level of over 2%, which is exceedingly high (twice as high as that of many tea bags). The high potency and quality of Peppermint Tummy Tea™ make it tremendously helpful for your gut, with a very noticeable soothing effect on your GI tract.

Personally, I find peppermint to be the strongest IBS anti-spasmodic and pain reliever of all herbs, and I really appreciate its noticeable whole-body mild anesthetic effect, particularly when it's brewed very strong. I also love that Peppermint Tummy Tea™ can ease my IBS symptoms virtually immediately (something no prescription drug has ever done for me). From the first sip to the end of the cup I can feel a tremendous improvement - in fact, peppermint is the only thing I've ever found that can completely stop an IBS in its tracks, and for that I am extremely grateful.

In fact, peppermint is such a powerful GI muscle relaxant that it can trigger GERD (Gastroesophageal Reflux Disease) or heartburn in people who are susceptible. If you are prone to these upper GI problems, choose fennel instead.

The United States once listed fennel as an official drug to be used for digestive problems, and today the herb is still used daily as an after-dinner digestive aid from India to Italy to Spain. Fennel, like peppermint, is classified as GRAS (generally recognized as safe) by the FDA - there are no limitations on its use as a daily digestive aid. Fennel is so safe it's even used to treat infants with colic.

Fennel Tummy Tea™ was actually developed as an organic medical food that, through dietary management, helps relieve the symptoms of IBS. Clinical studies have shown that fennel, as part of the diet, helps regulate contractions of the small intestine and aids gas expulsion. Fennel also relaxes the gut, which can relieve spasms of the GI tract. As a result, fennel assists in the dietary management of IBS symptoms, and is exceptional for IBS bloating, gas and abdominal pain. Fennel is also a traditional digestive aid for colic, heartburn, indigestion, and stomachaches.

Tummy Tea™ is unique because it is formulated to contain a high volatile oil content (1.5% minimum) and whole seed size; as with peppermint, both of these factors are integral to the quality and potency of the herb. Our fennel is harvested and packaged to be as fresh as possible; and it is processed for minimal volatile oil disspation. It is the volatile oils in fennel that make it so effective for the dietary management of IBS symptoms, particularly bloating and gas.

Fennel's primary volatile oils are anethole, fenchone, and estragole. Anethole has a chemical structure similar to dopamine, a chemical that is naturally present in the body. Dopamine is known to have a relaxing effect on the intestine. Fennel also has antioxidant and antimicrobial properties, probably also as a result of the anethole, which has been shown to be anti-inflammatory, antibacterial and anticarcinogenic.

Both Peppermint and Fennel Tummy Teas™ are packed in very generous quantities because they're meant to be used daily as medical foods for IBS; brew a strong cup of tea several times a day, every day, as part of your dietary management of IBS symptoms. Feel free to use them liberally both in terms of brewing strength (try 2 full tablespoons per cup) and frequency. Peppermint and fennel both work best when you're using them regularly, not saving them for special occasions.

Tummy Teas™ are certified organic and are guaranteed to be the freshest, strongest, and most delicious peppermint and fennel available. If you're used to drinking tea from store-bought tea bags, you'll find the difference in strength, effectivenesss, and taste of Tummy Teas™ nothing short of astonishing.

Brew peppermint and fennel with boiling water, but do not actually boil the herbs in water as this can destroy their volatile oils, and thus their effectiveness. Peppermint and fennel are naturally caffeine-free, and the stronger you brew them the more effective they will be. Both teas can be chilled into iced tea, but remember that ice-cold beverages on an empty stomach can trigger GI spasms, whereas the heat in hot teas is in and of itself a muscle relaxant. The stronger the teas, the more pronounced their beneficial effects on your digestion, so don't be afraid to make a dark brew!

~ Heather

Heather & Company for IBS, LLC is dedicated to serving people with Irritable Bowel Syndrome. Our mission is to provide education, support, and products that allow people with IBS to successfully manage their symptoms through lifestyle modifications.

We offer extensive information and tangible help for IBS, including the world's best-selling and best-reviewed books for the disorder. We provide the internet's top IBS web site resources; a twice-monthly IBS Newsletter; seminars and classes; dietary brochures for patient distribution by health care professionals; an IBS Research Library; and Heather Cooks!, a healthy cooking show on Seattle television. Much of our work is based on Heather's development of the first and only comprehensive IBS dietary guidelines and recipes, an achievement which has earned numerous awards and accolades as well as thousands of thank you letters from IBS sufferers.

Heather & Company also provides the only patient-expert moderated IBS Message Boards on the internet with forums for diet, recipes, hypnotherapy, yoga, plus Crohn's and Colitis. In addition, we support and coordinate the formation and continuation of local in-person IBS support groups across the USA, Canada, the UK, Australia, and New Zealand. We will soon have other IBS services and products available.

Our website receives nearly 3 million visits each year, and our newsletter is sent to over 35,000 people. We are regular exhibitors at the Digestive Disease Week and American Dietetic Association conferences.

Sponsorship opportunities are available for the message boards and this newsletter for companies and/or products that have been legitimately established as helpful for digestive disorders. Please contact us for information.

You are receiving this email because you have expressed interest in IBS news and information.


To unsubscribe from Heather's IBS Newsletter, go here http://www.helpforibs.com/news/unsub.asp or send an email to help@helpforibs.com.

Change your newsletter email address here.

If you are viewing this newsletter on a website and would like to subscribe for email delivery, please "Join the IBS Newsletter" here.

ANTI-SPAM PRIVACY & SECURITY POLICY
LEGAL DISCLAIMER - This email is not intended to replace the services of a physician, nor does it constitute a doctor-patient relationship. Any application of the recommendations in this email is at the reader's discretion. Heather Van Vorous and Heather & Company for IBS, LLC are not liable for any direct or indirect claim, loss or damage resulting from use of this email and/or any web site(s) linked to/from it. Readers should consult their own physicians concerning the recommendations in this email.


HelpForIBS.com
Heather & Company for IBS, LLC
80 S. Washington St, #304
Seattle, WA 98104 USA

© 2005 Heather & Company for IBS, LLC. All rights reserved.