Did your email mangle this newsletter? Copy and paste this address into your browser window:
http://www.helpforibs.com/news/newsletter/041205.html or go here to see it online.

April 12, 2005

This week - Getting Rid of Gas!

Hello to everyone -

This week we tackle the issue of gas, one of the most frustrating symptoms of IBS. We'll also learn a lot about prebiotics and probiotics (both terrific for IBS and gut health), and chase away spring showers with a sunny orange shrimp fajita recipe. As always, we've got the latest IBS news and research, too. Enjoy!

Best Wishes,
Heather Van Vorous

Did a friend send you this newsletter? Sign up here for your own free subscription.

Sizzling Shrimp Fajitas with Smoky Orange Marinade

Makes 6 Servings

1 1/2 lbs. shelled and deveined raw shrimp (or red snapper, catfish, or rock cod)

Make a marinade by stirring together in a glass pie plate:
1/4 cup fresh lime juice
1/4 cup fresh orange juice
1 tablespoon olive oil
4 minced garlic cloves
1 teaspoon ground chipotle pepper OR smoked paprika*
2 tablespoons minced fresh cilantro

fresh flour tortillas for serving

Add shrimp (or fish) and marinate for 20 minutes. Remove shrimp from marinade and grill or broil just until cooked through, turning once. Shrimp will cook more quickly than fish, approximately 2 minutes per side. Exact time for fish will depend on the thickness of the fillets - typically, 10 minutes per inch, total. Serve in fresh flour tortillas, and customize your fajitas with small amounts of the following:

diced avocado
finely shredded cabbage
thinly sliced onion
diced tomato
fresh chopped cilantro

For oodles of other delicious recipes, come visit the IBS Recipe Exchange board!

Are you just learning how to eat for IBS? A little intimidated at the thought of special IBS recipes? Not quite sure just what makes these recipes special in the first place? Don't worry! Come see the IBS Diet pages, and find the answers to all your questions.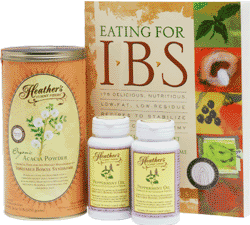 Try the IBS Diet Kit #2 - it's 20% off full price!

Here's the immediate, tangible help you need to take control of your IBS symptoms through diet! Includes the book Eating for IBS, Acacia Tummy Fiber, and Peppermint Oil Capsules. Normalize both constipation and diarrhea, reduce bloating & gas, and prevent painful spasms!



Heather's Tummy Care for IBS is in Retail Stores!

I'm tickled to announce the first stores in the US to carry Heather's Tummy Care products for IBS. We're just beginning to expand into retail stores, and it will likely take a while until we're in a wide variety of stores nationwide, but we're off to a great start! Starting this coming weekend (call first to make sure their stock has arrived), you can now find help for IBS at the following locations:

California
Health and Water Store
1180 Forest Avenue, Suite B
Pacific Grove, CA 93950
831-373-8933

Health Becomes You
5000 North Parkway Calabasas, Suite 219
Calabasas, CA 91302-1400
818-224-3622

Iowa
Campbell's Nutrition
4040 University Ave
Des Moines, IA 50311
515-277-6351

Michigan
Irene's Myomassology Institute
26061 Franklin Rd
Southfield, MI 48034
248-350-1400

Nevada
Wellness 2000
1234 Wyoming Street
Boulder City, NV 89005
702-293-3169

Texas
Family Nutrition Center
1646 W. Henderson, Suite E
Cleburne, TX 76033
817-645-1993

If you don't see a store near you, go here to let your local retailer know about Heather's Tummy Care. Keep checking the IBS Newsletter as we'll continue to announce new stores and locations!

Bowel Habit in Irritable Bowel Syndrome in Women
A March study in Gastroenterology aimed to use Rome II criteria to prospectively assess change in bowel habit for more than 1 year to understand IBS-A (IBS that alternates between diarrhea and constipation). Female patients were studied at baseline with questionnaires and 2-week daily diary cards of pain and stool frequency and consistency. Studies were repeated at the end of treatment (3 months) and at four 3-month intervals for one more year. While the proportion of subjects in each subgroup remained the same over the year, most individuals (more than 75%) changed to either of the other 2 subtypes at least once. While the proportion of subjects in each of the IBS subtypes stays the same, individuals commonly transition between subtypes. The study recommended that IBS-A be defined as at least one change between IBS-D and IBS-C by Rome II criteria over a 1-year period. Go here for more information about this study...

IBS is a Risk Factor for GERD
A recent study in Alimentary Pharmacology found that IBS was a risk factor for the development of gastro-oesophageal reflux disease. The community study examined 4000 subjects, stratified by age, gender and ethnicity to be representative of the local population. Gastro-oesophageal reflux disease symptoms were defined as at least weekly heartburn or acid regurgitation. The prevalence of gastro-oesophageal reflux disease symptoms was 21%. Smoking, excess alcohol, irritable bowel syndrome, increasing body mass index, a family history of upper gastrointestinal disease, increasing Townsend deprivation index, anticholinergic drugs, weight gain, antidepressant drugs, inhaled bronchodilators, no educational attainment, south Asian origin, and manual work were associated with gastro-oesophageal reflux disease symptoms. Go here for more information about this study...

Fructose Intolerance in IBS
Food makers could one day face demand for fructose-free products as two new studies link the sugar found in fruits to a role in gastrointestinal disorders. Research presented at the annual meeting of the American College of Gastroenterology looks at the role that diet plays in gastrointestinal disorders such as irritable bowel syndrome (IBS) and dyspepsia. The preliminary findings suggest that both fructose, the simple sugar found in honey and many fruits, and fat contribute to symptoms of IBS.

Although lactose intolerance is well-known, fructose intolerance is just beginning to be recognised. Dr Young K. Choi and colleagues from the University of Iowa Hospitals and Clinics found previously that one-third to one-half of patients with IBS symptoms are fructose intolerant. "A fructose-restricted diet significantly improved symptoms in patients with IBS and fructose intolerance," said Dr Choi. "Fructose intolerance is yet another piece of the IBS puzzle, whose treatment - when adhered to - confers significant benefits." Go here for more information about this study...

"Good" Bacteria Help IBS as much as Drugs Zelnorm and Lotronex
A drink containing a probiotic strain isolated from infants relieved symptoms of irritable bowel syndrome to the same extent as pharmaceutical treatments for the condition, report Irish researchers.

The team from the Alimentary Pharmabiotic Centre, set up last year at Ireland's University College Cork to investigate bacteria and gut health, found that patients who consumed a malted milk drink containing Bifidobacterium infantis 35624 everyday for eight weeks experienced fewer overall symptoms, abdominal pain and discomfort. The symptom relief was comparable to that seen with Zelnorm (tegaserod) and Lotronex (alosetron), drugs that have been recently approved for the treatment of irritable bowel syndrome (IBS). For the study, published in the March issue of Gastroenterology, 77 people with IBS were asked to drink a malted milk drink every morning. The subjects recorded their symptoms.

"Our hypothesis is that low-grade inflammation is a factor in IBS and that certain probiotic bacteria can reduce this inflammation. We have some evidence to support this theory because our paper shows a change in cytokine ratios after the probiotic treatment," said Dr Quigley. He added that further clinical trials are ongoing and research into the mechanism will also be carried out by the team. Go here for more information about this study...

Looking for comprehensive IBS research and news?
Check here in the IBS Research Library!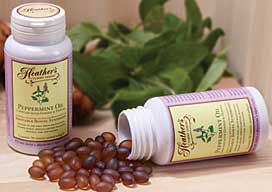 Peppermint Oil Caps with Fennel and Ginger Are Amazing!

I think our Peppermint Oil Caps, with the added benefits of fennel and ginger oils, are truly unbeatable for gas, abdominal spasms, and bloating!

Gas & Irritable Bowel Syndrome
"Gas is one of the worst IBS symptoms for me. Does this have something to do with good or bad bacteria in my gut? What can I do about this? ~ Ryan Zimmerman, Detroit, MI

Gas is probably one of the most embarrassing IBS symptoms, and it can be difficult to talk about. Fortunately, gas tends to be one of the easier IBS symptoms to reduce and control, and results can usually be seen very quickly.

Gas is actually a perfectly normal result of human gut function, and it has two sources: gas in the GI tract can come from swallowed air or from the normal digestion of certain foods. People with IBS can also (but don't always) produce more gas than a normal person. However, they are prone to trapped gas due to mistimed contractions of the smooth muscles of their GI tracts (this can also cause bloating), and they have guts that are hypersensitive to normal amounts of gas, causing abdominal pain or discomfort. So, reducing gas production is important, but so is finding ways to help your body deal with the abnormal IBS response to normal amounts of gas. There are several different avenues to success here, and if you really want to tackle the problem aggressively you can combine all of them.

In a nutshell, gas from swallowed air can be prevented by: eating and drinking at a leisurely pace instead of rapidly; avoiding carbonated beverages and chewing gum; not smoking.

Gas from foods stems from the body's inability to digest certain complex sugars, starches, and fibers in carbohydrates because of a shortage or absence of the needed digestive enzymes. These undigested foods pass into the colon, where the body's normal gut bacteria breaks down the food, producing hydrogen, carbon dioxide, and, in some people, methane. Eventually, these gases have to exit the body. Beano, an over the counter product, contains the enzyme that the body needs to digest the gas-producing elements in carbohydrates. So, Beano can help prevent gas from these foods, and it is perfectly safe for IBS.

There is growing evidence that some people with IBS may be more prone to produce gas (or excess gas) from foods that do not cause gas, or only cause minimal gas, in people without IBS. This is thought to be due to a disruption of the normal balance of bacteria in the gut. One of the best ways to prevent and minimize gas from this imbalance is daily use of a prebiotic soluble fiber such as Acacia.

The bacterial system in the human colon is incredibly complex, with more than 400 different species of microbes. Acacia provides fuel for microbial fermentation. Interestingly, fermentation is an action that many people think of as causing an increase in gas. However, it is foods that rapidly ferment in the gut that can cause high gas production. Foods such as Acacia ferment slowly, and this fermentation promotes growth of the gut's beneficial lactic acid bacteria (such as bifidobacteria and lactobacilli). This in turn helps actively reduce gas and bloating, which is exactly the goal you're trying to reach. In addition, the fermentation of Acacia leads to short chain fatty acid production, which lowers the ph balance of the gut, allowing beneficial conditions for lactic acid bacteria to thrive. The greater short chain fatty acid production may also reduce inflammation of the gut and colorectal cancer risk, two nice bonuses.

It's important to distinguish between rapidly fermented prebiotics such as inulin or FOS (which can cause a sudden release of gas, bloating, and subsequent abdominal pain) and slowly fermented prebiotcs such as Acacia. Slow fermentation of Acacia results in a much lower and slower gas production.

Reducing gas production in the first place is an important step to take. But, since it's impossible to completely prevent all gas (especially if you're eating a healthy diet with fresh fruits, vegetables, grains, and beans), it's also really helpful to try and alleviate the side effects of gas. As with other IBS symptom management, a multiple-step approach is almost always more effective than just trying one single thing.

Tummy Tamers, enteric coated peppermint oil capsules with fennel and ginger oils, are a medical food for the dietary management of IBS, and as part of the diet have been clinically proven to help IBS symptoms such as gas. Menthol and methyl salicylate, the main active ingredients of peppermint, have calming effects on the intestinal tract. Fennel helps regulate contractions of the small intestine and aids gas expulsion. Fennel also relaxes the gut, which can relieve spasms of the GI tract, and it is exceptionally beneficial for gas and bloating. Ginger contains powerful digestive enzymes. Using these three oils combined synergistically can be a great multi-pronged way to help get rid of gas and also address the pain and bloating gas can cause.

Finally, specific yoga poses can help alleviate trapped gas and the abdominal pain it can trigger. Yoga can also help relieve gas in association with bloating. Regular yoga practice may actually help regulate your gut's function and normalize global IBS symptoms by heading off problems proactively, so if you've been considering this approach please give it a shot.

~ Heather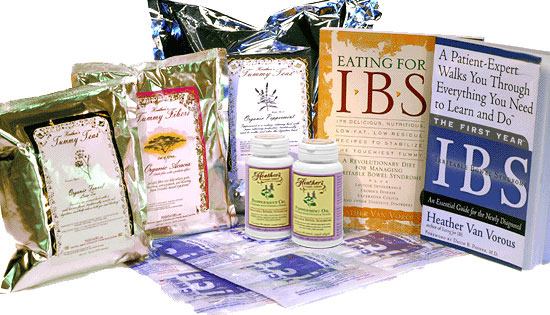 Shop at Heather's Tummy Store for IBS
The only store that's just for IBS - so we only carry the very best

Heather & Company for IBS, LLC is dedicated to serving people with Irritable Bowel Syndrome. Our mission is to provide education, support, and products that allow people with IBS to successfully manage their symptoms through lifestyle modifications.

We offer extensive information and tangible help for IBS, including the world's best-selling and best-reviewed books for the disorder. We provide the internet's top IBS web site resources; a twice-monthly IBS Newsletter; seminars and classes; dietary brochures for patient distribution by health care professionals; an IBS Research Library; and Heather Cooks!, a healthy cooking show on Seattle television. Much of our work is based on Heather's development of the first and only comprehensive IBS dietary guidelines and recipes, an achievement which has earned numerous awards and accolades as well as thousands of thank you letters from IBS sufferers.

Heather & Company also provides the only patient-expert moderated IBS Message Boards on the internet with forums for diet, recipes, hypnotherapy, yoga, plus Crohn's and Colitis. In addition, we support and coordinate the formation and continuation of local in-person IBS support groups across the USA, Canada, the UK, Australia, and New Zealand. We will soon have other IBS services and products available.

Our website receives nearly 3 million visits each year, and our newsletter is sent to over 35,000 people. We are regular exhibitors at the Digestive Disease Week and American Dietetic Association conferences.

Sponsorship opportunities are available for the message boards and this newsletter for companies and/or products that have been legitimately established as helpful for digestive disorders. Please contact us for information.

You are receiving this email because you have expressed interest in IBS news and information.


To unsubscribe from Heather's IBS Newsletter, go here http://www.helpforibs.com/news/unsub.asp or send an email to help@helpforibs.com.

Change your newsletter email address here.

If you are viewing this newsletter on a website and would like to subscribe for email delivery, please "Join the IBS Newsletter" here.

ANTI-SPAM PRIVACY & SECURITY POLICY
LEGAL DISCLAIMER - This email is not intended to replace the services of a physician, nor does it constitute a doctor-patient relationship. Any application of the recommendations in this email is at the reader's discretion. Heather Van Vorous and Heather & Company for IBS, LLC are not liable for any direct or indirect claim, loss or damage resulting from use of this email and/or any web site(s) linked to/from it. Readers should consult their own physicians concerning the recommendations in this email.


HelpForIBS.com
Heather & Company for IBS, LLC
80 S. Washington St, #304
Seattle, WA 98104 USA

© 2005 Heather & Company for IBS, LLC. All rights reserved.