In This Issue (Scroll down for full newsletter or follow the links):


Ask Heather » Gas and IBS - get rid of it!

Special Letter » Bringing normalcy back to your life for GERD and IBS

IBS Recipe » Chipotle Fish Tacos

Research & Press Releases » Free IBS Diet Cheat Sheet!

Enjoy this week's newsletter!

Best Wishes,
Heather Van Vorous

Did a friend send you this newsletter? Sign up here for your own free subscription.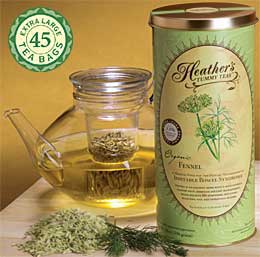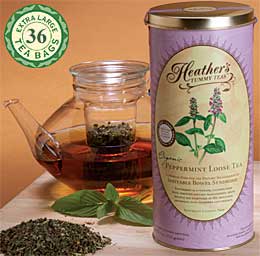 Organic High Volatile Oil Fennel & Peppermint Tummy Tea Bags

Extraordinary Quality ~ Very Economical

Fennel is terrific for bloating & gas, Peppermint is great for IBS pain & spasms.
Heather's Fennel Tummy Tea Heather's Peppermint Tummy Tea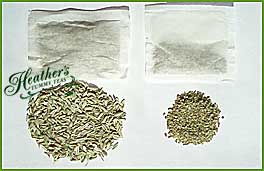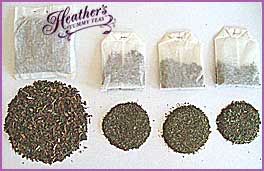 Compare for yourself! The pictures above show the huge difference in the quantity and quality of tea per teabag. The price comparison here is even more shocking!



Chipotle Fish Tacos

This is a fast and easy dinner recipe that's perfect for a backyard barbecue. You can prep all of the accompaniments ahead of time, and let everyone roll their own taco with the freshly grilled fish. For a rainy day, just broil the fish instead of grilling it. Corn tortillas give a good soluble fiber foundation to this recipe, which is already low fat and trigger-free!

Makes 6 Servings

1 1/2 lbs. halibut, red snapper, catfish, or rock cod

Make a marinade by whisking together in a glass pie plate:

1/4 cup fresh lime juice
1/4 cup fresh orange juice
1 tablespoon olive oil
4 minced garlic cloves
1 teaspoon ground chipotle pepper OR smoked paprika
1/2 teaspoon ground cumin
1 tablespoon minced fresh cilantro
1 tablespoon minced fresh oregano

Fresh corn tortillas for serving

Add fish to marinade and marinate for 20 minutes, turning over large fillets after 10 minutes. Remove fish from marinade and grill or broil just until cooked through, turning once. Exact time for fish will depend on the thickness of the fillets - typically, 10 minutes per inch, total. Serve in fresh corn tortillas, and customize your tacos with small amounts of the following:

one large avocado, mashed with 1 tablespoon Acacia Tummy Fiber
finely shredded cabbage
thinly sliced onion
diced tomato
fresh chopped cilantro

For a wonderful summer dinner combination, serve the tacos with a glass of lightly sweetened Peppermint Tummy Tea!


Are you just learning how to eat for IBS? A little intimidated at the thought of special IBS recipes? Not quite sure just what makes these recipes special in the first place? Don't worry! Come see the IBS Diet pages, and find the answers to all your questions.

~ Heather's Tummy Fiber ~
For the Dietary Management of Abdominal Pain, Diarrhea, &, Constipation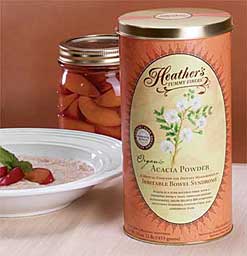 Certified Organic Acacia ~ Pure Soluble Fiber

The prebiotic fiber that relieves both diarrhea and constipation!

** Very Economical ** Only 4 cents per gram of fiber!

Life is Back to Normal for GERD and IBS

Hi Heather,

Thank you SO much for all you do. I was diagnosed over 3 years ago. My gastroenterology nurse practitioner was wonderful. She got me on probiotics and soluble fiber supplements. That information had me surfing the net, and I found your website and ordered your books.

The IBS diet brought normalcy back to my life. I find now that I can tighten up if needed to re-situate my system, but after the healing that your plan brought, I can now indulge in some trigger foods now that I know how to safely eat them.

The Fennel Tummy Tea is AMAZING. I use it when I have twinges and cramping upon occasion and it is amazing how quickly it calms the gut. I also find chamomile to be most helpful to my system on a regular basis.

I have always had a problem with burping. As a GERD patient, too, I had avoided peppermint oil capsules since peppermint was a big reflux trigger for me.

I finally tried the Tummy Tamers. The effect has been remarkable, and I am so sorry I did not try them earlier. Within a couple of days....hardly any burping after meals or before! I take one before breakfast and one before dinner.

Thank you so much for sharing with us! Your work and website and newsletters have made life much fuller for me.

With gratitude,

Kathy Heinrich
Outer Banks of NC

Thanks Kathy! I'm thrilled you're feeling so much better! ~ Heather

Did you miss the recent letter from Brian, the world's worst farter?

~ Heather's Tummy Tamers Peppermint Oil Capsules ~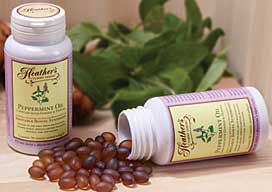 Peppermint Oil Caps Called "Drug of Choice for IBS"

Our Peppermint Oil Caps have the added benefits of fennel and ginger oils, and they help prevent abdominal pain, gas, and bloating!

Free IBS Diet Cheat Sheet Celebrates 5 Years and 1 Million Downloads

Irritable Bowel Syndrome patient-support site HelpForIBS.com features an IBS Diet Cheat Sheet that's seen 5 years of success and over one million downloads.

Seattle, WA (PRWEB) June 9, 2009 - If you're new to the dietary management of Irritable Bowel Syndrome, learning what you can and can't eat without triggering painful symptoms can be an even more painful process.

To help IBS patients avoid this unnecessary struggle, best-selling author and HelpForIBS.com founder Heather Van Vorous (Eating for IBS, The First Year IBS) designed the IBS Diet Cheat Sheet - a free patient/doctor handout that provides the perfect way to keep critical IBS dietary information at hand.

"The IBS Diet Cheat Sheet uses an easy visual reference of red light, yellow light, and green light foods for IBS," says Van Vorous. "Red light foods are triggers to be avoided, yellow light foods should be eaten but only with caution, and green light foods are safe to eat. The lists are concise and easy to read at a glance, but also quite comprehensive."

The IBS Diet Cheat Sheet also includes the 10 Commandments of Eating for IBS, which explain how to eat, not just what to eat. Commandments such as "Practice creative substitution, not deprivation," "Always eat soluble fiber first," and "Minimize your fat intake to 25% of your diet, max" are among the quick tips that help ward off IBS attacks.

Irritable Bowel Syndrome affects up to 20% of the population and symptoms such as diarrhea, constipation, abdominal pain, bloating and gas can either be triggered or prevented through diet. The IBS Diet Cheat Sheet gives patients the dietary information they need to avoid problems and gain control.

The cheat sheet is meant to be carried, taped to the fridge, or kept in the car for traveling. Just five years after its creation the IBS Diet Cheat Sheet has reached over one million people and counting.

Go here for full information about the IBS diet.





Researchers call gut-directed hypnotherapy a "cure" for IBS!

The Best Gut-Directed Self-Hypnosis Program for All IBS Symptoms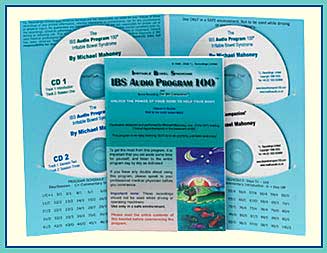 Gives an average 85% reduction of pain and bowel dysfunction symptoms.
Listen to IBS Audio Program 100 samples!

Gas and IBS

Gas is probably one of the most embarrassing IBS symptoms (see last week's letter from the self-proclaimed "world's worst farter!"), and it can be difficult to talk about. Fortunately, gas tends to be one of the easier IBS symptoms to reduce and control, and results can usually be seen very quickly.

Gas is actually a perfectly normal result of human gut function, and it has two sources: gas in the GI tract can come from swallowed air or from the normal digestion of certain foods.

People with IBS can also (but don't always) produce more gas than a normal person. However, they are prone to trapped gas due to mistimed contractions of the smooth muscles of their GI tracts (this can also cause bloating), and they have guts that are hypersensitive to normal amounts of gas, causing abdominal pain or discomfort.

So, reducing gas production is important, but so is finding ways to help your body deal with the abnormal IBS response to normal amounts of gas. There are several different avenues to success here, and if you really want to tackle the problem aggressively you can combine all of them.

In a nutshell, gas from swallowed air can be prevented by: eating and drinking at a leisurely pace instead of rapidly; avoiding carbonated beverages and chewing gum; not smoking.

Gas from foods stems from the body's inability to digest certain complex sugars, starches, and fibers in carbohydrates because of a shortage or absence of the needed digestive enzymes. These undigested foods pass into the colon, where the body's normal gut bacteria breaks down the food, producing hydrogen, carbon dioxide, and, in some people, methane.

Eventually, these gases have to exit the body. Beano, an over the counter product, contains the enzyme that the body needs to digest the gas-producing elements in carbohydrates. So, Beano can help prevent gas from these foods, and it is perfectly safe for IBS.

There is growing evidence that some people with IBS may be more prone to produce gas (or excess gas) from foods that do not cause gas, or only cause minimal gas, in people without IBS. This is thought to be due to a disruption of the normal balance of bacteria in the gut. One of the best ways to prevent and minimize gas from this imbalance is daily use of a prebiotic soluble fiber such as Acacia Tummy Fiber.

The bacterial system in the human colon is incredibly complex, with more than 400 different species of microbes. Tummy Fiber provides the fuel for microbial fermentation. Interestingly, fermentation is an action that many people think of as causing an increase in gas. However, it is foods and fiber supplements such as inulin and FOS that rapidly ferment in the gut that can cause high gas production.

Foods such as Acacia Tummy Fiber ferment slowly, and this fermentation promotes growth of the gut's beneficial lactic acid bacteria (such as bifidobacteria and lactobacilli). This in turn helps actively reduce gas and bloating, which is exactly the goal you're trying to reach.

In addition, the fermentation of the Tummy Fiber leads to short chain fatty acid production, which lowers the Ph balance of the gut, allowing beneficial conditions for lactic acid bacteria to thrive. The greater short chain fatty acid production may also reduce inflammation of the gut and colorectal cancer risk, two nice bonuses.

It really is important to emphasize the difference between rapidly fermented prebiotics such as inulin or FOS (which can cause a sudden release of gas, bloating, and subsequent abdominal pain) and slowly fermented prebiotics such as Acacia Tummy fiber. It's the slow fermentation of the Tummy Fiber that results in a much lower and slower gas production.

Reducing gas production in the first place is an important step to take. But, since it's impossible to completely prevent all gas (especially if you're eating a healthy diet with fresh fruits, vegetables, grains, and beans), it's also really helpful to try and alleviate the side effects of gas. As with other IBS symptom management, a multiple-step approach is almost always more effective than just trying one single thing.

Tummy Tamers, enteric coated peppermint oil capsules with fennel and ginger oils, are a medical food for the dietary management of IBS, and as part of the diet have been clinically proven to help IBS symptoms such as gas. Menthol and methyl salicylate, the main active ingredients of peppermint, have calming effects on the intestinal tract.

Fennel helps regulate contractions of the small intestine and aids gas expulsion. Fennel also relaxes the gut, which can relieve spasms of the GI tract, and it is exceptionally beneficial for gas and bloating. Ginger contains powerful digestive enzymes. Using these three oils combined synergistically can be a great multi-pronged way to help get rid of gas and also address the pain and bloating gas can cause.

Finally, specific yoga poses for IBS can help alleviate trapped gas and the abdominal pain it can trigger. Yoga can also help relieve gas in association with bloating.

Regular yoga practice may actually help regulate your gut's function and normalize global IBS symptoms by heading off problems proactively, so if you've been considering this approach, definitely give it a try.

~ Heather

Did you miss our recent "Ask Heather" and conquering stress and IBS?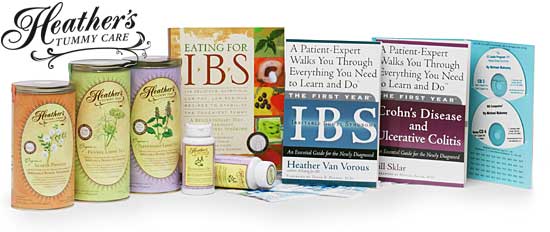 Shop at Heather's Tummy Store for IBS
HelpForIBS.com
The only store that's just for IBS - so we only carry the very best



You're on this newsletter list because you have expressed interest in IBS news and information.


Change your newsletter email address here.

If you are viewing this newsletter on a website and would like to subscribe for email delivery, please "Join the IBS Newsletter" here.

ANTI-SPAM PRIVACY & SECURITY POLICY
HelpForIBS.com
Heather's Tummy Care
80 S. Washington St, #304
Seattle, WA 98104 USA

© 2009 Heather Van Vorous, Heather's Tummy Care. All rights reserved.
USA Copyright Office Registration Number TXU 1-270-858 and others