All Kits on Sale! Includes Bulk Kits! Take an Extra 10% Off!
Use Promo Code JANKITS10


Stock Up On Your Favorite IBS Products!
Or Introduce Yourself to Heather's Tummy Care & Get Stable!


Share!


January 29, 2015 ~ Scroll down for full newsletter or follow the links:



Ask Heather »
Those Pesky Hormones and IBS
Special Letter »
The Feel Happy Tea!
News & Research »
Intestinal Microbiota And Diet in IBS
IBS Recipe »
Wild Herb Roasted Halibut and Potatoes
  
Have questions? Call toll free (866) 640-4942.
Outside the US (206) 264 8069.

Enjoy the newsletter!
Heather Van Vorous & Heather's Tummy Care
Over 10 Years of IBS Business!

Did a friend send you this newsletter? Sign up here for your own free subscription.



Wild Herb Roasted Halibut and Potatoes

So easy, so simple, so delicious! This one dish supper has the added benefits of IBS friendly herbs: oregano, peppermint, and fennel. It's a great trick to use herbal teas that are helpful for IBS in your cooking as well - they're not just for drinking!

If you're avoiding fresh garlic for FODMAPS exclusions, just omit or substitute 1 tablespoon garlic-infused oil.

Makes 4 Servings

3 large russet potatoes, peeled, cut into 1/4" slices
4 T olive oil, divided
3 garlic cloves, minced
1 1/2 t dried oregano
2 t Peppermint Tummy Tea leaf (use loose tea or rip open a teabag)
2 t Fennel Tummy Tea seeds (use loose tea or rip open a teabag)
1 t salt
1/4 t crushed red pepper flakes (optional)
1/4 cup white wine or water
1/4 cup water
4 halibut or any other thick white fish fillets, 4-6 ounces each
2 T dried parsley, divided
salt and pepper to taste
fresh lemon wedges for serving

Preheat oven to 450F. Spray a 13 x 9 inch baking pan with cooking oil. Spread potato slices in pan, overlapping only where necessary. In a medium bowl blend 3 T olive oil, garlic (or garlic oil), oregano, peppermint, fennel, salt, optional red pepper, wine and water. Pour over potatoes and spread with a rubber spatula.

Cover pan with foil or lid and bake 20 minutes. Uncover and bake 30-40 minutes more, until potatoes are tender. Place fish fillets on top of potatoes. Drizzle remaining 1 T olive oil over fish. Sprinkle fish with 1 T parsley. Bake uncovered just until fish is opaque in center, 15-20 minutes. Sprinkle with remaining 1 T parsley, salt and pepper, then squirt fresh lemon juice over and serve.

This dinner is wonderful with a cup of honey-sweetened Fennel Tummy Tea or Peppermint Tummy Tea!



For thousands of delicious recipes, come visit the IBS Recipe Exchange!


Are you just learning how to eat for IBS? A little intimidated at the thought of special IBS recipes? Not quite sure just what makes these recipes special in the first place? Don't worry! Get Eating for IBS and find the answers to all your questions.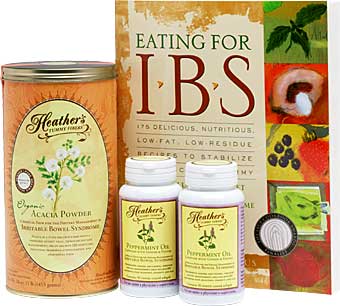 Try the IBS Diet Kit #2 - for Diarrhea AND Constipation!

* Eating for IBS - the Groundbreaking Diet and Cookbook

* Organic Acacia Tummy Fiber ~ for IBS Pain, Diarrhea and Constipation!

* Peppermint Oil Tummy Tamers with Fennel Oil ~ prevent bloating and gas!



The Feel Happy Tea!

Hi Heather,

I LOVE your Peppermint Tummy Tea. I am a longtime peppermint tea drinker and I worked at Teavana for over a year, going through their extensive training, and I can tell you that for medicinal concerns and flavor, your high-volatile oil peppermint tea is the absolute best. I steep mine from 15 minutes to half an hour and it is wonderful.

In addition to IBS help, the smell makes people feel happy! It's an absolute win-win situation.

Thank you so much for developing this special line of incredibly high quality tea. Absolutely use my letter on the website, if you like. Anything to get the word out - Hey, this stuff works! Thanks so much, Heather!

My best,
Susan Stringfellow

Thank you so much, Susan! The peppermint tea is my favorite too! ~ Heather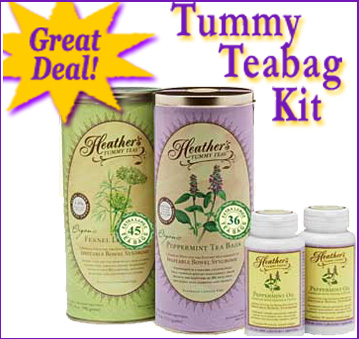 With Fennel and Peppermint Tummy Teas, Plus Peppermint Oil Caps

For bloating, gas, and preventing IBS abdominal pain!

Intestinal Microbiota And Diet in IBS

The American Journal of Gastroenterology recently published an article intestinal microbiota and diet in IBS. Irritable bowel syndrome (IBS) is a heterogeneous functional disorder with a multifactorial etiology that involves the interplay of both host and environmental factors. Among environmental factors relevant for IBS etiology, the diet stands out given that the majority of IBS patients report their symptoms to be triggered by meals or specific foods.

The diet provides substrates for microbial fermentation, and, as the composition of the intestinal microbiota is disturbed in IBS patients, the link between diet, microbiota composition, and microbial fermentation products might have an essential role in IBS etiology. In this review, we summarize current evidence regarding the impact of diet and the intestinal microbiota on IBS symptoms, as well as the reported interactions between diet and the microbiota composition. Go here for full article.




~ Heather's Tummy Tamers Peppermint Oil Capsules ~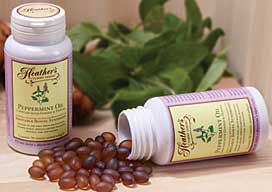 Peppermint Oil Caps Called "Drug of Choice for IBS"

Our Peppermint Oil Caps have the added benefits of fennel and ginger oils, and they help prevent abdominal pain, gas, and bloating!

Hormones and IBS - Menstruation, Pregnancy, Menopause, and More.

Most women with IBS suspect that hormone fluctuations affect their IBS symptoms, and research has shown this to be true - quite dramatically true. Women have a higher prevalence of IBS than men in the first place. This may be due to sex-related differences in brain responses to visceral (body) and psychological (mind) stressors, as well as hormonal influences.

Women with IBS have more severe symptoms and need more medications than men. Small-bowel transit, gastric emptying, and colonic transit times are all significantly different for women (even women without IBS) than for men. and hormones are believed to play a large role here.

There are even estrogen receptors in the stomach and small intestine, which react to changing levels of hormones.

Periods? Bad News...
Most women with IBS quickly learn through experience that menstruation leads to worse IBS pain and bloating, and increased bouts of diarrhea as well. The high progesterone levels that trigger menstrual cramps can also cause bowel spasms. This makes sense, as both the uterus and the bowel are smooth muscle tissue - but it's a really unfair experience for many women, who have to endure painful IBS cramps on top of painful menstrual cramps.

Not surprisingly, studies show that three-quarters of women with IBS say their symptoms are worse during their periods.

For many women, taking steps to prevent or relieve menstrual cramps can help prevent period-related IBS symptoms as well. Regular exercise (especially yoga), direct heat on the lower abdomen, and herbal teas with smooth muscle relaxant properties can all be very helpful.

A brand new study just proclaimed that fennel is an effective herbal drug for menstrual pain. This is terrific, because fennel is already known for its carminative (gas and bloating relief) benefits for IBS. This makes fennel a double whammy for cramps and IBS in the best way.

For some women, birth control pills and hormone-releasing IUDs can lessen menstrual symptoms and associated IBS flares - this is an issue to address with both your GI doc and your ob/gyn.

Pregnancy? Could Go Either Way...
Research shows that pregnancy can have a significant impact on IBS, but there is no consensus as to what that impact will be. The extreme hormonal fluctuations of pregnancy often trigger GI distress in women who do not even have IBS. For those who have a dysfunctional gut to begin with, predicting whether IBS will worsen or improve during pregnancy is a bit of a coin toss.

It's not uncommon for pregnant women to feel that their IBS has completely gone into remission, but the flip side of that coin is that other women may feel that pregnancy makes their IBS worse than it has ever been before. Or, the severity of IBS symptoms may stay the same while the symptoms themselves change - someone who is normally diarrhea-predominant will suddenly be constipated, or vice versa. Gas and bloating may worsen one month while abdominal cramps disappear, but the next month the opposite happens.

This inconsistency can happen not just within the term of a single pregnancy, but women can also have dramatically different experiences with their IBS from one pregnancy to another.

For a note of reassurance here, remember that pregnancy seems just as likely to affect IBS for the better and not automatically for the worse. Also keep in mind that, to my knowledge, there is no evidence at all that IBS has any effect whatsoever on a woman's ability to conceive and carry a full-term, healthy pregnancy with normal delivery. I don't know of any reason why IBS should compromise your wish to have children - and your own ob/gyn should be able to address all of your concerns here.

Menopause? Good News!
The research on IBS and menopause is fortunately clearer and more optimistic (yay!). Studies have shown that the drop in hormones after menopause results in reduced severity of IBS symptoms. After age 50, the severity of IBS symptoms in women and men is identical.

Women in postmenopausal age groups have significantly less IBS abdominal pain and bloating, and have higher quality of life scores compared to younger women with IBS. The theory that the drop in hormones from menopause directly correlates with improved IBS symptoms is further supported by studies finding that hormone replacement therapy in menopause is associated with an increased risk of IBS flares.

So, while hormones and gender do play a significant role in IBS (possibly the development of the disorder as well as the severity and frequency of symptoms), it's not all bad news.

IBS flares from menstruation can be well-managed with healthy lifestyle adjustments, many of which overlap with benefits for both IBS and menstrual cramps. Pregnancy seems to be at least as likely to improve symptoms instead of worsen them, and if pregnancy does trigger more IBS attacks there is nothing to show that this won't completely subside after childbirth. Menopause is clearly linked to significant improvements in IBS across the board.

Hormonal fluctuations that affect IBS for the worse are typically temporary, with no serious or permanent health consequences. As is the case with so many other elements that affect IBS, arming yourself with as much knowledge as possible is one of the very best ways to manage your symptoms from the outset. You can successfully control your IBS - IBS does not have to control you.

To read through a wealth of research findings on hormones, pregnancy, and menopause in IBS, including all of the studies referred to above, go to the gender section of the IBS Research Library.

~ Heather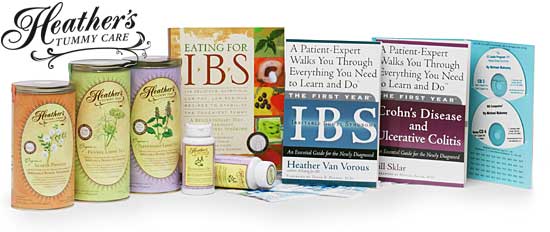 Shop at Heather's Tummy Store for IBS
HelpForIBS.com
The only store that's just for IBS - so we only carry the very best



You're on this newsletter list because you have expressed interest in IBS news and information.
Unsubscribe Here

Change your newsletter email address here.

If you are viewing this newsletter on a website and would like to subscribe for email delivery, please "Join the IBS Newsletter" here.

ANTI-SPAM PRIVACY & SECURITY POLICY
HelpForIBS.com
Heather's Tummy Care
80 S. Washington St, #304
Seattle, WA 98104 USA

© 2015 Heather Van Vorous, Heather's Tummy Care. All rights reserved.
Authored by Heather Van Vorous. May not be reproduced without permission.
USA Copyright Office Registration Number TXU 1-270-858 and others.

<***track***>