Tummy Tamers Peppermint Oil Caps Sale!
Use Promo Code GOPEPCAPS


June 4, 2013 ~ Scroll down for full newsletter or follow the links:

Ask Heather » Getting Rid of Gas

IBS Recipe Special » Welcome Summer! Potato Salad

News & Research » What May Prevent Constipation Better Than Anything?

Special Letter » Ann Says Voila! IBS Symptoms Are Gone




  
Have questions? Call toll free (866) 640-4942.
Outside the US (206) 264 8069.

Enjoy the newsletter!
Heather Van Vorous & Heather's Tummy Care
Celebrating 10 Years of IBS Business!


Did a friend send you this newsletter? Sign up here for your own free subscription.



soluble fiber is the key to gut stability), but small red new potatoes lend a lovely creamy texture to this recipe.

Because their skin is so thin, and they are both cooked and chopped, you can leave these potatoes unpeeled. This will safely add insoluble fiber to the meal.

The tangy sweet-and-sour notes of the dish come from apple cider vinegar with a dash of sugar, and the addition of smoked paprika and celery seed adds festive color plus great flavor.

Traditionally, the delicious smoky flavor in warm potato salad recipes comes from bacon. In my IBS-friendly version, high fat pork - a huge trigger for IBS - is replaced with soy or turkey bacon (and if you've never tried these, you're in for a wonderful surprise). This eliminates the fatty red meat trigger but keeps the wonderful flavors.

Adding Tummy Fiber is a fast and easy way to give an even better soluble fiber foundation to the dish!

4-6 Servings

8 medium red or white skin potatoes (thin-skinned and waxy, not Russets)
6 oz. Fakin' Bacon (smoked tempeh), or low fat turkey or soy bacon, diced
1/4 cup diced sweet white onion, such as Maui or Walla Walla
2 tbsp olive oil
1/4 cup water
3/4 cup apple cider vinegar
1 1/2 tsp sugar
1/2 tsp salt
1/2 tsp smoked paprika (you can use regular paprika if that's all you have on hand)
1/2 tsp dry mustard
1/2 tsp celery seed
1 tsp Tummy Fiber Acacia
1/4 cup thinly sliced green onions or fresh chives

Boil potatoes till tender, and slice into one inch chunks while hot. Set aside.

While the potatoes are boiling, in a medium non-stick skillet over medium high heat, fry bacon and onion in oil until bacon is crispy and onion is golden. Add all remaining ingredients except Tummy Fiber, green onions and potatoes to skillet and stir well.

Pour skillet mixture over hot potatoes, sprinkle with Tummy Fiber, and fold together gently but well. Top with green onions or chives and serve warm or at room temperature.



Are you just learning how to eat for IBS? A little intimidated at the thought of special IBS recipes? Not quite sure just what makes these recipes special in the first place? Don't worry! Get Eating for IBS and find the answers to all your questions.

A Better Way to Live and Voila! IBS Symptoms Are Gone

Dear Heather,

I have just completed the IBS Audio Program 100. It was indeed a journey well worth taking. I feel 90% better and have lost 20 lbs. My life is now mine---no more having to cancel outings and miss events that I had look forward to. No more being sick for days on end. I am much more relaxed and confident than I ever was.

With this wonderful program and daily intake of Heather's Tummy Fiber, Fibercon and prescription Hyoscyamine (when necessary), I am pretty much free of symptoms. When they do crop up, I practice the techniques that Mr. Mahoney describes, and Voila! they are gone (except for flatulence).

I was granted a full half-hour with my gastroenterologist and gave him a "presentation" of my program of how I am freeing myself of symptoms of IBS. I showed him your products and how I was using them as well as a quick rundown on Mr. Mahoney's audio program and how it worked for me. He could see my enthusiasm and how good I looked for himself as proof.

He had never heard of all these remedies. I gave him your book, The First Year: IBS and the website. He had some good questions that I was able to answer with ease.

I hope he will use the information I gave him to treat the 20% of his patients who have IBS. He thanked me profusely for all this information. I don't have to see him again for a year.

I am so grateful to you for sharing your experience and research with the world. I have found a better way to live because of you. Thank you and God bless.

Ann B.
Virginia

Thank you so, so much, Ann! You have really made my day! It is absolutely wonderful to know you're doing so much better. ~ Heather



Water May Prevent Constipation Better Than Anything

A large new study in the American Journal of Gastroenterology found that people who got plenty of fluids were the least likely to suffer constipation. The results highlight the importance of hydration, but shouldn't discount fiber or other lifestyle factors, according to lead author Alayne Markland, of the Department of Veterans Affairs Medical Center in Birmingham, Alabama.

"I still think that diet, fiber, exercise and increased fluid should remain the recommendations," Markland told Reuters Health.

Estimates of how many people regularly experience constipation are as high as 14 percent worldwide, but they range widely. How researchers define the problem and ask people about it are partly to blame for inconsistent responses.

Often, constipation is defined as having fewer than three bowel movements a week, the researchers point out. But some studies have found that asking about stool consistency provides a more accurate measure of slow "transit times" of stool through the intestine, which is the source of uncomfortable blockages. Go here for full research article.




Gas and IBS

Gas is probably one of the most embarrassing IBS symptoms (see a favorite past reader letter from the self-proclaimed "world's worst farter!"), and it can be difficult to talk about. Fortunately, gas tends to be one of the easier IBS symptoms to reduce and control, and results can usually be seen very quickly.

Gas is actually a perfectly normal result of human gut function, and it has two sources: gas in the GI tract can come from swallowed air or from the normal digestion of certain foods.

People with IBS can also (but don't always) produce more gas than a normal person. However, they are prone to trapped gas due to mistimed contractions of the smooth muscles of their GI tracts (this can also cause bloating), and they have guts that are hypersensitive to normal amounts of gas, causing abdominal pain or discomfort.

So, reducing gas production is important, but so is finding ways to help your body deal with the abnormal IBS response to normal amounts of gas. There are several different avenues to success here, and if you really want to tackle the problem aggressively you can combine all of them.

In a nutshell, gas from swallowed air can be prevented by: eating and drinking at a leisurely pace instead of rapidly; avoiding carbonated beverages and chewing gum; not smoking.

Gas from foods stems from the body's inability to digest certain complex sugars, starches, and fibers in carbohydrates because of a shortage or absence of the needed digestive enzymes. These undigested foods pass into the colon, where the body's normal gut bacteria breaks down the food, producing hydrogen, carbon dioxide, and, in some people, methane.

Eventually, these gases have to exit the body. Beano, an over the counter product, contains the enzyme that the body needs to digest the gas-producing elements in carbohydrates. So, Beano can help prevent gas from these foods, and it is perfectly safe for IBS.

There is growing evidence that some people with IBS may be more prone to produce gas (or excess gas) from foods that do not cause gas, or only cause minimal gas, in people without IBS. This is thought to be due to a disruption of the normal balance of bacteria in the gut. One of the best ways to prevent and minimize gas from this imbalance is daily use of a prebiotic soluble fiber such as Acacia Tummy Fiber.

The bacterial system in the human colon is incredibly complex, with more than 400 different species of microbes. Tummy Fiber provides the fuel for microbial fermentation. Interestingly, fermentation is an action that many people think of as causing an increase in gas. However, it is foods and fiber supplements such as inulin and FOS that rapidly ferment in the gut that can cause high gas production.

Foods such as Acacia Tummy Fiber ferment slowly, and this fermentation promotes growth of the gut's beneficial lactic acid bacteria (such as bifidobacteria and lactobacilli). This in turn helps actively reduce gas and bloating, which is exactly the goal you're trying to reach.

In addition, the fermentation of the Tummy Fiber leads to short chain fatty acid production, which lowers the Ph balance of the gut, allowing beneficial conditions for lactic acid bacteria to thrive. The greater short chain fatty acid production may also reduce inflammation of the gut and colorectal cancer risk, two nice bonuses.

It really is important to emphasize the difference between rapidly fermented prebiotics such as inulin or FOS (which can cause a sudden release of gas, bloating, and subsequent abdominal pain) and slowly fermented prebiotics such as Acacia Tummy fiber. It's the slow fermentation of the Tummy Fiber that results in a much lower and slower gas production.

Reducing gas production in the first place is an important step to take. But, since it's impossible to completely prevent all gas (especially if you're eating a healthy diet with fresh fruits, vegetables, grains, and beans), it's also really helpful to try and alleviate the side effects of gas. As with other IBS symptom management, a multiple-step approach is almost always more effective than just trying one single thing.

Tummy Tamers, enteric coated peppermint oil capsules with fennel and ginger oils, are a medical food for the dietary management of IBS, and as part of the diet have been clinically proven to help IBS symptoms such as gas. Menthol and methyl salicylate, the main active ingredients of peppermint, have calming effects on the intestinal tract.

Fennel helps regulate contractions of the small intestine and aids gas expulsion. Fennel also relaxes the gut, which can relieve spasms of the GI tract, and it is exceptionally beneficial for gas and bloating. Ginger contains powerful digestive enzymes. Using these three oils combined synergistically can be a great multi-pronged way to help get rid of gas and also address the pain and bloating gas can cause. (High volatile oil fennel tea is a very effective substitute for gas relief if you can't tolerate peppermint.)

Finally, specific yoga poses for IBS can help alleviate trapped gas and the abdominal pain it can trigger. Yoga can also help relieve gas in association with bloating.

Regular yoga practice may actually help regulate your gut's function and normalize global IBS symptoms by heading off problems proactively, so if you've been considering this approach, definitely give it a try.

~ Heather
Certified Organic Acacia Senegal ~ Pure Soluble Fiber

The prebiotic fiber that relieves both diarrhea and constipation!

** Very Economical **

** 100% Acacia Senegal ** Never Low Grade Acacia Seyal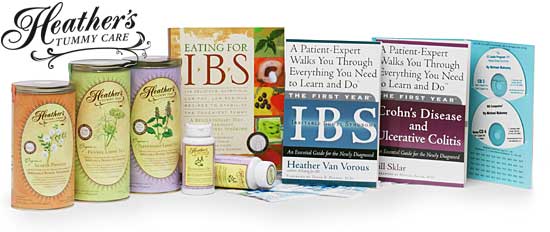 Shop at Heather's Tummy Store for IBS
HelpForIBS.com
The only store that's just for IBS - so we only carry the very best



You're on this newsletter list because you have expressed interest in IBS news and information.
Unsubscribe Here

Change your newsletter email address here.

If you are viewing this newsletter on a website and would like to subscribe for email delivery, please "Join the IBS Newsletter" here.

ANTI-SPAM PRIVACY & SECURITY POLICY
HelpForIBS.com
Heather's Tummy Care
80 S. Washington St, #304
Seattle, WA 98104 USA

© 2013 Heather Van Vorous, Heather's Tummy Care. All rights reserved.
Authored by Heather Van Vorous. May not be reproduced without permission.
USA Copyright Office Registration Number TXU 1-270-858 and others.

<***track***>