Special! New Low Prices on Acacia Senegal Tummy Fiber!

(Scroll down for full newsletter or follow the links):


Ask Heather » Part 2: Restaurant Survival Guide! Eat out without passing out.

IBS Recipe » Thanksgiving classic! 5 minute pumpkin bourbon pie.

Special Events » New low prices for Acacia Tummy Fiber - see why!

Special Letter » What's the breakthrough to feeling normal again?

Enjoy this week's newsletter!

Best Wishes,
Heather Van Vorous

Did a friend send you this newsletter? Sign up here for your own free subscription.

~ Heather's Tummy Tamers Peppermint Oil Capsules ~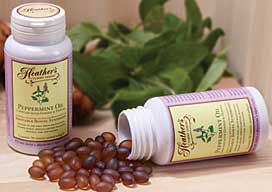 Peppermint Oil Caps Called "Drug of Choice for IBS"

Our Peppermint Oil Caps have the added benefits of fennel and ginger oils, and they help prevent abdominal pain, gas, and bloating!

Five Minute Pumpkin Bourbon Pie

I created the original version of this recipe for an episode of my television show Heather Cooks! and it's since become one of my most requested recipes ever. It's fast, easy, delicious, and perfect for any holiday dinner. When I'm feeling a little feisty, I add bourbon in place of the traditional vanilla.

No one will ever guess this pie is low fat, dairy free, and high in soluble fiber. If you're serving a crowd make more than one - this dessert will disappear in a flash!

Makes one 9 inch pie, 8 servings

For the creamiest, most luscious results, blend the pie filling in a blender or food processor instead of by hand, and do add the Tummy Fiber.

Preheat oven to 350F.

Spray a 9 inch pie plate lightly with cooking oil spray.

Crust:

1 1/2 cups finely crushed graham crackers
3 T canola oil or melted soy butter (such as Earth Balance)

Combine the crumbs and oil in a small bowl until well blended. Press mixture firmly and evenly into prepared pie plate, across the bottom and just slightly up the sides. Spray crumb surface lightly with cooking oil spray. Bake for 5-8 minutes, until just golden brown around edges. Remove from oven and add filling.

Raise oven temperature to 425F while you make filling.

Filling:

2 T Acacia Tummy Fiber (for extra soluble fiber and a super smooth and silky filling)
2 cups canned pumpkin (not pumpkin pie filling)
1 1/2 cups soy milk
3/4 cup brown sugar
1/4 t salt
1 t cinnamon
1/2 t ground ginger
1/4 t ground nutmeg
1/8 t ground cloves
4 organic egg whites
1 T vanilla extract or bourbon

Combine all ingredients in a blender or food processor and blend until very smooth. Alternately, combine all ingredients in a large bowl and whisk by hand until smooth. Pour filling into baked crust (crust does not have to be cool). Bake at 425F for 15 minutes, then reduce oven temperature to 350F and bake for an additional 35-45 minutes, until a knife inserted into the center of the pie comes out clean. Cool pie on a rack.

The perfect drink with this pie is a hot cup of Peppermint Tummy Tea!

Are you just learning how to eat for IBS? A little intimidated at the thought of special IBS recipes? Not quite sure just what makes these recipes special in the first place? Don't worry! Get Eating for IBS and find the answers to all your questions.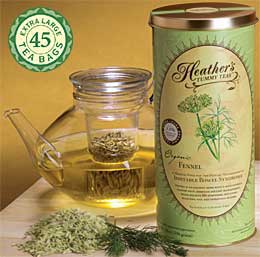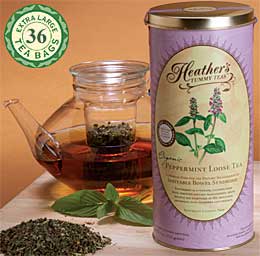 Organic High Volatile Oil Fennel & Peppermint Tummy Tea Bags

Extraordinary Quality ~ Very Economical

Fennel is terrific for bloating & gas, Peppermint is great for IBS pain & spasms.
Heather's Fennel Tummy Tea Heather's Peppermint Tummy Tea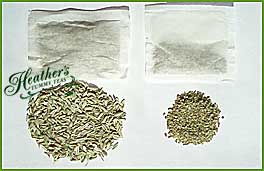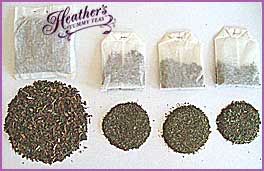 Compare for yourself! The pictures above show the huge difference in the quantity and quality of tea per teabag. The price comparison here is even more shocking!



What's the Breakthrough to Feeling Normal Again?

Dear Heather -

I retired three years ago and, in order to improve my health, started going to a gym and practicing yoga several days a week. It made an amazing difference in my health and energy. Imagine my shock when I was felled by a first (and hopefully, last) acute episode of diverticulitis in early May.

Following 10 days of two fearsome antibiotics I just kept feeling really bad and couldn't get rid of the quasi-diarrhea. It wasn't until I'd been through a CT scan, and colonoscopy, and MRI, and countless stool, blood, and urine tests that, in August, my doctor finally said he thought the diverticulitis had probably triggered IBS.

While he's a wonderful doctor, like most, he just hit the highlights of how to manage the IBS and I struggled along with only moderate success. The food and drink on a cruise to celebrate my husband's 80th birthday triggered an acute severe attack of IBS that dragged on for several weeks.

I'm fortunate that I've never had pain, just irregular bowel habits, loss of energy, fatigue, and 'general yuckiness'.

When I stumbled across your website several weeks ago, I thought it was too good to be true. Although the dietary limitations are a challenge, they're not impossible to follow. After working with them for several weeks and taking over-the-counter fiber, I broke down and bought your Acacia Tummy Fiber.

That was the real breakthrough to my starting to feel 'normal' again. After only two weeks of taking the Tummy Fiber I now find that not only do I feel soooo much better, but I can actually eat small amounts of the forbidden foods (some don't seem to bother me much anyway) without drastic effects.

Being able to eat some dairy by amping up my fiber dosage means I can now try more baked goods, sauces, and dressings. I'm not ready to test fate by going 'whole hog' and eating/drinking lots of cheese, ice cream, alcoholic beverages. As part of my 'treatment', I also cut back to four mornings a week at the gym and reduced some of my responsibilities that were stressful.

Thank you so much for getting me back on track to better health. You may use my comments on your website. I found the comments of others very helpful, and would be happy if my experience helps someone else.

Robin Stanley
Citrus Heights, CA

Thank you so much, Robin! You just made my day! ~ Heather

Did you miss the recent letter from Ellen, who no longer makes a beeline for the bathroom??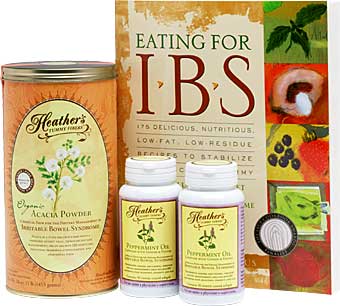 For IBS Diarrhea AND Constipation - 20% Off the IBS Diet Kit #2!

Immediate, tangible help for Irritable Bowel Syndrome.

Includes: Eating for IBS, Tummy Fiber Acacia, and Peppermint Oil Tummy Tamers.

Help regulate bowel motility and prevent painful IBS spasms!




New Low Prices on Heather's Tummy Fiber Acacia Senegal

I am thrilled to announce that after a lot of time and work towards this goal, we are finally able to significantly reduce the cost of both the Tummy Fiber refillable canister and the Tummy Fiber refill pouch!

The new suggested retail price of the refill pouch is $15.95, but we discount that an additional 10% on our website for a cost of just $14.36.

The new suggested retail price of the refillable canister is $18.95, but we discount that an additional 10% on our website for a cost of just $16.99.

The Tummy Fiber Kit, with both a can and a pouch, is additionally discounted with a new website price of just $29.67.

All of our other kits containing Acacia Tummy Fiber also have lower prices to reflect the new discounts.

We offer the additional discounts on our website to help offset the cost of shipping. In addition, we're continuing our policy of capping shipping costs at $9.57 for three items or more - so our customers won't pay any more to ship ten or twelve items than they would to ship three. This allows people to stock up on non-perishable items like the Tummy Fiber and save dramatically on shipping costs.

As always, we use only certified organic top grade Acacia senegal, never low grade Acacia seyal, and all containers have a full pound of fiber.

We have been working towards these price reductions for several years, as we've increased the automation of our production lines, begun sourcing larger quantities of raw materials, and streamlined our packaging materials.

All of these changes have lowered our production costs and our goal is to pass these savings along to you!

~ Heather's Tummy Fiber ~
For Abdominal Pain, Diarrhea, &, Constipation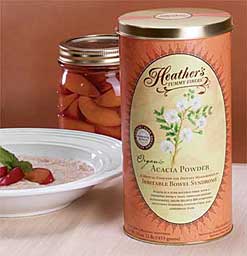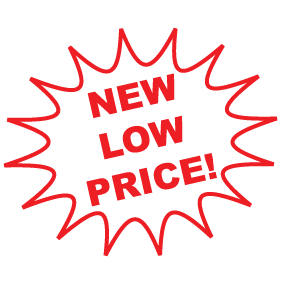 Certified Organic Acacia Senegal ~ Pure Soluble Fiber

The prebiotic fiber that relieves both diarrhea and constipation!

** Very Economical ** Only 4 cents per gram of fiber!

** 100% Acacia Senegal ** Never Low Grade Acacia Seyal

Part 2: IBS Restaurant Survival Guide

Time to get ready, set, and go!

In our last newsletter, part one of the special IBS Restaurant Guide dealt with how a little bit of planning can go a long way. This time around, we're getting ready for a trial run.

Once you've scouted out local restaurants with safe and appealing choices for you, it's time to make your move. Before you leave the house and while your stomach is still empty, take a peppermint oil Tummy Tamer. This is one of my best strategies for preventing the pain, spasms, and cramps that the fat content in restaurant foods can trigger.

Go by yourself to the restaurant, or take a single close friend or family member who knows what you're trying to accomplish and is empathetic. Order an item you've previously scrutinized, take your Tummy Fiber at the table, drink some Peppermint or Fennel Tummy Tea, then relax and enjoy your meal.

You're in a no-pressure situation here, and you have permission to bail at any moment you feel uncertain or uncomfortable. Taking control of the situation in advance should really help you to feel at ease once you're there. Having a support person with you will also add to your peace of mind.

Once you've eaten out a few times successfully, you will gain confidence that you can always eat out successfully, even at a new restaurant, even with a large group.

It's another example of how knowledge is power over IBS. If you know how diet can control or trigger your symptoms, you can eat as safely in restaurants as at home. You will be managing your IBS - it will not be managing you.

For all of your restaurant adventures, make sure to use this:

The IBS Restaurant Cheat Sheet

1. Order a meal based on soluble fiber foods (rice, noodles, potatoes, white bread, oatmeal).

2. NEVER assume anything on the menu is safe - ask all of the questions you need to be sure.

3. Avoid all red meat, dairy, egg yolks, and fried foods.

4. Fill up on the (unbuttered) white rolls in the bread basket (if they don't automatically bring you bread, ask for some).

5. Order peppermint, fennel or chamomile tea, or brew your own with a stash of Tummy Tea bags, and drink throughout the meal (I keep some in my purse for just this purpose).

6. Divide your plate in half once the entree arrives and eat one half only - take the rest home. Restaurants almost always serve portion sizes that are far too large to eat safely in one sitting.

7. Remember that drinks (soda, fruit juice, coffee, dairy, artificial sweeteners, alcohol) can be major triggers, too.

8. Take your Heather's Tummy Fiber right before the meal to buffer your gut's response to food (this is one of my major weapons in winning the IBS vs. Restaurant Food battle).

9. Don't be afraid to make special requests - you're the customer, so you're always right. Being finicky here does not mean you're being difficult - it means you are taking care of your health.

10. Eat your green salad (with fat free dressing) last, not first.

Coming next...part three of the IBS restaurant guide!

~ Heather

Did you miss our recent "Ask Heather" and part one of the IBS Restaurant Survival Guide?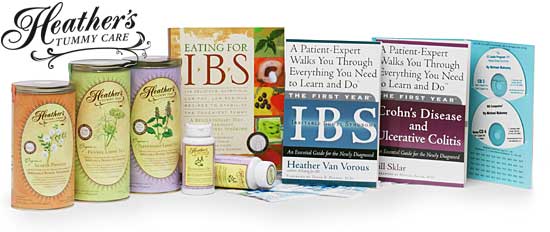 Shop at Heather's Tummy Store for IBS
HelpForIBS.com
The only store that's just for IBS - so we only carry the very best



You're on this newsletter list because you have expressed interest in IBS news and information.


Change your newsletter email address here.

If you are viewing this newsletter on a website and would like to subscribe for email delivery, please "Join the IBS Newsletter" here.

ANTI-SPAM PRIVACY & SECURITY POLICY
HelpForIBS.com
Heather's Tummy Care
80 S. Washington St, #304
Seattle, WA 98104 USA

© 2009 Heather Van Vorous, Heather's Tummy Care. All rights reserved.
USA Copyright Office Registration Number TXU 1-270-858 and others