Shop for IBS
>
Books & Media
>
Heather Cooks! DVD & Recipe Cards
Money Back Guarantee

Heather Cooks! IBS Cooking Show DVD - For All IBS Symptoms






WATCH SAMPLE SHOW!

    
Price: $13.46 (10% off $14.95 list price!)
In Stock!

Great Customer Reviews!

* The IBS Cooking Show - Help For All IBS Symptoms!
* By the Best-Selling Author of Eating For IBS!
* Delicious, Fast, & Easy All-American Favorite Foods
* Great Recipes For Families & Children
* 5 Fun Shows With 8 Simple Recipes Made Step-By-Step
* Beautiful Watercolor Illustrated Recipe Cards Included

* All-American Sandwich Classics
* Blueberry Pecan French Toast
* Lemon Herb White Fish with Rice & Mesclun Salad
* Pizza Party Snack Mix & Banana Berry Smoothie
* Garden Veggie Nachos

* IBS cooking & shopping advice, tips throughout
* Originally aired on Seattle television * Traditional recipes made IBS-friendly
* Running time: 110 minutes * Formatted for US and International DVD players

Interested in Heather Cooks? Get an even better deal with the IBS Kitchen Kit!
Step into my kitchen and watch Heather Cooks!, television's only cooking show with fabulous food for good digestive health. Everything we cook is low fat, high soluble fiber, and avoids all red meat, dairy products, and egg yolks. Insoluble fiber foods are carefully incorporated for good nutrition. Most importantly, everything we cook is fast, easy, and absolutely delicious – that's a promise. Each of the five full-length shows offers step-by-step instructions, and is aimed at people who have little experience cooking, or who are unsure about how to modify their traditional cooking methods to meet the dietary needs of IBS. Beautifully illustrated recipe cards are included, so you can easily cook right along with the shows.

If you don't quite believe that healthy cooking truly can be both fun and a real treat to eat, you're in for a wonderful surprise. You'll have a great time making my dishes, and an even better time eating them!

In Volume 1, we'll be cooking fast-and-easy dishes based on fridge and pantry staples, with a homestyle, All-American focus. These traditional recipes (from French toast to club sandwiches to nachos) are typically full of trigger foods, but we'll use simple tricks and substitutions to make them IBS-friendly. Each show offers lots of helpful advice for shopping, cooking, and eating safely for IBS while keeping your diet nutritious and delicious. Above all else, Heather Cooks! will convince you that cooking great meals for good health is not a contradiction in terms.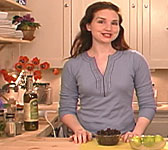 Are you ready to don your apron and oven mitts? Just step into my kitchen and cook right along with me!
**Customer Reviews**
More Reviews
---
Product
Kristine from Colton, NY
Purchased on 1/21/2016
Reviewed on 2/13/2016
Heather's step by step cooking video got me back on track.
Heather explains that we do not need to give up many of the foods we love when we have IBS. She shows how to incorporate difficult to digest foods with soluble fiber so they can still be eaten!!!!
Speed of Delivery
Customer Service
---
Product
Caroline from Worthington, OH
Purchased on 6/15/2015
Reviewed on 7/7/2015
I was pleased with the uncomplicated recipes.However, I couldn't turn the volume up enough and found it hard to hear what Heather was saying. (I do not have a hearing problem).I have found the recipes in "Eating for IBS" too complivated to try, but the v
Speed of Delivery
Customer Service
---
Product
Walter from Savanna, IL
Purchased on 10/28/2014
Reviewed on 11/21/2014
Having son view the DVD, too.
Betty has tried several of them already and has enjoyed each of them.
Speed of Delivery
Customer Service
---
Product
Billie from Anacortes, WA
Purchased on 10/10/2014
Reviewed on 10/31/2014
lot of info onDVD
watched the DVD lots of good info loaned the DVD to two friends and they say that it is very helpful. Thanks for all your help feeling a lot better, because of the info I have received..
Speed of Delivery
Customer Service
---
Product
Diane from Woodbury, NJ
Purchased on 9/20/2014
Reviewed on 10/11/2014
Returned item
Talked to someone the DVD kept skipping returning it for a book of recipes. They are suppose to send it as soon as they receive the DVD. Was very happy with how I was treated.
Speed of Delivery
Customer Service

Heather says:
Feedback Rating
Hi there Diane,

I'm glad that you are happy with how you were treated!

We always want to provide the best customer service possible, so please know that we have a 100% satisfaction guarantee on all of our products. If you are ever unsatisfied, you can always return something for a refund, even if the product has been opened and used.

I am very sorry that your DVD was skipping. Generally, skipping issues are resolved when you try using a different player. However, we will be happy to order Heather's cook book, Eating for IBS, for you instead.

We will contact you when we process your return.

Please don't hesitate to contact us if you have any additional questions or concerns.

Best,
Amanda
Customer Service Representative
---
More Reviews
Order Heather Cooks!
Back to full Heather Cooks! information and top of page...