Special News! Lowered Prices on Tummy Fiber Acacia!

(Scroll down for full newsletter or follow the links):


Ask Heather » Part 3: Restaurant Survival Guide - Insider Tips!

IBS Recipe » Smoked Salmon Bagels with Herbed Cucumbers

Research & Press » Long-Term Symptom Relief for Eight Hundred IBS Patients

Special Letter » Blunt Talk: Cramping and Constipation Are Gone

Enjoy this week's newsletter!

Best Wishes,
Heather Van Vorous

Did a friend send you this newsletter? Sign up here for your own free subscription.

~ Heather's Tummy Tamers Peppermint Oil Capsules ~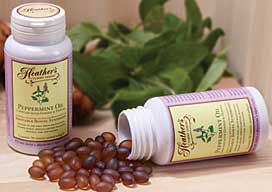 Peppermint Oil Caps Called "Drug of Choice for IBS"

Our Peppermint Oil Caps have the added benefits of fennel and ginger oils, and they help prevent abdominal pain, gas, and bloating!

Smoked Salmon Sandwiches with Herbed Cucumbers

Smoked fish of any kind is a great safe substitute for sandwich lunch meats and cheeses, but there's something particularly decadent about smoked salmon.

Pumpernickel bread is one of the most tolerable whole grains for IBS (if you're very touchy, substitute French or sourdough), and the soluble fiber from the bread and Tummy Fiber allows the safe addition of the insoluble fiber in the cucumbers and capers. These sandwiches look and taste fancy enough for holiday party finger food, but they're also a great quick and easy take-to-work lunch.

Makes 2 Sandwich Halves, 1-2 Servings

8 thin cucumber slices (peel cucumber first)
1/2 teaspoon dill
1/2 teaspoon finely ground Fennel Tummy Tea fennel seeds
1 tablespoon soy cream cheese
1 teaspoon Acacia Tummy Fiber
1 tablespoon capers
1 pumpernickel bagel, halved, toasted
4 oz. smoked salmon (or any smoked fish)

Toss cucumber slices with dill and ground fennel. With a fork mash together soy cream cheese, Tummy Fiber, and capers. Top toasted bagel halves with soy cream cheese blend, dilled cucumbers, and smoked salmon. Serve open face.

The perfect drink with this sandwich is a hot cup of Fennel Tummy Tea!

Are you just learning how to eat for IBS? A little intimidated at the thought of special IBS recipes? Not quite sure just what makes these recipes special in the first place? Don't worry! Get Eating for IBS and find the answers to all your questions.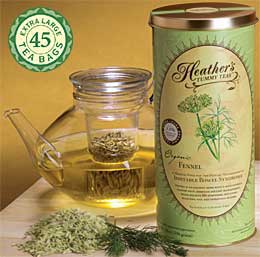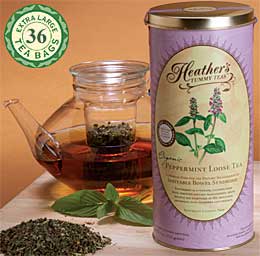 Organic High Volatile Oil Fennel & Peppermint Tummy Tea Bags

Extraordinary Quality ~ Very Economical

Fennel is terrific for bloating & gas, Peppermint is great for IBS pain & spasms.
Heather's Fennel Tummy Tea Heather's Peppermint Tummy Tea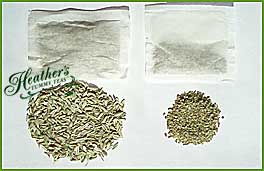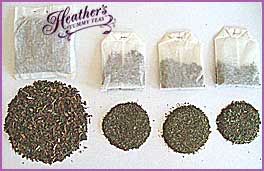 Compare for yourself! The pictures above show the huge difference in the quantity and quality of tea per teabag. The price comparison here is even more shocking!



Rip Gets Blunt: Cramping and Constipation Are Gone

Heather -

I received my Tummy Fiber about a week and half ago. I take one spoon full in the morning and one in the evening after work. Something is working wonders here.

My cramping and constipation are gone. Really gone. No bloating.

Things are moving normally with one or two trips each day. I've eliminated milk, ice cream and hard brans. No nuts. I watch the beans like lima beans and skin my apples beforehand. Other than that it's business as usual.

My symptoms were pretty severe. The cramping was debilitating. Spasms. Really hurt every morning for a few hours and faded as I had bowel movements - if I did. By 10 or 11am I was okay but sore down in my lower stomach, colon area.

This stuff probably sounds trivial to some people but for the sufferers it's serious. Life altering. Well, I just wanted to thank you for the Tummy Fiber and the information on your web site.

I learned a lot. I think I've been needlessly suffering from this problem for years. Use this letter anyway you like. It's the truth.

Thanks.

Rip
Pittsburgh, PA

Thank you, Rip! ~ Heather

Did you miss the recent letter from Robin, who had a breakthrough to eating forbidden foods??

~ Heather's Tummy Fiber ~
For Abdominal Pain, Diarrhea, &, Constipation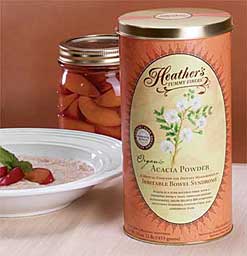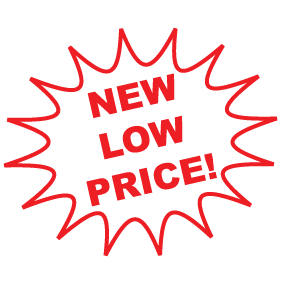 Certified Organic Acacia Senegal ~ Pure Soluble Fiber

The prebiotic fiber that relieves both diarrhea and constipation!

** Very Economical ** Only 4 cents per gram of fiber!

** 100% Acacia Senegal ** Never Low Grade Acacia Seyal

IBS Hypnotherapy Review Shows Long-Lasting Symptom Relief

A recent review in Zeitschrift fur Gastroenterologie noted that Irritable Bowel Syndrome (IBS) is a highly prevalent functional disorder with a remarkable clinical and economic impact. Several pathogenetic factors of IBS are discussed in the review and summarised within a bio-psycho-social model. Data from published hypnotherapeutic interventions with approximately 800 patients show long-lasting symptom relief.

The review authors note that the underlying mechanisms of action of hypnotherapy for IBS are not well understood. Nine mechanism studies show influences of hypnosis on colorectal sensitivity, colorectal motility and mental strain (anxiety, depression, maladaptive cognitions). This review examines previous studies on hypnotherapy in IBS patients with a focus on symptom relief and mechanisms of action. Go here for info, audio and video about IBS self-hypnotherapy.

Go here for full review article.




Researchers call gut-directed hypnotherapy a "cure" for IBS!

The Best Gut-Directed Self-Hypnosis Program for All IBS Symptoms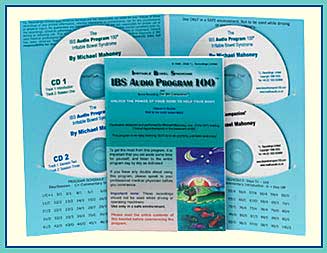 Gives an average 85% reduction of pain and bowel dysfunction symptoms.
Listen to IBS Audio Program 100 samples!

Part 3: IBS Restaurant Survival Guide -Insider Tips!

Parts one and two of our IBS restaurant survival guides have dealt with how a little bit of planning can go a long way, and the IBS Restaurant Cheat Sheet. This week we wrap up the series with some fantastic insider tips from a restaurant worker with IBS. She gives us the scoop on how - exactly - to eat out without passing out.

First, once you're at your previously scouted restaurant, take your Tummy Fiber, especially if it's the insoluble fiber in restaurant meals that you are most sensitive to.

If it's the higher fat levels in restaurant food that are more likely to cause you problems, take a Tummy Tamer peppermint oil cap right before you leave for the restaurant (if you're not prone to heartburn, you can take the cap right at the table).

Now it's time to get down to the business at hand and figure out exactly what to order.



Be wary of anything the menu describes as:

crispy
crunchy
fried
creamy
cheesy
rich
meaty
raw vegetables



Instead, choose items that are:

steamed
stir fried
baked
roasted
seared
poached
sauteed
light
low fat

Don't be embarrassed to ask questions or make special requests. Always ask if what you're ordering is made (or can be made) without red meat and dairy products. Always ask that as little oil as possible be used in cooking.

Make sure that your meal comes with a soluble fiber foundation (rice, pasta, potatoes, etc.) Focus on seafood, skinless chicken white meat, or vegetarian options (minus the cheese).

For extra safety, ask for a cup of hot water and brew your own medicinal strength cup of tea before your meal even arrives. If you need to head off abdominal pain and spasms, brew Peppermint Tummy Tea.

If you are more prone to bloating and gas, make a cup of Fennel Tummy Tea to drink with your meal. Proactively drinking high volatile oil teas can help you prevent IBS problems before they start.

Kacey, one of our newsletter readers who has worked in the food service industry for a long time, has written me with a number of insider suggestions for making sure your restaurant meals are IBS-safe:

- Dairy, especially butter, can be hiding everywhere. For example, sandwiches that are grilled almost always have a thick layer of butter spread on the bread before they are thrown on the grill, even though it doesn't say so on the menu. In fact, almost anything on the grill, from buns, to chicken, to eggs, gets a huge dose of butter. Make sure you ask for "seared" instead of "grilled", as "seared" means cooked on the grill without a butter spread.

- Many vegetable side dishes are also cooked in butter, although the menu doesn't say so. To be safe, always tell your server that you are allergic to dairy, even if you're technically not. I have been a server, and I can speak from experience that if a guest simply has a preference about a dish they might forget about it with all the other tables they have to remember, but if a guest is allergic to something you can bet they're going to remember that. Because they work on tips, they're going to talk to the kitchen and do whatever they can to make sure your meal is allergen-free.

- Many restaurants are starting to offer an entire separate menu dedicated to dietary needs and allergens. Let your needs be known.

- Don't assume you can't eat at certain restaurants until you ask. I wasn't sure if I could eat at one of my sister's favorite restaurants because they cook everyone's orders on the same large grill in the middle of the restaurant (it's one of those Asian-flair novelty places) and they use lots of the butter-oil mixture on their grill. When I told the restaurant my situation, the manager told me that they had a special grill in the back where they cooked all of their dairy-free dishes.

(Thank you, Kacey, for the insider tips!)

~ Heather

Did you miss our recent "Ask Heather" and how to eat out without passing out?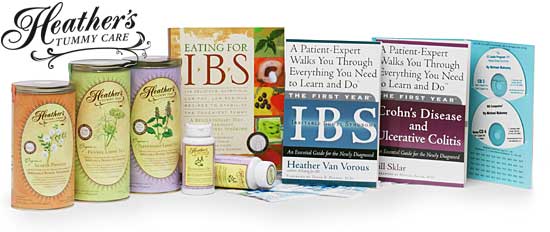 Shop at Heather's Tummy Store for IBS
HelpForIBS.com
The only store that's just for IBS - so we only carry the very best



You're on this newsletter list because you have expressed interest in IBS news and information.


Change your newsletter email address here.

If you are viewing this newsletter on a website and would like to subscribe for email delivery, please "Join the IBS Newsletter" here.

ANTI-SPAM PRIVACY & SECURITY POLICY
HelpForIBS.com
Heather's Tummy Care
80 S. Washington St, #304
Seattle, WA 98104 USA

© 2009 Heather Van Vorous, Heather's Tummy Care. All rights reserved.
USA Copyright Office Registration Number TXU 1-270-858 and others.