Heather's IBS Newsletter ~ For Irritable Bowel Syndrome


Can you end 25 years of alternating constipation and diarrhea?

It's the IBS recipe blowout!

Would you go to a school for IBS?


Enjoy this week's news and special Valentine's Day favorite recipe!

Best Wishes,
Heather Van Vorous

Did a friend send you this newsletter? Sign up here for your own free subscription.



~ Heather's Tummy Tamers Peppermint Oil Capsules ~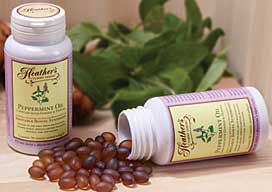 Peppermint Oil Caps Called "Drug of Choice for IBS"

Our Peppermint Oil Caps have the added benefits of fennel and ginger oils, and they help prevent abdominal pain, gas, and bloating!

Valentine Chocolate Decadence Cake

Here's a "forbidden pleasure" dessert indulgence that will completely dispel the myth that eating safely for IBS means deprivation or boredom. If you've got an extra 15 minutes, you can whip up this cake for yourself and your sweetie and indulge in some pure chocolate heaven. Your tummy (and your sweetie!) will thank you.

Makes 12 Servings

2/3 cup pecans, finely ground
1/2 cup unsweetened cocoa powder
1-2 tablespoon decaffeinated instant coffee granules (optional)
2 tablespoons Acacia Tummy Fiber
1 1/2 cups granulated sugar
7 large organic egg whites
1/4 teaspoon salt
3 tablespoons canola oil
1 teaspoon vanilla

Preheat oven to 350 F. Spray a 9" non-stick springform pan or heavy gauge cake pan with cooking spray and set aside. In a large bowl whisk together ground pecans, cocoa, coffee granules, Tummy Fiber, and 3/4 cup sugar. Set aside.

In a large bowl beat egg whites with salt until they hold soft peaks. Gradually add remaining 3/4 cup sugar while continuing to beat mixture, then whip until it just holds stiff peaks. Gently fold one third of egg white mixture into pecan mixture to lighten the batter. Partially fold remaining egg white mixture into pecans, then add oil, and vanilla, and fold all ingredients together gently but thoroughly.

Pour batter into prepared pan, smooth top, and bake 30-40 minutes or until a tester inserted in middle comes out with moist crumbs. Immediately run a thin sharp knife around edges of cake to loosen from the sides of the pan, then cool cake, in the pan, on a rack (it will fall as it cools). Run a thin knife around edge of pan again and remove side of pan if using a springform. Slice with a thin sharp knife and serve warm or cold.

For a wonderful drink to accompany this dessert, have a cup of hot Peppermint Tummy Tea!

Are you just learning how to eat for IBS? A little intimidated at the thought of special IBS recipes? Not quite sure just what makes these recipes special in the first place? Don't worry! Come see the IBS Diet pages, and find the answers to all your questions.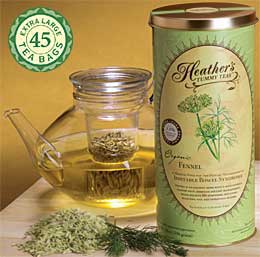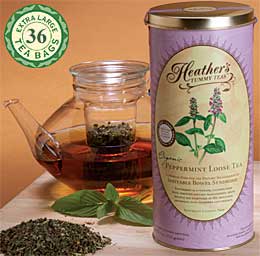 Organic High Volatile Oil Fennel & Peppermint Tummy Tea Bags

Extraordinary Quality ~ Very Economical

Fennel is terrific for bloating & gas, Peppermint is great for IBS pain & spasms.

A Whole New World Without IBS Symptoms

Hi Heather,

I have had horrible IBS since I was 15 (I'm now 40) with alternating constipation and diarrhea. I have tried everything under the sun. Recently I tried the Acacia Tummy Fiber combined with loosely following your food list.

I have had an amazing run of virtually no symptoms. I will probably always be sensitive and inclined towards symptoms but so far this has been a whole new world. The Tummy Fiber helps both the constipation and diarrhea where other fibers always aggravated me.

Anyway, this is a short email compared to how much I could gush! But I wanted to say thanks for getting the word out there.

By the way, it might be worth my mentioning that my IBS was never subtle. I had periods of excruciating contractions and hours in the bathroom followed by days without going at all. It changes the whole way you live your life! So you have to realize what a massive gift this is. I don't know how you figured it all out but thanks!

Paula W.
Nashville, TN

Thank you so much, Paula! I have the same type of excruciating pain with my IBS so I know exactly how much better you're feeling! ~ Heather

Did you miss the recent letter from Robin, who lost 69 pounds while helping her IBS?

~ Heather's Tummy Fiber ~
For the Dietary Management of Abdominal Pain, Diarrhea, &, Constipation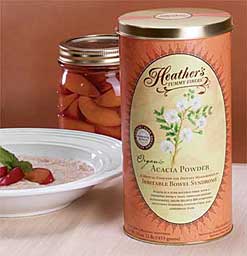 Certified Organic Acacia ~ Pure Soluble Fiber
The prebiotic fiber that relieves both diarrhea and constipation!

** Very Economical ** Only 4 cents per gram of fiber!

An IBS School?
A recent study in BMC Gastroenterology noted that many IBS patients feel they receive limited information and that the health care system does not take their complaints seriously. This study aimed to develop a structured patient education, an 'IBS school', and investigate if the efficacy could be evaluated in terms of improved knowledge, symptom severity and health related quality of life (HRQOL).

The IBS school consisted of six weekly two hour sessions in a group setting. Five different health care professionals were responsible for one session each. Questionnaires covering patients' experience of the education, perceived knowledge about IBS, gastrointestinal symptoms, and HRQOL, were used for evaluation at baseline and at three, six, and twelve months after education.

Twelve IBS patients were included. The patients were overall satisfied with the IBS school. In line with this, the gastrointestinal symptoms, HRQOL, and perceived knowledge about IBS improved significantly after the education.

The study concluded that an IBS school seems to be a proper method to meet the patients' need of information about IBS and also to improve the patients' gastrointestinal symptoms, HRQOL, and knowledge about IBS.

Go here for full information about IBS and the best treatments.

Go here for more information about this study...

Looking for more IBS research and news? Check the IBS Research Library!





Researchers call gut-directed hypnotherapy a "cure" for IBS!

The Best Gut-Directed Self-Hypnosis Program for All IBS Symptoms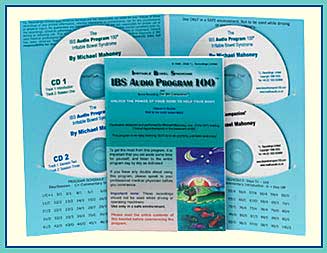 Gives an average 85% reduction of pain and bowel dysfunction symptoms.
Listen to IBS Audio Program 100 samples!

IBS Recipe Blowout!
"I don't always have a lot of time to try and figure out how to adapt traditional recipes for IBS. Where can I get help with this?"

"I have IBS and a gluten intolerance as well. How can I find recipes that address both concerns?"

"I have diabetes and IBS. What can I cook and eat that will be suitable for both problems?"

"I hate to cook, and I need fast and easy recipes for IBS. Do you have these?"

"I love to cook, and I'm always looking for new recipes. Is there some kind of comprehensive IBS recipe resource out there?"

As you can see from all the questions I've been getting lately, it's definitely time for an IBS recipe round up! Let's take this one question at a time....

If you're brand new to the IBS diet and just learning how to cook safely for IBS, the best place to start is with the book Eating for IBS. This will get you all of the IBS dietary groundrules and guidelines for easy ways to make your kitchen IBS-friendly. There are hundreds of recipes to choose from, and all of the tips, tricks, and substitutions that make traditional recipes IBS safe are clearly explained. For folks who have some cooking experience, and just need to adapt their normal kitchen routine into one that is suitable for IBS, this is the place to go.

If you're struggling with dietary changes for IBS and another disorder as well, such as celiac, hypoglycemia, obesity, or diabetes, have no fear - it's almost certainly easier to cook for your comprehensive health needs than you'd ever imagine. In fact, the odds are good that your concerns have already been addressed in the IBS diet and recipe FAQ, so start there. If you still have questions, come join the IBS Recipe Board, where you'll find a wealth of information, ideas, and recipes from other folks dealing with IBS plus additional health concerns. There are threads on gluten-free IBS recipes, cooking for diabetes plus IBS, and lots more. You can also post any recipe question of your own, and get answers galore!

If you truly hate to cook or have very little time for it, and you've been forced into the kitchen by IBS dietary needs, the IBS cooking show DVD is the perfect solution. Each of the five full-length shows offers step-by-step instructions, and is aimed at people who have little experience cooking, or who are unsure about how to modify their traditional cooking methods to meet the dietary needs of IBS. Illustrated recipe cards are included, so you can easily cook right along with the shows. The focus is fast and easy meals that can be prepared in 10-15 minutes, and the flavors are all-American.

If you love to cook, and simply can't find enough IBS-friendly recipes, we've got the ultimate resource for you - the IBS Recipe Exchange Index, which has over one thousand IBS safe recipes! The Index is a compilation of years of daily posts on the IBS recipe board, and it's truly got it all - from beverages to breads, appetizers to main dishes, dips to desserts. The Index is nothing short of astonishing and an absolute treasure for people who love to eat but can never find enough new IBS-friendly recipes to try. Look no more - this is the only resource you need for a lifetime of happy, healthy IBS cooking! ~ Heather

Did you miss the recent "Ask Heather" and medications for IBS?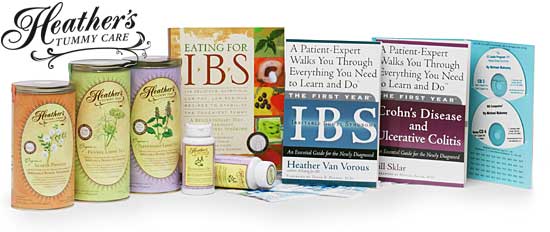 Shop at Heather's Tummy Store for IBS
HelpForIBS.com
The only store that's just for IBS - so we only carry the very best

You're on this newsletter list because you have expressed interest in IBS news and information.




Change your newsletter email address here.

If you are viewing this newsletter on a website and would like to subscribe for email delivery, please "Join the IBS Newsletter" here.

ANTI-SPAM PRIVACY & SECURITY POLICY
HelpForIBS.com
Heather's Tummy Care
80 S. Washington St, #304
Seattle, WA 98104 USA

© 2009 Heather Van Vorous, Heather's Tummy Care. All rights reserved.
USA Copyright Office Registration Number TXU 1-270-858 and others