Did your email mangle this newsletter? Copy and paste this address into your browser window:
http://www.helpforibs.com/news/newsletter/042605.html or go here to see it online.



April 26, 2005

This week - Acacia Cans, Acacia Sale, & All-Time Favorite IBS Recipes!

Hello to everyone -

This week we have something super special for members of the IBS Newsletter. In response to many requests, we finally have Acacia Tummy Fiber in cans, and on sale!! Even better, we have a special rebate offer for people who buy at their local stores. The cans hold a full pound of Acacia, the only organic, prebiotic soluble fiber developed specifically for IBS. The cans are fully re-sealable, durable, and beautiful, so you don't have to hide them away in a cupboard. The cans can be easily re-filled with Acacia from the bulk foil bags.

To kick off our new Acacia cans, and to show how easy it is to cook with Acacia to help you get the extra soluble fiber IBS needs, we're featuring a newsletter IBS recipe blow-out! We've got everyone's all-time favorite IBS recipes compiled right here for one fast, easy recipe resource. And, as always, we've got the latest IBS news and research, too. Enjoy!

Best Wishes,
Heather Van Vorous

Did a friend send you this newsletter? Sign up here for your own free subscription.

All-Time Favorite IBS Recipe - Peppermint Fudge Cake!

Makes 12 Servings

Preheat oven to 325F.

Spray a 10 inch bundt pan with cooking oil and set aside.

Sift together in large bowl and whisk together well:

1 level Tablespoon Acacia Tummy Fiber (optional)
2 Cups all-purpose flour
2 Teaspoons baking soda
6 Tablespoons unsweetened cocoa powder
1 Tablespoon cornstarch
1 Cup granulated sugar
1/2 Teaspoon salt

Whisk together by hand in medium bowl:

1 3/4 Cup unsweetened applesauce
1/4 Cup canola oil
1 Tablespoon vanilla
1 Tablespoon peppermint extract

Add the wet ingredients to the dry with a few swift strokes just until blended. Pour into bundt pan. Bake 50-60 minutes, until a toothpick comes out with moist crumbs. Cool on rack.

For more all-time favorite IBS recipes, check "Ask Heather" below!

For oodles of other delicious recipes, come visit the IBS Recipe Exchange board!

Are you just learning how to eat for IBS? A little intimidated at the thought of special IBS recipes? Not quite sure just what makes these recipes special in the first place? Don't worry! Come see the IBS Diet pages, and find the answers to all your questions.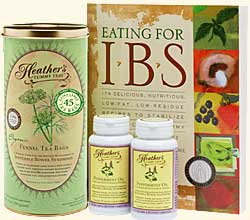 Try the IBS Diet Kit #1 - it's 20% off full price!

Here's the immediate, tangible help you need to take control of your IBS symptoms through diet! Includes the book Eating for IBS, Fennel Tummy Tea, and Peppermint Oil Tummy Tamers. Relieve IBS bloating & gas, and prevent painful spasms!



Heather's Tummy Fiber Acacia is Now in Cans!

I'm so excited to debut our brand-new Acacia cans to members of the IBS Newsletter! The cans have just been introduced to a small but growing number of retail stores across the country, and they're not yet available to our general website audience - just to you!

As a special note here, our products will always be available for less at retail stores, and we'd really like to give people a great incentive to start shopping for Tummy Care products locally. So, for your first purchase at a local retail store, we'll refund 50% of your purchase price - up to a $50 rebate! Simply send us your receipt (our address is at the bottom of this newsletter), and we'll send you your rebate. If you don't have a store in your area carrying Tummy Care products yet (you can give them this flyer to ask them), the only way to buy Acacia in cans is through this newsletter link.

In addition, we have a special introductory sale on Acacia cans, plus an even better bargain on an Acacia package deal!

If you're new to Acacia, it's a pure dietary soluble fiber that contains no insoluble fiber and no IBS triggers (no psyllium, citric acid, artificial sweeteners, colors, or flavors). Acacia is certified organic, kosher certified, and is tasteless, odorless, colorless, and grit-free. Acacia will never thicken, so there is no choking risk. You can add it to any liquid or moist food, or cook with it!

Best of all, Acacia is a medical food specifically for the dietary management of IBS. Studies have shown that soluble fiber, as part of the diet, regulates bowel motility (alleviating both diarrhea AND constipation), and relieves abdominal pain from IBS. Acacia's prebiotic effect also stimulates the growth of healthy gut flora, which in turn reduces bloating, gas, and bowel irregularities from the digestive dysfunction of IBS.

The cans hold a full pound of Acacia, are easily re-useable and re-fillable with Acacia from our bulk foil bags, and they feature a brand-new label design. I hope you find them as useful (and beautiful!) as I do.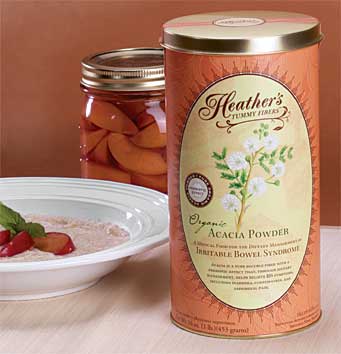 Acacia Tummy Fiber - Relieves both diarrhea AND constipation!

Overlapping Conditions in Women With IBS
A recent Urologic Nursing article looked at overlapping conditions in women with IBS. In most countries, including the United States, the prevalence of IBS is approximately 2 to 2.5 times greater in women than men. This imbalance has prompted clinicians and investigators to examine factors that account for gender differences in IBS. Such studies have demonstrated that women with IBS are more likely to report a history of constipation whereas men are more likely to report diarrhea. In addition, women with IBS are more likely than men to report extra-intestinal disorders including migraine headaches, bladder discomfort, dyspaurenia, and chronic pelvic pain. The focus of this article is to explore current thinking related to the etiology and pathophysiology of IBS along with its relation to other pelvic organ conditions especially chronic pelvic pain (CPP) and interstitial cystitis (IC). Go here for more information about this study...

Zelnorm Associated With Rare Cases of Ischemic Colitis
The U.S. Food and Drug Administration (FDA) and Novartis Pharmaceuticals notified healthcare professionals on April 26 of revisions to the warnings and precautions sections of labeling for tegaserod maleate (Zelnorm). The warning refers to serious consequences of diarrhea (including hypovolemia, hypotension, and syncope) that occurred both during clinical trials and during marketed use, in some cases requiring hospitalization. Zelnorm is prescribed for the short-term treatment of women with irritable bowel syndrome whose primary bowel symptom is constipation.

According to the FDA, Zelnorm should be discontinued in patients who develop hypotension or syncope. It should not be initiated in patients who frequently experience or are currently experiencing diarrhea. The FDA recommends discontinuation of the drug in patients who develop symptoms of ischemic colitis such as rectal bleeding, bloody diarrhea, or new/worsening abdominal pain. These patients should be evaluated promptly and treatment with Zelnorm should not be resumed if a diagnosis of ischemic colitis is confirmed. Go here for more information about this study...

Abdominal Bloating and Distension in Functional GI Disorders
A recent study in Neurogastroenterology and Motility looked at abdominal bloating, an extremely common symptom affecting up to 96% of patients with functional gastrointestinal disorders and even 30% of the general population. To date bloating has often been viewed as being synonymous with an actual increase in abdominal girth, but recent evidence suggests that this is not necessarily the case. This review examines the relationship between the symptom of bloating and the physical sign of abdominal distension, as well as examining the epidemiology, pathophysiology and treatment options available for this debilitating aspect of the functional gastrointestinal disorders. Go here for more information about this study...

Fish Oil, Soluble Fiber, and Antioxidants for Ulcerative Colitis
A recent study in Clinical Gastroenterology and Hepatology looked at how N-3 fatty acids from fish oil, antioxidants, and short-chain fatty acids (SCFAs) produced during the fermentation of soluble fiber may attenuate inflammation associated with ulcerative colitis (UC). They assessed the efficacy of a nutritionally balanced oral supplement enriched with fish oil, fructooligosaccharides, gum arabic, vitamin E, vitamin C, and selenium on disease activity and medication use in adults with mild to moderate UC. The study concluded that the improvement in clinical response combined with a decreased requirement for corticosteroids suggest that this enriched oral supplement can be a useful adjuvant therapy in patients with UC. Go here for more information about this study...

Looking for comprehensive IBS research and news?
Check here in the IBS Research Library!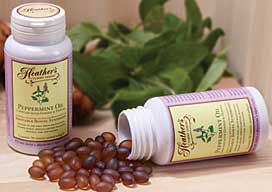 Peppermint Oil Caps with Fennel and Ginger Are Amazing!

I think our Peppermint Oil Caps, with the added benefits of fennel and ginger oils, are truly unbeatable for gas, abdominal spasms, and bloating!

Favorite IBS Recipes
"I love to cook, and I'm thrilled to be able to make delicious food that's also safe for IBS. Do you have a list of people's all-time favorite IBS recipes? ~ Kathie Wyke-Anderson, Austin, TX

Oh boy, do I! There are literally thousands of terrific IBS recipes on our website, but I get a lot of requests from people for the tried-and-true favorites.

In addition to the number one winner Peppermint Fudge Cake, the other most popular IBS recipes come from the book Eating for IBS, the IBS Recipe Exchange Message Board, and past IBS Newsletters. If you've got your own personal list of greatest hits, please come share it on the Recipe Board!

Shell's Oven Fried Honey Chicken
This is tangy, juicy, crispy-crunchy and wonderful!

TessLouise's Anti-Depressant Brownies
The traditional brownie goes IBS-friendly, with moist and fudgy results you have to try to believe!

SharonMello's Baked Shrimp in Lemony Garlic Sauce
A perfect fast and easy dinner that's zesty and wonderful. I like to add fresh basil instead of the parsley for a change.

Honey Glazed Snack Mix
The perfect snack food, road food, all-around munchie mix. Kids love it as much as adults.

Will's Dreamy Lemon Rice Pudding
Everyone's favorite super-soothing recipe for when times are tough. This is the most delicious way I know to stabilize IBS.

All-American Sloppy Joes
An old-fashioned sandwich made IBS-safe, for a traditional homestyle meal that's actually good for your gut!

Alicia's Pineapple Angel Food Cake
This cake couldn't be faster, couldn't be easier, and couldn't be more wonderful!

~ Heather

Don't miss last week's "Ask Heather" and how to get rid of gas!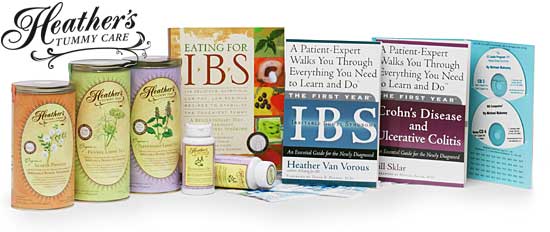 Shop at Heather's Tummy Store for IBS
HelpForIBS.com
The only store that's just for IBS - so we only carry the very best



You're on this newsletter list because you have expressed interest in IBS news and information.


Change your newsletter email address here.

If you are viewing this newsletter on a website and would like to subscribe for email delivery, please "Join the IBS Newsletter" here.

ANTI-SPAM PRIVACY & SECURITY POLICY
HelpForIBS.com
Heather's Tummy Care
80 S. Washington St, #304
Seattle, WA 98104 USA

© 2011 Heather Van Vorous, Heather's Tummy Care. All rights reserved.
USA Copyright Office Registration Number TXU 1-270-858 and others.