Did your email mangle this newsletter? Copy and paste this address into your browser window:
http://www.helpforibs.com/news/newsletter/033005.html or go here to see it online.

March 30, 2005

This week - Gluten Intolerance & IBS

Hello to everyone -

This week we tackle the issue of gluten intolerance, celiac, and IBS. Can you possibly eat safely if you're dealing with all of these issues at once? Yep - and we've got a delicious recipe, a fabulous guest columnist, and tons of advice to show you how. Plus, as always, we've got the latest IBS news and research. Enjoy!

Best Wishes,
Heather Van Vorous

Did a friend send you this newsletter? Sign up here for your own free subscription.

Kandee's Mighty Nice Rice Muffins (Gluten Free & IBS-Friendly!)

4 egg whites
1/2 cup brown sugar, lightly packed
1/4 cup granulated sugar
1/4 cup canola oil (or half oil, half applesauce)
3/4 cup non-dairy milk (rice, soy, or nut)
1 cup white rice flour
1 cup brown rice flour
1 tablespoon baking powder
1/2 teaspoon salt
2 teaspoons xanthan gum (available in bulk at most health food markets)
2 tablespoons Acacia Tummy Fiber (optional, but makes the muffins more tender)

Preheat oven to 400 degrees F. Lightly spray a standard 12 muffin tin with vegetable oil spray, or use paper liners. (Liners are best to use if the tin has been previously used for muffins made of wheat flour.)

Have all ingredients at room temperature. Whisk egg whites, brown and granulated sugars, oil and milk together in one bowl. Set aside for 5 to 10 minutes.

Sift and mix white and brown rice flour, baking powder, salt, Xanthan gum and Acacia Tummy Fiber in another larger bowl. Add wet ingredients to dry and blend well by hand or electric hand mixer. Divide evenly into 12 muffins. Cups will be 2/3 to 3/4 cup full.

Bake 18 to 22 minutes until golden on top, or until toothpick inserted in the middle comes out dry. Gently remove from muffin tin. Eat warm or cold. Muffins store well in a zip plastic bag in the refrigerator or freezer.

Variations:

* Blueberry Muffins: (Kandee's favorite!) Add 1 cup frozen blueberries to above batter. Makes 14 muffins. (The two extra I bake in custard cups.)

* Peanut Butter Muffins: Stir 2 Tablespoons peanut butter (or other nut butter) into liquid ingredients before adding to the dry ingredients.

* Banana/Nut muffins: Reduce milk to 1/4 cup and stir in 1 1/2 to 2 ripe mashed bananas and 1/4 cup finely chopped nuts into batter. Makes 14 muffins.

* Lemon/Poppy Seed Muffins: Add 1 Tablespoon poppy seeds and 2 teaspoons lemon juice to above batter.

* Chocolate Chip Muffins: Add 1/2 cup dairy-free mini-chocolate chips into above batter.

* Date/Nut muffins: Add 1 cup chopped dates and 1/4 cup finely chopped nuts of your choice into batter. Makes 14 muffins.

* Apple/Spice Muffins: Add 1 peeled, cored and chopped apple and 1/2 teaspoon cinnamon into batter. Makes 14 muffins.

* Surprise Muffins: Spoon batter into muffin cups filling only half full. Drop 1/2 teaspoon full of jam in the center of muffin batter. Cover with remaining batter.

For oodles of other delicious recipes, come visit the IBS Recipe Exchange board!

Are you just learning how to eat for IBS? A little intimidated at the thought of special IBS recipes? Not quite sure just what makes these recipes special in the first place? Don't worry! Come see the IBS Diet pages, and find the answers to all your questions.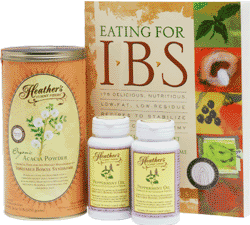 Try the IBS Diet Kit #2 - it's 20% off full price!

Here's the immediate, tangible help you need to take control of your IBS symptoms through diet! Includes the book Eating for IBS, Acacia Tummy Fiber, and Peppermint Oil Capsules. Normalize both constipation and diarrhea, reduce bloating & gas, and prevent painful spasms!



Ask Your Local Stores for IBS Books, Acacia Fiber & Tummy Teas

We had a wonderful response to our Tummy Care products launch to retail stores at the recent Natural Products Expo West, and now we need to follow up with the 100+ stores that were interested. Many of you have already filled out our retail survey, but for those who haven't please do so if you'd like to be able to find your Tummy Care products locally. This survey is one of the best ways to compel store buyers to start carrying the Tummy Care line, because we'll be able to show buyers from the Expo that there are customers in their area who are looking for our products.

Thank you so much for your help! ~ Heather

If you have any trouble filling out the email survey below, please click here to complete the survey on our website.

Outlook users using the preview window will have trouble as hitting the space bar will take you out of the survey, so Outlook folks please click here.



Treatment of IBS Among Women with Chronic Pelvic Pain
A recent study in American Journal of Obstetrics and Gynecology sought to describe irritable bowel syndrome (IBS) treatment among women with chronic pelvic pain. The study reviewed new chronic pelvic pain patients between 1993 and 2000. IBS was defined by Rome I criteria. IBS treatment was defined as lower gastrointestinal drugs or referral. Results showed that IBS occurred in 35% of patients, but IBS was not diagnosed 40% of the time. IBS treatments were not recommended to 67% of patients with IBS. The study concluded that IBS is not consistently diagnosed and treated even in a pelvic pain clinic. Yet, treatment of IBS may reduce the overall abdominal pain of these patients. Go here for more information about this study...

Alternating Bowel Habit Subtype in IBS
A recent study in The American Journal of Gastroenterology tried to determine a set of bowel habit symptom criteria which most specifically identifies IBS patients with an alternating bowel habit. The study also tried to describe IBS-A bowel symptom patterns, and to compare clinical characteristics among IBS-A, constipation-predominant (IBS-C), and diarrhea-predominant IBS (IBS-D).

The study concluded that stool consistency was determined to be the most specific criteria for alternating bowel habits. IBS-A patients reported rapid fluctuations in bowel habits with short symptom flares and remissions. There was a greater prevalence of psychological and extraintestinal symptoms in the IBS-A subgroup compared to IBS-C and IBS-D. No differences were seen between bowel habit subtypes in health-related quality of life. Go here for more information about this study...

IBS in Developing Countries: a Disorder of Civilization?
A recent study in Neurogastroenterology and Motility examines the fact that while irritable bowel syndrome (IBS) is common in the West, early studies suggest that the prevalence is low in developing countries. However, recent studies point to increasing prevalence in newly developed Asian economies. While a recent study from China, consistent with western studies, support an important role for infection and inflammation, early studies from India reporting no association between amoebic infection and IBS appear to dispute this observation. To reconcile these seemingly contradictory observations, an hygiene hypothesis model is proposed. Exposure to a variety of microorganisms early in life could result in the colonization of the intestine with microflora that can respond more efficiently to an episode of gastroenteritis. Together with the changes with evolution of Asian economies such as westernization of the diet and increased psychosocial stress, it is proposed that loss of this internal protective effect, could give rise to a more uniform worldwide prevalence of IBS. Go here for more information about this study...

Recommendations for Treating Children With Chronic Abdominal Pain
A subcommittee on Chronic Abdominal Pain of the American Academy of Pediatrics (AAP) and the North American Society for Pediatric Gastroenterology, Hepatology, and Nutrition have generated a clinical report to provide guidance to clinicians treating children with this condition. The clinical report and an accompanying technical report are published in the March issue of Pediatrics.

"Children and adolescents with chronic abdominal pain pose unique challenges to their caregivers," write Richard B. Colletti, MD, and colleagues from the Subcommittee on Chronic Abdominal Pain. "Affected children and their families experience distress and anxiety that can interfere with their ability to perform regular daily activities. Although chronic abdominal pain in children is usually attributable to a functional disorder rather than organic disease, numerous misconceptions, insufficient knowledge among health care professionals, and inadequate application of knowledge may contribute to a lack of effective management." Go here for more information about this study...

Looking for comprehensive IBS research and news?
Check here in the IBS Research Library!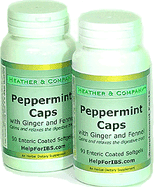 Peppermint Oil Caps Are Amazing!

I think Peppermint Oil Caps are truly unbeatable for abdominal spasms, cramps and pain. Our caps also have fennel and ginger oils, for extra digestive benefits!

Gluten Intolerance, Celiac, & IBS
"Is it possible to be gluten intolerant and have IBS as well? How do I manage a diet for both concerns? ~ Nadine Stimpson, Palisades, CA

The short answer to this question is yes, it's absolutely possible to have a gluten intolerance, celiac disease (an auto-immune disorder that results in gluten intolerance), and/or IBS at the same time. They're all separate disorders, but they can occur simultaneously in the same person. The good news here is that the IBS diet is easily adjusted to be gluten-free, and the focus can remain plant-based, low fat, and incorporate both soluble and insoluble fibers.

If you suspect (or know for a fact) that you're dealing with both gluten intolerance and IBS, and you're feeling overwhelmed by the combination, I have a wonderful story for you. Our IBS Message Board Moderator Kandee is a guest columnist this week, and I couldn't be happier that she has so graciously agreed to share her experiences in this area. She is a tremendous inspiration. So, I'll turn the question over to you, Kandee:

"Can you be gluten intolerant AND have IBS at the same time?" ~ Heather

In 1980, I'd moved from the southwest to the east coast. Not long after I got there I suddenly found myself physically going through a terrible period of time. I broke out in a rash, hives, and there were hives on top of hives! They were everywhere, in my hair, in between my toes, even on my eyelids. All I wanted to do was scratch. It was hard to breathe, too. I was sick, weak and bed-ridden. All I ate was chicken soup and soda crackers. I kept getting worse. Out of desperation I went to the military hospital where they announced that yes, I did have an allergic reaction to something but they didn't know what and would do a "scratch test". All that showed up was that I was mildly allergic to household pets and oak. I owned neither. They had no answers for me, other than shots of epinephrine when I got so bad I'd end up in the ER. I took it upon myself to find a well respected allergist and after a RAST IgE test for food allergies and an elimination diet, it was discovered I was highly allergic to wheat and a little less so to chicken and beef. Remember the soda crackers and soup I was eating when I thought I couldn't eat anything else?

I stopped eating all the wheat products I could think of. Rice cakes became my best friends. That was just about all there was that was wheat free back then. I was prescribed heavy daily doses of the antihistamine Benedryl. In those days it was a prescription medicine and stronger than the OTC form on the market today. I started to feel better. Over the years somehow, I'd lessened the severe allergic reaction to wheat to an "intolerance", and found that I could consume the equivalent of about one sandwich a week without getting esophageal spasms or breaking out in hives. Oh, how I relished those infrequent splurges.

Fast forward to 2 1/2 years ago. One day, Thanksgiving Day to be exact, I had NO stomach problems, and the next day I had IBS (though I didn't have a name for it at the time). It literally came on that fast, and from what, exactly, I still don't know. I had slowly weaned myself off Benedryl in the prior 4 months since it exacerbated my inherited restless leg syndrome. I also had taken a round of Cipro antibiotic two months before, without added probiotics. To this day, I think my IBS stemmed from taking the antibiotic without a probiotic to counteract the ill effects on the gut, but I'll never really know.

The rest is a story I know you are all familiar with. Like many of you I spent months with doctors ruling out all the other diseases, syndromes and conditions it could have been. I lived in misery and lost 35 lbs in a couple of months. It hurt to eat anything. I was convinced I was going to die. I became more and more constipated. I went from this specialist to that one, and when I finally got to my second gastroenterologist, whom I liked immediately, it only took 20 minutes of talking to him to be given the diagnosis of IBS. FINALLY I had something I could get a grasp on, but I didn't even know what IBS was. I ordered every book Amazon had on the subject and started reading what I could find on the internet. I tried every diet imaginable, yet I still hurt. Unfortunately, Heather's First Year: IBS book was one of the last I read. I'll never forget it.

It was on a warm summer night and I was busy reading her book on my patio. About half-way through, all the time thinking that for the first time this made sense, something clicked. Like a flash of lightning had hit me, I put the book down and ran to test her eating theory. I had some buckwheat flour and rice flour in the house, and fortunately some real maple syrup. Haphazardly, I mixed up a crude pancake batter that followed her IBS dietary guidelines, made a buckwheat pancake, drenched it in maple syrup and gobbled it down. Then I waited to see if it would trigger the miserable pains. It didn't. I went back and made another pancake, devoured that one and again waited. Nothing, no pain, nada! I knew, right then and there, Heather's diet was for me. From that day forward I ate her way and never looked back.

Less than a year ago I was to make my usual 6 month visit to the GI doctor who originally diagnosed me with IBS. We'd chit-chat, he'd prescribe antispasmodics, tell me to eat more fiber and send me on my way. But this time was different, as he wasn't there. A reservist, he was in the Middle East so I had to see his fill-in GI doctor, a nice older gentleman still trying to retire after 35 years. I'd asked about a gene test to see if my parents had passed the Celiac Disease gene down to me, knowing that was the one test that was yet to be ruled out in my IBS diagnosis. I didn't even ask for the blood test for CD, figuring it would show a false negative even if I did have CD. After all, I'd been eating wheat free all these years.

The doctor said, "But do you eat gluten free?" to which I replied, "No, I still eat barley and rye and oats." He explained that the newer tests are so sensitive that they would likely show something if I was gluten intolerant. I gladly agreed to have the test done, let them take the blood and went on my merry way, still convinced nothing would show up. Three days later he called to tell me that while I didn't test positive for the one test that indicates Celiac Disease, I did test positive for the gliadin antibodies. I wasn't sure what that meant but I thanked him for calling, asked that a copy of my blood work results be mailed to me, and told him I'd see him in 6 months. Since then I've read whatever I could get my hands on, joined a Celiac Disease message board and a local support group, and talked to a doctor who is also gluten intolerant as are her three children. In essence, I learned that I've been upgraded from allergic to wheat to gluten intolerant.

Here's what I've learned and want to share with all of you who have been diagnosed with IBS but may also be dealing with CD:

* The symptoms for IBS and CD (Celiac Disease) are almost identical; abdominal pain, gas, bloating, distention, diarrhea or constipation, weight loss or gain, and more. The gastrointestinal complaints I read on the CD boards are so similar to the ones on our IBS message boards that if I didn't know better, I wouldn't know which message board I was on.

* The idea that you can't have IBS with CD is false. You can have both or one individually. Over 200 diseases and conditions are associated with CD. IBS is one that is definitely associated with CD.

* If you've had the endoscope test for flattened villi of the small intestines and been told you don't have CD, don't stop there. Ask to have the blood tests for CD. You may not have CD but you may be gluten intolerant, which is considered by many experts to be a precursor to developing CD. Get copies of all your blood work then research the results. False positives are rare but false negatives aren't. If you still suspect you're gluten intolerant get another lab to run the tests or eliminate gluten from your diet to see how you feel.

* The average length of time it takes for a Celiac patient to get a positive diagnosis in the USA is 11 years. It impacts nearly three million Americans. The NIH (National Institutes of Health) recommends that all IBS patients be routinely tested for Celiac Disease yet most doctors don't do this unless asked by their patient.

* 73% of all Celiac patients were first diagnosed with IBS, and IBS only.

* While IBS is a functional disorder and does not kill, Celiac Disease can and does kill if left untreated. Don't take it lightly.

* Celiac Disease is often thought of as causing a lot of weight loss and diarrhea. This is not always the case. Just as with IBS, Celiac patients can be normal, overweight or underweight with constipation, diarrhea or alternate between the two.

* One in 133 individuals of all ages has diagnosed Celiac Disease. If more are tested and found positive, we could see, not in the too far off future, figures as high as 15% of the general population with CD.

* In Italy, school children around the age of 6 are routinely tested for CD. CD is prevalent in about 1% of those children.

* 4% to 5% of all IBS sufferers have CD and don't know it.

* CD runs in families. If you or your children test positive, have all members tested.

* Dairy isn't tolerated well by most CD or IBS patients, yet Heather's is the only diet I know that completely eliminates dairy for IBS. Follow it.

* Read the articles in the IBS Research Library under the Celiac Disease section. They are there for a reason.

* Being gluten intolerant and having IBS does not mean the end of the world, nor does it mean giving up the IBS diet. In fact, Heather's IBS diet is the most beneficial one anyone with gluten intolerance can be on. Why? Because most CD patients have the same gastrointestinal complaints as those of us with IBS. It can benefit both. You simply have to substitute gluten free alternatives for the wheat flours, noodles, or other wheat ingredients called for in most recipes, plus a few other minor alterations.

* If you have to change your diet to feel good, be up for the challenge of change. I especially like the following quote: "The task of changing your diet is very much like moving to another country and culture. You may try to bring all your old habits with you, and struggle to get all of the ingredients that you are used to forming into meals, or you can gracefully, and with a sense of adventure try the new cuisine."

To help you start, try the gluten free, IBS-safe muffin recipe above, which I created and I think you will enjoy. These muffins are so good you can eat them plain! ~ Kandee, Apple Valley, CA

My thanks to Kandee for her story and so much terrific information. For lots more gluten-free dietary advice and IBS-safe, gluten-free recipes, come by the IBS Recipe Exchange Board. We'll see you there! ~ Heather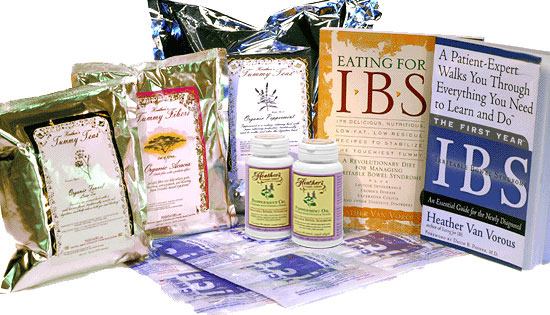 Shop at Heather's Tummy Store for IBS
The only store that's just for IBS - so we only carry the very best

Heather & Company for IBS, LLC is dedicated to serving people with Irritable Bowel Syndrome. Our mission is to provide education, support, and products that allow people with IBS to successfully manage their symptoms through lifestyle modifications.

We offer extensive information and tangible help for IBS, including the world's best-selling and best-reviewed books for the disorder. We provide the internet's top IBS web site resources; a twice-monthly IBS Newsletter; seminars and classes; dietary brochures for patient distribution by health care professionals; an IBS Research Library; and Heather Cooks!, a healthy cooking show on Seattle television. Much of our work is based on Heather's development of the first and only comprehensive IBS dietary guidelines and recipes, an achievement which has earned numerous awards and accolades as well as thousands of thank you letters from IBS sufferers.

Heather & Company also provides the only patient-expert moderated IBS Message Boards on the internet with forums for diet, recipes, hypnotherapy, yoga, plus Crohn's and Colitis. In addition, we support and coordinate the formation and continuation of local in-person IBS support groups across the USA, Canada, the UK, Australia, and New Zealand. We will soon have other IBS services and products available.

Our website receives nearly 3 million visits each year, and our newsletter is sent to over 34,000 people. We are regular exhibitors at the Digestive Disease Week and American Dietetic Association conferences.

Sponsorship opportunities are available for the message boards and this newsletter for companies and/or products that have been legitimately established as helpful for digestive disorders. Please contact us for information.

You are receiving this email because you have expressed interest in IBS news and information.


To unsubscribe from Heather's IBS Newsletter, go here http://www.helpforibs.com/news/unsub.asp or send an email to help@helpforibs.com.

Change your newsletter email address here.

If you are viewing this newsletter on a website and would like to subscribe for email delivery, please "Join the IBS Newsletter" here.

ANTI-SPAM PRIVACY & SECURITY POLICY
LEGAL DISCLAIMER - This email is not intended to replace the services of a physician, nor does it constitute a doctor-patient relationship. Any application of the recommendations in this email is at the reader's discretion. Heather Van Vorous and Heather & Company for IBS, LLC are not liable for any direct or indirect claim, loss or damage resulting from use of this email and/or any web site(s) linked to/from it. Readers should consult their own physicians concerning the recommendations in this email.


HelpForIBS.com
Heather & Company for IBS, LLC
80 S. Washington St, #304
Seattle, WA 98104 USA

© 2005 Heather & Company for IBS, LLC. All rights reserved.