Did your email mangle this newsletter? Copy and paste this address into your browser window:
http://www.helpforibs.com/news/newsletter/030805.html or go here to see it online.

March 8, 2005

This week - Tummy Fiber Acacia & Teas on Sale and in Retail Stores!

Hello to everyone -

This week we get ready to celebrate St. Patrick's Day with an IBs-friendly recipe for Irish Soda Bread. It's festive, delicious, and offers a great soluble fiber foundation to your holiday meal. It even includes caraway seeds, which have volatile oils that aid digestion.

We also have a very special thank-you sale and announcement for everyone who has been waiting for our Acacia Tummy Fiber and Tummy Teas to become available in retail stores, so check the "Ask Heather" column for exciting news about this. Plus, as always, we've got the latest IBS news and research. Enjoy!

Best Wishes,
Heather Van Vorous

Did a friend send you this newsletter? Sign up here for your own free subscription.

Irish Soda Bread

Preheat oven to 375F.

Sift together in a large bowl:
2 C all-purpose flour
1 1/2 t baking powder
1/2 t baking soda
1/2 t salt
1 T sugar

With a pastry blender, cut into the flour mixture:
4 T non-hydrogenated margarine (such as Soy Garden or Organic Spectrum)

Blend until mixture has the consistency of coarse cornmeal. Then stir in:
1/2 C chopped raisins
2 t caraway seeds

Set the flour mixture aside. In a small bowl, mix together:
2 lightly beaten egg whites
2/3 C soy milk with 2 t vinegar stirred in

Add the egg mixture to the flour mixture and stir well. Dough will be sticky. Scrape dough into an 8" round pan that has been lightly sprayed with cooking oil. Press dough down so it will fill (or mostly fill) the pan. Cut a large cross over the top of the dough and sides so the bread won't crack during baking. Bake for 35-40 minutes. Let cool, slice, and enjoy!

For oodles of other delicious recipes, come visit the IBS Recipe Exchange board!

Are you just learning how to eat for IBS? A little intimidated at the thought of special IBS recipes? Not quite sure just what makes these recipes special in the first place? Don't worry! Come see the IBS Diet pages, and find the answers to all your questions.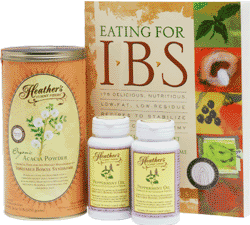 Try the IBS Diet Kit #2 - it's 20% off full price!

Here's the immediate, tangible help you need to take control of your IBS symptoms through diet! Includes the book Eating for IBS, Acacia Tummy Fiber, and Peppermint Oil Capsules. Normalize both constipation and diarrhea, reduce bloating & gas, and prevent painful spasms!



Surgical Treatment of Chronic Functional Constipation?
Yehuda Ringel, MD (Assistant Professor of Medicine, University of North Carolina at Chapel Hill; Staff Physician, Department of Medicine, University of North Carolina Hospital, Chapel Hill) of Medscape Gastroenterology addresses the question: "What is the appropriate work-up for chronic functional constipation, and how successful is partial colectomy in patients whose very-slow-transit constipation is 'resistant' to routine treatment?"

Surgical treatment of chronic functional constipation should be considered only in the most severe cases of slow-colonic-transit constipation for those patients who do not respond to aggressive medical therapy. Prior to surgery, patients should be carefully evaluated for existence of other gastrointestinal conditions and symptoms, particularly abdominal pain and irritable bowel syndrome. It is crucial to inform the patient that the surgical procedure is aimed to ease the constipation but is not likely to alleviate other gastrointestinal symptoms. A detailed work-up should include: (1) exclusion of known causes of constipation, such as medications (eg, opiates and anticholinergics); low-fiber diet; mechanical obstruction (eg, colon cancer or stricture); metabolic disorders (eg, hypothyroidism, hypercalcemia); psychological disorders (severe depression); and others; (2) confirming the diagnosis of severe functional colonic inertia (slow transit)-type constipation by studying colonic transit time (eg, radiopaque marker studies); and (3) exclusion of other possible treatable conditions, such as disturbed defecation, as assessed by anorectal manometry (eg, for Hirschsprung's disease and other pelvic floor dysfunctions) and defecation studies (eg, for rectocele and rectal prolapse); and chronic intestinal pseudo-obstruction, as assessed by radiologic or manometric studies. Go here for more information about this study...

Eating Fats Increases Symptoms in IBS patients
A recent study in The American Journal of Gastroenterology addressed visceral hypersensitivity in Irritable Bowel Syndrome (IBS) patients, and the fact that symptoms exacerbate postprandially (after eating). The study aimed to evaluate the differences of visceral sensitivity and symptoms in healthy subjects and IBS patients during fasting and intraduodenal lipids (fats) infusion.The study found that intraduodenal lipids infusion significantly lowered the threshold of discomfort in IBS patients in comparison to fasting, while the healthy control group tolerated all distension without discomfort. The predominant symptom elicited in patients with IBS-C was abdominal pain (54%), while patients with IBS-D exhibited urgency (63%). The study concluded that lipids (fats) may be responsible for the postprandial symptoms exacerbation in IBS. Go here for more information about this study...

Eating for IBS pioneered the guidelines for successful dietary management of IBS. Learn how your diet can help safely (and deliciously) reduce and prevent IBS symptoms.

Post-Infectious IBS in Patients with Shigella Infection
A recent study in the Journal of Gastroenterology and Hepatology noted that bacterial gastroenteritis has been known as a risk factor of irritable bowel syndrome (IBS). Several risk factors of post-infectious IBS (PI-IBS) have been documented. The aims of this study were to verify the role of bacterial gastroenteritis in the development of IBS and the risk factors for the development of PI-IBS. The clinical course of PI-IBS was also investigated. The study concluded that bacterial gastroenteritis is a risk factor of IBS and the duration of diarrhea as the index of severity of initial illness is an independent risk factor of PI-IBS. The clinical course of Post-Infectious-IBS is variable over the 1 year of follow-up. Go here for more information about this study...

Fecal Microbiota of Irritable Bowel Syndrome Patients
A recent study in The American Journal of Gastroenterology found that the gut microbiota may contribute to the onset and maintenance of irritable bowel syndrome (IBS). In this study, the microbiotas of patients suffering from IBS were compared with a control group devoid of gastrointestinal (GI) symptoms. Extensive individual variation was observed in the GI microbiota among both the IBS- and control groups. Sorting of the IBS patients according to the symptom subtypes (diarrhea, constipation, and alternating predominant type) revealed that lower amounts of Lactobacillus spp. were present in the samples of diarrhea predominant IBS patients wheras constipation predominant IBS patients carried increased amounts of Veillonella spp. The study concluded that quantitative alterations in the GI microbiota of IBS patients were found. Go here for more information about this study...

Go here to learn about the prebiotic supplement Acacia, which helps increase healthy gut microflora...

Looking for comprehensive IBS research and news?
Check here in the IBS Research Library!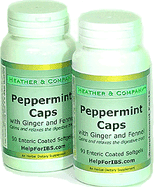 Peppermint Oil Caps Are Amazing!

I think Peppermint Oil Caps are truly unbeatable for abdominal spasms, cramps and pain. Our caps also have fennel and ginger oils, for extra digestive benefits!

Heather's Tummy Fiber Acacia & Tummy Teas on Sale and in Stores
"When will I be able to buy Acacia, the peppermint and fennel teas, and the peppermint oil capsules in stores? ~ Evelyn Garvey, Fife, WA

I am incredibly excited to announce that, as of March 2005, all of the Heather's Tummy Care products - including organic Acacia Tummy Fiber, organic peppermint and fennel Tummy Teas, and peppermint oil capsules Tummy Tamers - will be available for retail stores across America to order. We're exhibiting at the Natural Products West Expo March 18-20, and we hope to have retail stores in every state have our products on their shelves by April or May.

If you would like a store in your area to carry any of the Heather's Tummy Care products (as well as the IBS Audio Program 100 self-hypnosis program, the books Eating for IBS and The First Year: IBS, and Techni Ice hot/cold packs), all you have to do is ask them!

There is a one-page handout that you can download and print here, and give to the manager or buyer at your local health food store, drug store, or grocery store. The handout gives them all the information they need to start carrying any or all of the Heather's Tummy Care products.

So, if you've been frustrated by not being able to buy your Acacia or Tummy Teas or peppermint oil capsules locally, here's your chance to make your voice heard.

As a heartfelt thank you to everyone who has supported all of our IBS efforts and made it possible for us to expand from the internet into retail stores, we have a special thank you sale on all of the Tummy Care products through the weekend only. This is a sale that is only good to newsletter subscribers, and it can only be accessed from the special sales page here on the website. Thank you again!

~ Heather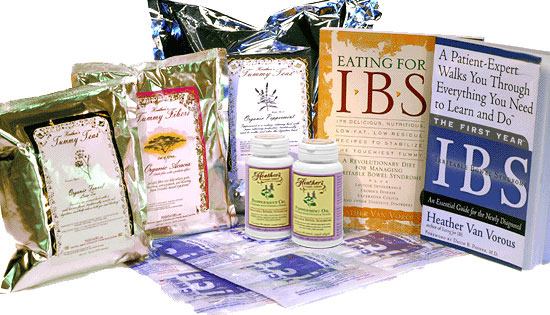 Shop at Heather's Tummy Store for IBS
The only store that's just for IBS - so we only carry the very best

Heather & Company for IBS, LLC is dedicated to serving people with Irritable Bowel Syndrome. Our mission is to provide education, support, and products that allow people with IBS to successfully manage their symptoms through lifestyle modifications.

We offer extensive information and tangible help for IBS, including the world's best-selling and best-reviewed books for the disorder. We provide the internet's top IBS web site resources; a twice-monthly IBS Newsletter; seminars and classes; dietary brochures for patient distribution by health care professionals; an IBS Research Library; and Heather Cooks!, a healthy cooking show on Seattle television. Much of our work is based on Heather's development of the first and only comprehensive IBS dietary guidelines and recipes, an achievement which has earned numerous awards and accolades as well as thousands of thank you letters from IBS sufferers.

Heather & Company also provides the only patient-expert moderated IBS Message Boards on the internet with forums for diet, recipes, hypnotherapy, yoga, plus Crohn's and Colitis. In addition, we support and coordinate the formation and continuation of local in-person IBS support groups across the USA, Canada, the UK, Australia, and New Zealand. We will soon have other IBS services and products available.

Our website receives nearly 3 million visits each year, and our newsletter is sent to over 34,000 people. We are regular exhibitors at the Digestive Disease Week and American Dietetic Association conferences.

Sponsorship opportunities are available for the message boards and this newsletter for companies and/or products that have been legitimately established as helpful for digestive disorders. Please contact us for information.

You are receiving this email because you have expressed interest in IBS news and information.


To unsubscribe from Heather's IBS Newsletter, go here http://www.helpforibs.com/news/unsub.asp or send an email to help@helpforibs.com.

Change your newsletter email address here.

If you are viewing this newsletter on a website and would like to subscribe for email delivery, please "Join the IBS Newsletter" here.

ANTI-SPAM PRIVACY & SECURITY POLICY
LEGAL DISCLAIMER - This email is not intended to replace the services of a physician, nor does it constitute a doctor-patient relationship. Any application of the recommendations in this email is at the reader's discretion. Heather Van Vorous and Heather & Company for IBS, LLC are not liable for any direct or indirect claim, loss or damage resulting from use of this email and/or any web site(s) linked to/from it. Readers should consult their own physicians concerning the recommendations in this email.


HelpForIBS.com
Heather & Company for IBS, LLC
80 S. Washington St, #304
Seattle, WA 98104 USA

© 2005 Heather & Company for IBS, LLC. All rights reserved.