Did your email mangle this newsletter? Copy and paste this address into your browser window:
http://www.helpforibs.com/news/newsletter/022205.html or go here to see it online.

February 22, 2005

This week - IBS, Weight Loss, & Fitness

Hello to everyone -

This week we address a very common issue: eating safely for IBS while also staying fit and and losing weight. These two goals are actually very compatible, as we'll see from the incredibly inspiring story of our IBS Message Board Moderator Shell Marr. If you've ever felt that you had to choose between managing your IBS and getting (or staying) in shape, Shell's story will speak directly to your heart.

We've also got a comforting homestyle recipe for meatloaf (yes, meatloaf!) that's sure to warm you on a chilly winter day. Plus, as always, we've got the latest IBS news and research. Enjoy!

Best Wishes,
Heather Van Vorous

Did a friend send you this newsletter? Sign up here for your own free subscription.

Shell's Awesome Turkey Meatloaf

If you're wondering how Shell, our special "Ask Heather" guest columnist this week, manages to eat safely for IBS, plus lose weight, plus have delicious meals, here's a recipe of hers that will show you the way!

2 tablespoons non-hydrogenated soy margarine (such as Soy Garden or Organic Spectrum)
1 cup chopped onion
3 cloves garlic, minced
1-1/2 lbs lean ground turkey (skinless white meat only)
1/2 cup fresh bread crumbs
2 egg whites
3/4 cup catsup (1/4 for loaf, 1/2 for top of loaf - can use less to taste if you like)
2 teaspoons Worcestershire sauce
3/4 teaspoon salt
1/2 teaspoon white pepper

Heat oven to 350 degrees. Melt margarine in a small skillet over medium-high heat. Add onion and garlic; cook 5 minutes, stirring occasionally. Transfer mixture to a large bowl; cool 5 minutes.

Add turkey, bread crumbs, egg whites, 1/4 cup catsup, Worcestershire sauce, salt and pepper to onion mixture; mix well. Pack into an 8 x 4-inch loaf pan. Spread remaining 1/2 cup catsup over top. Bake for 50 to 55 minutes or until no longer pink in center and internal temperature of loaf reaches 165 degrees. Let stand at room temperature 5 minutes before slicing. Makes 5 servings

For oodles of other delicious recipes, come visit the IBS Recipe Exchange board!

Are you just learning how to eat for IBS? A little intimidated at the thought of special IBS recipes? Not quite sure just what makes these recipes special in the first place? Don't worry! Come see the IBS Diet pages, and find the answers to all your questions.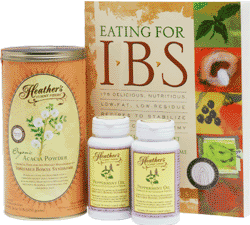 Try the IBS Diet Kit #2 - it's 20% off full price!

Here's the immediate, tangible help you need to take control of your IBS symptoms through diet! Includes the book Eating for IBS, Acacia Tummy Fiber, and Peppermint Oil Capsules. Normalize both constipation and diarrhea, reduce bloating & gas, and prevent painful spasms!



Is Constipation Associated with Decreased Physical Activity?
A recent study in The American Journal of Gastroenterolgoy examined the associations among physical activity, constipation, and quality of life in a population of employed adults to determine whether the risk of constipation is related to physical activity. The study concluded that physical activity appears to be unrelated to the risk of constipation in employed adults, but higher physical activity was associated with improved quality of life. Recommendations to increase physical activity may not alter symptoms of constipation but may improve overall well-being. Go here for more information about this study...

Do you agree with the conclusions of this study? (I don't!) Come share your experiences with constipation and exercise on our new IBS Fitness Board.

Intestinal Infection and Irrritable Bowel Syndrome
A recent study in the European Journal of Gastroenterology and Hepatology observed that the symptoms of irritable bowel syndrome (IBS) in some patients might follow an episode of acute gastroenteritis. Both retrospective and prospective studies suggest that between 4% and 26% of patients develop IBS for the first time after gastroenteritis. The diagnosis of post-infectious IBS is typically made from the history. In addition, as with the diagnosis of IBS more generally, it is important to exclude other clinical causes for persistent bowel dysfunction. There is little, if any, evidence to support the widely-held view that patients with post-infectious IBS carry a better prognosis than IBS patients more generally. The management of patients with post-infectious IBS is the standard approach that might be applied to all patients with IBS. Post-infectious IBS patients may differ from IBS patients in general in having a low-level of intestinal inflammation. Work in animal models, and detection of low-grade inflammation in intestinal biopsies combined with markers of intestinal inflammation such as faecal calprotectin all indicate a strong possibility that persisting inflammation after the acute infection may be important in the pathogenesis of post-infectious IBS. Go here for more information about this study...

IBS, Chronic Pelvic Inflammatory Disease, and Endometriosis
A recent study in the European Journal of Gastroenterology and Hepatology noted that irritable bowel syndrome (IBS) is common, and the symptom criteria for the diagnosis of IBS remain non-specific. Similarly, pelvic inflammatory disease and endometriosis present with symptoms that may be similar to those of IBS. The site of pain, intermenstrual bleeding and exacerbation of symptoms by food may be able to help differentiate the two groups. However, there is still considerable overlap in the symptomatology of the two conditions and to this end both specialties should work together to investigate and manage these patients. Go here for more information about this study...

Biotic Therapy Cuts Inflammation in Ulcerative Colitis
Synbiotic therapy, involving prebiotic and probiotic agents, reduces chronic inflammation in patients with active ulcerative colitis, Scottish researchers report in the February issue of Gut. In total, 18 patients with active ulcerative colitis were randomized in a double-blind fashion to 4 weeks of synbiotic therapy or to placebo. Biopsies also showed that the synbiotic group had reduced inflammation as well as regeneration of epithelial tissue. Following these encouraging results, the researchers call for a large-scale trial to "investigate the long term effect of synbiotic use in inducing and maintaining remission in patients with active disease." Go here for more information about this study...

Looking for comprehensive IBS research and news?
Check here in the IBS Research Library!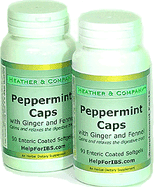 Peppermint Oil Caps Are Amazing!

I think Peppermint Oil Caps are truly unbeatable for abdominal spasms, cramps and pain. Our caps also have fennel and ginger oils, for extra digestive benefits!

IBS, Weight Loss, and Fitness
"I'm really worried that eating safely for IBS will lead to weight gain, or keep me from reaching my weight loss goals. Can I follow the IBS diet and get in shape at the same time? ~ Kathryn Kest, Springfield, IL

The short answer to this question is yes, absolutely! The IBS diet is actually very compatible with weight loss and fitness goals, because it's plant-based, low fat, and incorporates both soluble and insoluble fiber. Plus, exercise is a terrific way to help minimize and prevent IBS symptoms as well as get the rest of your body in shape.

Common sense rules of portion control, mindful eating, and regular physical activity are great guidelines for both gut and overall health. If you're feeling daunted by trying to manage your IBS through diet, and lose weight at the same time, I have a wonderful story for you. Our IBS Message Board Moderator Shelley Marr is a guest columnist this week, and I couldn't be happier that she has so graciously agreed to share her experiences in this area. Her goals, accomplishments, determination, and incredible successes are a tremendous inspiration. So, I'll turn the question over to you, Shell:

"Can you lose weight and keep your IBS under control at the same time?" ~ Heather

Yes! You can! I say this from experience.

In May of 2004 I had a business trip to San Francisco. My husband, Shane, and I decided to make it a combination business/pleasure trip, as it's such a beautiful city and all. I was concerned that because of my size I would either not be able to fit in the airline seat, get charged for a second seat, or both. I did spill into the next seat, but fortunately it was Shane's seat and he didn't mind. I couldn't get the seatbelt around me however, and had to ask the skinny flight attendant for an extension. I was so embarrassed!

We had barely gotten off the plane when I got sick. My stomach hurt so bad it made the rest of my body hurt. I was bloated, nauseous, and had cold sweats. All I wanted to do was pass gas but I couldn't, and had what I call my "mice" running around in my body. We had planned to have dinner with my boss and some business associates. Shane did. I spent the entire evening leaving the table every 10 or 15 minutes to go sit on the toilet and cry. Each time I'd return the table would fall silent and all eyes would be on me out of concern. It was very embarrassing. I never did eat that night.

Of course, we had parked a little way from the restaurant. Not only was I sick, but my out of shape and overweight body did NOT want to walk the few blocks to the car. About half way I began to wheeze and became out of breath. It was all I could do to keep Shane from dialing 911 for me. I was still sick when we got home and ended up taking a few more days off of work.

That was the straw that broke the camels back. I vowed to myself that I was going to do SOMETHING about this. I could not, would not continue to live like this. Spending all my spare time on the couch, in pain, never wanting to do anything was just too much.

I must admit, I was not eating right either. I would have espresso and pastries for breakfast, cheeseburger(s) w/fries or fried chicken for lunch, an espresso frappuccino on the way home , pizza or other fast food for dinner and who knows what for snacks and desert. I probably drank 4-6 cans of Sprite a day. When all was said and done I was easily consuming 3500 calories a day of crap!

Soon the plans for the IBS Las Vegas Fall Sprawl were in the works and I was freaking out because of the last trip I had taken. This is when I set my goals and moved forward with my lifestyle change! I posted my goals on the Irritable Bowel Syndrome Message Boards and have received much support and encouragement there.

I took Heather's books The First Year: IBS and Eating for IBS back out and read them again and again; I learned all over again what was suggested to be okay and not okay to eat when you have IBS. I cleaned out the cupboards, donated foods that were not safe or healthy to eat to a local food bank and stopped drinking caffeine and Sprite cold turkey. Now I drink lots of water, tea and the occasional sports drink. (I do ok with those, but some don't.)

I started going to the gym after work for just 15-20 minutes. Slowly that increased to 30, 40, 50 and even 60+ minutes! I remember watching some of the regulars go into a classroom day after day taking weight and kickboxing classes. I would watch them and think to myself "I could never do that!" About a month later I just went into the classroom and took a weight class. I was so sore the next couple of days!! I took just that class 2-3 times a week for a while and then one of girls asked me to take kickboxing with her! I looked at her like she was crazy!! Kickboxing is now my favorite class.

I count calories everyday using Diet & Exercise Assistant for Palm OS, Pocket PC, and Windows and do not consume more calories than I'm burning. I go to the gym 5-6 days a week and try to work in Yoga on Fridays. The weight is still coming off slowly but surely, and I'm doing it right and in a healthy way that will keep it off.

As of the end of January I'm down 67 pounds. I still have about 90 to go. I'm completely off my anti-depressants, and almost off of my blood pressure pills. My doctor is very proud of me and he even says I should write a book. This lifestyle change has added a good 10+ years to my life, and I feel like I'm living again. Even my sex drive has increased. I can't say enough how very important it is to follow Heather's diet to the best of your ability and get some kind of exercise! Even if it is just a walk around the block every day, it's a start! I have only called in sick to work for IBS related issues one time since June 2004, and it is wonderful to be able to walk around my neighborhood without sweating and being out of breath.

If you've made the decision that now is the time to lose weight, here's how to begin. Commit to the following:

*Make a reasonable timeline for your goals

*Set aside time for exercise, meal planning, and prep

*Get Heather's books and re-read them several times a year

*Dump the forbidden foods and ban them from entering your home

*Get yourself a calorie counter, whether it is a PDA or reference book

*Sign up for a gym or specific exercise program. Having to pay for it will keep you more committed to getting your money's worth, but having a video at home will help on days you can't get out of the house.

*Log everything you eat, even an Altoid or one jellybean

*See your doctor for a check up before and along the way for any prescription changes

*Vary your foods, but still eat according to the IBS diet, not forgetting a soluble fiber supplement, and insoluble fiber foods

*Drink plenty of water

*If you need them, take vitamins

*Weigh yourself only once a week and at the same time of day

*Take "before & after" pictures and get body measurements to "watch" your progress

*Reward yourself for every so many pounds lost, but NOT with food. (i.e. a movie, massage, pedicure, anything special)

*Come to our new IBS Fitness Board to start reporting in daily or weekly or whatever you can squeeze in

I've become more comfortable and outgoing among strangers, and my friends have noticed a change for the better in my personality. Gone are the days where I spent my weekends on the couch suffering. Gone are the days where it was just too painful and tiring to walk the beach. Life is too short and full to live like that! I did, I changed, and so can YOU! ~ Shelley Marr, Seattle, Washington

Two of Shell's (and Shane's) before and after pictures are below:
the left one is 3/10/04, and the right one is 11/28/04.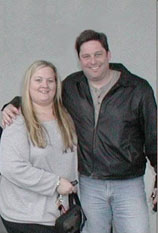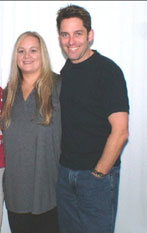 If you're looking for fitness, weight loss, or weight gain support while dealing with IBS, please come on by our brand new, fabulously supportive and inspiring IBS Fitness Board! It's moderated by none other than Shell Marr herself, and it's a happy, healthy home for all. Come visit and see for yourself!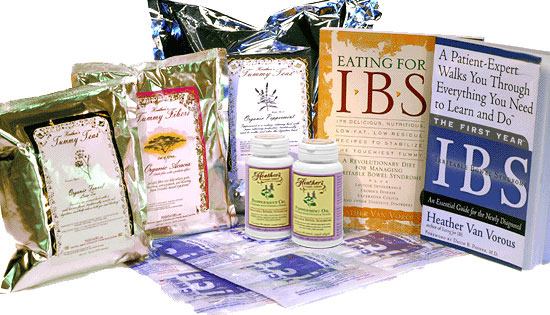 Shop at Heather's Tummy Store for IBS
The only store that's just for IBS - so we only carry the very best

Heather & Company for IBS, LLC is dedicated to serving people with Irritable Bowel Syndrome. Our mission is to provide education, support, and products that allow people with IBS to successfully manage their symptoms through lifestyle modifications.

We offer extensive information and tangible help for IBS, including the world's best-selling and best-reviewed books for the disorder. We provide the internet's top IBS web site resources; a twice-monthly IBS Newsletter; seminars and classes; dietary brochures for patient distribution by health care professionals; an IBS Research Library; and Heather Cooks!, a healthy cooking show on Seattle television. Much of our work is based on Heather's development of the first and only comprehensive IBS dietary guidelines and recipes, an achievement which has earned numerous awards and accolades as well as thousands of thank you letters from IBS sufferers.

Heather & Company also provides the only patient-expert moderated IBS Message Boards on the internet with forums for diet, recipes, hypnotherapy, yoga, plus Crohn's and Colitis. In addition, we support and coordinate the formation and continuation of local in-person IBS support groups across the USA, Canada, the UK, Australia, and New Zealand. We will soon have other IBS services and products available.

Our website receives nearly 3 million visits each year, and our newsletter is sent to over 33,000 people. We are regular exhibitors at the Digestive Disease Week and American Dietetic Association conferences.

Sponsorship opportunities are available for the message boards and this newsletter for companies and/or products that have been legitimately established as helpful for digestive disorders. Please contact us for information.

You are receiving this email because you have expressed interest in IBS news and information.


To unsubscribe from Heather's IBS Newsletter, go here http://www.helpforibs.com/news/unsub.asp or send an email to help@helpforibs.com.

Change your newsletter email address here.

If you are viewing this newsletter on a website and would like to subscribe for email delivery, please "Join the IBS Newsletter" here.

ANTI-SPAM PRIVACY & SECURITY POLICY
LEGAL DISCLAIMER - This email is not intended to replace the services of a physician, nor does it constitute a doctor-patient relationship. Any application of the recommendations in this email is at the reader's discretion. Heather Van Vorous and Heather & Company for IBS, LLC are not liable for any direct or indirect claim, loss or damage resulting from use of this email and/or any web site(s) linked to/from it. Readers should consult their own physicians concerning the recommendations in this email.


HelpForIBS.com
Heather & Company for IBS, LLC
19203 70th Ave S.
Kent, WA 98032 USA

© 2005 Heather & Company for IBS, LLC. All rights reserved.