Did your email mangle this newsletter? Copy and paste this address into your browser window:
http://www.helpforibs.com/news/newsletter/chocsf020905.html or go here to see it online.

February 9, 2005

This week - Overcoming IBS: Tory's Story

Hello to everyone -

This week we have a very special letter from someone who had to struggle greatly to break the cycle of IBS and find stability. Her story, shared by her mother, is an inspiration to everyone who has been following our "Getting Started with IBS" theme and is finally starting to see a light at the end of the tunnel. I hope it helps to know that you're not alone in your journey towards better health - we're here to support you.

As a special Valentine's Day treat, we've also got a "forbidden pleasure" dessert indulgence that will completely dispel the myth that eating safely for IBS means deprivation or boredom. If you've got an extra 15 minutes, you can whip up our Chocolate Fallen Souffle Cake for yourself and your sweetie and indulge in some pure chocolate heaven. Your tummy (and your sweetie!) will thank you.

As always, we've also got the latest IBS news and research, including a unique study for children with IBS. Enjoy!

Best Wishes,
Heather Van Vorous

Did a friend send you this newsletter? Sign up here for your own free subscription.

Chocolate Fallen Souffle Cake

Makes 12 Servings

2/3 cup almonds, finely ground
1/2 cup unsweetened cocoa powder
1-2 tablespoon decaffeinated instant coffee granules (optional)
1 1/2 cups granulated sugar
7 large organic egg whites
1/4 teaspoon salt
3 tablespoons canola oil
1 teaspoon vanilla
1 teaspoon almond extract

Preheat oven to 350 F. Spray a 9" non-stick springform pan or heavy gauge cake pan with cooking spray and set aside. In a large bowl whisk together ground almonds, cocoa, cofee granules, and 3/4 cup sugar. Set aside.

In a large bowl beat egg whites with salt until they hold soft peaks. Gradually add remaining 3/4 cup sugar while continuing to beat mixture, then whip until it just holds stiff peaks. Gently fold one third of egg white mixture into almond mixture to lighten the batter. Partially fold remaining egg white mixture into almonds, then add oil, vanilla, and almond extract and fold all ingredients together gently but thoroughly.

Pour batter into prepared pan, smooth top, and bake 30-40 minutes or until a tester inserted in middle comes out with moist crumbs. Immediately run a thin sharp knife around edges of cake to loosen from the sides of the pan, then cool cake, in the pan, on a rack (it will fall as it cools). Run a thin knife around edge of pan again and remove side of pan if using a springform. Slice with a thin sharp knife and serve warm or cold.

For oodles of other delicious recipes, come visit the IBS Recipe Exchange board!

Are you just learning how to eat for IBS? A little intimidated at the thought of special IBS recipes? Not quite sure just what makes these recipes special in the first place? Don't worry! Come see the IBS Diet pages, and find the answers to all your questions.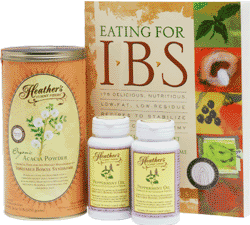 Try the IBS Diet Kit #2 - it's 20% off full price!

Here's the immediate, tangible help you need to take control of your IBS symptoms through diet! Includes the book Eating for IBS, Acacia Tummy Fiber, and Peppermint Oil Capsules. Normalize both constipation and diarrhea, reduce bloating & gas, and prevent painful spasms!



Seattle Study for Children and Teens with Recurent Abdominal Pain
Does your child or teen have frequent stomachaches? Children's Hospital (Seattle) and the University of Washington are looking for volunteers to take part in a research study that looks at ways to help kids who have stomachaches with no known physical cause. If your child or teen age 7 to 17 years has stomach pain that interferes with daily activities, they want you to participate.

Both you and your child must take part by attending three, hour-long sessions at Children's Hospital and completing five surveys during the year. You will receive $150 total. No medicines will be used in the study. For more information, please visit their website or call (206) 616-2358.

Value of a General Approach in Subjects with IBS
The general therapy approach is the cornerstone in the management of irritable bowel syndrome, but the effect is poorly documented. A recent study in Alimentary Pharmacology & Therapeutics evaluated the effect of the general therapy approach for irritable bowel syndrome. After exclusion of other disorders, a doctor presented irritable bowel syndrome as a positive diagnosis, gave information, reassurance and lifestyle advice, but no pharmacotherapy. A dietician gave dietary advice. There was a follow-up after 6 months that found there was a significant relief of symptoms after 6 months. Go here for more information about this study...

Overlap of GI Symptom Complexes in a US Community
A recent study in Neurogastroenterology and Motility found that although the Rome criteria define a number of individual functional gastrointestinal disorders, including IBS, people may have symptoms of multiple disorders at the same time. In addition, therapies may be effective in subsets of people with specific disorders, yet at the same time help people with multiple disorders. The study concluded that symptom complex overlap is common in the community; for each condition, the majority of sufferers reported an additional symptom complex. This overlap of symptoms challenges the current paradigm that functional GI disorders represent multiple discreet entities. Go here for more information about this study...

Grapefruit Juice Can Interact With Medicines
A recent study at the Mayo Clinic found that grapefruit juice inhibits a special enzyme in the intestines that is responsible for the natural breakdown and absorption of many medications. When the action of this enzyme is blocked, the blood levels of these medications increase, which can lead to toxic side effects from the medications. The grapefruit juice-drug interaction can lead to unpredictable and hazardous levels of certain important drugs. Go here for more information about this study, including a list of medications which should not be consumed with grapefruit juice...

Looking for comprehensive IBS research and news?
Check here in the IBS Research Library!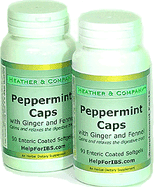 Peppermint Oil Caps Are Amazing!

I think Peppermint Oil Caps are truly unbeatable for abdominal spasms, cramps and pain. Our caps also have fennel and ginger oils, for extra digestive benefits!

Long Term Stabilization of IBS
"I have just started changing my diet, and I am feeling somewhat better, but I have been so sick for so long that I'm afraid to be too optimistic. Is it really possible to overcome my IBS and live a normal life? ~ Ann August, Deerfield, MA

I get a lot of letters from folks asking this exact same question. It can be so hard, when you've been struggling for a long time, to continue to have faith that things really can improve. It's particulary difficult to envision a genuinely healthy, happy life when you're still in the midst of severe symptoms and have just begun to climb out of the long, dark tunnel IBS can become. My answer to this question is yes, IBS can be overcome, but I'd like you to hear from someone else about this.

Lynne Grubbs recently wrote me a follow-up letter about her daughter, Tory - she had first written me several years ago when Tory was just beginning to change her diet and tackle IBS. Her story is a wonderful inspiration, and I thank her from the bottom of my heart for sharing it - it's one of the best Valentine's Day presents I've ever been given. ~ Heather

"Dear Heather -

Our family has not forgotten you. We think of you often.

Tory, 18, is now a super healthy, stable senior in high school. Her IBS journey started in 9th grade. Truthfully, it was a long and rocky road. It was probably 2 full years before she regained the 30 pounds she lost (at 5'7" she had dropped to 103 pounds), but discovering Eating For IBS gave her insight into her cramping attacks and gave us hope. You saved us all.

She followed your diet recommendations and now leads a happy full life, looking forward to college.

Frankly, the route has not been easy. It was almost 2 years before she could eat anything but the safe food on your list...but now (she does take fiber supplements each evening and does experience the occasional cramping when she has been too adventurous with new food) she seems to be doing splendidly. Do most people eventually stabilize like this?

We do not have our original dog-eared copy of your book (we lent it to a needy friend because I had all but memorized it) but in the first chapter, you said you rarely thought of having IBS. I read that one desperate evening at midnight. It blew me away. I did not believe it for a moment, but it gave us such hope... We have now arrived at that point and we are so grateful.

Tory gave her senior speech which touched on her struggles with IBS. You could have heard a pin drop. Tory is known for her cheerful personality and her great big smile. People were stunned by her struggles. Her themes were never giving up and the kindness of friends. I wish you could have heard it.

Keep up the great work! You gave us back our daughter. You cannot imagine how eternally grateful we will always be!

Lynne E. Grubbs"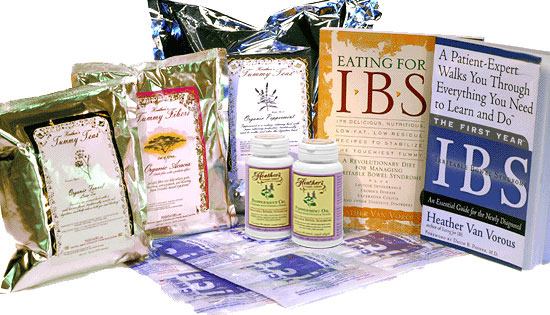 Shop at Heather's Tummy Store for IBS
The only store that's just for IBS - so we only carry the very best

Heather & Company for IBS, LLC is dedicated to serving people with Irritable Bowel Syndrome. Our mission is to provide education, support, and products that allow people with IBS to successfully manage their symptoms through lifestyle modifications.

We offer extensive information and tangible help for IBS, including the world's best-selling and best-reviewed books for the disorder. We provide the internet's top IBS web site resources; a twice-monthly IBS Newsletter; seminars and classes; dietary brochures for patient distribution by health care professionals; an IBS Research Library; and Heather Cooks!, a healthy cooking show on Seattle television. Much of our work is based on Heather's development of the first and only comprehensive IBS dietary guidelines and recipes, an achievement which has earned numerous awards and accolades as well as thousands of thank you letters from IBS sufferers.

Heather & Company also provides the only patient-expert moderated IBS Message Boards on the internet with forums for diet, recipes, hypnotherapy, yoga, plus Crohn's and Colitis. In addition, we support and coordinate the formation and continuation of local in-person IBS support groups across the USA, Canada, the UK, Australia, and New Zealand. We will soon have other IBS services and products available.

Our website receives nearly 3 million visits each year, and our newsletter is sent to over 32,000 people. We are regular exhibitors at the Digestive Disease Week and American Dietetic Association conferences.

Sponsorship opportunities are available for the message boards and this newsletter for companies and/or products that have been legitimately established as helpful for digestive disorders. Please contact us for information.

You are receiving this email because you have expressed interest in IBS news and information.


To unsubscribe from Heather's IBS Newsletter, go here http://www.helpforibs.com/news/unsub.asp or send an email to help@helpforibs.com.

Change your newsletter email address here.

If you are viewing this newsletter on a website and would like to subscribe for email delivery, please "Join the IBS Newsletter" here.

ANTI-SPAM PRIVACY & SECURITY POLICY
LEGAL DISCLAIMER - This email is not intended to replace the services of a physician, nor does it constitute a doctor-patient relationship. Any application of the recommendations in this email is at the reader's discretion. Heather Van Vorous and Heather & Company for IBS, LLC are not liable for any direct or indirect claim, loss or damage resulting from use of this email and/or any web site(s) linked to/from it. Readers should consult their own physicians concerning the recommendations in this email.


HelpForIBS.com
Heather & Company for IBS, LLC
80 S. Washington St, #304
Seattle, WA 98104 USA

© 2005 Heather & Company for IBS, LLC. All rights reserved.