Sesame Shrimp Toast
It's a Chinese restaurant treat, without all the grease! These are bite-size morsels of shrimp-y goodness on crispy toast points.
Delicious, yes, but usually deadly for IBS as restaurants typically deep fry them. Ours, however, are baked, not fried, and as an added bonus the recipe comes together very quickly!
4-6 Servings
12 thin slices white sandwich bread, crusts removed
8 oz. raw shrimp, shelled
1/3 C drained water chestnuts
1 organic egg white
1 T
Acacia Tummy Fiber
1 t toasted sesame oil
1/2 t salt
2 green onions, minced
2 t sherry
1-2 T toasted sesame seeds
Directions:
Preheat oven to 250F. Cut each slice of bread into two or four triangles (depending on size of slices). Spread on ungreased baking sheet and bake 25 minutes, or until crisp.
While bread toasts, add all remaining ingredients except sesame seeds to food processor or blender and puree until a medium-smooth paste. Scrape mixture into a bowl and let rest 10 minutes.
Raise oven to 400F. Spread a generous amount of shrimp mixture on toast triangles and sprinkle with sesame seeds. Bake for 10-12 minutes and serve hot or warm. Delicious!
Are you just learning how to eat for IBS? A little intimidated at the thought of special IBS recipes? Not quite sure just what makes these recipes special in the first place? Don't worry! Get Eating for IBS and find the answers to all your questions.
~ Heather's Tummy Fiber ~
For the Dietary Management of IBS Pain, Diarrhea, &, Constipation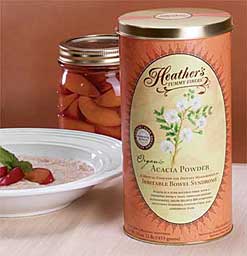 Certified Organic Acacia Senegal ~ Pure Soluble Fiber

The prebiotic fiber that relieves both diarrhea and constipation!

Very Economical

100% Acacia Senegal ~ Never Low Grade Acacia Seyal

Encourages Healthy Gut Flora!

No gluten, FODMAPS, additives, fillers, flavors, colors!

IBS Miracle: I feel more like me for the first time in a very long time!
Hi Heather and company -
I discovered your
peppermint oil capsules
when searching online for anything that might help my intestinal problems. I was lucky enough to find them at a CVS in Ocean City, MD, so did not have to wait for a mail shipment, so I could start taking them immediately. Amazingly enough - and with the caveat that it has only been a few days - they worked! So, I just have to say a huge thank you for returning the quality of my life to something approaching normal.
I have never been formally diagnosed with IBS, but have had intestinal issues for most of my life, and suffered a big increase of symptoms after starting a relatively low dose of Metformin for relatively mild type 2 diabetes. As you probably know, Metformin causes what they euphemistically call gastrointestinal distress - which should actually be called diabetes revenge. Even on the extended release pills, I have had a lot of distress. And, for some reason, my stomach problems have gotten much worse lately with urgency/diarrhea and the accompanying issues almost every day and after almost every meal.
Imodium was the only thing that I found that offered any help, and taking a half tablet before every meal (with my doctor's blessing) didn't always work and just didn't seem like a good long term solution. So, needless to say I was pretty desperate when I went looking for a more natural remedy. Anyway...
Luckily for me I found your
Tummy Tamers
. I have followed your directions scrupulously for two days - a capsule with a little water before meals - and I honestly can't believe the difference both in the way that I feel - nothing like intestinal woes to turn you into a witch - and in my intestinal function. Even knowing that I will probably still have bad days occasionally, I can't thank you enough for providing me a product that makes me feel more like me for the first time in a very long time!!!
I know that it sounds a little over the top, but so far (and fingers crossed that it continues), I feel like I found a miracle. Most of the time I work from home, so my nearly constant stomach upset usually just is an inconvenience. But, my job also calls on me to have a public face - meetings with congressional staff and government officials in D.C., and teaching and speaking in a variety of settings; and I also travel quite a bit, both inside and outside the U.S., including touring on a motorcycle with my husband - so sometimes the inconvenience has the potential to have a much more embarrassing impact.
So I am very grateful that I found your product and would be happy if my comments helped someone who was on the fence to decide to give it a try. In fact, I've already recommended the capsules to a close friend.
Jane B.
Annapolis, MD
Thank you so much, Jane!! ~ Heather
~ Heather's Tummy Tamers Peppermint Oil Capsules ~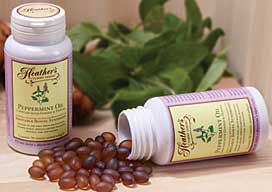 Peppermint Oil Caps Called "Drug of Choice for IBS"

Our Peppermint Oil Caps have the added benefits of fennel and ginger oils, and they help prevent abdominal pain, gas, and bloating!

Coming Up! April is IBS Awareness Month!
April is IBS Awareness Month! Are you aware of all the help and support available for managing IBS?

In addition to finding the wealth of information on the HelpForIBS.com website, and subscribing to the IBS Newsletter, you can:


Follow Help for IBS on Twitter for the latest IBS news reports and research.





Get tips and tricks for IBS when you Like Our Facebook Page.





Find moral support, ask questions, get answers! IBS Message Boards.





Struggling and just need a break? Lighten your mood with our CEO (Canine Executive Officer), Turner, and follow his adventures on Instagram.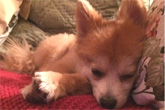 Need more help? Can't find what you're looking for? Email us! Just send your message to Help at HelpForIBS.com and we are there for you.

~ Heather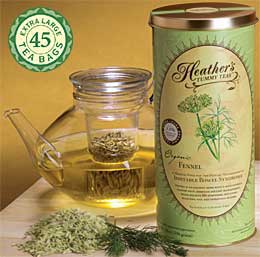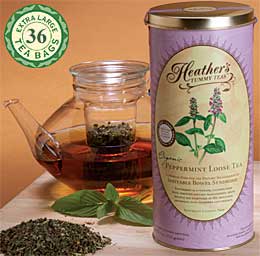 Organic High Volatile Oil Fennel & Peppermint Tummy Tea Bags

Extraordinary Quality ~ Very Economical

Fennel is terrific for bloating & gas, Peppermint is great for IBS pain & spasms.
Heather's Fennel Tummy Tea Heather's Peppermint Tummy Tea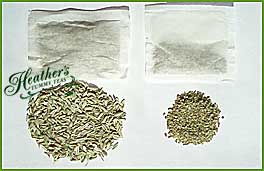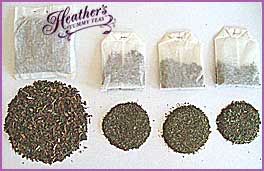 Compare for yourself!
The pictures above show the huge difference in the quantity and quality of tea per teabag.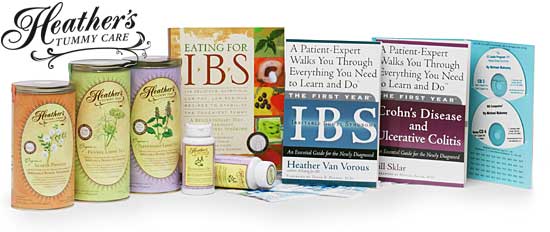 Shop at Heather's Tummy Store for IBS
HelpForIBS.com
The only store that's just for IBS - so we only carry the very best



You're on this newsletter list because you have expressed interest in IBS news and information.
Unsubscribe Here

Change your newsletter email address here.

If you are viewing this newsletter on a website and would like to subscribe for email delivery, please "Join the IBS Newsletter" here.

ANTI-SPAM PRIVACY & SECURITY POLICY
HelpForIBS.com
Heather's Tummy Care
80 S. Washington St, #304
Seattle, WA 98104 USA

© 2015 Heather Van Vorous, Heather's Tummy Care. All rights reserved.
Authored by Heather Van Vorous. May not be reproduced without permission.
USA Copyright Office Registration Number TXU 1-270-858 and others.