All Kits on Sale! Includes Bulk Kits! Take an Extra 10% Off!
Use Promo Code SUMMERKITS2


Stock Up On Your Favorite IBS Products!
Or Introduce Yourself to Heather's Tummy Care & Get Stable!


Share!


August 6, 2014 ~ Scroll down for full newsletter or follow the links:



Ask Heather »
IBS Basics: Do I Really Have IBS?
Special Letter »
It's a Life Saver!
News & Research »
Low FODMAP Diet Reduces Levels of Good Gut Bacteria
IBS Recipe »
Iced Mandarin Ginger Zingers
  
Have questions? Call toll free (866) 640-4942.
Outside the US (206) 264 8069.

Enjoy the newsletter!
Heather Van Vorous & Heather's Tummy Care
Over 10 Years of IBS Business!

Did a friend send you this newsletter? Sign up here for your own free subscription.



Iced Mandarin Ginger Zingers

Terrifically comforting and refreshing, this tart-sweet drink is perfect for summer days and nights. The ginger is very soothing for all types of digestive troubles, and adding the Tummy Fiber makes things extra IBS friendly.

Makes 1 serving, easily doubled or tripled

1 teaspoon Tummy Fiber
1 cup fresh orange juice
1" chunk fresh gingerroot, peeled, roughly smashed with the flat side of a heavy knife
1/2 cup water
1 tablespoon honey

Whisk together all ingredients but honey, and bring just barely to a boil in a small saucepan or microwave. Remove from heat and let steep for 2-3 minutes. Add honey, stir well, and strain into a large glass filled with ice.

For thousands of delicious recipes, come visit the IBS Recipe Exchange!


Are you just learning how to eat for IBS? A little intimidated at the thought of special IBS recipes? Not quite sure just what makes these recipes special in the first place? Don't worry! Get Eating for IBS and find the answers to all your questions.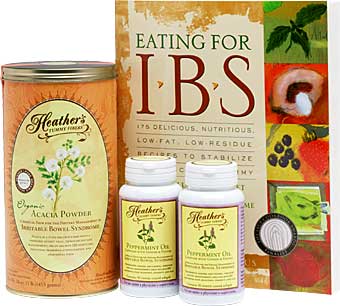 Try the IBS Diet Kit #2 - for Diarrhea AND Constipation!

* Eating for IBS - the Groundbreaking Diet and Cookbook

* Organic Acacia Tummy Fiber ~ for IBS Pain, Diarrhea and Constipation!

* Peppermint Oil Tummy Tamers with Fennel Oil ~ prevent bloating and gas!



It's a Life Saver!

Heather,

I wanted to tell you that after having a very bad day, I always use your Peppermint Tummy Tea and that it is a life saver. Today I tried a store brand and that did nothing for my stomach.

Thank goodness I have plenty of your tea and there are two CVS Drug Stores being built near me and soon I will be able to get all my IBS needs there. Thank you again for all your support and wonderful products.

You may tell everyone how the peppermint tea is a life saver for me. I usually drink about 2-3 cups when my stomach is really bad and I will be taking the tea on our vacation to Europe in August. When I am down to one package of tea, I make sure I reorder and another thing I like about all my orders is that they get here so fast, thanks for that.

From one of your devoted customers and fan,
Alberta

Thank you so much, Alberta! The peppermint tea is my favorite too! ~ Heather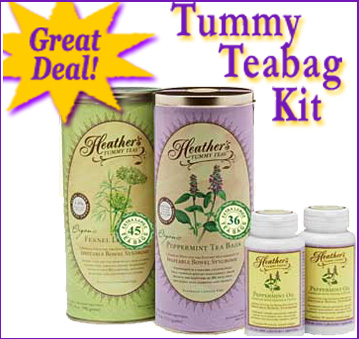 With Fennel and Peppermint Tummy Teas, Plus Peppermint Oil Caps

For bloating, gas, and preventing IBS abdominal pain!

Low FODMAP Diet for IBS Reduces Levels of Good Gut Bacteria

The Journal of Nutrition recently published an article by researchers at King's College, London, School of Medicine, showing that the low FODMAP diet reduced levels of bifidobacteria in people with IBS. Bifidobacteria is a gut microbe with numerous health benefits, which means it's not known if following the low FODMAP diet is safe in the long term.

The low FODMAP diet is not currently recommended as a diet for life but rather as a short term diet to help control IBS symptoms. Once this is achieved patients should start eating foods high in FODMAPs according to their own tolerance levels, as determined through the reintroduction phase of the diet.

The researchers summarized their findings: Restriction of fermentable short-chain carbohydrates (FODMAPs) is an effective management strategy for IBS, resulting in reductions in overall symptoms and bloating. However, this dietary therapy results in significant reductions in luminal bifidobacteria after 4 weeks. Whether this effect persists over time or has any detrimental effects on long-term colonic health is yet to be determined. Go here for full article.




~ Heather's Tummy Tamers Peppermint Oil Capsules ~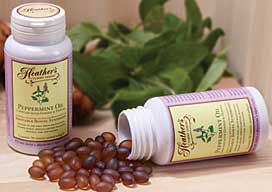 Peppermint Oil Caps Called "Drug of Choice for IBS"

Our Peppermint Oil Caps have the added benefits of fennel and ginger oils, and they help prevent abdominal pain, gas, and bloating!

IBS Basics - Do I Really Have IBS? How Do I Know?

One of the most common questions people ask me is, "Do I have Irritable Bowel Syndrome?" While I cannot possibly diagnose anyone, I do think it's critically important to give people the fundamental information they need to get a proper diagnosis.

A tremendous number of people with other disorders are mistakenly told they have IBS when they do not. This can lead to years of misery, serious complications from undetected diseases, and other awful problems. The good news here is there is simply no need for this to ever happen to anyone. IBS is a very clearly defined disorder, diagnosed by symptoms and tests of exclusion.

So let's cover the basics:

What exactly is it?
What are the symptoms?
What other problems can mimic IBS and need to be ruled out?
What tests do I need for a diagnosis?

What exactly is IBS?
Irritable Bowel Syndrome (IBS) is the most common chronic health disorder in America, Canada, the UK, Australia, and New Zealand, affecting more people than asthma, diabetes, and depression combined.

Irritable Bowel Syndrome is a physical - not psychological - disorder that affects mainly the bowel, which is also called the large intestine. The bowel is the part of the digestive system that makes and stores stool. IBS is characterized by its symptoms. There is no cure for Irritable Bowel Syndrome, but there are many very effective ways of controlling and even eliminating IBS symptoms.

Irritable Bowel Syndrome is not a disease. It's a functional disorder, which means that the bowel simply does not work as it should. Irritable Bowel Syndrome is characterized as a brain-gut dysfunction.

What are IBS symptoms?
I can't stress enough that your symptoms must match those of the IBS diagnostic criteria before you accept an IBS diagnosis.

Irritable Bowel Syndrome is characterized by its symptoms: continuous or recurrent lower abdominal pain or cramping (from mild to excruciating) in association with altered bowel motility (diarrhea, constipation, or both).

Attacks may strike suddenly at any time of day or night, and may occasionally - though not typically - wake you from a sound sleep. Gas and bloating are common, but vomiting isn't, though it can occur due to nausea from the pain.

Upper GI symptoms are not a typical part of the syndrome. For women, attacks are often associated with menstruation. Passing blood, running a fever, swollen extremities, and joint pain are not symptoms of IBS, and are red flags for other disorders.

IBS is diagnosed in part by the official diagnostic criteria known as the Rome Guidelines (to learn all about this, the brain-gut dysfunction, and IBS, check the The First Year: IBS, an essential guide to successfully managing the disorder.

What else needs to be ruled out for an IBS diagnosis?
In essence, the diagnosis of IBS is a process of exclusion. There is no medical test available that will be positive for IBS; instead, your doctor will test you for all other illnesses that can mimic IBS symptoms, and if those tests are negative, and if your symptoms fit the Rome Guidelines, you'll then be diagnosed with IBS. In particular, it's important that the following diseases are excluded before you accept a diagnosis of IBS:

Colon and carcinoid cancer
Inflammatory bowel diseases (Crohn's and Ulcerative Colitis)
Bowel obstructions
Diverticulosis / Diverticulitis
Gallstones
Food allergies and fructose intolerance
Celiac (a genetic, autoimmune disorder resulting in gluten intolerance)
Bacterial infections and small intestine bacterial overgrowth (SIBO)
Intestinal parasites
Endometriosis
Ovarian cancer

What tests does an IBS diagnosis require?
As a rule, all possible physical, structural, and infectious abnormalities of the GI tract need to be unquestionably eliminated before you agree to an IBS diagnosis. This requires a physical examination, preferably by a board-certified gastroenterologist, and may include the following studies:

Complete blood count, sedimentation rate, and chemistries
Stool for ova, parasites, and blood
Urinalysis
Liver function tests
Rectal exam
Abdominal x-rays
Colonoscopy
For women, a gynecological exam including CA-125 blood test for ovarian cancer

Other diagnostic studies should be minimal and will depend on the symptom subtype. In general, the specific medical tests needed to rule out disorders other than IBS will depend upon your age (the older you are, the more tests you'll need), health history, family health background, and specific symptoms.

I think these are the most important points to remember about IBS:

* IBS is a functional disorder in which the bowel doesn't work as it should.

* IBS can cause cramping, bloating, gas, diarrhea, and constipation.

* IBS does not damage the bowel or lead to any other disorders/diseases.

* IBS cannot be self-diagnosed.

* A doctor should diagnose IBS based on your symptoms and the elimination of other possible diseases through various medical tests.

* Stress and diet (particularly fats, insoluble fibers, and GI irritants) can trigger symptoms, but the underlying pathology of IBS is caused by a brain-gut dysfunction.

Once you have a firm IBS diagnosis, please take heart. While there is no cure (except possibly gut-directed hypnotherapy), there are many ways to successfully manage - and prevent - all IBS symptoms. You can control your IBS, not vice versa.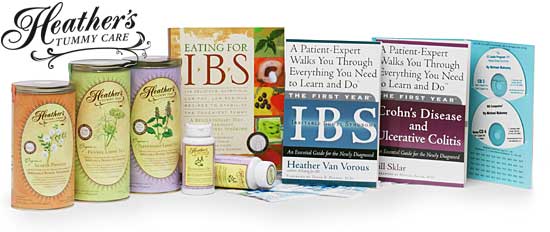 Shop at Heather's Tummy Store for IBS
HelpForIBS.com
The only store that's just for IBS - so we only carry the very best



You're on this newsletter list because you have expressed interest in IBS news and information.
Unsubscribe Here

Change your newsletter email address here.

If you are viewing this newsletter on a website and would like to subscribe for email delivery, please "Join the IBS Newsletter" here.

ANTI-SPAM PRIVACY & SECURITY POLICY
HelpForIBS.com
Heather's Tummy Care
80 S. Washington St, #304
Seattle, WA 98104 USA

© 2014 Heather Van Vorous, Heather's Tummy Care. All rights reserved.
Authored by Heather Van Vorous. May not be reproduced without permission.
USA Copyright Office Registration Number TXU 1-270-858 and others.