All Kits on Sale! Includes Bulk Kits! Take an Extra 10% Off!
Use Promo Code SPRINGKITS2


Stock Up On Your Favorite IBS Products!
Or Introduce Yourself to Heather's Tummy Care & Get Stable!


March 19, 2013 ~ Scroll down for full newsletter or follow the links:


Ask Heather »
Safe, Tasty Snacks for IBS!
News & Research »
Heartburn Drugs Cause IBS?
News & Research »
IBS Causes Bone Fractures
IBS Recipe »
Honey Glazed Snack Mix - an IBS Snack Favorite!
Special Letter »
A Letter After 10 Years!
  
Have questions? Call toll free (866) 640-4942.
Outside the US (206) 264 8069.

Enjoy the newsletter!
Heather Van Vorous & Heather's Tummy Care
Over 10 Years of IBS Business!

Did a friend send you this newsletter? Sign up here for your own free subscription.



Honey Glazed Snack Mix

This snack mix is crunchy, sweet, and salty all at once, and is a delicious way to stabilize if you're in the midst of a cycle of IBS attacks. It's low fat, high in soluble fiber, and trigger-free. I like to make big batches of it and keep bags at work for the afternoon munchies.

You can easily customize this recipe however you wish - omit the pretzels and use just Chex for a gluten free version, or stir a pinch of cinnamon and nutmeg into the oil/honey mix for a spiced version - it's all up to you!

Makes 10 Half-cup Servings

3 Tbsp canola oil or melted plant butter (Spectrum, Earth Balance, etc.)
1/4 cup honey
2 cups Corn Chex cereal
2 cups Rice Chex cereal
1 cup mini pretzels or thin pretzel sticks

In a small bowl stir together oil and honey until well blended. In a large bowl stir together cereals and pretzels, top with honey mixture, and stir until well combined. Microwave on high for 3-6 minutes (microwave strengths vary), stirring well every 90 seconds, until cooked through. Cool thoroughly before serving. Store in an airtight container.

Are you just learning how to eat for IBS? A little intimidated at the thought of special IBS recipes? Not quite sure just what makes these recipes special in the first place? Don't worry! Come see the IBS Diet pages, and find the answers to all your questions.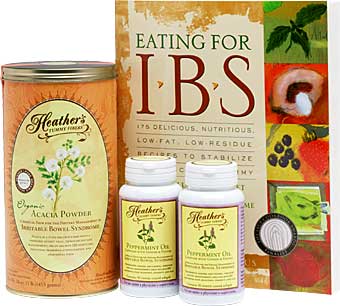 Try the IBS Diet Kit #2 - for Diarrhea AND Constipation!

* Eating for IBS - the Groundbreaking Diet and Cookbook

* Organic Acacia Tummy Fiber ~ for IBS Pain, Diarrhea and Constipation!

* Peppermint Oil Tummy Tamers with Fennel Oil ~ prevent bloating and gas!



A Letter After 10 Years!

Hello Heather,

I've been using your products for about 10 years now. Don't know where I'd be without them. The quality of the Tummy Teas is unsurpassed, and so I'm ordering more today.

You have enabled me to take care of myself in more ways than one! The speed of delivery is wonderful also and very reliable. Thank you for a wonderful service.

Feel free to use my comments, I'd be honored. I'm not stopping people in the streets, but I do tell people about your website and products whenever the opportunity presents. Thank you again.

Hannah

Thank you so much, Hannah! Your comments are very much appreciated! ~ Heather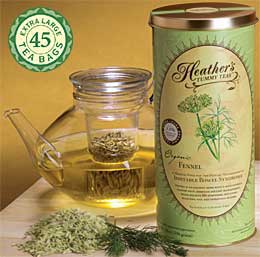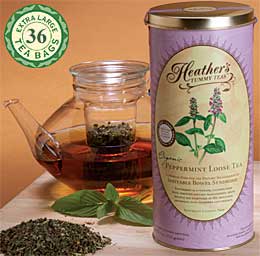 Organic High Volatile Oil Fennel & Peppermint Tummy Tea Bags

Extraordinary Quality ~ Very Economical

Fennel is terrific for bloating & gas, Peppermint is great for IBS pain & spasms.
Heather's Fennel Tummy Tea Heather's Peppermint Tummy Tea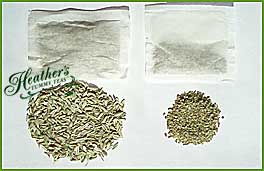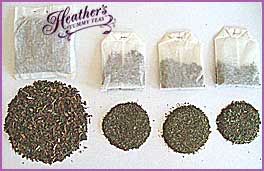 Compare for yourself! The pictures above show the huge difference in the quantity and quality of tea per teabag. The price comparison here is even more shocking!



Patients with IBS More Likely to Develop Osteoporosis

Patients with IBS are more likely to develop osteoporosis and are at increased risk for osteoporosis-related fractures, according to data presented at the 2012 American College of Gastroenterology Annual Scientific Meeting.

The study included 317,857 emergency department visits for patients with secondary IBS diagnoses, collected from the 2008 Nationwide Emergency Department Sample database, and compared them with controls without IBS. The presence of and risk for osteoporosis and related fractures within the IBS cohort was evaluated, along with potential predictive factors. Analysis included pathologic wrist, vertebrae and femur fractures and traumatic wrist, vertebrae and hip fractures.

Osteoporosis risk was higher in the IBS cohort regardless of age or sex, but the increase was less pronounced among older patients. Patients with IBS were at greater risk for hip and wrist fractures than patients with either Crohn's disease or ulcerative colitis.

"In gastroenterology, we are cognizant of the fact that some of our patients with chronic GI diseases are at higher risk for osteoporosis," said researcher Eli D. Ehrenpreis, MD, head of the division of gastroenterology at NorthShore University HealthSystem. "We've been very well-educated about that risk in patients with IBD and celiac disease. Our study identifies IBS as a significant risk factor for osteoporosis and for bone fracture. Those patients should be screened for the development of osteoporosis, and should be advised about their increased risk of osteoporosis and bone fracture." Go here for more information.


Heartburn Drugs and NSAID Pain Killers May Cause IBS

Patients with IBS reported more use of proton pump inhibitors (used for acid reflux) and nonsteroidal anti-inflammatory drugs (ibuprofen, etc.) before onset of their symptoms than controls in a recent BMC Gastroenterol study.

"Prescribing PPIs for upper GI complaints or NSAIDs for pain relief may potentially trigger mechanisms resulting in symptom generation representative for IBS," the researchers wrote. "Further research should include prospective evaluation of PPI users and NSAID users monitoring the development of IBS symptoms in relation to drug exposure to ascertain whether this increased exposure to PPIs and NSAIDs should be considered as legitimate etiological factors in IBS." Go here for more information.




~ Heather's Tummy Tamers Peppermint Oil Capsules ~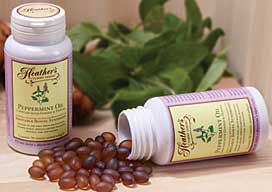 Peppermint Oil Caps Called "Drug of Choice for IBS"

Our Peppermint Oil Caps have the added benefits of fennel and ginger oils, and they help prevent abdominal pain, gas, and bloating!

Snacks For IBS


While it's easy to make digestion-friendly and delicious meals for IBS, what about quick snacks? Can you get the munchies and still keep a stable tummy? Yep - you definitely can!

In fact, snacking in between small meals is actually very important for people with IBS, because it's better for your gut to have small amounts of food frequently rather than going hours between large meals. Since there are many safe and wonderful treats to snack on, this can be a lot of fun, too.

For snacks in just minutes, use toasted fresh white bread, baked corn chips, soda crackers, and pitas as a soluble fiber basis for low fat dips, salsas, soups, and more.

Baked potato chips, pretzels, soy crisps, rice cakes, corn or rice cereals, and instant oatmeal packets are fast, safe snack foods when you're on the run. The Honey Glazed Snack Mix recipe above is a terrific example of a snack that's both delicious and, with its high soluble fiber foundation, actively helpful for IBS.

Don't forget to have an IBS-friendly drink with your snacks, too. Avoid soda pop and coffee and have a helpful herbal tea such as fennel or peppermint instead.

If you know you've gone too long without eating anything at all, have a dose of Tummy Fiber right before you eat, as that will give you extra soluble fiber and help keep your gut's gastrocolic reflex calm.

There are two terrific resources on our website that are absolutely essential for snack ideas. The first is a list of Snacks, Quick Foods, and Good Grub to Grab in a Hurry, and includes snacks, cereals, bars, drinks, and more. This is the first place to look if you're hungry but at a loss for snack ideas.

The second resource is our comprehensive list of Brand Name Recommendations for IBS-Safe Foods. This list is organized by country, and includes everything from ready-to-eat meals to soups, dairy substitutes, cookies, candies, and more.

Even when you're in a hurry you can still eat safely (and nutritiously) for IBS, and use snacks to your advantage to help keep your gut stable throughout the day.

So go ahead - spoil your appetite for a big heavy dinner. Your touchy tummy will only thank you!

~ Heather

Did you miss the recent "Ask Heather" and probiotics, prebiotics, and antibiotics? Find it here...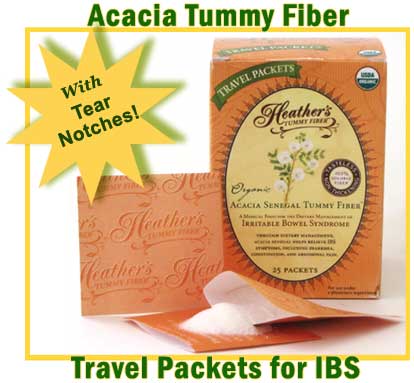 Certified Organic Acacia Senegal ~ Pure Soluble Fiber

The prebiotic fiber that relieves both diarrhea and constipation



You're on this newsletter list because you have expressed interest in IBS news and information.
Unsubscribe Here

Change your newsletter email address here.

If you are viewing this newsletter on a website and would like to subscribe for email delivery, please "Join the IBS Newsletter" here.

ANTI-SPAM PRIVACY & SECURITY POLICY
HelpForIBS.com
Heather's Tummy Care
80 S. Washington St, #304
Seattle, WA 98104 USA

© 2013 Heather Van Vorous, Heather's Tummy Care. All rights reserved.
Authored by Heather Van Vorous. May not be reproduced without permission.
USA Copyright Office Registration Number TXU 1-270-858 and others.