Heather's Tummy Tea Organic Fennel
Quick Relief for IBS Bloating & Gas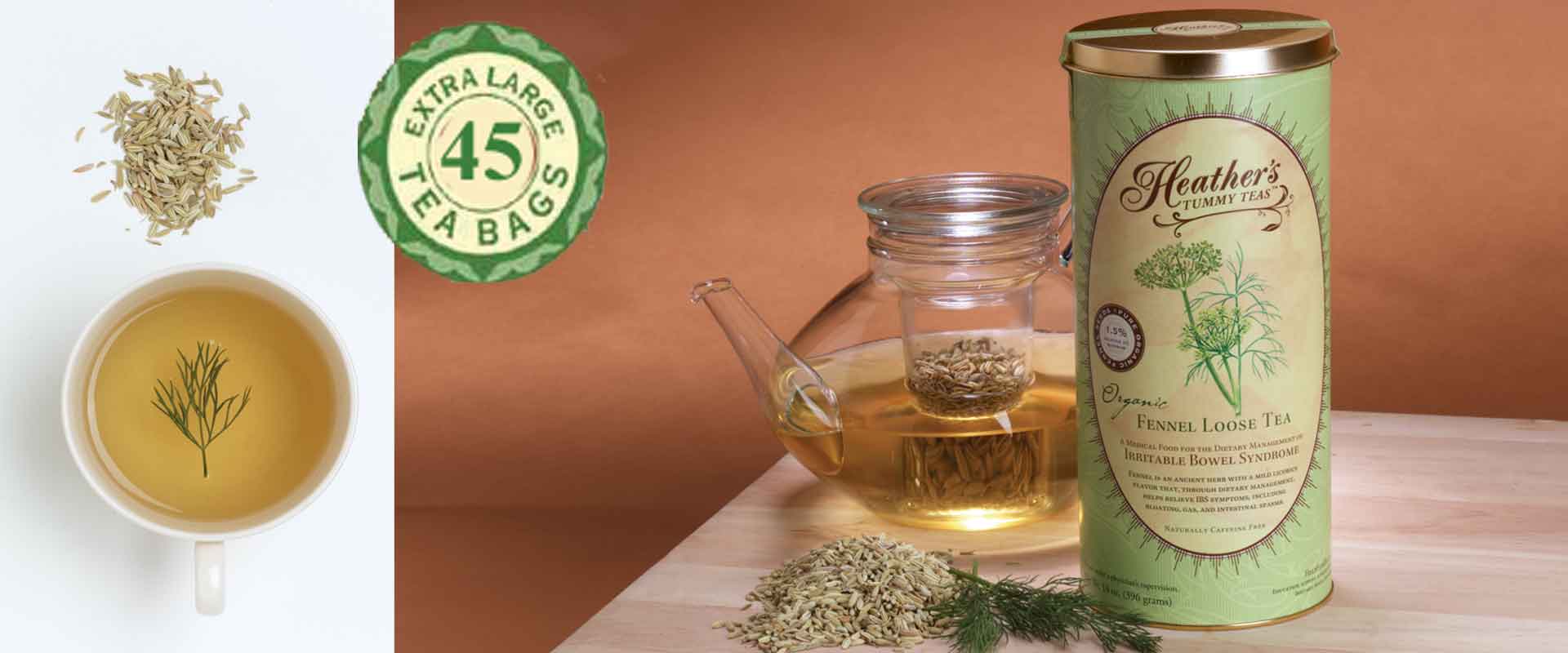 ~ Medicinal Strength & Size ~
~ Very Economical ~Jumbo Teabags & Loose Tea!
Specs:
* Grown in Egypt
* Volatile Oil: 1.5% minimum
* Naturally caffeine-free, gluten-free
*
USDA certified organic
* Kosher certified by CRC
* Net weight tea bags: 8.8 oz
* Net weight loose teas: 16 oz
Scroll right to see more options
Heather's Tummy Tea ~ Fennel
In Stock!
Great Customer Reviews
Much higher quality and better value than other tea brands.
Compare!
For IBS bloating and gas - rapid relief!
*
Loose tea or unbleached jumbo tea bags!
* Ingredients: organic fennel
* High volatile oil content ~ Whole seeds
Interested in Fennel Tummy Tea? Get an even better deal with the IBS Diet Kit #1!
Heather's Tummy Tea Fennel ~ A Medical Food for the Dietary Management of IBS
Clinical studies have shown that fennel, as part of the diet, helps regulate contractions of the small intestine and aids gas expulsion. Fennel also relaxes the gut, which can relieve spasms of the GI tract.
Fennel has anti-spasmodic properties, and is a carminative - an agent that prevents the formation and helps the expulsion of gas in the gastrointestinal tract. It also stimulates the production of gastric juices. As a result, fennel assists in the dietary management of IBS symptoms, and is
exceptional for IBS bloating, gas and abdominal pain.
Fennel is also a traditional digestive aid for colic, heartburn, indigestion, and stomachaches.
Heather's Tummy Tea is packed in very generous quantities because it is meant to be used daily as a medical food for IBS; brew a delicious cup of tea several times a day, every day, as part of your dietary management of IBS symptoms.
Heather's Tummy Tea Fennel is unique because it is formulated to contain a high volatile oil content and whole seed size (both factors are integral to the quality and potency of fennel); it is harvested and packaged to be as fresh as possible; and it is processed for minimal volatile oil dissipation. It is the volatile oils in fennel that make it so effective for the dietary management of IBS symptoms, particularly bloating and gas.
Our fennel is certified organic and is guaranteed to be the freshest, strongest, and most delicious fennel tea available! If you're used to drinking fennel tea from store-bought tea bags, you'll find the difference in strength and taste of Heather's Tummy Tea nothing short of astonishing.
Fennel's primary volatile oils are are anethole, fenchone, and estragole. Anethole is known to have a relaxing effect on the intestine. Fennel also has antioxidant and antimicrobial properties.
There is a world of difference between Heather's Tummy Teas and typical store brands.
Typical fennel tea brands are just meant to be enjoyed as a "nice hot cup of tea", for simple drinking pleasure. This is NOT the case with Heather's Tummy Teas.
Take a look at the pictures below and you can see the difference for yourself. Scroll down beneath the pictures for information about all the amazing ways Tummy Teas - both fennel and
peppermint
- give you the best quality
and
the best value!
Heather's Fennel Tummy Tea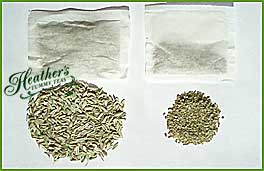 Heather's Peppermint Tummy Tea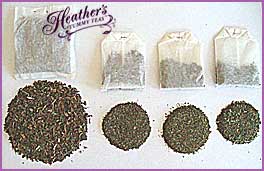 Compare for yourself!
The pictures above show the huge difference in the quantity and quality of tea per teabag. The stats below compare (in Seattle, WA) Fennel Tummy Tea and Peppermint Tummy Tea with a variety of other store brands. The comparisons flow from left to right across the pictures.
Heather's Tummy Tea
Fennel -
4.4 grams
of tea per teabag
Organic
Health food store brand fennel tea -
2.5 grams
per teabag
Not organic
_______________________________________________________
Heather's Tummy Tea
Peppermint -
3.3 grams
of tea per teabag
Organic
Drug store brand peppermint tea -
1.5 grams
of tea per teabag
Organic
Health food store brand peppermint tea -
1.5 grams
of tea per teabag
Organic
Grocery store brand peppermint tea -
1.2 grams
of tea per teabag
Not organic
Heather's Tummy Teas are clearly much less expensive than other store brands, but what about the quality? What make Fennel Tummy Tea so special in that regard?
Heather's Fennel Tummy Tea is sourced and specially produced for IBS-specific purposes and results, in several ways:
*
Extremely high volatile oil levels
. Why does this matter? Because the volatile oil is the component within the tea that yields the medicinal benefits. The higher the volatile oil level, the greater the medicinal value.
*
Whole fennel seed size
. Other teabag brands use "teabag cut" herbs, which are very finely milled. This is so the tea will flow through teabag machines. But, the more finely you cut an herb, the more volatile oil is released and dissipated, and the weaker the final cup of brewed tea will be.
(We actually customized our own teabag machines so that we could run whole seed fennel through our machines.)
*
Special jumbo-size teabags
, which give an average of
two to three times more tea per bag
as other brands.
*
USDA certified organic
. This means, among other things, that our herbs are guaranteed free of: pesticides, fertilizers, herbicides, GMO (genetically modified organisms), preservatives, additives, irradiation, and there is no animal testing.
Organic materials and processing are significantly more expensive. But, our tea prices are actually
significantly less expensive
than non-organic brands.
In addition, a comprehensive review of 97 published studies (published as the "State of Science Review" by The Organic Center) comparing the nutritional quality of organic and conventional foods has shown that organic plants contain higher levels of 8 of 11 nutrients studied, including significantly greater concentrations of the health-promoting polyphenols and antioxidants. This review concluded that
organically grown plants are 25% more nutrient dense
, on average, than conventionally grown plants.
*
Packed in very generous quantities
, as this tea is meant to be used daily for IBS symptoms. We offer 45 Fennel Tummy Teabags per canister. This is
3-4 times more teabags per container
than other brands, which means you will have enough tea on hand to use it regularly, which is how it works best for IBS.
The end result? Fennel Tummy Tea is
exponentially stronger and more effective, and a better value
, than other brands.
Fennel Tummy Tea is the only brand of medicinal strength fennel tea for IBS we're aware of, and one sip is all it takes to tell the difference.
It isn't enough to get a great value for your IBS treatments - you have to also get great results. For bloating, gas, and abdominal pain, Fennel Tummy Tea offers both.


Fennel's documented use goes back to ancient China, and the plant is mentioned in virtually every European work on herbal medicines from ancient times to modern day. The mild licorice-flavored seeds (though unrelated to the actual licorice plant) are native to the Mediterranean, were known to the ancient Greeks, and were spread throughout Europe by Imperial Rome. In the 1st century A.D. Pliny attributed 22 healing properties to fennel. According to Chaucer, the 14th century English poet, fennel was one of the nine holy herbs of the Anglo-Saxons.
The United States once listed fennel as an official drug to be used for digestive problems, and today the herb is still used daily as an after-dinner digestive aid from India to Italy to Spain. Fennel is classified as GRAS (generally recognized as safe) by the FDA - there are no limitations on its use as a daily digestive aid. Fennel is so safe it's even used to treat infants with colic.
Brew Heather's Tummy Tea ~ Organic Fennel as teabags or as loose tea; for the loose tea, use any type of tea strainer, tea ball, or tea press. Brew with boiling water, but do not actually boil the teabags or loose tea in water as this can destroy its volatile oils, and thus its effectiveness. Fennel tea (like all of Heather's Tummy Teas) is naturally caffeine-free, as it does not contain any actual tea leaves (tea is a specific plant, even though other herbal drinks are commonly called "teas"). The stronger you brew this tea the more effective it will be. Lightly crushing the seeds before brewing them with hot water will increase their strength. The teabags are unbleached and organic-suitable.
Fennel tea can be sweetened with a little honey or plain sugar if you wish but I also think it's delicious plain. It can be chilled into iced tea, but remember that ice-cold beverages on an empty stomach can trigger GI spasms, whereas the heat in hot teas is in and of itself a muscle relaxant. The stronger the fennel tea, the more pronounced its beneficial effects on your digestion, so don't be afraid to make a dark brew!
"What does it mean that Heather's Tummy TeaFennel is certified organic?"
Heather's Tummy Tea Fennel is certified organic and therefore uses:
* no pesticides
* no fertilizer
* no herbicides
* no GMO (genetically modified organisms)
* no preservatives
* no additives
* no irradiation
* no animal testing
Organic certification guarantees that our fennel is harvested with:
* good ecology - enriched soil, less soil erosion
* harvested through farming which respects the environment
* traceability of each batch demonstrated from the fields to the customer
* organic certified farming/harvesting
* organic certified manufacturing and packaging
* USDA organic certified
* organic certified by Quality Assurance International
"Certified organic" refers to agricultural products that have been grown and processed according to strict uniform standards, verified annually by independent state or private organizations. These organizations' certifying seals are your guarantee that Heather's Tummy Tea Fennel has been third-party certified organic.
Heather's Tummy Tea Fennel is certified organic right from the fields. After harvest, the fennel is assigned its organic identification, which follows the fennel through the entire packing and shipping process. This organic traceability is carried directly through to our customers by our certifying agency, Quality Assurance International. Heather's Tummy Tea Fennel is also USDA organic certified.


"Is Heather's Tummy Tea Fennel kosher?"
Yes, Heather's Tummy Tea Fennel is certified kosher. The certifying authority is the Chicago Rabbinical Council. Heather's Tummy Tea Fennel is not kosher for Passover.

* This product is a medical food for the dietary management of Irritable Bowel Syndrome (IBS), and is intended to be used under medical supervision.
**Customer Reviews of Heather's Tummy Tea Fennel**
More Reviews
---
Product
Debra from Jax, FL
Purchased on 2/23/2018
Reviewed on 3/16/2018
Best thing I ever did for my tummy issues
This product is amazing
Speed of Delivery
Customer Service
---
Product
Linda from Cambridge, MA
Purchased on 2/22/2018
Reviewed on 3/15/2018
The product is very fresh and smells great when you open the package.
Speed of Delivery
Customer Service
---
Product
Lilya from San Francisco, CA
Purchased on 2/19/2018
Reviewed on 3/13/2018
Great product! Excellent service! Speedy delivery! Bravo, Heather!
I have been using Fennel tea along with Peppermint tea for about 3 years now.I
Speed of Delivery
Customer Service
---
Product
Linda from Yonkers, NY
Purchased on 2/16/2018
Reviewed on 3/12/2018
EFFECTIVE, POTENT, EASY TO USE AND ECONOMICAL !
Fennel tea bags are such an easy way to relieve gas and bloating. I drink it alone or add another flavor tea bag with it to enhance the taste. The gas problem is relieved or lessened and the disposal of tea bag is easier for me than with the loose tea. The fennel is strong and will be very effective and provides the most natural way to prevent gas when you take it with your meals. I buy the bulk kit for economy since I am a senior on a budget. I would recommend this to anyone who has gas and bloating-- in fact, I like it so much that I would give it as a gift.
Speed of Delivery
Customer Service
---
Product
Mary from ELLINGER, TX
Purchased on 2/17/2018
Reviewed on 3/10/2018
Started using the Tea and must say I really like it.
Satisfied with your products to date.
Speed of Delivery
Customer Service
---
More Reviews
Scroll up the page for more information or to order Heather's Tummy Tea Fennel