October 16, 2012 ~ Scroll down for full newsletter or follow the links:



Special Letter »
Five Years of Floundering - Ends!
IBS Recipe »
Fall Favorite! 5 Minute Pumpkin Pie
Ask Heather »
How to Get Off Laxatives (Yes, You Can!)
  
Have questions? Call toll free (866) 640-4942.
Outside the US (206) 264 8069.

Enjoy the newsletter!
Heather Van Vorous & Heather's Tummy Care
Celebrating 10 Years of IBS Business!

Did a friend send you this newsletter? Sign up here for your own free subscription.



~ Heather's Tummy Tamers Peppermint Oil Capsules ~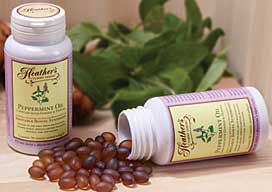 Peppermint Oil Caps Called "Drug of Choice for IBS"

Our Peppermint Oil Caps have the added benefits of fennel and ginger oils, and they help prevent abdominal pain, gas, and bloating!

Fall Favorite! Five Minute Pumpkin Pie

I created the original version of this recipe for an episode of my television show Heather Cooks! and it's since become one of my most requested recipes ever. It's fast, easy, delicious, and the perfect autumn dessert. When I'm feeling a little feisty, I add brandy or bourbon in place of the traditional vanilla.

No one will ever guess this pie is low fat, dairy free, and high in soluble fiber. If you're serving a crowd make more than one - this dessert will disappear in a flash!

Makes one 9 inch pie, 8 servings

For the creamiest, most luscious results, blend the pie filling in a blender or food processor instead of by hand, and do add the Tummy Fiber.

Preheat oven to 350F.

Spray a 9 inch pie plate lightly with cooking oil spray.

Crust:

1 1/2 cups finely crushed graham crackers
3 T canola oil or melted soy butter (such as Earth Balance or Spectrum)

Combine the crumbs and oil in a small bowl until well blended. Press mixture firmly and evenly into prepared pie plate, across the bottom and just slightly up the sides. Spray crumb surface lightly with cooking oil spray. Bake for 5-8 minutes, until just golden brown around edges. Remove from oven and add filling.

Raise oven temperature to 425F while you make filling.

Filling:

2 T Acacia Tummy Fiber (for extra soluble fiber and a super smooth and silky filling)
2 cups canned pumpkin (not pumpkin pie filling)
1 1/2 cups soy or rice milk
3/4 cup brown sugar
1/4 t salt
1 t cinnamon
1/2 t ground ginger
1/4 t ground nutmeg
1/8 t ground cloves
4 organic egg whites
1 T vanilla extract, brandy or bourbon

Combine all ingredients in a blender or food processor and blend until very smooth. Alternately, combine all ingredients in a large bowl and whisk by hand until very smooth. Pour filling into baked crust (crust does not have to be cool). Bake at 425F for 15 minutes, then reduce oven temperature to 350F and bake for an additional 35-45 minutes, until a knife inserted into the center of the pie comes out clean. Cool pie on a rack.

The perfect drink with this pie is a hot cup of Fennel Tummy Tea!

Are you just learning how to eat for IBS? A little intimidated at the thought of special IBS recipes? Not quite sure just what makes these recipes special in the first place? Don't worry! Get Eating for IBS and find the answers to all your questions.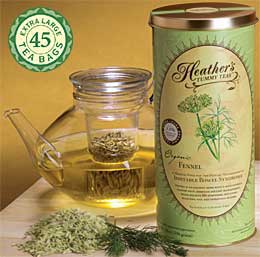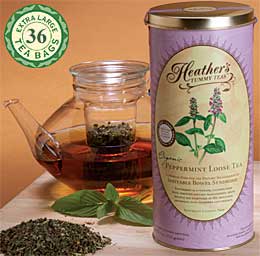 Organic High Volatile Oil Fennel & Peppermint Tummy Tea Bags

Extraordinary Quality ~ Very Economical

Fennel is terrific for bloating & gas, Peppermint is great for IBS pain & spasms.
Heather's Fennel Tummy Tea Heather's Peppermint Tummy Tea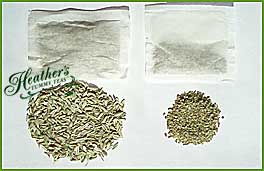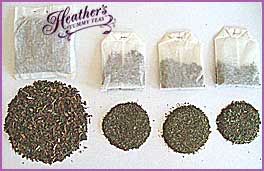 Compare for yourself! The pictures above show the huge difference in the quantity and quality of tea per teabag. The price comparison here is even more shocking!




Five Years of Floundering - Ends!

Hi Heather,

It's a long story, but by the time I reached out to you and your website I had given up any hope of finding a resolution to my problems. I have lived in the world of laxatives, stool softeners and other "quick fixes" for so long that I didn't know anything else.

I am happy to report that, having followed your advice for 1 month, I am in such a better place! I started over again after getting your e-mail. I read all of the links that you included, and really set my mind to giving your products and protocol a chance.

I have removed all things gluten from my diet, added liters of water daily, and I take the Acacia Tummy Fiber twice a day (am and pm). In addition, I have added probiotics which were suggested by our chiropractor. What started out as another "to do" on my list has now turned into a daily habit that hopefully will keep me feeling better every day.

FYI, I am stabilized (for the moment) at 1 tbsp of fiber 2x daily. I am still "weaning" myself off of the other products that I was taking before, but am down to a minimal dosage and hoping to be done with these soon.

In short, I am writing to express my thanks and gratitude for your commitment to helping people with IBS. The last 5 years of my life have been spent floundering around, trying all of the over counter and prescription suggestions for IBS-C...and feeling miserable.

I now feel that I am back in control of my health and my life...and what a feeling that is! Please don't ever stop the work that you are doing...and know that you have a huge advocate on the East Coast of the USA!

With heartfelt appreciation,

Marie N.
Dover, MA

Thank you so much, Marie! I am so happy you're feeling better! ~ Heather



~ Heather's Tummy Fiber ~
For the Dietary Management of IBS Pain, Diarrhea, &, Constipation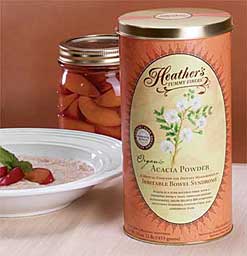 Certified Organic Acacia Senegal ~ Pure Soluble Fiber
The prebiotic fiber that relieves both diarrhea and constipation!

** Very Economical **

** 100% Acacia Senegal ** Never Low Grade Acacia Seyal

How to Stop Using Laxatives
"I've been relying on laxatives for constipation for a long time now. Is there any way to transition off the laxatives and onto a soluble fiber supplement instead?"

Yes, there is - and the special letter above gives a great success story. For just about everyone, particularly people with IBS, this is a terrific goal, as long-term laxative use has not been shown to be safe or healthy.

To quote from a US Pharmacist article (2006;31(6):20-28): "The FDA considers seven days to be the safe time limit for use of laxatives without physician consultation. However, stimulant laxatives cause many patients to become habituated to them because of their nonphysiologic and drastic action; some patients might use laxatives for years once they become reliant on them.

This practice can lead to changes in the colon that are carcinogenic and may result in death of colonic tissues located in the myenteric plexus. Patients should be urged to replace habitual use of stimulant laxatives with bulking [soluble fiber] agents.

However, abrupt discontinuation in habitual laxative overusers may result in an inability to evacuate the bowels. The colon may not respond normally as a result of years of artificial stimulation.

The patient may benefit from a gradual withdrawal. In this method, the pharmacist may recommend short-term stimulant use until the fiber begins to exert its own effect. A combination of a stimulant and fiber might be useful for a 30-day period to boost colonic function and bridge the transition from stimulant addiction to natural facilitation of bowel movements with fiber. After that period, the goal should be permanent discontinuation of stimulants in favor of fiber intake."

So, there you have it. Getting off laxatives in favor of soluble fiber is definitely a good idea. The question now is, how exactly do you go about doing this? Well, if you're transitioning to Acacia Tummy Fiber, an organic soluble fiber meant specifically for people with IBS, try this...

First, remember that Acacia is not a laxative, so it won't act like the laxatives you've been taking. It can work wonders for constipation, but it not an overnight solution. It makes a great deal of difference how you take Acacia, and it's well worth the time and effort to do it right.

Just FYI, these are the best ways to NOT get the results you want:

* Try Acacia at a low dose for just a few days, then give up because there's no change.

* Go from zero to the maximum dose in one week flat, then give up because it's not working and now you're all bloated and gassy as well.

* Start taking Acacia at the same time you abruptly stop taking your laxatives (and this applies to enemas, colon cleanses, and stool softeners as well, as they all artificially and abnormally affect gut motility), then give up because your constipation is suddenly worse, not better.

The cardinal rule with Acacia is to start at a low dose (for Acacia, just 1/2 a level measuring teaspoon, twice daily), and increase gradually. Constipation seems to require a much higher daily dose than diarrhea, and it can take several weeks, or even a few months, to slowly work your way up to the maximum daily dose. Remember that you're transitioning to something that is not a laxative, so taking a low dose of Acacia for a few days will not alleviate your symptoms. What it will do is begin to acclimate your gut to a higher daily dose of fiber, and this is the goal. Don't give up as soon as you start - just realize that using Acacia is a slow, steady process. You will see improvements along the way.

It's tempting to think that if you need to reach the maximum dose to see the best results, you can just force your body to adjust to a high dose as fast as possible. After all, if your constipation will resolve on an Acacia dose of, say, 25 grams a day, and it might typically take someone, say, 8 weeks to reach that dose, you'll be way ahead of the game if you race your way up to that dose in your very first week - right? Nope - wrong.

By definition, if you have IBS, you do not have a normally functioning gut. No matter how your IBS symptoms manifest (constipation or diarrhea, bloating or pain) your GI tract - and specifically, your gastrocolic reflex - is hyper-reactive to normal stimuli. Your goal should always be to keep your gastrocolic reflex stable so you can soothe and regulate your gut function (this is why enemas and colon cleanses can be as harmful for IBS as laxatives).

Suddenly overloading your bowel with a fiber dose that is possibly ten times what you were taking before you started Acacia will do nothing but give you bloating and gas, as your GI tract struggles to deal with all of this unexpected fiber. Fiber is, after all, an indigestible carbohydrate, and your body needs to work to process it through your digestive tract.

Asking your gut to go from no soluble fiber supplement to a maximum daily dose too quickly is like trying to become a marathon runner by sprinting as hard and as fast as you can without rest. It won't work, you'll be frustrated, and you'll give up. Instead, go slowly, keep increasing your dose gradually, and give your body the time and gentle approach it needs to adjust to the Acacia increase. You can't beat your colon into submission with IBS. You need to kindly, patiently, and consistently coax it into normal motility. Acacia can help do this for you if you give it a fair chance.

If you've been regularly using laxatives, or artificially increasing colon motility through other means (enemas, colon cleanses, harsh stimulant herbs such as senna, cascara, aloe) the odds are pretty good that your bowel is dependent on them. If you suddenly stop using them, bowel motility might shut down and your constipation will seriously worsen. This would be the case even if you didn't add Acacia at the same time.

It is definitely possible to transition from a laxative or other unnatural methods of alleviating constipation to Acacia. But, you can't simply switch from one to the other in a single day and expect equivalent results. What you can do is keep taking your usual dose of laxatives while you begin your Acacia and start to gradually increase your Acacia dose. When you've been able to reach a fairly high daily dose (say, 2-3 tablespoons) you can start to gradually decrease your laxative.

Keep increasing the Acacia and continue decreasing your laxative, taking each step slowly and carefully. This is not likely to be a fast process, but the slower and steadier you go the more likely it is to have a highly successful result. I've heard from numerous people who transitioned off of laxatives, senna, enemas, and even prescription constipation drugs and onto a soluble fiber supplement, with terrific results. But it took anywhere from one to six months, depending on how long their bowels had been dependent on the laxatives.

Good things can be well worth the wait, and this is one of those situations where patience is truly a virtue. IBS is a lifelong problem for most people, so giving yourself a few months with the Acacia Tummy Fiber to make a tremendous improvement is not really taking too much time in the grand scheme of things.

~ Heather

Reference 1 Reference 2

Did you miss the recent Ask Heather and the Breaking the Cycle of IBS?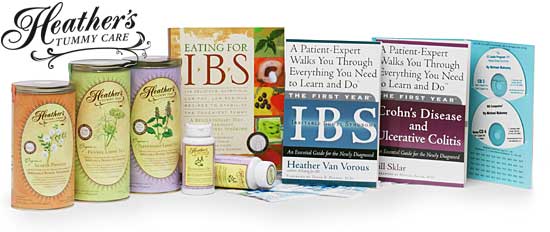 Shop at Heather's Tummy Store for IBS
HelpForIBS.com
The only store that's just for IBS - so we only carry the very best



You're on this newsletter list because you have expressed interest in IBS news and information.
Unsubscribe Here

Change your newsletter email address here.

If you are viewing this newsletter on a website and would like to subscribe for email delivery, please "Join the IBS Newsletter" here.

ANTI-SPAM PRIVACY & SECURITY POLICY
HelpForIBS.com
Heather's Tummy Care
80 S. Washington St, #304
Seattle, WA 98104 USA

© 2012 Heather Van Vorous, Heather's Tummy Care. All rights reserved.
Authored by Heather Van Vorous. May not be reproduced without permission.
USA Copyright Office Registration Number TXU 1-270-858 and others.

<***track***>