All Kits on Sale! Includes Bulk Kits! Take an Extra 10% Off!
Use Promo Code JUNEKITS2


Stock Up On Your Favorite IBS Products!
Or Introduce Yourself to Heather's Tummy Care & Get Stable!


June 26, 2012 ~ Scroll down for full newsletter or follow the links:


Ask Heather »
Breaking the Cycle of IBS - Start Here!
Special Letter »
Stop the Colon Freak Out
IBS Recipe »
Ice Cream Sandwiches for IBS? Oh Yes...
  
Have questions? Call toll free (866) 640-4942.
Outside the US (206) 264 8069.

Enjoy the newsletter!
Heather Van Vorous & Heather's Tummy Care
Celebrating 10 Years of IBS Business!

Did a friend send you this newsletter? Sign up here for your own free subscription.



Chocolate Chip Mint Ice Dream Sandwiches

Think you can't eat ice cream? You can eat these - the mint chocolate chip ice cream sandwiches of your childhood dreams! They are surprisingly easy to make and fun to assemble. They're the perfect treat for a casual summer dessert or a summer party. Kids love them as much as adults! If you can tolerate a little solid chocolate, the optional chocolate chips add the final touch.

If you don't want to bother with the sandwiches, the ice cream alone is also wonderful all by itself! Makes about 12 sandwiches.

Peppermint Ice Dream:
Makes 3 1/2 cups.

1/2 cup granulated sugar
1 tablespoon cornstarch
2 tablespoons Tummy Fiber (optional, but gives an amazingly rich, creamy texture)
2 1/3 cups unsweetened soy milk
2 organic egg whites, beaten lightly
2 tablespoons green Creme de Menthe*
1/4 teaspoon peppermint extract
(2 tablespoons semi-sweet chocolate - not unsweetened - finely chopped or grated)

In a large saucepan whisk together sugar, cornstarch, and Tummy Fiber, then whisk in soymilk. Bring to a boil over medium heat, whisking frequently, and boil whisking constantly for one minute. Remove from heat. Whisk several large spoonfuls of hot milk mixture into egg whites, then whisk egg mixture back into saucepan of hot milk. (This will temper the eggs, or heat without cooking them, so you don't have scrambled eggs in your ice cream!)

Return saucepan to heat and cook over medium heat, whisking constantly, until mixture returns to a boil. Transfer mixture to a bowl and refrigerate until cold. Freeze mixture in ice cream maker according to manufacturer's directions. (Add chopped chocolate towards the end of the freezing process.)

*Clear Crème de Menthe can be substituted, but it won't add the pretty green color

Chocolate Cookie Sandwiches:
Makes 24 cookies

1 cup all-purpose unbleached white flour
1 cup granulated sugar
1/2 cup unsweetened cocoa powder
1 teaspoon baking powder
1/2 teaspoon salt
1/4 cup canola oil
4 organic egg whites, lightly beaten

Sift first 5 ingredients into a large bowl, and whisk together until thoroughly combined. In a small bowl whisk together oil and egg whites, then add liquid mixture to dry and stir until well-combined. Cover dough and refrigerate until firm, 1-2 hours.

Preheat oven to 400 F. Spray 2 large cookie sheets with cooking oil. Roll generous tablespoonfuls of dough into balls and arrange, evenly spaced, on cookie sheets (cookies will NOT spread). Flatten each ball with your hand (dampen hands with cold water first) until 1/4" thick. Bake 8-9 minutes until set but not hard. Do not overbake. Immediately transfer cookies to rack to cool.

To Assemble Sandwiches:
Soften peppermint ice dream slightly. Spread a generous amount of ice dream between two cookies (filling should be twice as thick as cookies), pressing sandwich together very gently. Set sandwiches on a cookie sheet, uncovered, and freeze until firm. When hard, wrap each cookie individually in plastic wrap to store in freezer.



Are you just learning how to eat for IBS? A little intimidated at the thought of special IBS recipes? Not quite sure just what makes these recipes special in the first place? Don't worry! Get Eating for IBS and find the answers to all your questions.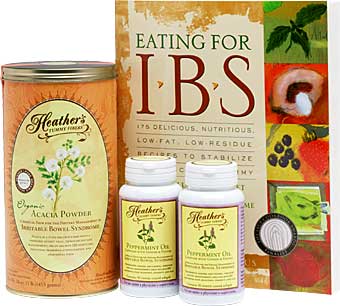 Try the IBS Diet Kit #2 - for Diarrhea AND Constipation!

* Eating for IBS - the Groundbreaking Diet and Cookbook

* Organic Acacia Tummy Fiber ~ for IBS Pain, Diarrhea and Constipation!

* Peppermint Oil Tummy Tamers with Fennel Oil ~ prevent bloating and gas!



Stop the Colon Freak Out!

Hi Heather

For the first time in my life, it's such an unbelievable relief to finally find not only a person, but a company who is dedicated to helping people like me overcome the trials of having IBS. I always thought I would have to deal with all that stomach pain for the rest of my life, and I can't explain how relieved I feel now that I've found your website.

Of course I've noticed trigger foods and tried to steer away from them (artificial sweeteners, alcohol, dairy products, etc), but there were other things on the list that gave me such an 'aha' moment.

The whole balance between soluble and insoluble fiber made complete sense to me, though I'm finding it's a bit overwhelming to fit the two together while making sure my diet isn't repetitive and boring. But I know I don't want another day of worrying about what I eat before I see a musical, or if I should just go without eating and deal with the pain of my colon freaking out from a completely empty stomach before I go on a date.

For the first time in my life, I feel like I've actually found an answer. And after years and years of doctors being completely useless (I wasn't officially diagnosed until I was 16 or 17), I can't tell you how I feel after finding your website.

Thank you for saving me and my stomach!

Much love and thanks,
Amanda B.

Thank you so much, Amanda! This just makes my day! ~ Heather



~ Heather's Tummy Tamers Peppermint Oil Capsules ~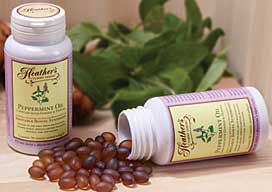 Peppermint Oil Caps Called "Drug of Choice for IBS"

Our Peppermint Oil Caps have the added benefits of fennel and ginger oils, and they help prevent abdominal pain, gas, and bloating!

Breaking the Cycle of IBS - Start Here!

Good news! There are many things you can do to help break the cycle of IBS quickly. There is actually so much helpful info on this subject, it takes two newsletters to cover it all. So let's get going with Part One...

In a nutshell, dietary changes for IBS can make a dramatic difference in a very short period of time, as can adding in a prebiotic soluble fiber supplement and digestion-friendly herbs keyed to symptoms.

Direct heat, gut-specific yoga poses, and extra sleep are also important. You may need to use just one approach or a combination, depending on your symptoms, but you should absolutely be able to take control and feel much better in a short period of time.

I think it's really interesting that natural (as opposed to drug) approaches to IBS tend to be universally helpful for all symptoms (without the risk of drug side effects). The same diet, stress management approaches, and supplements can alleviate diarrhea and constipation, pain and bloating. So even if you've been struggling for years, these avenues can help you feel better almost immediately - have hope!

The goal of breaking the cycle of IBS is to gently force your gut's motility into a normal pattern. If you have IBS, then by definition your gut motility is dysfunctional, as your gastrocolic reflex (which controls colon contractions) is prone to going awry.

A terrific way to break the cycle of IBS for all symptoms, and stabilize your gut motility quickly, is to really restrict your diet for a few days (and only a few days - this is a short-term diet) to nothing but soluble fiber foods. In addition, make sure you're using your prebiotic soluble fiber supplement at least twice daily.

Soluble fiber can be magic for IBS. It will stabilize the GI contractions that are going haywire and causing pain, spasms, and cramps. Plus, soluble fiber will normalize bowel peristalsis and regulate bowel water content from either extreme. In other words, soluble fiber relieves BOTH diarrhea and constipation. So, for just a few days stick to high soluble fiber foods like plain white rice, plain instant oatmeal, cream of rice cereal, dry corn or oat or rice cereals, pasta, fresh white breads or toast, peeled potatoes or root veggies, pumpkin, bananas, etc. This is boring, I know, but it's just for a few days.

Diarrhea and pain, spasms, and cramps can almost completely resolve quite quickly from just dietary changes and the addition of a prebiotic soluble fiber. Constipation, especially if it's been long-term and chronic, can take a few weeks to truly resolve, though you should definitely see improvements along the way.

If your focus is on symptoms other than diarrhea or constipation, key your approach to the symptom itself. For pain, peppermint is a powerful smooth muscle relaxant, anti-spasmodic, and painkiller. Adding in peppermint oil capsules is tremendously helpful for preventing the spasms and cramps underlying IBS pain in the first place.

If you need immediate relief of IBS pain instead of the preventive approach of the capsules, turn to medicinal strength peppermint tea. I use Peppermint Tummy Tea to ease - and even stop - blinding IBS pain in just a few minutes. Pain is actually my most severe IBS symptom, and I've never found anything else to even come close for real help when I need it right now.

If bloating and gas are your major concerns, both can respond quickly to the helpful yoga poses and Fennel Tummy Tea. Fennel is a carminative, so it will directly help your body with both bloating and gas, and it's even an anti-spasmodic as well.

Longer-term relief from bloating can also come from your prebiotic soluble fiber supplement, as the hospitable environment it creates for good gut bacteria gets established. Bloating also tends to go hand in hand with constipation, so as your constipation resolves the bloating should as well.

If at all possible, try to be mildly but regularly active, even if that just means walking around the house. This is especially helpful following meals - it's much better for your gut if you are up and moving around instead of sitting immobile (or even worse, lying down) right after you eat.

Gentle exercise works the muscles of the bowels and helps get them back into a pattern of normal contractions. Walking or stretching out on the floor, gardening, easy swimming, or a gentle yoga practice, are ideal options. Exercise is especially crucial for constipation.

Constipation in general often needs a combination of dietary changes, the higher end dose range of a soluble fiber supplement, and daily exercise, plus plenty of water. So if you're IBS-C, please hang in there and have the patience for your body to begin functioning normally. This is especially true if constipation has been severe, chronic, and long-term.

As you focus on soluble fiber in your diet, have plenty of fresh water or the helpful herbal teas with your supplement and in between meals. For soluble fiber to work properly and help normalize your bowel function you must have enough water in your gut.

For constipation especially, you should drink twice as much water as you probably think you should. Try to aim for at least 128 ounces of water each and every day - this can make a world of difference. Though you may be running to bathroom a lot at first, your bladder will adjust, I promise.

Coming next, Part Two of breaking the IBS cycle!

~ Heather

Did you miss the recent Ask Heather and the brain-gut attack of IBS?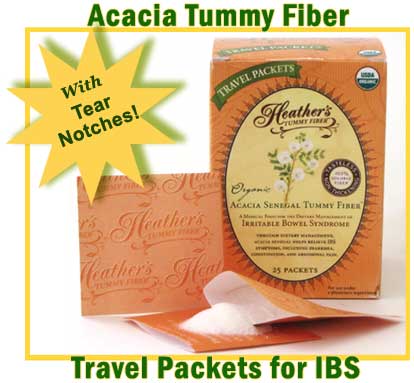 Certified Organic Acacia Senegal ~ Pure Soluble Fiber

The prebiotic fiber that relieves both diarrhea and constipation



You're on this newsletter list because you have expressed interest in IBS news and information.


Change your newsletter email address here.

If you are viewing this newsletter on a website and would like to subscribe for email delivery, please "Join the IBS Newsletter" here.

ANTI-SPAM PRIVACY & SECURITY POLICY
HelpForIBS.com
Heather's Tummy Care
80 S. Washington St, #304
Seattle, WA 98104 USA

© 2012 Heather Van Vorous, Heather's Tummy Care. All rights reserved.
Authored by Heather Van Vorous. May not be reproduced without permission.
USA Copyright Office Registration Number TXU 1-270-858 and others.