April 10, 2012 ~ Scroll down for full newsletter or follow the links:



Twitter

Special Letter »
Climb Mt. Kilimanjaro with IBS?! Amazing Pics!
IBS Recipe »
Cream of Celery Soup
Ask Heather »
Aloe? Senna? Cascara? Are these safe for IBS?
  
Have questions? Call toll free (866) 640-4942.
Outside the US (206) 264 8069.

Enjoy the newsletter!
Heather Van Vorous & Heather's Tummy Care
Celebrating 10 Years of IBS Business!

Did a friend send you this newsletter? Sign up here for your own free subscription.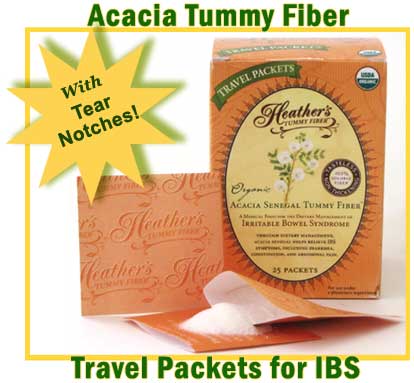 Certified Organic Acacia Senegal ~ Pure Soluble Fiber

The prebiotic fiber that relieves both diarrhea and constipation

Cream of Celery Soup

This is a light, simple, creamy soup that is a snap to make and very soothing to eat. The creamy goodness comes from pureed potatoes (not dairy!) and the soup is full of veggies, which are cooked and pureed to minimize any insoluble fiber risk. The fennel adds a special flavor and as a great bonus is a digestive aid for gas and bloating. Remember - avoiding trigger foods for IBS never means you have to sacrifice great taste!

Makes 4-6 Servings

2 T olive oil or Organic Spectrum butter (non-hydrogenated soy margarine)
8 cups diced celery, including leaves
1 T fennel seeds from Fennel Tummy Tea
2 T Acacia Tummy Fiber dissolved in 2 T water
4 cups fat free low salt veggie or chicken broth
1 medium Russet potato, peeled and diced
1 tsp. sea salt
1/4 tsp. freshly ground black pepper

Heat olive oil or soy butter in a large stock pot over medium low heat. Add the celery, fennel seeds, and liquefied Tummy Fiber, cook uncovered, stirring occasionally, until celery is very tender. Add the broth and potato.

Bring soup just to a boil, then reduce heat to low and simmer, covered, until potato is very tender. Blend soup in stock pot with an immersion blender or, alternately, add soup in batches to a blender and puree (be careful if soup is hot). Discard any celery strings and fennel seed hulls that collect around blender blades. Bring pureed soup back to medium low heat and add the salt and pepper.

Cook till slightly thickened, uncovered. Serve with toasted fresh sourdough bread.



Are you just learning how to eat for IBS? A little intimidated at the thought of special IBS recipes? Not quite sure just what makes these recipes special in the first place? Don't worry! Get Eating for IBS and find the answers to all your questions.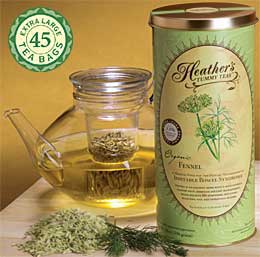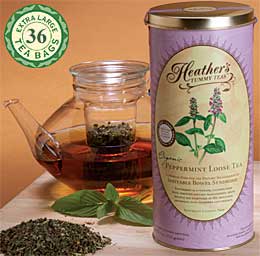 Organic High Volatile Oil Fennel & Peppermint Tummy Tea Bags

Extraordinary Quality ~ Very Economical

Fennel is terrific for bloating & gas, Peppermint is great for IBS pain & spasms.
Heather's Fennel Tummy Tea Heather's Peppermint Tummy Tea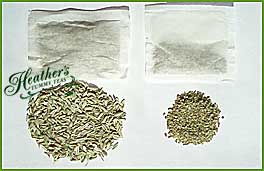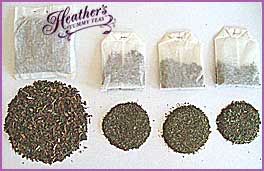 Compare for yourself! The pictures above show the huge difference in the quantity and quality of tea per teabag. The price comparison here is even more shocking!




Climb Mt. Kilimanjaro with IBS?! Yes, She Did!

Hi Heather,

Love this book Eating for IBS and the peppermint oil capsules work wonders.

We eat almost exclusively from this recipe book now, and my IBS has calmed down DRAMATICALLY.

I recently climbed Kilimanjaro and my tea and peppermint capsules not only saved me on the mountain, but ended up saving several of my team members who began having either constipation or diarrhea.

I became the tummy guru on Kili! I recommend your site to everyone now, IBS or not, because the products are great for sensitive traveler tummies as well.

Thanks for being there for us Heather!!!

Karie Ann G.

Thank you so much, Karie. You are absolutely amazing! ~ Heather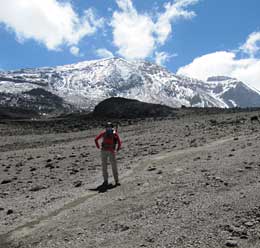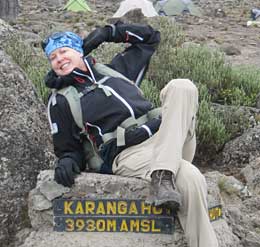 Karie on the climb and at the top of Mt. Kilimanjaro - Africa's highest peak!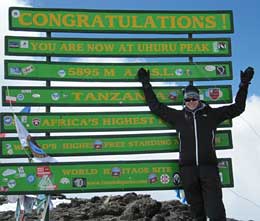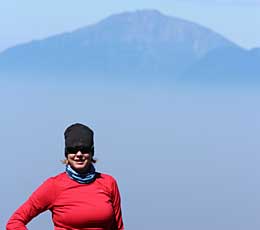 Aloe? Senna? Cascara? Safe for IBS?

In a nutshell, no. They are not. Even though aloe vera, senna, and cascara are all plants, and thus "herbal" and "natural", they are still classified by the FDA as Class 1 harsh stimulant laxatives.

There are substances called anthroquinones and anthrones in aloe, senna, and cascara, which produce a laxative effect by increasing colonic peristalsis and intestinal water content, by opening chloride channels of the colonic membrane to cause a net reduction of liquid absorption by the colon.

In plain English, this means that aloe, senna, and cascara cause faster and stronger contractions of the colon - something that people with IBS are already overly prone to, and which can cause violent abdominal cramps, painful spasms, and diarrhea.

Because aloe in particular is well-known as a gentle external treatment for minor burns and skin irritations, it's easy to assume that it would be safe and gentle for use internally as well. This is not necessarily true.

The safety of aloe, senna, and cascara are a serious concern. All anthranoid laxatives can cause melanosis coli, cathartic colon, and possibly increase the risk of colonic cancer. In fact, genotoxicity studies show that aloe-containing laxatives pose cancer risks to humans even when used as directed.

Melanosis coli, normally a benign condition, is characterized by black pigmentation of the colonic wall, and is almost always attributable to anthranoid laxatives such as aloe, cascara, or senna. Melanosis coli usually develops 9 months after initiating the use of anthranoid laxatives, and typically disappears just as quickly after the drug is discontinued. In severe cases, however, it may reduce bowel function and make constipation worse. In advanced cases of melanosis coli, the inside lining of the colon becomes pitch black instead of the normal light pink.

Cathartic colon is the anatomic and physiologic change in the colon that occurs with chronic use of stimulant laxatives such as aloe (chronic use is defined as more than 3 times per week for at least 1 year). Signs and symptoms of cathartic colon include chronic constipation, bloating, a feeling of fullness, abdominal pain, and incomplete fecal evacuation. Radiologic studies of a patient with cathartic colon will show: an atonic colon (the colon lacks the normal muscle tone) and a redundant colon (the laxative use has stretched out the colon to twice the normal length, and the bowel has developed redundant coils of bowel tubing that loop back and forth in the abdominal cavity).

As if this isn't bad enough, chronic use of anthranoid laxatives can also lead to serious medical consequences such as fluid and electrolyte imbalance, steatorrhea, gastroenteropathy, osteomalacia, and vitamin and mineral deficiencies. When the laxatives are discontinued, radiographic and functional changes in the colon may only partially return to normal because of permanent drug-induced neuromuscular damage to the colon.

What's really scary about aloe in particular is that it's a very common ingredient in all sorts of liquid vitamins, energy boost drinks, and other health supplements, and these product labels won't note that aloe is a laxative. Aloe is even specifically marketed to people with IBS as a "digestive aid", or "soothing to the bowel", with an emphasis on the fact that it's an all-natural plant ingredient, which again just hides the fact that it is without a doubt a harsh stimulant laxative.

It is possible to find aloe (though not typically senna or cascara) from which the anthraquinones have been removed. If this is the case, the label should specifically say so, or something to the effect that "diarrhea-causing ingredients", "harsh latex chemicals", or "aloin and aloe emodin" have been removed from the product. Without these indicators, there is no way of knowing whether an aloe, senna, or cascara product is safe to take if you have IBS.

At this point, considering that products derived from aloe, cascara, and senna and intended for internal use have not been proven effective for IBS symptoms or well-tolerated by people with hyper-sensitive bowels, I would err on the side of caution.

It's always better to use safe, gentle, gradual changes for managing IBS instead of trying to violently force your gut to be obedient.

Following the IBS diet, gradually working up to a high level of an organic prebiotic soluble fiber supplement, yoga poses for constipation, and gut-directed hypnotherapy are all much better options for kindly coaxing your bowels into normal function. Don't fight your body - your body will fight back.

Coming next - how to stop using laxatives!

- Heather

Reference 1 Reference 2

Did you miss the recent Ask Heather and the Seven Deadly Doctor Sins of IBS ?



~ Heather's Tummy Tamers Peppermint Oil Capsules ~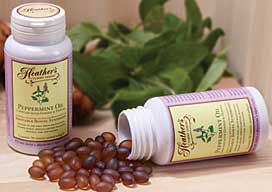 Peppermint Oil Caps Called "Drug of Choice for IBS"

Our Peppermint Oil Caps have the added benefits of fennel and ginger oils, and they help prevent abdominal pain, gas, and bloating!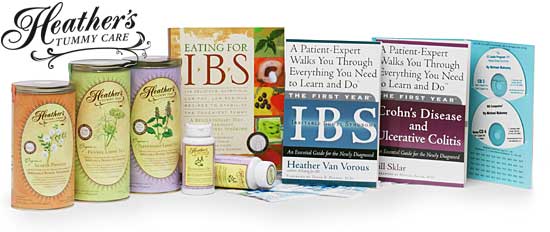 Shop at Heather's Tummy Store for IBS
HelpForIBS.com
The only store that's just for IBS - so we only carry the very best



You're on this newsletter list because you have expressed interest in IBS news and information.


Change your newsletter email address here.

If you are viewing this newsletter on a website and would like to subscribe for email delivery, please "Join the IBS Newsletter" here.

ANTI-SPAM PRIVACY & SECURITY POLICY
HelpForIBS.com
Heather's Tummy Care
80 S. Washington St, #304
Seattle, WA 98104 USA

© 2012 Heather Van Vorous, Heather's Tummy Care. All rights reserved.
Authored by Heather Van Vorous. May not be reproduced without permission.
USA Copyright Office Registration Number TXU 1-270-858 and others.