October 25, 2011 ~ Scroll down for full newsletter or follow the links:



Twitter

Special Letter »
90% Cured! An Amazing Update from Diana
IBS Recipe »
Creamy Seafood Chowder
Research & Press »
Hypnotherapy Works for IBS - Results Last at Least 1 Year
Ask Heather »
All About Bloating - and How to Stop It!
  
Have questions? Call toll free (866) 640-4942.
Outside the US (206) 264 8069.

Enjoy the newsletter!
Heather Van Vorous & Heather's Tummy Care
Celebrating 10 Years of IBS Business!

Did a friend send you this newsletter? Sign up here for your own free subscription.



Creamy Seafood Chowder

This is the rich, creamy seafood chowder of your dreams! Traditional high fat, dairy-based recipes are awful for IBS, but here, with the easy substitution of soy or rice milk for dairy, a deadly classic becomes perfectly safe. And, just as importantly, simply delicious!

Soups and chowders are a great way to safely add plenty of insoluble fiber from fresh veggies, so don't skimp on the carrots and celery. Their insoluble fiber will be much easier to digest after the long, slow cooking time. As an added bonus, the potatoes and Tummy Fiber provide a safe soluble fiber foundation, and the herbs are digestive aids!

Makes 6 Servings

1 tablespoon olive oil
1 large onion, diced
2 large carrots, peeled and diced
2 large stalks celery, diced
1/2 cup all-purpose unbleached white flour
1 tablespoon Acacia Tummy Fiber
2 cups clam broth
3 cups plain soy or rice milk
2 (6.5 oz.) cans chopped or minced clams
1/2 teaspoon white pepper
1 tablespoon dried parsley
3/4 teaspoon salt
1/2 teaspoon crushed thyme
1 teaspoon crushed fennel seeds from a Fennel Tummy Teabag
1 bay leaf
1/4 teaspoon ground black pepper
4 cups Russet baking potatoes (about 2 large), peeled and diced into 1" cubes
8 oz. chopped, cooked shrimp or prawns, peeled and tails removed

salt and pepper to taste for serving

fat-free soda crackers for serving

In a large stockpot heat the oil over medium heat. Add the onions and carrots and saute until softened. Stir together the flour and Tummy Fiber, and gradually sift the flour mixture into the stockpot, stirring thoroughly and scraping bottom of pan. Very gradually stir in the clam broth, scraping sides and bottom of pan to make sure flour is thoroughly incorporated without clumping.

Stir in soy/rice milk until mixture is smooth. Add the clams and spices, bring soup to a boil, then cover and reduce heat. Simmer for 30 minutes. Add diced potatoes, cover and simmer for an additional 30 minutes. Stir in chopped shrimp. Taste and adjust seasoning with salt and pepper. Serve with crushed crackers.

For a truly special treat, serve the chowder with Bumper Crop Zucchini Bread for dessert!

Are you just learning how to eat for IBS? A little intimidated at the thought of special IBS recipes? Not quite sure just what makes these recipes special in the first place? Don't worry! Get Eating for IBS and find the answers to all your questions.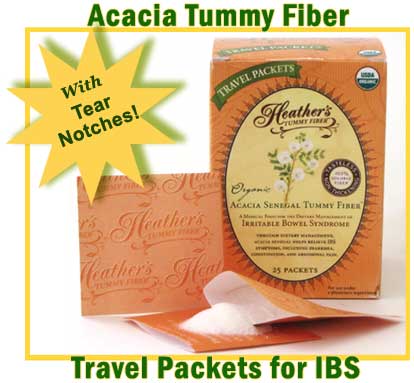 Certified Organic Acacia Senegal ~ Pure Soluble Fiber

The prebiotic fiber that relieves both diarrhea and constipation

Gut-Directed Hypnotherapy Works for IBS - Results Last at Least 1 Year

A recent study in the American Journal of Gastroenterology noted that gut-directed hypnotherapy has been found to be effective in IBS. The objective of this study was to study the effect of gut-directed hypnotherapy in IBS in different clinical settings outside the traditional research units.

The study population included IBS patients refractory (non-responsive) to standard IBS treatments. 138 IBS patients were divided into two studies. In both studies, IBS-related symptoms were improved at 3 months in the gut-directed hypnotherapy groups, but not in the control groups.

In study 1, a significantly greater improvement of IBS-related symptom severity could be detected in the gut-directed hypnotherapy group than in the control group, and a trend in the same direction was seen in study 2. The results seen at 3 months were sustained up to 1 year.

Go here for full research article. Learn more about gut-directed hypnotherapy and listen to audio samples of an IBS gut-directed hypnotherapy program.



~ Heather's Tummy Tamers Peppermint Oil Capsules ~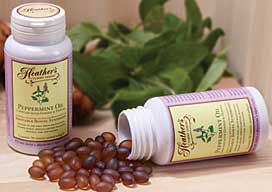 Peppermint Oil Caps Called "Drug of Choice for IBS"

Our Peppermint Oil Caps have the added benefits of fennel and ginger oils, and they help prevent abdominal pain, gas, and bloating!

All About Bloating - and How to Stop It!

Bloating (from mild to severe) is one of the most common - and frustrating - symptoms of Irritable Bowel Syndrome, as defined by the Rome diagnostic guidelines. Interestingly, it seems to go hand in hand with IBS constipation, while pain seems more likely with IBS diarrhea.

But don't despair - there are also numerous IBS bloating and gas treatments.

Abdominal bloating or swelling is defined as a condition in which the abdomen feels full and tight - this is often, but not always, caused by excessive intestinal or stomach gas. Stomach bloat from Irritable Bowel Syndrome can result from trapped intestinal gas that arises from mis-timed, or irregularly timed, bowel contractions.

Bloating - What Usually Causes It?
Overeating
Lactose intolerance and other food intolerances
Air swallowing (a nervous habit)
Irritable bowel syndrome
Constipation

Important but Uncommon Causes of Abdominal Bloating & Stomach Gas
* Partial bowel obstruction
* Ascites (excess fluid in the peritoneal cavity, typically caused by liver disease)
* Tumors in the abdominal cavity
* Ovarian cancer

Help for Bloating & Stomach Gas
If you feel confident that your bloating and gas stem from Irritable Bowel Syndrome, information is key to management. A great first step is to learn all you need to know about bloating and IBS with The First Year: IBS, an essential guide.

For many people, bloating is one of the most upsetting IBS symptoms, and unfortunately one of the most difficult ones to resolve.

There is good news, though. The herb fennel is a carminative, and extremely helpful for both dissipating and preventing bloating and gas, and it has no side effects.

For immediate results, it helps to "overwhelm" your gut with multiple cups of high volatile oil Fennel Tummy Tea for several days to get bloating under control, and then drop back to a cup or two a day for maintenance. (This is a great trick I actually learned from readers who made the discovery.)

Fennel tastes like licorice and has anti-spasmodic as well as anti-gas properties, which is why it is especially helpful for IBS bloating. It's also a very safe herbal remedy that you can use daily without any risks.

Practicing yoga poses specific to bloating can also help relieve gas quickly.

Another factor to consider in treating bloating with IBS is your choice of fiber supplement. Soluble fiber is a miracle worker for many people in managing all IBS symptoms, whether constipation, cramping, and/or diarrhea.

However, one of the most common fiber supplements is psyllium (sold as Metamucil, Konsyl, Fibrogel, or as bulk husks), and psyllium, which is 1/3 insoluble fiber, can actually worsen or even cause bloating and gas in many people.

A much more helpful alternative is Acacia Tummy Fiber, which does not contain psyllium, is 100% soluble fiber, and is actually a prebiotic. This means that it increases good gut flora, and thus actively helps reduce bloating and gas.

Remeber to avoid chewing gum if you're prone to being bloated - it can cause you to swallow a lot of air and exacerbate stomach gas. Eliminate all carbonated beverages from your diet. Carbonation in general is a potential trigger for IBS attacks, and it's particularly likely to exacerbate bloating.

Have a nice hot cup of fennel tea instead of soda pop or sparkling water, follow the IBS dietary guidelines, and practice the bloat-specific yoga poses, and you should notice a tremendous improvement in IBS bloating and gas.

~ Heather

Did you miss the recent Ask Heather and the worst drink for IBS ever?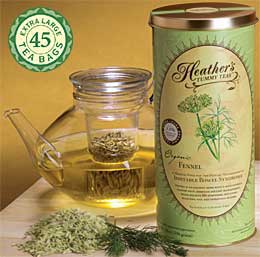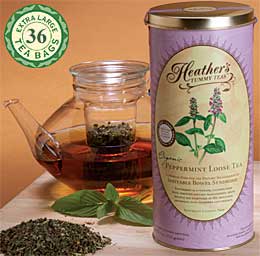 Organic High Volatile Oil Fennel & Peppermint Tummy Tea Bags

Extraordinary Quality ~ Very Economical

Fennel is terrific for bloating & gas, Peppermint is great for IBS pain & spasms.
Heather's Fennel Tummy Tea Heather's Peppermint Tummy Tea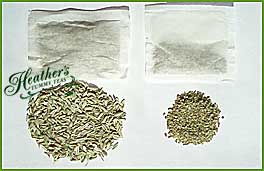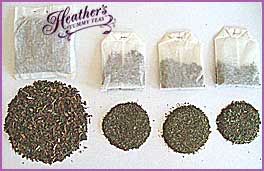 Compare for yourself! The pictures above show the huge difference in the quantity and quality of tea per teabag. The price comparison here is even more shocking!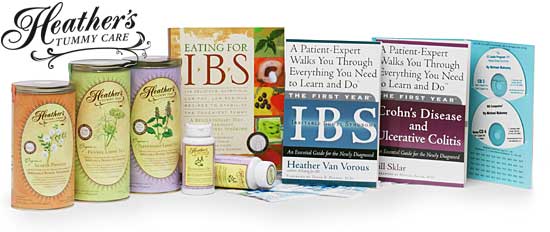 Shop at Heather's Tummy Store for IBS
HelpForIBS.com
The only store that's just for IBS - so we only carry the very best



You're on this newsletter list because you have expressed interest in IBS news and information.


Change your newsletter email address here.

If you are viewing this newsletter on a website and would like to subscribe for email delivery, please "Join the IBS Newsletter" here.

ANTI-SPAM PRIVACY & SECURITY POLICY
HelpForIBS.com
Heather's Tummy Care
80 S. Washington St, #304
Seattle, WA 98104 USA

© 2011 Heather Van Vorous, Heather's Tummy Care. All rights reserved.
Authored by Heather Van Vorous. May not be reproduced without permission.
USA Copyright Office Registration Number TXU 1-270-858 and others.