Sale! 10% Off Fennel & Diet Kit With Fennel! Use Promo Code FENNEL10



Fennel Is Best For IBS Bloating & Gas!






(Scroll down for full newsletter or follow the links):


Ask Heather » Snacks For IBS?

IBS Recipe » Honey Glazed Snack Mix

Special Events » See February Store Sales, New Stores And Tummy Care Events!

Special Letter » Too Easy To Be True? Symptom-Free & 10 Pounds Lighter!

Enjoy this week's newsletter!

Best Wishes,
Heather Van Vorous

Did a friend send you this newsletter? Sign up here for your own free subscription.

10% Off Fennel Teas & Diet Kit #1! Use Promo Code FENNEL10

Heather's Tummy Tea Fennel For Bloating & Gas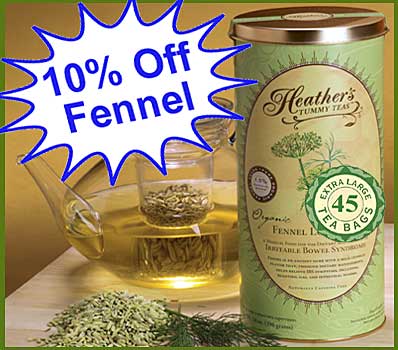 Organic, Medicinal Strength, High Volatile Oil Fennel

Extraordinary Quality ~ Very Economical


Honey Glazed Snack Mix

This snack mix is crunchy, sweet, and salty all at once, and is a delicious way to stabilize if you're in the midst of a cycle of IBS attacks. It's low fat, high in soluble fiber, and trigger-free. I like to make big batches of it and keep bags at work for the afternoon munchies.

Makes 10 Half-cup Servings

3 tablespoons canola oil or melted soy butter
1/4 cup honey
2 cups Corn Chex cereal
2 cups Rice Chex cereal
1 cup mini pretzels or thin pretzel sticks

In a small bowl stir together oil and honey until well blended. In a large bowl stir together cereals and pretzels, top with honey mixture, and stir until well combined. Microwave on high for 3-6 minutes (microwave strengths vary), stirring well every 90 seconds, until cooked through. Cool thoroughly before serving. Store in an airtight container.

The perfect drink with this tasty snack is a hot cup of Fennel Tummy Tea!

Are you just learning how to eat for IBS? A little intimidated at the thought of special IBS recipes? Not quite sure just what makes these recipes special in the first place? Don't worry! Get Eating for IBS and find the answers to all your questions.

~ Heather's Tummy Fiber ~
For Abdominal Pain, Diarrhea, &, Constipation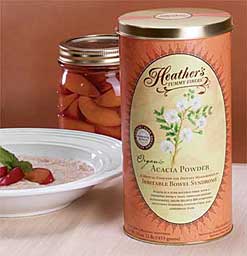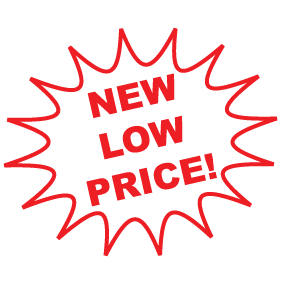 Certified Organic Acacia Senegal ~ Pure Soluble Fiber

The prebiotic fiber that relieves both diarrhea and constipation!

** Very Economical ** Only 4 cents per gram of fiber!

** 100% Acacia Senegal ** Never Low Grade Acacia Seyal

Too Easy To Be True? Symptom-Free & 10 Pounds Lighter!

Dear Heather,

I want to extend my deepest thanks to you and your truly humanitarian efforts.

I have suffered from GI problems my entire life, but my symptoms have gradually been getting worse with age. About a year and a half ago, a medical professional suggested that I may have IBS. I'm embarrassed to say that I didn't know what it was, so I immediately looked online for information and stumbled upon your site. It was very clear that you are the premier source for everything related to digestive disorders.

Without delay, I subscribed to your newsletters and purchased your products, including Eating for IBS. However, I did not really "do" anything about the IBS because I had yet to be officially diagnosed.

I went through all of the required medical testing, where everything else was ruled out. All that was left was a visit to a gastroenterologist for confirmation. A year after the IBS was first suggested to me, I received the official diagnosis from the doctor.

And yet I still resisted implementing your program. Believe it or not, it sounded too unbelievably easy to actually be true! Now, 2009 was a very busy year for me: I went through 5 surgical procedures, one of which was abdominal.

These surgeries (especially the abdominal one) greatly aggravated my symptoms. There wasn't a single moment of any day for months that I was not bloated and in pain. Enough was enough and I finally broke down and began to "Eat for IBS."

Much to my astonishment, it actually worked! Within 1-2 weeks of following your IBS dietary guidelines, my bloating subsided, my pain was gone, and I actually felt like a person with a normal gut. A little side benefit is that I lost 10 lbs., which I needed to lose. Thanks to you, I am armed with a veritable cornucopia of not only delicious recipes, but also the knowledge to easily modify my favorite recipes with safe substitutes. And, unless I stray, I remain virtually symptom-free. It's pretty easy to say "no" to trigger foods when you feel so good walking the safe path.

But, the true test for me was a long trip over Thanksgiving. Over the past few years, traveling has been a nightmare filled with pain, bloating, and intestines that decided to go on strike and just shut down production completely. However, I can proudly say that, food-wise, this was the easiest trip in many, many years where I felt great and remained regular (which is really shocking).

So, Heather, please accept my heartfelt gratitude. You are not just any vendor. You are a person filled with compassion who works tirelessly to ease the suffering of so many afflicted individuals. You have truly saved me from a life of suffering.

It would be an honor for you to use my comments. I'm so incredibly grateful to you and your website/newsletter for literally changing my life that it is a pleasure to "sing your praises" to others. All the best in the new year! With sincere thanks, Karin Dobbs

Thank you so much, Karin! Your letter made my day!! ~ Heather

Did you miss the recent letter from Renee, who can actually eat again?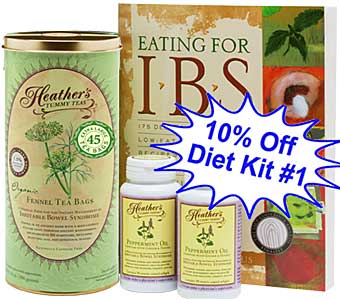 The IBS Diet Kit For Bloating, Pain & Gas!

* Immediate, Tangible Help!
* Take Control Of Your IBS Symptoms Through Diet
* For Bloating, Gas & Pain



Snacks For IBS?

While it's easy to make digestion-friendly and delicious meals for IBS, what about quick snacks? Can you get the munchies and still keep a stable tummy? Yep - you definitely can!

In fact, snacking in between small meals is actually very important for people with IBS, because it's better for your gut to have small amounts of food frequently rather than going hours between large meals. Since there are many safe and wonderful treats to snack on, this can be a lot of fun, too.

For snacks in just minutes, use toasted fresh white bread, baked corn chips, soda crackers, and pitas as a soluble fiber basis for low fat dips, salsas, soups, and more.

Baked potato chips, pretzels, soy crisps, rice cakes, corn or rice cereals, and instant oatmeal packets are fast, safe snack foods when you're on the run. The Honey Glazed Snack Mix recipe above is a terrific example of a snack that's both delicious and actively helpful for IBS.

Don't forget to have an IBS-friendly drink with your snacks, too. Avoid soda pop and coffee and have a helpful herbal tea such as fennel or peppermint instead.

If you know you've gone too long without eating anything at all, have a dose of Tummy Fiber right before you eat, as that will give you extra soluble fiber and help keep your gut's gastrocolic reflex calm.

There are two terrific resources on our website that are absolutely essential for snack ideas. The first is a list of Snacks, Quick Foods, and Good Grub to Grab in a Hurry, and includes snacks, cereals, bars, drinks, and more. This is the first place to look if you're hungry but at a loss for snack ideas.

The second resource is our comprehensive list of Brand Name Recommendations for IBS-Safe Foods. This list is organized by country, and includes everything from ready-to-eat meals to soups, dairy substitutes, cookies, candies, and more.

Even when you're in a hurry you can still eat safely (and nutritiously) for IBS, and use snacks to your advantage to help keep your gut stable throughout the day.

So go ahead - spoil your appetite for a big heavy dinner. Your touchy tummy will only thank you!

~ Heather

Did you miss our recent "Ask Heather" and What Tests For IBS?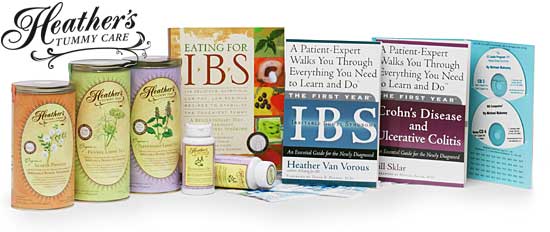 Shop at Heather's Tummy Store for IBS
HelpForIBS.com
The only store that's just for IBS - so we only carry the very best



You're on this newsletter list because you have expressed interest in IBS news and information.


Change your newsletter email address here.

If you are viewing this newsletter on a website and would like to subscribe for email delivery, please "Join the IBS Newsletter" here.

ANTI-SPAM PRIVACY & SECURITY POLICY
HelpForIBS.com
Heather's Tummy Care
80 S. Washington St, #304
Seattle, WA 98104 USA

© 2010 Heather Van Vorous, Heather's Tummy Care. All rights reserved.
USA Copyright Office Registration Number TXU 1-270-858 and others.