Sale! 10% Off Peppermint Teas and Capsules! Use Promo Code PEPMINT10



(Scroll down for full newsletter or follow the links):


Ask Heather » What Tests Should I Have For IBS?

IBS Recipe » Herb Roasted Fish With Winter Root Veggies

Research & Press » St. John's Wort Not Helpful For IBS

Special Letter » I Can Actually Eat Again!

Enjoy this week's newsletter!

Best Wishes,
Heather Van Vorous

Did a friend send you this newsletter? Sign up here for your own free subscription.

10% Off Peppermint Caps And Teas! Use Promo Code PEPMINT10

Heather's Tummy Tamers Peppermint Oil Capsules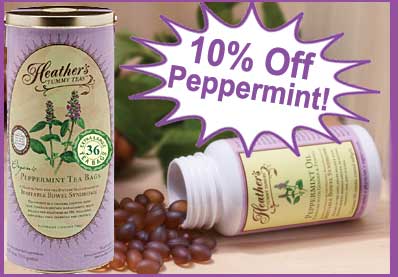 Peppermint Oil Caps Called "Drug of Choice for IBS"

Our Peppermint Oil Caps have the added benefits of fennel and ginger oils, and they help prevent abdominal pain, gas, and bloating!

Herb Roasted Fish With Winter Root Veggies

This is a delicious, Greek-style dinner. It's low fat, high soluble fiber, and very flavorful from the generous use of herbs. Even better? Those herbs are good for digestion, not just great taste!

Makes 4 Servings

2 large russet potatoes, peeled, cut into 1/4" slices
2 large carrots, peeled and cut into 1/4" slices
1 T Acacia Tummy Fiber
4 T olive oil, divided
3 garlic cloves, minced
1 1/2 t dried oregano
1 T dried parsley
1 t salt
1/4 t crushed red pepper flakes (optional)
1/4 cup white wine
1/4 cup water
4 red snapper or halibut fillets, 4-6 ounces each
2 T Tummy Tea dried peppermint leaf from one teabag
salt and pepper to taste
fresh lemon wedges for serving

Preheat oven to 450F. Spray a 13 x 9 inch baking pan with cooking oil. Spread potato and carrot slices in pan, overlapping only where necessary. Whisk Tummy Fiber, 3 T olive oil, garlic, oregano, parsley, salt, optional red pepper, wine, and water in medium bowl. Pour over potatoes and carrots and spread with a rubber spatula. Cover pan with foil or lid and bake 20 minutes. Uncover and bake 30-40 minutes more, until potatoes and carrots are tender.

Place fish fillets on top of potatoes and carrots. Drizzle remaining 1 T olive oil over fish. Sprinkle fish with 1 T peppermint leaf. Bake uncovered just until fish is opaque in center, 15-20 minutes. Sprinkle with remaining 1 T peppermint leaf, salt and pepper, then squirt fresh lemon juice over and serve.

The perfect herbal drink with this herb roasted fish is a hot cup of Peppermint Tummy Tea!

Are you just learning how to eat for IBS? A little intimidated at the thought of special IBS recipes? Not quite sure just what makes these recipes special in the first place? Don't worry! Get Eating for IBS and find the answers to all your questions.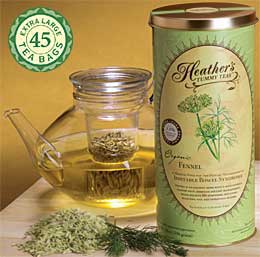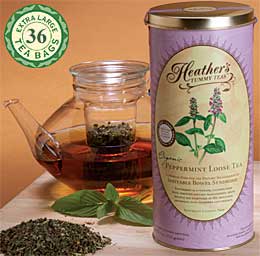 Organic High Volatile Oil Fennel & Peppermint Tummy Tea Bags

Extraordinary Quality ~ Very Economical

Fennel is terrific for bloating & gas, Peppermint is great for IBS pain & spasms.
Heather's Fennel Tummy Tea Heather's Peppermint Tummy Tea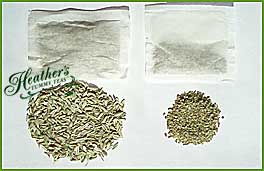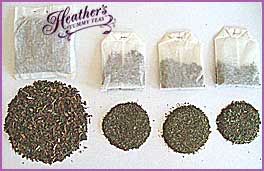 Compare for yourself! The pictures above show the huge difference in the quantity and quality of tea per teabag. The price comparison here is even more shocking!



I Can Actually Eat Again!

Hello,

I have been a sufferer for many years with IBS and I was also recently diagnosed with ulcerative colitis. I just purchased Eating for IBS and cannot put the book down. After many years of suffering, I finally decided to get my life back in order!

I got so depressed not knowing what to eat, but after reading your book and seeing all of the recipes I was so happy to see that I can actually eat again!

I have been struggling over the last year between eating the foods that trigger IBS and foods that trigger the Colitis. I also have GERD. I would say I have the triple whammy! One food is good for one and some foods are bad for others. I am writing down everything, which has helped a lot.

I would like to add that I have lost 6 pounds since I started eating healthy in one week and have more energy than ever!!!!! I never take the stairs at work and this morning I was able to walk them without any pain or breathing problems. I truly do feel much better!

I just want to say THANK YOU for such a wonderful book. I will purchase the other book re: colitis. Keep up the great work! You are a God send!

Renee Wilson
Akron, Ohio

Thank you so much, Renee! I'm so happy the book is helping you! ~ Heather

Did you miss the recent letter from Jean, who's had no pain, no cramping for over a year??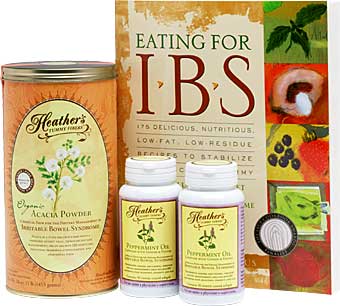 The IBS Diet Kit For Diarrhea AND Constipation!

* Immediate, Tangible Help!
* Take Control Of Your IBS Symptoms Through Diet
* For Diarrhea, Constipation, And Pain



St. John's Wort Not Helpful For IBS

A Mayo Clinic research study published in the January issue of the American Journal of Gastroenterology found that St. John's wort is not an effective treatment for irritable bowel syndrome (IBS).

"Our study investigated if herbal antidepressants such as St. John's wort could benefit irritable bowel disease patients," says Yuri Saito, M.D., M.P.H., gastroenterologist and lead physician scientist on the study. "Several of the chemical neurotransmitters that are in the brain are also in the colon. Therefore, it's been thought that antidepressants may affect sensation in the colon in a similar way to how they affect sensation in the brain."

In this placebo-controlled trial, after three months of observing symptoms such as stomach pain, diarrhea, constipation and bloating, Mayo researchers found that the placebo group had a better response than the group taking St. John's wort.

St. John's wort has been shown to be helpful in several medical conditions such as depression as well as other pain syndromes. Research has shown it to be as effective as conventional, prescription anti-depressants in treating mild to moderate depression. Go here for information about herbs that do help IBS.

Go here for full article.



~ Heather's Tummy Fiber ~
For Abdominal Pain, Diarrhea, &, Constipation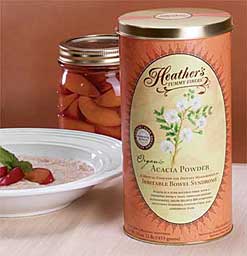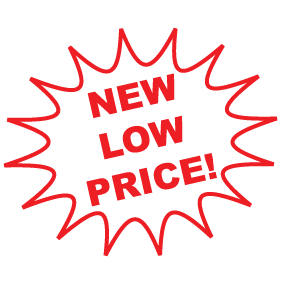 Certified Organic Acacia Senegal ~ Pure Soluble Fiber

The prebiotic fiber that relieves both diarrhea and constipation!

** Very Economical ** Only 4 cents per gram of fiber!

** 100% Acacia Senegal ** Never Low Grade Acacia Seyal

What Tests Should I Have For IBS?

In our last newsletter, we looked at the diseases that need to be ruled out before you can accept an IBS diagnosis. (Remember, though IBS can definitely be self-treated, you must see a doctor for a firm diagnosis first. You cannot self-diagnose Irritable Bowel Syndrome.)

So, when you do see a doctor to find out if you have IBS, what tests will be run?

To some extent, it will depend on your age, your exact symptoms, and your personal and family medical history. As a general rule, it's a good idea that all possible physical, structural, and infectious abnormalities of the GI tract are ruled out before you agree to an IBS diagnosis.

This requires a physical examination, preferably by a board-certified gastroenterologist, and might include the following tests:

Complete blood count, sedimentation rate, and chemistries
Blood and/or breath tests for gluten, fructose, and lactose intolerances
Breath test for small intestine bacterial overgrowth (SIBO)
Stool for ova, parasites, and blood
Urinalysis
Liver function tests
Rectal exam
Abdominal x-rays
Colonoscopy
For women, a gynecological exam including CA-125 blood test for ovarian cancer

Other diagnostic studies should be minimal and will depend on the symptom subtype.

For patients with indigestion, nausea, and bloating, an abdominal ultrasound may be needed to rule out gallstones. For patients with any numbness in association with constipation, Multiple Sclerosis should be excluded.

For older patients (age 50 and above), pancreatic cancer may need to be excluded.

No matter what the test results show, an IBS diagnosis depends on your symptoms matching the Rome Criteria. If all of your tests come back negative but your symptoms do not fit those of IBS, don't accept an IBS diagnosis.

I would also add that even if your symptoms match those of IBS exactly, it is still worthwhile to have the basic blood/breath tests for SIBO, and for gluten, fructose, and lactose intolerances. These disorders can all mimic IBS very closely, but they require different treatments.

I know the whole testing process is exhausting, stressful, and expensive, but unfortunately, I don't know any way around it.

Once you have your firm IBS diagnosis, take heart. While there is no cure yet, there are many ways to successfully manage - and prevent - all IBS symptoms.

Please believe me, I've been there - you can control your IBS, not vice versa!

~ Heather

Did you miss our recent "Ask Heather" and Diagnose Me!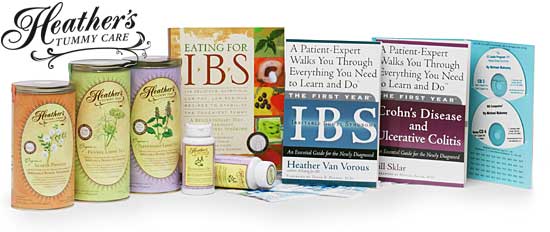 Shop at Heather's Tummy Store for IBS
HelpForIBS.com
The only store that's just for IBS - so we only carry the very best



You're on this newsletter list because you have expressed interest in IBS news and information.


Change your newsletter email address here.

If you are viewing this newsletter on a website and would like to subscribe for email delivery, please "Join the IBS Newsletter" here.

ANTI-SPAM PRIVACY & SECURITY POLICY
HelpForIBS.com
Heather's Tummy Care
80 S. Washington St, #304
Seattle, WA 98104 USA

© 2010 Heather Van Vorous, Heather's Tummy Care. All rights reserved.
USA Copyright Office Registration Number TXU 1-270-858 and others.