All-About-Fiber Special Issue! (Scroll down for full newsletter or follow the links):


Ask Heather » Soluble vs. Insoluble Fiber for IBS - "Duh!"

IBS Recipe » Hearty Potato Corn Chowder (with both kinds of fiber)

New Stores & Special Events » Get Tummy Care Locally and On Sale!

Special Letter » Normal Bowel Movements, No Laxatives (just the right kind of fiber!)

Enjoy this week's newsletter!

Best Wishes,
Heather Van Vorous

Did a friend send you this newsletter? Sign up here for your own free subscription.

~ Heather's Tummy Tamers Peppermint Oil Capsules ~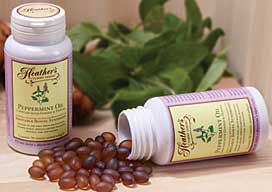 Peppermint Oil Caps Called "Drug of Choice for IBS"

Our Peppermint Oil Caps have the added benefits of fennel and ginger oils, and they help prevent abdominal pain, gas, and bloating!

Hearty Potato Corn Chowder

There's nothing I love more on a brisk autumn day than a bowl of rich and creamy potato chowder. But, traditional recipes with their dairy base, high fat content, and bacon are simply off-limits for IBS.

Fortunately, it's a snap to make an equally delicious but digestion-friendly version! The easy substitutions of soy or rice milk for dairy, and low fat poultry or veggie versions of bacon, eliminate the IBS triggers.

The high soluble fiber foundation from the potatoes turns a deadly dish into one that's not just safe, but actively helpful for IBS symptoms (and, always important, wonderfully tasty!)

Even better, the fresh herbs are digestive aids, and the Tummy Fiber adds extra soluble fiber plus a creamy, silky texture.

Chowders are also a great way to safely add plenty of insoluble fiber from fresh veggies. Though insoluble fiber can be an IBS trigger, how you cook and eat it makes a world of difference. So, don't skimp on the corn, carrots and celery. They will be easy to digest after their long, slow cooking time, and with the low fat, soluble fiber foundation of the chowder keeping your gut stable.

Makes 6 Servings

1 tablespoon olive oil
1/4 cup Bacos, or diced low fat veggie/turkey bacon slices such as Fakin' Bacon
1 large onion, diced
2 large carrots, peeled and diced
2 large stalks celery, diced
Kernels cut off 1 large ear of corn (or 1/2 cup of fresh/frozen corn niblets chopped)
1/2 cup all-purpose flour stirred together with 2 tablespoons Tummy Fiber
2 cups fat-free veggie, chicken, or clam broth
3 cups plain soy or rice milk
1/2 teaspoon white pepper
1 tablespoon fresh or dried parsley
1/2 teaspoon crushed fresh or dried thyme
1/2 teaspoon crushed fresh or dried oregano
1 bay leaf
1/4 teaspoon ground black pepper
3/4 teaspoon salt
4 cups Russet baking potatoes (about 2 large), peeled and diced into 1" cubes

salt and pepper to taste for serving

In a large stockpot heat the oil over medium heat. Add the Bacos or diced veggie/turkey bacon and saute until fragrant and crispy.

Add the onions, carrots, celery, and corn and saute until tender. Gradually sift in the flour/Tummy Fiber mixture, stirring thoroughly and scraping bottom of pan. Very gradually stir in the broth, scraping sides and bottom of pan to make sure flour is thoroughly incorporated without clumping. Stir in soy/rice milk until mixture is smooth.

Add all the spices, bring soup to a boil, then cover and reduce heat. Simmer for 30 minutes. Add diced potatoes, cover and simmer for an additional 30 minutes. Taste and adjust seasoning with salt and pepper.

For a delicious meal, follow the chowder with dessert. Try my fabulous Rosemary Lemonade Pound Cake!

Are you just learning how to eat for IBS? A little intimidated at the thought of special IBS recipes? Not quite sure just what makes these recipes special in the first place? Don't worry! Get Eating for IBS, and find the answers to all your questions.

Researchers call gut-directed hypnotherapy a "cure" for IBS!

The Best Gut-Directed Self-Hypnosis Program for All IBS Symptoms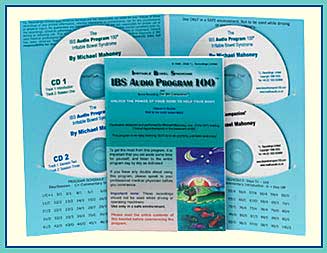 Gives an average 85% reduction of pain and bowel dysfunction symptoms.
Listen to IBS Audio Program 100 samples!

Normal Bowel Movements Without Laxatives

Dear Heather,

I want to take a minute to thank you for your Tummy Fiber Acacia Senegal. This has made such a difference in my life.

I now have started to have normal movements which was next to near impossible before.

The Tummy Fiber is tasteless and I don't dread the cod liver oil, milk of magnesia, or those awful pills that I used to have to take and never knew when they would kick in.

You are a blessing to me. You have saved my life.

Thank you again,
Lorraine Stanhope

Thank you so very much, Lorraine! ~ Heather

Did you miss the recent letter from Wendy, who now knows how and what to cook for IBS?

~ Heather's Tummy Fiber ~
For the Dietary Management of Abdominal Pain, Diarrhea, &, Constipation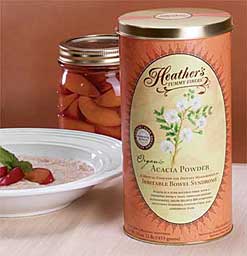 Certified Organic Acacia Senegal ~ Pure Soluble Fiber
The prebiotic fiber that relieves both diarrhea and constipation!

** Very Economical ** Only 5 cents per gram of fiber!

** 100% Acacia Senegal ** Never Low Grade Acacia Seyal


New Stores and Special Events with Heather's Tummy Care Products

We're continuing our special rebate offer for people who buy Tummy Care products at their local stores, and we have a new store announcement (our first ever in Alaska) this week as well. Plus, there are a number of store special events and sales!

New Stores, Store Sales, and Store Events!

Alaska
Sunshine Health Food Stores
410 Trainor Gate Road
Fairbanks, AK 99701
907-456-5433

California
Country Harvest
Harvest Days! With an outdoor market, free Tummy Care samples and a gift basket giveaway, and special events. October 14th from 10 AM to 2 PM.
7126 Skyway Ste F
Paradise, CA 95969
530-877-1472

Illinois
Bloom Naturally
Celebrating their 5 year anniversary! Free Tummy Care samples and a gift basket giveaway. October 17th, from 8 AM to 6 PM.
307 Columbia Blvd.
Bloomsburg, IL 17815
570-784-3357

Morris Healthmart
Hosting a Health Fair on October 3rd from 11 AM to 2 PM! Raffle, free Tummy Care samples, and signed books!
2405 Sycamore Dr
Morris, IL 60450
815-942-3660

Nebraska
Red Clover Market
Celebrating their 4 year anniversary! Free Tummy Care samples and a gift basket giveaway. October 11th.
5500 Old Cheney Road Suite 14
Lincoln, NE 68516
402-421-2460

Nevada
Herbally Grounded
Celebrating Herb Day! Free Tummy Care samples and a gift basket giveaway. October 3, 2009 10:00 AM
At St. Rose Dominican Hospitals - San Martin Campus (215 and Durango)
8280 W Warm Springs Rd
Las Vegas, NV 89113
702-616-4910

Michigan
The Health Mart
Grand re-opening at a new location October 6th! Raffles, education and prizes. Free Tummy Care samples and a gift basket giveaway. Also featuring "Super Tuesdays", the first Tuesday of every month with specials on products.
5757 Whitmore Lake Rd
Brighton, Michigan 48116
810-220-5252

Ontario, Canada
Norfolk Holistic Foods
Now offering two day shipping of all Tummy Care products throughout Ontario!
17 Peel St
Simcoe, ON N3Y 1S1
Canada
519-426-9309

Wyoming
The Herbal Remedies Store, Inc.
Join them at the terrific Wyoming Women's Expo October 9-10. Featuring a Tummy Care gift basket, info sheets, and free samples.

If you don't have a store in your area carrying Heather's Tummy Care products yet, please give them this flyer to ask them.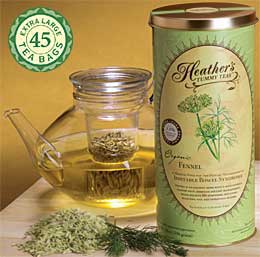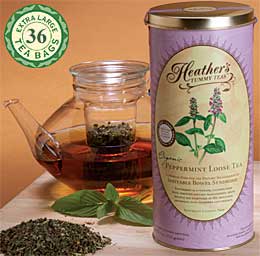 Organic High Volatile Oil Fennel & Peppermint Tummy Tea Bags

Extraordinary Quality ~ Very Economical

Fennel is terrific for bloating & gas, Peppermint is great for IBS pain & spasms.
Heather's Fennel Tummy Tea Heather's Peppermint Tummy Tea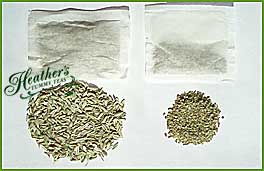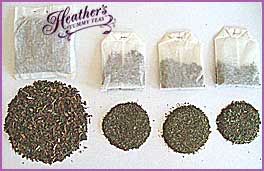 Compare for yourself! The pictures above show the huge difference in the quantity and quality of tea per teabag. The price comparison here is even more shocking!



Soluble vs. Insoluble Fiber - "Duh!"

A recent study in the British Medical Journal reported the terribly unsurprising news that soluble fiber is an effective treatment for Irritable Bowel Syndrome, while insoluble fiber can worsen symptoms.

Although the study was reported as a major health story worldwide, the most common reaction I heard from people who actually have IBS was, "Duh! How is this news when it's been obvious for years?"

Well, yes, that is a very good point. It is obvious that soluble fiber would help IBS, and insoluble fiber could hurt. And the clinical studies (there are many) that show this go back more than a decade now, so it's also frustrating that something well-established is still being treated as a new discovery.

Unfortunately, too many physicians remain oblivious to the research and continue to tell their patients to just "eat more fiber". (I once had a GI doc ask me if I had invented the term "soluble fiber" as he had never heard it before.) Clearly, there is a lot of doctor and patient education needed when it comes to IBS and fiber.

So, for everyone still struggling to manage their own IBS through dietary measures, the current research study might well be news to them. Let's get into the details of fiber and IBS.

Soluble fiber works to alleviate all symptoms of IBS, from diarrhea to constipation to painful cramps and gas. Soluble fiber is magic.

This is true for both a diet based on soluble fiber foods, and the addition of a soluble fiber supplement like Acacia Tummy Fiber.

Why is soluble fiber so special? Because unlike any other food category, it soothes and regulates the digestive tract, stabilizes the intestinal contractions resulting from the gastrocolic reflex (which go awry in people with IBS due to a brain-bowel miscommunication), and normalizes bowel function from either extreme.

This means soluble fiber regulates both over-motility and under-motility of the colon (people with IBS suffer from one or the other, or even fluctuate between the two). So, soluble fiber prevents and relieves both diarrhea and constipation.

How is this possible? The "soluble" in soluble fiber means that it dissolves in water (though it is not digested). This allows it to absorb excess liquid in the colon, preventing diarrhea by forming a thick gel and adding a great deal of bulk as it passes intact through the gut. This gel (as opposed to a watery liquid) also keeps the GI muscles stretched gently around a full colon, giving those muscles something to easily "grip" during peristaltic contractions, thus preventing the rapid transit time and explosive bowel movements of diarrhea as well.

By the same token, the full gel-filled colon (as opposed to a colon tightly clenched around dry, hard, impacted stools) provides the same "grip" during the muscle waves of constipation sufferers, allowing for an easier and faster transit time, and the passage of the thick wet gel also effectively relieves constipation by softening and pushing through impacted fecal matter.

If you can mentally picture your colon as a tube that is squeezing through matter via regular waves of contractions, it's easy to see how a colon filled with soluble fiber gel is beneficial for both sides of the IBS coin. Once you're stabilized soluble fiber will also help prevent further problems.

Both soluble fiber supplements (like Acacia Tummy Fiber) and soluble fiber foods will work. Most folks with IBS have better luck with a combination of soluble fiber foods and supplements instead of just one or the other, as this makes it easier to get enough soluble fiber every day to really make a big difference.

Focus on keeping your colon stabilized each and every day by basing all meals and snacks on soluble fiber foods, and taking a soluble fiber supplement twice daily.

Interestingly, I've noticed that in general, people with constipation are afraid to eat soluble fiber foods. For some reason I've never understood they're thought of as "binding". But, they're not afraid of soluble fiber supplements.

On the other hand, people with diarrhea are comfortable with the soluble fiber foods but terrified to try fiber supplements.

I've spent years now trying to convince both groups of folks that a diet based on soluble fiber foods and incorporating a soluble fiber supplement can only help and not hurt them, no matter what their specific IBS symptoms.

Although soluble fiber can be your single greatest dietary aid for preventing Irritable Bowel Syndrome symptoms in the first place, as well as relieving them once they occur, there is a kicker. Soluble fiber is not typically found in foods most people think of as fiber.

Soluble fiber is actually found in foods commonly thought of as "starches", though soluble fiber itself differs from starch as the chemical bonds that join its individual sugar units cannot be digested by enzymes in the human GI tract. In other words, soluble fiber has no calories because it passes through the body intact.

What are some common soluble fiber foods? Think smushy - try rice, pasta, oatmeal, potatoes, barley, cooked root veggies, white breads, bananas, applesauce.

Need a full list of soluble fiber foods? Get it in the free IBS Diet Cheat Sheet - with your safe foods list, the 10 Commandments of Eating for IBS, and more!

Coming next time, we'll cover insoluble fiber. (It's roughage, it's good for you, and everyone with IBS should eat a lot of it all the time, right? Well, not exactly...and you'll see why.)

~ Heather

Did you miss our recent "Ask Heather" and the IBS doctor sin that can kill you?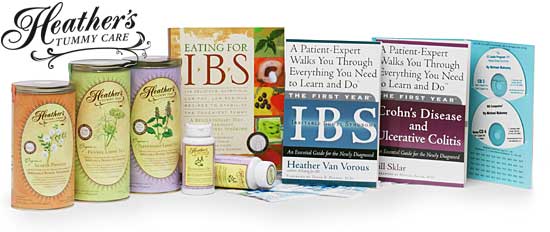 Shop at Heather's Tummy Store for IBS
HelpForIBS.com
The only store that's just for IBS - so we only carry the very best



You're on this newsletter list because you have expressed interest in IBS news and information.


Change your newsletter email address here.

If you are viewing this newsletter on a website and would like to subscribe for email delivery, please "Join the IBS Newsletter" here.

ANTI-SPAM PRIVACY & SECURITY POLICY
HelpForIBS.com
Heather's Tummy Care
80 S. Washington St, #304
Seattle, WA 98104 USA

© 2009 Heather Van Vorous, Heather's Tummy Care. All rights reserved.
USA Copyright Office Registration Number TXU 1-270-858 and others