Heather's IBS Newsletter ~ For Irritable Bowel Syndrome


No longer a permanent resident of the bathroom!

What's the IBS treatment that gives improvements for years?

Plus, antibiotics and IBS.


Hello to everyone -

This week we welcome autumn with a fantastic letter from a reader - see how she escaped the bathroom!

Plus, research continues to show this IBS treatment gives improvements that last for years. It's definitely worth trying.

We also have a special event in Las Vegas coming up, and the latest IBS news. Enjoy!

Best Wishes,
Heather Van Vorous

Did a friend send you this newsletter? Sign up here for your own free subscription.

Hearty Sweet Potato Bacon Stew

This is a comforting, delicious dinner-in-a-bowl recipe for chilly autumn nights. If you like, you can puree some or all of this soup in the blender before serving - this will break down the insoluble fiber further, and make the soup even safer for IBS.

Makes 6-8 Servings

3 T Acacia Tummy Fiber
1/2 C plain soy/rice milk
2 T olive oil
5 slices soy/low fat turkey bacon (try Fakin' Bacon, Smart Bacon, OR use 1/3 cup Bacos)
1 C finely chopped onion
2/3 C finely chopped celery
3 garlic cloves, minced
4 generous cups cubed peeled sweet potatoes
4 C low sodium veggie or fat free chicken broth
1 t ground cumin
1/8 t cinnamon
1/8 t cloves
1/2 t smoked paprika (or plain paprika)
1 T balsamic vinegar
1 T brown sugar
1 t dried oregano
3/4 t salt
1/4 black pepper
1/4 C raisins, chopped
2 (15 oz.) cans Great Northern white beans
3 T Sherry or Marsala

Add Tummy Fiber to a small bowl and stir in soy milk with a fork. Set aside.

In a large stock pot heat olive oil over medium heat, add chopped bacon slices, and cook until crisp. Add onion, celery, and garlic, and cook several minutes until tender and golden, stirring occasionally. Add sweet potatoes, and cook several minutes, stirring occasionally. Stir in broth, cumin, cinnamon, cloves, and smoked paprika. Bring to a boil, reduce heat, and simmer uncovered for about 20 minutes, or until sweet potatoes are very tender.

Re-stir Tummy Fiber and soy milk mixture, and stir into soup along with vinegar, sugar, oregano, salt, pepper, raisins, and beans. Bring to a boil, then reduce heat and simmer uncovered for 20-30 minutes, until beans are very tender. Stir in Sherry/Marsala and serve.

For an extra soothing dinner and a delicious accompaniment, serve this stew with a cup of Fennel Tummy Tea!

Are you just learning how to eat for IBS? A little intimidated at the thought of special IBS recipes? Not quite sure just what makes these recipes special in the first place? Don't worry! Come see the IBS Diet pages, and find the answers to all your questions.



~ Heather's Tummy Tamers Peppermint Oil Capsules ~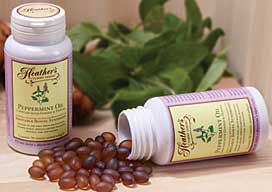 Peppermint Oil Caps Called "Drug of Choice for IBS"

Our Peppermint Oil Caps have the added benefits of fennel and ginger oils, and they help prevent abdominal pain, gas, and bloating!

No Longer a Permanent Resident of the Bathroom

Dear Heather,

I cannot praise your site enough. I have been to specialists for years about my IBS problem and their only solution was to eat more insoluble fiber. I have now had nine days without a problem by following your diet.

The Acacia Tummy Fiber is the only one I have been able to use without a problem. Thanks for being there when I needed you. I thought I was going to be a permanent resident of the bathroom for awhile.

It would be an honor for you to use my comments. If they help someone, it will make me feel that my suffering was not in vain.

Sincerely grateful,

Thelma Ellerman

Thank you so much, Thelma! Your letter really made my day and I know it will give hope to others. ~ Heather

Did you miss the recent letter from Liz, who considers herself cured of IBS??

~ Heather's Tummy Fiber ~
For the Dietary Management of Abdominal Pain, Diarrhea, &, Constipation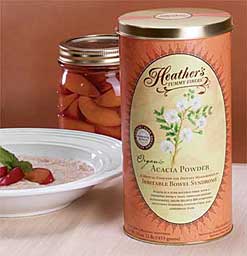 Certified Organic Acacia ~ Pure Soluble Fiber
The prebiotic fiber that relieves both diarrhea and constipation!

** Very Economical ** Only 4 cents per gram of fiber!


Special IBS and Herb Event in Las Vegas
Herbally Grounded is hosting a very special Get Healthy with Herbs Day on Saturday, October 11, from 10am to 4pm, which will celebrate the healing properties of herbs.

The festival is at the St. Rose Dominican Hospitals - San Martin Campus, Healing Garden and Aljian Conference Center, at 8280 W. Warm Springs Road. Call 702-616-4910 for full information.

This event will feature Heather's Tummy Care for IBS, with a chance to win a gift basket full of Tummy Care products (including IBS books, Acacia Tummy Fiber, Tummy Tamers peppermint oil capsules, and more!), plus food and drink demos, free samples, and IBS dietary literature, and question-and-answer opportunities with the staff of Herbally Grounded.

The festival will also have a wide variety of educational booths, vegetarian cooking demonstrations, herbs for women's health, and massage.

We have a special rebate offer for people who buy Tummy Care products at their local stores, and this offer is good in conjunction with the Bloom Naturally celebration.

If you don't yet have a store in your area carrying Tummy Care products, please give them this flyer to ask them.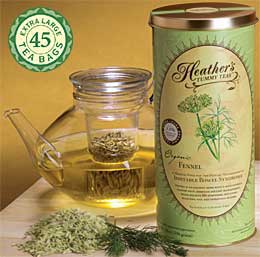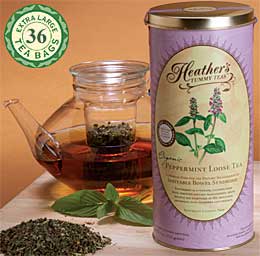 Organic High Volatile Oil Fennel & Peppermint Tummy Tea Bags

Extraordinary Quality ~ Very Economical

Fennel is terrific for bloating & gas, Peppermint is great for IBS pain & spasms.

Is IBS All in Your Genes?
Researchers at the Mayo Clinic have published an article in Gut showing that the risk of having irritable bowel syndrome is nearly double in the families of people with the disorder.

"The next challenge is determining nature versus nurture," said G. Richard Locke, M.D., a Mayo Clinic gastroenterologist and one of the authors of the study. "Is this due to a gene or genes or is it due to a shared environmental factor? Our group is active in investigating these issues."

In the study, Irritable bowel syndrome occurred in 17 percent of the patientsí relatives compared with 7 percent in spousesí relatives.

Go here for full information about Irritable Bowel Syndrome...

Go here for more information about this study...

IBS Hypnotherapy: Improvements Last for Years
A recent study in the Journal of Psychosomatic Research notes that there is now good evidence that hypnotherapy benefits a substantial proportion of patients with irritable bowel syndrome and that improvement is maintained for many years.

Most patients seen in secondary care with this condition also suffer from a wide range of noncolonic symptoms such as backache and lethargy, as well as a number of musculoskeletal, urological, and gynecological problems. These features do not typically respond well to conventional medical treatment approaches, but fortunately, their intensity is often reduced by hypnosis.

The mechanisms by which hypnosis mediates its benefit are not entirely clear, but there is evidence that, in addition to its psychological effects, it can modulate gastrointestinal physiology, alter the central processing of noxious stimuli, and even influence immune function.

Go here to listen to IBS hypnotherapy.

Go here for more information about this study...

Looking for more IBS research and news? Check the IBS Research Library!





Researchers call gut-directed hypnotherapy a "cure" for IBS!

The Best Gut-Directed Self-Hypnosis Program for All IBS Symptoms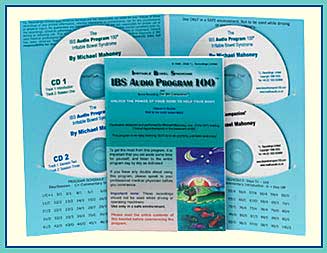 Gives an average 85% reduction of pain and bowel dysfunction symptoms.
Listen to IBS Audio Program 100 samples!

Help! I Have to Take Antibiotics!

I have a sinus infection and have been prescribed antibiotics, but every time this happens the drugs cause my IBS to flare. How can I deal with this?

Antibiotics often cause mild to severe gastrointestinal side effects, even for people who don't have IBS. This is because the drugs not only kill the bacteria causing the infection you're treating, but they also kill the friendly bacteria, called "flora", that live in your intestines. These friendly bacteria normally regulate the consistency of the stools and help with digestion.

One of the simplest steps to take is to ask your doctor for the most "digestion-friendly" antibiotic suitable for you. Then make sure you're taking the medication with a meal, and not on an empty stomach (check the prescription label to make sure this is allowed). This will help prevent some of the immediate GI side effects, such as nausea, many people see with antibiotics. You might also ask your doctor or pharmacist if inhalant antibiotics are an option. These can be much easier on your gut than oral versions.

Another helpful tip is to eat several daily servings of soy yogurt labeled as having "live cultures." The healthy flora in the yogurt will help replace the natural gut flora that is being wiped out by the antibiotics. Make sure you choose soy yogurt instead of dairy, as the fat, casein, and whey in dairy can cause GI upsets as well. Keep up the soy yogurt for at least two weeks after you stop taking the antibiotics. You could also use a dairy-free probiotic supplement instead of the yogurt.

It's also important to be extra careful following the IBS dietary guidelines. Keep your digestion stable by strictly limiting your fat intake, and try to keep your overall diet at about 20% fat while you're on antibiotics. Just as importantly, make sure that every meal and snack is based on soluble fiber foods like rice, pasta, oatmeal, or potatoes.

One key strategy to help prevent and alleviate the GI side effects from antibiotics is to start taking (or gradually increase) a daily prebiotic soluble fiber supplement such as Acacia Tummy Fiber. This will help your body in several ways.

First, the soluble fiber will keep your gut muscle contractions stable and regulate bowel motility, so you can head off diarrhea, constipation, spasms, and cramping. Second, the prebiotic effect will encourage the growth of your body's healthy gut flora, which the antibiotics are wiping out. Maintaining or re-establishing the good bacteria in your gut is essential for normal bowel function during and after a course of antibiotics.

Finally, high volatile oil peppermint and fennel are very helpful herbs for counteracting the GI side effects of antibiotics, and they will both work immediately. Try brewing Peppermint Tummy Tea for cramping and diarrhea, or Fennel Tummy Tea for bloating and gas.

Between dietary changes, a prebiotic soluble fiber, and the helpful herbal teas, you should be able to either completely prevent or rapidly address the nasty GI side effects that are so typical of antibiotics. Before you know it you'll be done with the medication and successfully stable!

~ Heather

Did you miss the recent Ask Heather and Beat the Bloating?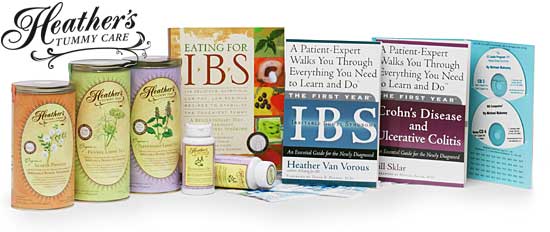 Shop at Heather's Tummy Store for IBS
HelpForIBS.com
The only store that's just for IBS - so we only carry the very best

You're on this newsletter list because you have expressed interest in IBS news and information.




Change your newsletter email address here.

If you are viewing this newsletter on a website and would like to subscribe for email delivery, please "Join the IBS Newsletter" here.

ANTI-SPAM PRIVACY & SECURITY POLICY
HelpForIBS.com
Heather's Tummy Care
80 S. Washington St, #304
Seattle, WA 98104 USA

© 2008 Heather Van Vorous, Heather's Tummy Care. All rights reserved.
USA Copyright Office Registration Number TXU 1-270-858 and others