Did your email mangle this newsletter? Copy and paste this address into your browser window:
http://www.helpforibs.com/news/newsletter/071205.html or go here to see it online.

July 12, 2005

This week - New Tummy Tea Teabags!

Hello to everyone -

I am thrilled to announce that we finally have our Fennel Tummy Tea and Peppermint Tummy Tea available as teabags! We have had so many requests for this, but it was quite a project finding a way to keep our teas large leaf or whole seed so as not to compromise the high volatile oil content, and still fit these teas into teabags. (Typically, most teabags are filled with a lower grade, finely cut herb, and this makes for a much lower quality product than loose teas.)

Since the effectiveness of our Tummy Teas for IBS symptoms depends on their very high quality and volatile oil levels, we could not use regular teabags. It took us a while to find an alternative, but our final result is special jumbo teabags that are filled with the exact same peppermint or fennel Tummy Teas that have, until now, only been available as loose teas. They are fantastic! If you aren't yet starting your day with a cup of Tummy Tea, give it a try, as this is a terrific way to get yourself off to a stable morning and help prevent IBS symptoms.

This week we'll also take a new look at one of the most common questions I'm asked about IBS ("will vitamin supplements hurt or help?") as we flashback to the Seven Sneaky Diet Sins. In addition, we have an amazing recipe for Vanilla French Toast with Apricot Caramel Sauce that is definitely not on the list of dietary sins, though it does taste positively sinful! This breakfast treat is slightly crunchy, a little chewy, and the sweet-tart richness of the sauce is the perfect foil.

We also have new stores to announce that are carrying Heather's Tummy Care products, and, as always, we've got the latest IBS news and research, including a wealth of new findings from the 2005 Digestive Disease Week conference. Enjoy!

Best Wishes,
Heather Van Vorous

Did a friend send you this newsletter? Sign up here for your own free subscription.

Vanilla French Toast with Apricot Caramel Sauce

Makes 6 Servings

1/2 of a 12.5 oz. package silken lite tofu, drained on a paper towel
2 organic egg whites
1/2 cup vanilla soy or rice milk
1 tablespoon vanilla extract
1 narrow loaf French baguette or sourdough bread, slightly stale, cut diagonally into 1 inch thick slices

Combine first four ingredients in a blender, and blend on high speed until smooth. Pour batter into a glass pie plate. Dip slices of bread in batter, turn over, and soak for about 10 minutes. Heat a large non-stick skillet sprayed with cooking oil over medium high, add bread slices without crowding, and cook until golden brown on the bottom. Turn the slices with a rubber spatula and lightly brown the other sides. Serve immediately with Apricot Caramel Sauce.

Apricot Caramel Sauce:
1 1/2 cups granulated sugar
1 cup water
6-8 fresh ripe apricots, unpeeled, pitted and diced
2 teaspoons vanilla
juice of half a lemon

In a medium heavy saucepan combine all ingredients except lemon juice and simmer, uncovered, until apricots disintegrate (mash with a potato masher every so often to speed the process) and mixture reduces to a syrup, about 1 hour. Remove from heat and add lemon juice. Makes about 2 cups syrup.

For oodles of other delicious recipes, come visit the IBS Recipe Exchange board!

Are you just learning how to eat for IBS? A little intimidated at the thought of special IBS recipes? Not quite sure just what makes these recipes special in the first place? Don't worry! Come see the IBS Diet pages, and find the answers to all your questions.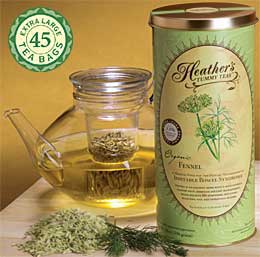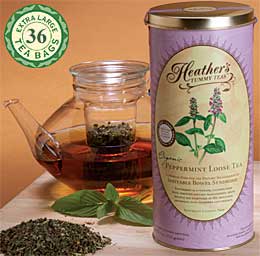 Fennel & Peppermint Tummy Teas - Now in New Jumbo Teabags!

Fennel is terrific for bloating & gas, Peppermint is great for IBS pain & spasms.

New Retail Stores Carrying Heather's Tummy Care Products

We're continuing our special rebate offer for people who buy Tummy Care products at their local stores, and we have new store announcements this week as well!

Arizona

Granola's
5055 W Ray Rd Ste 14
Chandler, AZ 85226
480-940-1571

Florida

Total Nutrition Center
1530 McMullen Booth Road
Clearwater, FL 33759
727-724-1111

Iowa

Hy-Vee
6301 University Ave
Cedar Falls, IA 50613
319-266-7535

If you don't have a store in your area carrying Tummy Care products yet, please give them this flyer to ask them.

Health Economics of IBS
A recent Medscape Gastroenterology article addressed the health economics of IBS, noting that the symptoms of IBS and the impact of this chronic disorder on both patients and the healthcare system alike are substantial. Because IBS has such a high prevalence and predominantly affects adults of working age, it imposes a significant burden on the patient as well as the employer, third-party payers, and society through a variety of direct and indirect costs. Although estimates of the degree of this burden vary and may be difficult to ascertain or even recognize, it appears that the indirect costs associated with IBS (upwards of $20 billion annually) comprise the major component of total costs associated with the condition. Strategies to reduce direct costs will necessarily be directed at recognition of the disorder and should include physician and patient education, paramedical-based education and therapy, lay support groups, optimization of the diagnostic approach to patients with suspected IBS, and implementation of IBS educational awareness and incentive programs similar to initiatives targeting other chronic disorders such as GERD, diabetes mellitus, and hypertension. Additionally, there is emerging evidence that continued development and increasing use of clinically effective therapies that target the multiple symptoms of IBS appear to have the potential to facilitate significant reductions in both direct and indirect costs associated with this chronic disorder. Go here for more information about this study...

Neural Cross-Talk May Explain Overlap of IBS & Interstitial Cystitis
A new Gastroenterology article has shown that acute irritation of the urinary bladder leads to increased sensitivity in the colorectum, and conversely, irritation of the colorectum leads to sensitization of the urinary bladder. Researchers say these findings provide "compelling" evidence of neural cross-talk and bidirectional cross-sensitization of the colon and lower urinary tract.

Lead investigator Dr. Michael A. Pezzone notes, "This cross-sensitization may account for the substantial overlap of chronic pelvic pain disorders. Irritable bowel syndrome and interstitial cystitis are two very common clinical conditions that affect primarily women of reproductive age. In general, these two conditions are treated as separate entities, but in actuality, as many as 40% to 50% of women suffer from both conditions. This is one of the first studies to show that irritation of one organ can affect another. Because these two organs have convergent sensory input, a neural pathway is likely involved in the acute setting of irritation." Go here for more information about this study...

Pathophysiology of IBS and Serotonin Signaling
Authors Lucinda Harris, MD and Lin Chang, MD have addressed the "Pathophysiology of IBS and Serotonin Signaling" for a Medscape Gastroenterology Clinical Update. They note that the pathophysiology of IBS has evolved tremendously over the last 50 years. IBS was previously considered a disorder primarily due to abnormal intestinal motility. In the 1950s, a study by Thomas Almy demonstrated that gut motility was increased in both normal individuals and patients with IBS when presented with a stressful situation. Subsequent research demonstrated that patients with IBS had increased motility abnormalities related to meals (ie, after eating) compared with control subjects. Studies have also demonstrated GI motility abnormalities, such as clustered contractions, prolonged propagated contractions, and high-amplitude propagating contractions more commonly in patients with IBS compared with healthy individuals. Although these motility abnormalities may be, but are not always, associated with IBS symptoms, there does not appear to be a consistent motility abnormality to explain the etiology of symptoms in all patients, and therefore, they are not currently used as diagnostic markers.

The initial clinical observations that led to the hypothesis that patients with IBS have visceral hypersensitivity include recurring abdominal pain, tenderness during palpation of the sigmoid colon on physical examination, and excessive pain during endoscopic evaluation of the sigmoid colon. Experimental evidence suggests that a variety of perceptual alterations exist in patients with IBS: visceral hypersensitivity involving the upper and lower GI tract, as well as a heightened perception of physiologic intestinal contractions. Multiple studies using various balloon distension paradigms have reported lowered colorectal perceptual thresholds, increased sensory ratings, and viscerosomatic referral areas in patients with IBS compared with healthy individuals. By contrast, most studies have demonstrated that patients with IBS do not exhibit generalized hypersensitivity to noxious somatic stimulation. At least 2 underlying, distinct mechanisms contribute to the visceral hypersensitivity in IBS: a hypervigilance towards expected aversive events arising from the viscera, and a hyperalgesia that is inducible by sustained noxious visceral stimulation. Go here for more information about this study...

IBS in the USA: Prevalence, Symptom Patterns and Impact
A recent study in Alimentary Pharmacology & Therapeutics confirms the high prevalence of IBS in the US population and its impact on the working life, social activities and well-being of sufferers. The overall prevalence of IBS in this population was 14.1%, with only 3.3% being medically diagnosed. This compares with a prevalence rate of 11.5% in a previous European study, and is consistent with other large US-based epidemiological studies, where prevalence estimates cluster around 10-15%. Clearly, IBS prevalence can vary substantially depending on the diagnostic criteria employed. This comprehensive, representative survey used specific, validated IBS diagnostic criteria to estimate prevalence and symptom patterns, and also assessed impact of IBS on work, lifestyle and health. In this study, prevalence rates were highest among those aged 25-54 years, and the prevalence of IBS among women was approximately two times higher than that recorded for men in individuals medically or not medically diagnosed with IBS. These findings corroborate previously published reports, which demonstrated a higher IBS prevalence in women than in men. In patients medically diagnosed with IBS, 25% had visited a health professional at least five times before being formally diagnosed, suggesting that diagnostic criteria are not being properly utilized, IBS symptoms are not always recognized or are misdiagnosed, and/or that the diagnosis of IBS is not being communicated to the patient.

This study concluded that IBS is a prevalent disorder that significantly impacts work, lifestyle and social well-being. Diagnosing and managing IBS can be challenging due to the lack of a diagnostic marker and effective treatment options. Individuals with IBS who are not formally diagnosed reported a significant prevalence of GI symptoms, which impacted on their work and other daily activities, although in some instances to a lesser degree than medically diagnosed individuals. All IBS sufferers face the challenge of their condition on a daily basis and this study highlights the huge unmet therapeutic need in IBS. Go here for more information about this study...

Looking for more IBS research and news? Check the IBS Research Library!

~ Heather's Tummy Tamers ~For the Dietary Management of Abdominal Pain &, Bloating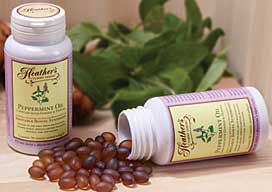 Peppermint Oil Caps with Fennel and Ginger Are Amazing!

I think our Peppermint Oil Caps, with the added benefits of fennel and ginger oils, are truly unbeatable for gas, abdominal spasms, and bloating!

A Sneaky Deadly Sin Revisited
One of the all-time most popular past "Ask Heather" columns was the Seven Sneaky Deadly Sins of the IBS Diet. Of these, the subject of vitamin supplements has generated ongoing questions, comments, and follow-up ever since it was first published well over a year ago. So, in response to the numerous requests for this topic by folks who missed it the first time around, here is:

The IBS Diet Sneaky Sin #4:
"Vitamin supplements (they're good for you, aren't they?)"

Vitamin and mineral supplements in general often cause GI problems for people with IBS. Ask your local pharmacist about the most tolerable brands of vitamins in their store. GI upsets are very common with vitamins, and pharmacists are familiar with this request. Prenatal vitamins may be an option, as they are sometimes formulated specifically to help minimize the risk of GI side effects. You may be able to simply phone in a prescription request for these from your doctor - just explain why you need them. You may also want to ask your doctor about intraveneous vitamins or vitamin shots if you are unable to tolerate oral vitamins.

Liquid vitamins or powder caplets may also be more tolerable than pills. Another thing to consider is the fillers and additives in many vitamins; check the ingredients for lactose, artificial colors, and preservatives, as many people with IBS are sensitive to even small quantities of these substances. A health food store may have a wider variety of additive-free vitamins than a drug store. It's often helpful to take two or three smaller-dose vitamin/mineral supplements each day instead of one large dose. This will not only reduce the risk of GI upsets, but will aid your body in absorbing the nutrients as well. If you can't find smaller-dose vitamins, try just breaking a regular pill in half. Always take your vitamins with a meal, and never on an empty stomach.

Vitamin C is particularly notorious for causing gas, abdominal cramps, and diarrhea. Vitamin C is ascorbic acid, and as the name implies, it's acidic. When it enters the alkaline environment of the lower intestinal tract it can create diarrhea and gas. In Germany, vitamin C is actually an approved laxative, so imagine what it will do to you if you have IBS. The recommended dose for Vitamin C is generally under 2,000 mg. daily. Over that, and you really risk the GI side effects. Unless your doctor has recommended otherwise, make sure your multivitamin does not exceed one hundred percent of the US RDA for Vitamin C.

Calcium, magnesium, and iron all require special consideration as well. Calcium can have a constipating effect, which can be helpful or hurtful depending on your symptoms. Magnesium can have a laxative effect, and this too can either aid or exacerbate IBS, depending on the individual. For many folks with IBS, it's best to make sure that your mineral supplement is not giving you a megadose of either one of these ingredients, but simply a balance of the two. Calcium carbonate contains just calcium and no magnesium, and is a good choice if you always tend towards diarrhea. If you're IBS-C (prone to constipation), try calcium citrate instead, which contains magnesium. With either form of calcium, there should be Vitamin D included in the supplement as well for the best possible absorption. It's a good idea to take only 500 mg. of calcium per dose, as your body may not be able to absorb more than this all at once.

Iron can cause stomach upsets and be quite constipating, particularly if it's ferrous sulfate and not ferrous gluconate. Iron also blocks the absorption of calcium. If you aren't anemic or prone to anemia, you may well not need an iron supplement at all. If you do need to take an iron supplement and you're also taking calcium, have these supplements with different meals. Iron is best absorbed in the presence of Vitamin C. If you're trying to juggle all of these different supplements, it can be helpful to take your multivitamin with C and iron at one meal, and your calcium or calcium/magnesium combination with Vitamin D at another meal.

If you're also taking a soluble fiber supplement like Acacia, don't worry about timing your supplement around your vitamins/minerals. Soluble fiber will not interfere with the absorption of vitamins/minerals any more than food would. You can also take herbal supplements such as peppermint or fennel at the same time you have your vitamins/minerals.

As a rule, it's always best to get your nutrition from as wide a variety of fresh fruits, vegetables, legumes, grains, and nuts as possible. There are many nutrients in whole foods that simply can't be extracted into pills. If you're struggling to add enough nutrition to your diet, check the IBS guidelines for incorporating insoluble fiber foods into your meals, and take a look at IBS safe recipes that offer good examples of how to do this. Until you're able to stabilize your IBS, you may not want to add in any vitamin/mineral supplement at all (unless medically necessary); this will eliminate the risk of the potential GI upsets from the supplements.

~ Heather

Looking for all the Seven Sneaky Deadly Sins of the IBS Diet? They're in the archived newsletters of HelpForIBS.com, right here!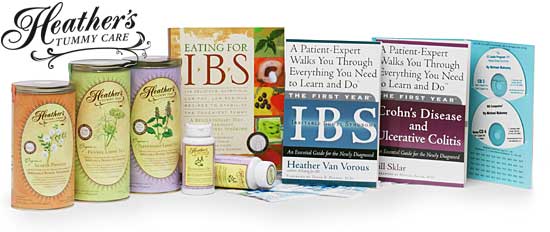 Shop at Heather's Tummy Store for IBS
HelpForIBS.com
The only store that's just for IBS - so we only carry the very best

Heather & Company for IBS, LLC is dedicated to serving people with Irritable Bowel Syndrome. Our mission is to provide education, support, and products that allow people with IBS to successfully manage their symptoms through lifestyle modifications.

We offer extensive information and tangible help for IBS, including the world's best-selling and best-reviewed books for the disorder. We provide the internet's top IBS web site resources; a twice-monthly IBS Newsletter; seminars and classes; dietary brochures for patient distribution by health care professionals; an IBS Research Library; and Heather Cooks!, a healthy cooking show on Seattle television. Much of our work is based on Heather's development of the first and only comprehensive IBS dietary guidelines and recipes, an achievement which has earned numerous awards and accolades as well as thousands of thank you letters from IBS sufferers.

Heather & Company also provides the only patient-expert moderated IBS Message Boards on the internet with forums for diet, recipes, hypnotherapy, yoga, plus Crohn's and Colitis. In addition, we support and coordinate the formation and continuation of local in-person IBS support groups across the USA, Canada, the UK, Australia, and New Zealand. We will soon have other IBS services and products available.

Our website receives nearly 3 million visits each year, and our newsletter is sent to over 40,000 people. We are regular exhibitors at the Digestive Disease Week and American Dietetic Association conferences.

Sponsorship opportunities are available for the message boards and this newsletter for companies and/or products that have been legitimately established as helpful for digestive disorders. Please contact us for information.

You are receiving this email because you have expressed interest in IBS news and information.


To unsubscribe from Heather's IBS Newsletter, go here http://www.helpforibs.com/news/unsub.asp or send an email to help@helpforibs.com.

Change your newsletter email address here.

If you are viewing this newsletter on a website and would like to subscribe for email delivery, please "Join the IBS Newsletter" here.

ANTI-SPAM PRIVACY & SECURITY POLICY
LEGAL DISCLAIMER - This email is not intended to replace the services of a physician, nor does it constitute a doctor-patient relationship. Any application of the recommendations in this email is at the reader's discretion. Heather Van Vorous and Heather & Company for IBS, LLC are not liable for any direct or indirect claim, loss or damage resulting from use of this email and/or any web site(s) linked to/from it. Readers should consult their own physicians concerning the recommendations in this email.


HelpForIBS.com
Heather & Company for IBS, LLC
80 S. Washington St, #304
Seattle, WA 98104 USA

© 2005 Heather Van Vorous, Heather & Company for IBS, LLC. All rights reserved.