Heather's IBS Newsletter ~ For Irritable Bowel Syndrome

December 27, 2006

Annual Holiday Sale ~ the IBS Self-Hypnosis CD and the Heather Cooks! DVD

Hello to everyone -

I'm on holiday this week, so we've got a special holiday recap issue! From a favorite gingerbread recipe to a research article on the helpful effects of ginger on IBS symptoms, it's tasty and educational.

Don't forget that we're continuing our special holiday media sale for just another four days. The IBS Audio Program 100™ and the Heather Cooks! DVD are both on sale, but only through December 31.

Enjoy!

Best Wishes,
Heather Van Vorous

Did a friend send you this newsletter? Sign up here for your own free subscription.

Luscious Holiday Gingerbread

My favorite winter dessert! This gingerbread is moist, rich, spicy, and delicious. It's also low fat, trigger free, and has the added digestive benefit of ginger. Enjoy without guilt or worry!

Makes 8 Servings

Preheat oven to 350 F. Spray a 9" square baking pan with cooking oil and set aside.

Sift together in a large bowl:
2 T Acacia Tummy Fiber (great for extra soluble fiber and a rich, moist cake)
1 1/2 cups all-purpose unbleached white flour
1/2 cup brown sugar
1 1/4 t baking soda
1 t cinnamon
2 t ground ginger
1/2 t cloves
1/2 t nutmeg
1/8 t salt

Whisk dry ingredients with a metal whisk until thoroughly blended.

In a medium bowl beat together:
1/2 cup molasses
1/2 cup fresh orange juice, strained
4 organic egg whites
3 T canola or safflower oil
1 1/2 T finely grated fresh gingerroot
2 T finely chopped crystallized ginger
2 t vanilla

Add the wet ingredients to the dry with a few swift strokes of a wooden spoon. Pour batter into prepared pan and bake for 30-40 minutes, or until a toothpick or cake tester inserted into the center of the gingerbread comes out clean. Cool on rack.

For an extra-stabilizing and delicious treat, serve the gingerbread with a hot cup of peppermint or fennel tummy tea!

Are you just learning how to eat for IBS? A little intimidated at the thought of special IBS recipes? Not quite sure just what makes these recipes special in the first place? Don't worry! Find the answers to all your questions in the IBS Diet Kit.

~ Heather's Tummy Fiber ~
For the Dietary Management of Abdominal Pain, Diarrhea, &, Constipation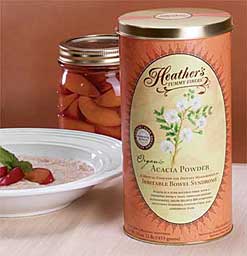 Organic Acacia ~ Pure Soluble Fiber
The prebiotic fiber that relieves both diarrhea and constipation!

It's the Hope That's Most Helpful

Heather,

I just wanted to take the time to thank you for your website and all you do. I was diagnosed with IBS six months ago but now realize that I've had it since childhood and was simply unaware of it. I actually thought it was normal to be in so much pain and thought that everyone felt the way I did!

Your website, books, and products have been incredibly helpful to me. Much more helpful than my doctor, who just keeps throwing drugs at me, all of which have been completely ineffective. But most of all, it's the hope that you give people that has been the most helpful thing of all. Knowing that others are struggling, too, and that symptoms are manageable makes life bearable.

I'm 36 years old and can't believe I've lived with this for so long without seeking help. I first started having symptoms when I was 8 years old!

Thanks again, Heather,
Cindi S.

Thank you, Cindi! I'm so happy that you're doing better - that is wonderful! ~ Heather

Did you miss the last reader letter from Kathy, who is nearly symptom-free after 36 years of IBS? Find it here...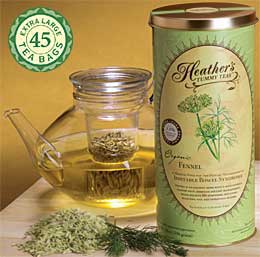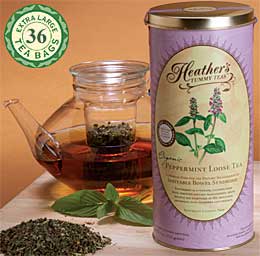 Organic Fennel & Peppermint Tummy Tea Bags

Extraordinary Quality ~ Very Economical

Fennel is terrific for bloating & gas, Peppermint is great for IBS pain & spasms.

Pharmacological Basis for Use of Ginger in GI Disorders
A recent Digestive Diseases and Sciences article noted that ginger (rhizome of Zingiber officinale) has been widely used for centuries in gastrointestinal disorders, particularly dyspepsia, but its precise mode of action has yet to be elucidated.

This study was undertaken to study the prokinetic action of ginger and its possible mechanism of action. Phytochemical analysis revealed the presence of saponins, flavonoids, and alkaloids in the crude extract. These data indicate that ginger contains a cholinergic, spasmogenic component evident in stomach fundus preparations which provides a sound mechanistic insight for the prokinetic action of ginger.

In addition, the presence of a spasmolytic constituent(s) of the calcium antagonist type may explain its use in hyperactive states of gut like colic and diarrhea. Go here for more information about this study...

Gut Motor Function: Enteric Infection & Inflammation
A recent article in Clinical & Experimental Immunology noted that an alteration in gastrointestinal (GI) motility occurs in a variety of clinical settings which include acute enteritis, inflammatory bowel disease, and irritable bowel syndrome (IBS).

Most disorders affecting the GI tract arise as a result of noxious stimulation from the lumen via either microbes or chemicals. However, it is not clear how injurious processes initiated in the mucosa alter function in the deeper motor apparatus of the gut wall. Activation of immune cells may lead to changes in motor-sensory function in the gut resulting in the development of an efficient defence force which assists in the eviction of the noxious agent from the intestinal lumen.

This review provides information on the immunological control of gut motor function and its role in host defence in enteric infection, but also provide a basis for understanding pathophysiology of gastrointestinal motility disorders such as in IBS. Go here for more information about this study...

Peppermint Relieves IBS Symptoms
A recent IBS treatment guide by American Family Physician noted that, given the absence of a cure and the adverse effects of medications, patients with IBS often turn to complementary therapies such as peppermint. Peppermint possesses antispasmodic properties and has long been associated with improvement of digestive function. Peppermint leaves contain oils that have mild anesthetic properties, relieve nausea, and relax smooth muscle spasticity caused by histamine and cholinergic stimulation.

A systematic review identified five trials that showed that peppermint oil relieved IBS symptoms. Three of these trials showed statistically significant benefit of peppermint over placebo. A randomized double-blind placebo-controlled study of enteric-coated peppermint oil involving 110 patients showed 79 percent with less pain, 83 percent with decreased stool frequency, and 79 percent with less flatulence. Go here for more information about enteric coated peppermint oil capsules...

Go here for more information about this study...

Looking for more IBS research and news? Check the IBS Research Library!

Now with 50% More Enteric Coating!
~ Heather's Tummy Tamers ~
For the Dietary Management of Abdominal Pain &, Bloating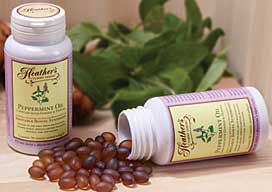 Peppermint Oil Caps with Fennel and Ginger Are Amazing!

Because our Peppermint Oil Caps have the added benefits of fennel and ginger oils, they are truly unbeatable for preventing abdominal pain, gas, and bloating!

Red Flag Symptoms
"I saw your newsletter article a few months ago about IBS misdiagnoses. What signs might indicate I actually have something other than IBS?"

In general, any symptoms that do not dovetail with the Rome II Criteria for diagnosing IBS should be considered red flags, and should prompt further medical investigation. In a nutshell, this means any symptoms other than bowel dysfunction (diarrhea, constipation, or alternating) in association with abdominal pain, possibly with gas and/or bloating.

The American Academy of Family Physicians recently published a very helpful chart with symptoms that are not typical of IBS. If you have any of these red flag symptoms, and you're not sure that you've had the tests necessary to rule out illnesses other than IBS, please make sure you see your doctor again for a more thorough examination. Most studies show that the vast majority of IBS diagnoses are accurate and that most people with IBS do not also have other serious diseases. But, it's always better to have a very firm diagnosis and subsequent peace of mind.

Chart copyrighted by American Academy of Family Physicians.

Once you're certain that you do not have any red flag symptoms, and you do in fact have a solid diagnosis of Irritable Bowel Syndrome is, check here for an overview of treatments for IBS so you can begin to successfully manage the disorder.

~ Heather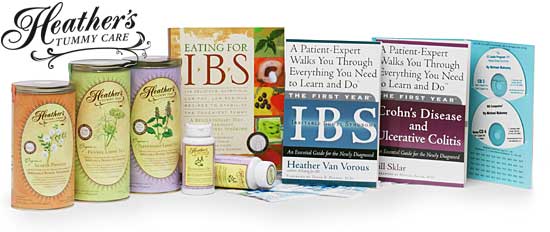 Shop at Heather's Tummy Store for IBS
HelpForIBS.com
The only store that's just for IBS - so we only carry the very best

You're on this newsletter list because you have expressed interest in IBS news and information.




Change your newsletter email address here.

If you are viewing this newsletter on a website and would like to subscribe for email delivery, please "Join the IBS Newsletter" here.

ANTI-SPAM PRIVACY & SECURITY POLICY
HelpForIBS.com
Heather's Tummy Care
80 S. Washington St, #304
Seattle, WA 98104 USA

© 2006 Heather Van Vorous, Heather's Tummy Care. All rights reserved.
USA Copyright Office Registration Number TXU 1-270-858 and others