June 26, 2014 ~ Scroll down for full newsletter or follow the links:

Share!


Ask Heather »
Eating for IBS? Size Matters!
Special Letter »
A Nurse's Life Changed in an Instant
IBS Recipe »
Summer Picnic Potato Salad - Perfect for the 4th of July!
News & Research »
White Bread Boosts Healthy Gut Bacteria
» What is the Best Milk Substitute?
  
Have questions? Call toll free (866) 640-4942.
Outside the US (206) 264 8069.

Enjoy the newsletter!
Heather Van Vorous & Heather's Tummy Care
Over 10 Years of IBS Business!

Did a friend send you this newsletter? Sign up here for your own free subscription.



Summer Picnic Potato Salad

Potatoes are a terrific soluble fiber staple (remember, soluble fiber is the key to bowel stability), and small red potatoes work perfectly in this dish. Because their skin is so thin, and they are both cooked and chopped, you can leave these potatoes unpeeled. This will safely add insoluble fiber to the meal.

The tangy sweet-and-sour notes of this salad come from apple cider vinegar with a dash of sugar, and the addition of paprika and celery seed adds color as well as spice.

Traditionally, the delicious smoky flavor in warm potato salad recipes comes from bacon. In my IBS-friendly recipe, that high fat pork - a huge trigger for IBS - is replaced with soy or low fat turkey bacon (and if you've never tried these, you're in for a wonderful surprise). You lose the fat and red meat but keep the wonderful flavors.

Adding Tummy Fiber is a fast and easy way to give an even better soluble fiber foundation to the dish.

4-6 Servings

8 medium red or white thin-skin potatoes (not baking potatoes)
4-6 slices soy or low fat turkey bacon, diced
1/4 cup diced sweet white onion, such as Maui or Walla Walla
2 tbsp olive oil
1/4 cup water
3/4 cup apple cider vinegar
1 1/2 tsp sugar
1/2 tsp salt
1/2 tsp paprika
1/2 tsp dry mustard
1/2 tsp celery seed
1 tsp Tummy Fiber Acacia
1/4 cup thinly sliced green onions

Boil potatoes till tender, and slice into one inch chunks while hot. Set aside.

While the potatoes are boiling, in a medium non-stick skillet over medium high heat, fry bacon and onion in oil until bacon is crispy and onion is golden. Add all remaining ingredients except Tummy Fiber, green onions and potatoes to skillet and stir well.

Pour skillet mixture over hot potatoes, sprinkle with Tummy Fiber, and fold together gently but well. Top with green onions and serve warm or at room temperature.

For a wonderful end to your picnic, follow this potato salad with Summer Strawberry Cheesecake!

Are you just learning how to eat for IBS? A little intimidated at the thought of special IBS recipes? Not quite sure just what makes these recipes special in the first place? Don't worry! Get Eating for IBS and find the answers to all your questions.



~ Heather's Tummy Fiber ~
For the Dietary Management of IBS Pain, Diarrhea, &, Constipation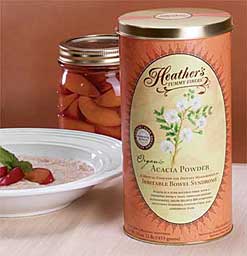 Certified Organic Acacia Senegal ~ Pure Soluble Fiber

The prebiotic fiber that relieves both diarrhea and constipation!

** Very Economical **

** 100% Acacia Senegal ** Never Low Grade Acacia Seyal

A Nurse's Life Changed in an Instant

Heather,

I'm a nurse who struggled for years with IBS without knowing what it was. My attacks were sudden and severe and would keep me in bed for the day. Once I was in LAX airport and almost fainted in the security line and had to call for a wheelchair and pray that I could make it home.

One night in total desperation I was awake at 3 am searching the internet, AGAIN, for some answers to my horrendous pain and growing disability when I happened upon your newsletter. I bought the Peppermint Oil Tummy Tamers Capsules and the Tummy Tea and my life was changed in an instant.

I've carried this message to others who suffered and they have told others as well. I now carry peppermint capsules and teabags with me where ever I go and would not be without them!

Many, many grateful thanks,

Fran

Thank you so much, Fran! I am so thrilled to hear this!! ~ Heather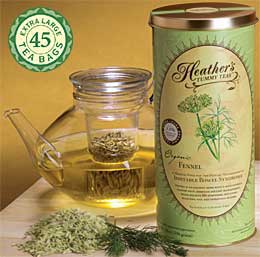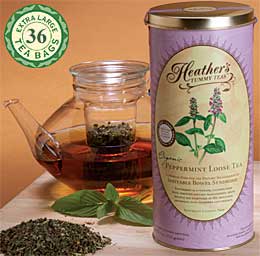 Organic High Volatile Oil Fennel & Peppermint Tummy Tea Bags

Extraordinary Quality ~ Very Economical

Fennel is terrific for bloating & gas, Peppermint is great for IBS pain & spasms.
Heather's Fennel Tummy Tea Heather's Peppermint Tummy Tea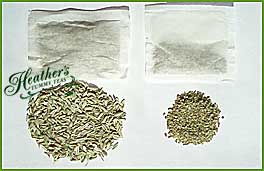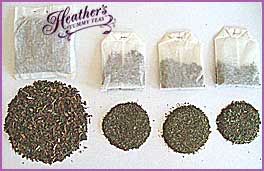 Compare for yourself! The pictures above show the huge difference in the quantity and quality of tea per teabag.




White Bread Boosts Healthy Gut Bacteria

Researchers in Spain reported that white bread may encourage beneficial gut bacteria to proliferate, which could help people maintain good health. An analysis of stool samples showed white bread increased growth of the healthy bacteria Lactobacillus, while the pectin in citrus depressed levels of some beneficial microbes. Go here for full article.


What is the Best Milk Substitute?

With many people questioning whether milk does their body good, there is a wealth of dairy substitutes available made from a variety of plant sources. A dietitian gives an overview of different dairy-free options and their distinct characteristics and benefits, including: soy, almond, rice, oat, flax, hemp, and more! Go here for full article.




~ Heather's Tummy Tamers Peppermint Oil Capsules ~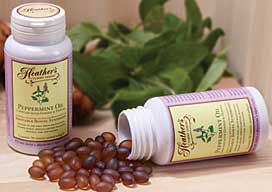 Peppermint Oil Caps Called "Drug of Choice for IBS"

Our Peppermint Oil Caps have the added benefits of fennel and ginger oils, and they help prevent abdominal pain, gas, and bloating!

Eating for IBS? Size Matters!

No matter how safe any food is when you're Eating for IBS, having a huge amount of it in one sitting can still trigger an IBS attack. Why? Because your gastrocolic reflex (which goes a little crazy when you have IBS) gains strength in direct correlation to the number of calories you consume in a meal.

This makes it easy to see why high fat foods cause IBS problems, as fat is more than twice as calorie-dense as carbohydrates and proteins. It also means that bingeing – on anything – is a big risk for those of us with IBS. You can't tell yourself that when your friends break out a pint of ice cream and a spoon you can do the same with fat-free sorbet. It isn't just about the ingredients when it comes to eating for IBS, but quantity too. Size really does matter.

Keep your portions small and this should make it easier to eat more frequently - a helpful strategy for maintaining a constant intake of soluble fiber foods, and thus stabilizing your bowel. Unfortunately, Americans tend to "supersize" just about everything, and it's a hard habit to break. One trick at home is serving meals on salad plates and cup size soup bowls, so your portions fill your dishes but won't overfill your gut.

You can always have seconds after you finish your first portion, if you're still hungry. Just eat at a slow-to-moderate pace so your brain has time to register that your stomach is full. This really helps prevent over-serving foods initially and then feeling obligated to eat everything on your plate (the "don't waste food" lesson ingrained in most of us as children). Snacking on small amounts of food throughout the day will also keep you from getting ravenous and then over-eating, which can trigger an IBS attack.

At restaurants, divide your plate in half the moment you're served and take that portion home with you for a later meal. Once you develop this IBS diet habit you'll come to realize how oversized most restaurant meals are. This is one reason why it's so common to suffer IBS attacks at restaurants. Some restaurant portions are so generous you may get three complete meals out of them. Even a person without IBS is likely to feel miserable if they eat that much food at a one sitting!

There's another aspect to portion control that has happy possibilities for the IBS diet. The risk of IBS trigger foods can be greatly minimized if they're eaten in tiny quantities following soluble fiber. In this regard, it is as much how you eat for IBS as what you eat that will help manage IBS symptoms. While this is most important as a tool to allow you to incorporate all those healthy insoluble fiber trigger foods as often as possible, it's also a means of treating yourself to a "mini-splurge" every once in a while.

Let's say you're well-stabilized and just dying for a candy bar. Eating a full-size candy bar as a snack on an empty stomach will likely wreak havoc and send you into an immediate downward spiral of IBS attacks (why? because it's sky high in fat and dairy, and has very little soluble fiber).

But, if your IBS is stable, and you treat yourself to a snack-size mini candy bar for dessert, immediately following a nice low-fat, high soluble fiber meal, you're much more likely to do just fine. Why? That small portion candy bar contains just a tiny amount of fat/dairy triggers, and you're eating it on a gut that is full of soluble fiber to stabilize the gastrocolic reflex.

Whatever your favorite IBS trigger food, this diet trick can give you the ability to enjoy the occasional small indulgence. IBS food intolerances are, fortunately, not like food allergies, where the quantity of a trigger (say, peanuts) may not matter.

For this I thank my lucky stars, as it means that few things are truly forbidden on the IBS diet as long as we follow some common sense rules and exercise a little self control. Now, where's that mini candy bar I've been saving?

~ Heather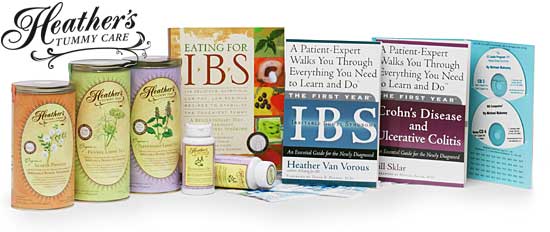 Shop at Heather's Tummy Store for IBS
HelpForIBS.com
The only store that's just for IBS - so we only carry the very best



You're on this newsletter list because you have expressed interest in IBS news and information.
Unsubscribe Here

Change your newsletter email address here.

If you are viewing this newsletter on a website and would like to subscribe for email delivery, please "Join the IBS Newsletter" here.

ANTI-SPAM PRIVACY & SECURITY POLICY
HelpForIBS.com
Heather's Tummy Care
80 S. Washington St, #304
Seattle, WA 98104 USA

© 2014 Heather Van Vorous, Heather's Tummy Care. All rights reserved.
Authored by Heather Van Vorous. May not be reproduced without permission.
USA Copyright Office Registration Number TXU 1-270-858 and others.

<***track***>