Fennel Sale! 10% Off Fennel Teas & Diet Kit With Fennel!
Use Promo Code FENNELQ2

Fennel Is Best For IBS Bloating & Gas!

April 12, 2011 ~ Scroll down for full newsletter or follow the links:


Special Letter »
Miraculous Work in Minutes for Trapped Gas and Bloating!
IBS Recipe »
Probiotics, Prebiotics, and Peach Berry Smoothies
Research & Press »
Can Stress Change the Balance of Gut Bacteria?
Ask Heather »
Good Antibiotic for IBS? Rifaximin, Bacterial Overgrowth, More!
  
Enjoy the newsletter! &nbsp &nbsp&nbsp
~ Heather Van Vorous


Did a friend send you this newsletter? Sign up here for your own free subscription.



Peachy Berry Probiotic Smoothie

This IBS-friendly smoothie is a delicious way to get prebiotics, probiotics, and soluble fiber all at once. As a bonus, you get insoluble fiber from the berries that is made safe by blending. This is a gorgeous, colorful, tangy-sweet smoothie that's good for breakfast, snacks, and even dessert!

Makes 2 Servings (easily doubled)

2/3 c. vanilla soy or rice yogurt with live cultures
2 teaspoons Acacia Tummy Fiber
1 tablespoon honey
1 c. frozen peaches, very slightly thawed
1 c. fresh or frozen strawberries (if frozen, thaw just slightly)

Stir together the yogurt and Tummy Fiber. Add to all other ingredients in a blender or food processor and puree until very smooth. Serve immediately.

Are you just learning how to eat for IBS? A little intimidated at the thought of special IBS recipes? Not quite sure just what makes these recipes special in the first place? Don't worry! Get Eating for IBS and find the answers to all your questions.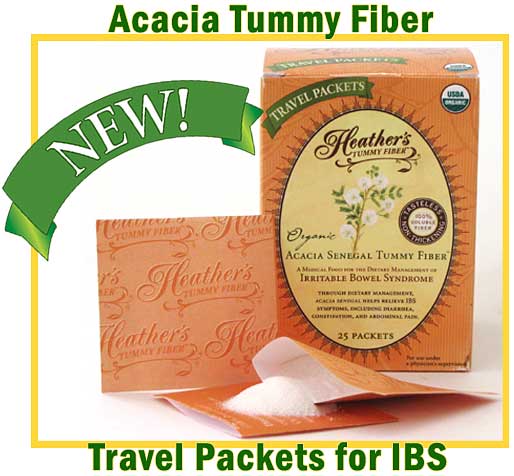 Certified Organic Acacia Senegal ~ Pure Soluble Fiber

The prebiotic fiber that relieves both diarrhea and constipation

Stress Can Change the Balance of Gut Bacteria

A recent clinical trial in Brain, Behavior, and Immunity reported that stress can change the balance of bacteria that naturally live in the gut. "These bacteria affect immune function, and may help explain why stress dysregulates the immune response," says lead researcher Michael Bailey.

Exposure to stress led to changes in composition, diversity and number of gut microorganisms. The bacterial communities in the intestine became less diverse, and had greater numbers of potentially harmful bacteria, such as Clostridium.

"These changes can have profound implications for physiological function", explained Dr Bailey. "When we reduced the number of bacteria in the intestines using antibiotics, we found that some of the effects of stress on the immune system were prevented. This suggests that not only does stress change the bacteria levels in the gut, but that these alterations can, in turn, impact our immunity."

This study is the first to show that gut microorganisms may play a role in innate immunological stress responses, and to reveal the dynamic interactions between multiple physiological systems including the intestinal microbiota and the immune system.

Because gut bacteria have been linked to diseases like inflammatory bowel disease, and even to asthma, a future goal of the study is to determine whether alterations of gut bacteria are the reason why these diseases tend to be worse during periods of pressure. Go here for full research article. Break the cycle of stress and IBS with gut-directed hypnotherapy.



Researchers call gut-directed hypnotherapy a "cure" for IBS!

The Best Gut-Directed Self-Hypnosis Program for All IBS Symptoms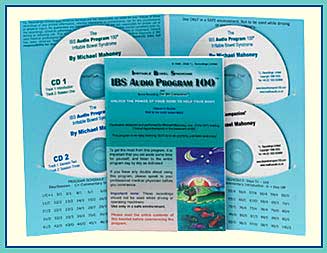 Gives an average 85% reduction of pain and bowel dysfunction symptoms.
Listen to IBS Audio Program 100 samples!



Recently, there has been a lot of confusion surrounding antibiotics and IBS. Many people with IBS have had bad experiences with antibiotics of all kinds. The drugs often cause GI side effects and can make IBS symptoms much worse. But lately, there has been a flurry of news and research suggesting that a specific antibiotic might actually help IBS. What's all this about? ~ Heather

In part one of our special series on antibiotics and IBS, we covered the bad guys.

Traditionally, broad-spectrum antibiotics (prescribed for all kinds of infections, to children and adults alike) often cause mild to severe gastrointestinal side effects, even for people who don't have IBS. This is because those drugs not only kill the bacteria causing the infection you're treating, but they also kill the friendly bacteria, called "flora", that live in your intestines.

These friendly bacteria normally regulate the consistency of stools and help with digestion. There is a growing mountain of research that this gut flora is actually of critical importance not just for bowel health, but overall disease resistance as well.

However, an antibiotic called Rifaximin (brand name Xifaxan) was recently reviewed by the FDA as a treatment for IBS - specifically, for bloating, abdominal pain, and diarrhea. What's going on?

Rifaximin is a broad-spectrum non-systemic antibiotic, which means that little of the drug will pass through the gastrointestinal wall into circulation. It has been approved by the FDA and prescribed for years for preventing and treating traveler's diarrhea caused by E. coli, and has few side effects with this use.

Over the past several years, Rifaximin has also been studied in several clinical trials as a treatment for non-constipation IBS, with some interesting results. One of the lead researchers, Dr. Mark Pimentel of Cedars-Sinai Medical Center in California, has been a strong proponent of Rifaximin and has gone so far as to say he believes that the "missing link," or root cause of most IBS symptoms, can actually be attributed to an overgrowth of bacteria in the small intestine.

In fact, initial studies of Rifaximin and IBS were based on the researchers' hypothesis that a large proportion of IBS patients had small intestinal bacterial overgrowth (SIBO). Initial studies actually reported SIBO in up to 80% of IBS patients.

However - as a rule, IBS should only be diagnosed when other disorders that can cause similar symptoms - including SIBO - have been ruled out. Unfortunately, diagnosing SIBO can be difficult. The most common diagnostic procedure, a hydrogen breath test, can have a high rate of false positives.

When subsequent IBS studies used the standard method of jejunal aspiration and bacterial culturing to diagnose SIBO, the small intestinal bacterial overgrowth was found in only 4% of IBS patients.

Clearly, this is a murky area of IBS. Small intestinal bacterial overgrowth (or SIBO) is normally considered to be a different disorder than IBS, even though the symptoms (abdominal pain, bloating, bowel dysfunction) are strikingly similar. Gastroenterologists vary wildly in their estimates of the number of people diagnosed with IBS who actually have undiagnosed SIBO. Making matters even murkier is the fact that it's possible for someone to have both SIBO and IBS. Some physicians have already begun to treat patients diagnosed with IBS for SIBO.

The most recent trials of Rifaximin, published in January 2011 in the New England Journal of Medicine, showed that the antibiotic achieved statistically better results than a placebo for treating non-constipation IBS - but not that much better.

In the Rifaximin group, 41% of patients reported adequate relief of IBS symptoms, versus 32% in the placebo group. In the Rifaximin group, 41% of patients reported adequate relief of bloating, versus 30% in the placebo group. Results were similar for at least 2 of the first 4 weeks of the trials, and in an analysis of relief of symptoms during the 10-week period after the end of the treatment.

An editorial by Jan Tack, M.D., Ph.D. that accompanied the study in the NEJM summarized the good news / bad news aspects of the trials:

Good - The sustained symptom improvements lasting at least 10 weeks, after a short treatment course, are encouraging.

Good - Bloating was one of the symptoms successfully addressed, and bloating tends to be one of the most challenging aspects of IBS.

Bad - The rates of response to treatment are only 9% to 12% better with Rifaximin than placebo, which is in the lower spectrum of what's considered to be clinically relevant.

Bad - Though not all patients have a response with Rifaximin, data suggest that a subgroup of patients may have a substantial response. However, it's unclear how to identify this group.

Bad - IBS is a chronic disorder, and although Rifaximin's effects persisted after the 2-week treatment period, the response over time suggests that there is some loss of effectiveness with symptoms toward the end of the 10-week follow-up. It's not known whether patients would have a favorable response again with retreatment.

The FDA apparently shares some of these reservations about Rifaximin for IBS. In March 2011 they ruled that before the antibiotic can be approved for treating IBS, its manufacturer (Salix Pharmaceuticals) must provide data on how the drug should be used in retreating patients with recurrent symptoms.

So - should you try taking an antibiotic for IBS? This is a question worth asking your gastroenterologist, if you do not have constipation and you haven't responded to other treatments. Ask if there are generic antibiotics that might be comparable to Rifaximin (this may be a much more affordable option, and more likely to be covered by insurance). Ask if you've had the tests to rule out SIBO, and if so, what the results were.

Interestingly, probiotics are also being studied and, in some cases, recommended for both SIBO and IBS. This is also an area worth asking your doctor about, particularly since probiotics don't carry the risks and side effects of antibiotic drugs.

Finally, consider using a prebiotic soluble fiber to help encourage the growth of healthy gut bacteria naturally. This can help keep both IBS and SIBO symptoms under control.

~ Heather

Did you miss the recent Ask Heather and peppermint for IBS?



~ Heather's Tummy Tamers Peppermint Oil Capsules ~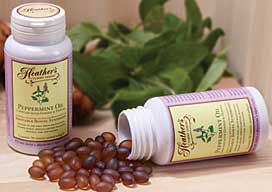 Peppermint Oil Caps Called "Drug of Choice for IBS"

Our Peppermint Oil Caps have the added benefits of fennel and ginger oils, and they help prevent abdominal pain, gas, and bloating!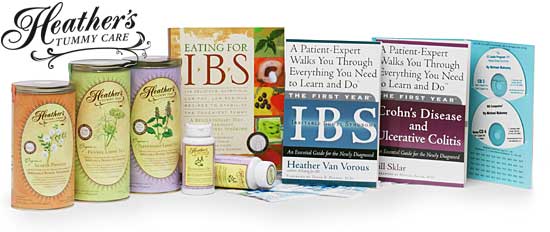 Shop at Heather's Tummy Store for IBS
HelpForIBS.com
The only store that's just for IBS - so we only carry the very best



You're on this newsletter list because you have expressed interest in IBS news and information.


Change your newsletter email address here.

If you are viewing this newsletter on a website and would like to subscribe for email delivery, please "Join the IBS Newsletter" here.

ANTI-SPAM PRIVACY & SECURITY POLICY
HelpForIBS.com
Heather's Tummy Care
80 S. Washington St, #304
Seattle, WA 98104 USA

© 2011 Heather Van Vorous, Heather's Tummy Care. All rights reserved.
USA Copyright Office Registration Number TXU 1-270-858 and others.