Did your email mangle this newsletter? Go here to view this online

October 18, 2005

This week - An IBS Mis-Diagnosis?

Hello to everyone -

This week we have a simple, soothing carrot soup that offers a very comforting way to warm yourself up on a chilly autumn night. It's hard to believe something so effortless to make could be so delicious!

We've also got new stores carrying Heather's Tummy Care products, and, as always, the latest IBS news and research. Enjoy!

Best Wishes,
Heather Van Vorous

Did a friend send you this newsletter? Sign up here for your own free subscription.

Simple Carrot Ginger Bisque

Makes about 8 servings

6 cups peeled, roughly chopped carrots (about 9 large carrots)
1 large russet potato, peeled and roughly chopped
1 T olive oil
6 cups water

Add all ingredients to a large stockpot, bring to a boil, reduce heat to low, cover and gently simmer. Cook until vegetables are very tender, about one hour. Add:

1 t sea salt
2 T finely grated fresh gingerroot

Puree soup in blender in batches (be careful when blending hot liquids) until velvety smooth. Or, puree in stockpot using an immersion blender.

For oodles of other delicious recipes, come visit the IBS Recipe Exchange board!

Are you just learning how to eat for IBS? A little intimidated at the thought of special IBS recipes? Not quite sure just what makes these recipes special in the first place? Don't worry! Come see the IBS Diet pages, and find the answers to all your questions.

~ Heather's Tummy Fiber ~
For the Dietary Management of Abdominal Pain, Diarrhea, &, Constipation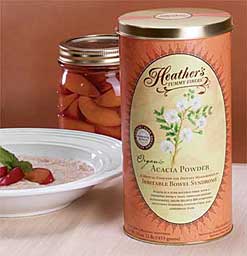 Organic Acacia ~ Pure Soluble Fiber
The prebiotic fiber that relieves both diarrhea and constipation!

New Retail Stores Carrying Heather's Tummy Care Products
We're continuing our special rebate offer for people who buy Tummy Care products at their local stores, and we have new store announcements this week as well!

New York
Dr. Kelly Cohen
317 Madison Avenue Ste. 521
New York, NY 10017
212-591-0569
Please call for hours and availability

Washington
Better Life Natural Foods
111 West 6th Avenue
Ellensburg, WA 98926
509-925-2505

Wisconsin
Advanced Healthcare - Gastroenterology
N93 W14665 Whittaker Way
Menomonee Falls, WI 53051
262-251-7500
Please call for hours and availability

If you don't have a store in your area carrying Tummy Care products yet, please give them this flyer to ask them.

Bronchial Hyperresponsiveness in IBS
A recent report in Digestive Diseases and Sciences noted that extraintestinal symptoms are often found in patients with irritable bowel syndrome (IBS). Recent studies suggest that IBS is associated with bronchial hyperresponsiveness, so this new study investigated the possible relationship between IBS and bronchial hyperresponsiveness. Go here for more information about this study...

Colonoscopic Surveillance in Inflammatory Bowel Disease
a recent article in Current Opinion in Gastroenterology noted that, despite great promise, colonoscopic surveillance in inflammatory bowel disease has yet to be demonstrated to reduce colorectal cancer mortality. In part, this stems from a number of inherent systematic troubles, including low rates of observer agreement among pathologists; lack of consensus on the natural history of dysplasia, particularly low-grade dysplasia; the patchy nature of dysplasia, which leads to sampling error caused by insufficient biopsy by endoscopists; and incomplete patient follow-up. Go here for more information about this study...

Childhood Abdominal Pain May Progress to Adult IBS
A recent American Journal of Gastroenterol article found that childhood abdominal pain, a common complaint, may progress to adult irritable bowel syndrome (IBS) in some children. "The natural history of childhood abdominal pain and its association with adult IBS remain poorly described," Dr. Nicholas J. Talley, of the Mayo Clinic College of Medicine, Rochester, Minnesota, and colleagues write. IBS at age 26 years was about 2 or 3 times more common among subjects with a history of childhood abdominal pain between the ages of 7 and 9 years compared with those with no history, depending on the assessment method. Go here for more information about this study...

Hypnotherapy an Effective Treatment for IBS
Medics at The University of Manchester have discovered a way to treat Irritable Bowel Syndrome (IBS) using hypnotherapy. IBS can seriously affect sufferers' quality of life. Finding treatment can be difficult, leading many doctors to feel they can do little to help. Research by Peter Whorwell, Professor of Medicine and Gastroenterology in the University's Medical School and Director of the South Manchester Functional Bowel Service, has been researching the use of gut-directed hypnosis for over 20 years. Most recently, two hundred and fifty patients who have suffered from IBS for over two years were given twelve one-hour sessions, during which they were given an explanation of how the gut works and what causes their symptoms.

"IBS is ideal for treatment with hypnosis, as there is no structural damage to the body," explained Professor Whorwell. "During the hypnotherapy, sufferers learn how to influence and gain control of their gut function, and then seem to be able to change the way the brain modulates their gut activity."

With a success-rate of about 70% Professor Whorwell believes that, although labour-intensive, hypnotherapy could be an extremely effective treatment for the condition; and a less expensive alternative to new, costly drugs coming onto the market. Go here for more information about this study...

Go here to learn about self-hypnosis for IBS.

Functional Constipation Linked to Obesity in Children
Children with functional constipation are about twice as likely to be obese as their peers without this problem, according to a report in the September issue of Pediatrics. In the current study, the researchers compared the prevalence of obesity among 719 children with functional constipation and among 930 control children. The rate of obesity among the constipated children was 22.4%, nearly double the rate seen in control children -- 11.7%. As to the mechanism linking obesity and constipation, diet is likely a major factor. Go here for more information about this study...

Looking for more IBS research and news? Check the IBS Research Library!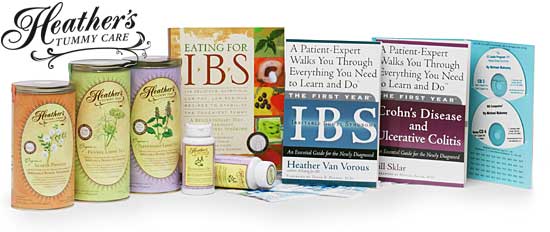 Shop at Heather's Tummy Store for IBS
HelpForIBS.com
The only store that's just for IBS - so we only carry the very best

An IBS Mis-Diagnosis?
"I was just diagnosed with IBS, but my doctor didn't run a single test. Some of my symptoms don't seem to match, and I'm worried that there is something else going on. How do I know if I've been properly diagnosed?" ~ Sam Holmes, Oregon

Even though IBS is the most common chronic health disorder in America, Canada, the UK, Australia, and New Zealand, affecting more people than asthma, diabetes, and depression combined, it's not necessarily easy to diagnose. It is, however, very easy to misdiagnose, and you're right to be concerned that you may have some other disorder.

It's extremely important to verify that your symptoms match those of IBS before you accept this diagnosis. Irritable Bowel Syndrome is characterized by continuous or recurrent lower abdominal pain or cramping (from mild to excruciating) in association with altered bowel motility (diarrhea, constipation, or both). Attacks may strike suddenly at any time of day or night, and may occasionally - though not typically - wake you from a sound sleep. Gas and bloating are common, but vomiting isn't, though it can occur due to nausea from the pain. Upper GI symptoms are not a typical part of the syndrome. For women, attacks are often associated with menstruation. Passing blood, running a fever, swollen extremities, and joint pain are not symptoms of IBS, and point to other disorders. IBS is diagnosed in part by the use of the official diagnostic criteria known as the Rome II Guidelines.

In essence, the diagnosis of IBS is a process of exclusion. There is no medical test available that will be positive for IBS; instead, your doctor will test you for all other illnesses that can mimic IBS, and if those tests are negative, and if your symptoms fit the Rome II Guidelines, you'll then be diagnosed with IBS. In particular, it's important that the following diseases are excluded before you accept a diagnosis of IBS:

Colon cancer
Inflammatory bowel diseases (Crohn's and Ulcerative Colitis)
Bowel obstructions
Diverticulosis / Diverticulitis
Gallstones
Food allergies
Celiac (a genetic, autoimmune disorder resulting in gluten intolerance)
Bacterial infections
Intestinal parasites
Endometriosis
Ovarian cancer

As a rule, all possible physical, structural, and infectious abnormalities of the GI tract need to be unquestionably eliminated before you agree to an IBS diagnosis. This requires a physical examination, preferably by a board-certified gastroenterologist, and may include the following studies:

Complete blood count, sedimentation rate, and chemistries
Stool for ova, parasites, and blood
Urinalysis
Liver function tests
Rectal exam
Abdominal x-rays
Colonoscopy
For women, a gynecological exam including CA-125 blood test for ovarian cancer

Other diagnostic studies should be minimal and will depend on the symptom subtype. In general, the specific medical tests needed to rule out disorders other than IBS will depend upon your age, health history, family health background, and specific symptoms. Personally, I would not accept an IBS diagnosis based solely on my symptoms, even if I was young and otherwise healthy; at a minimum, I would expect blood work to check for inflammation and gluten antibodies.

Once you have a firm IBS diagnosis, take heart. While there is no cure yet, there are many ways to successfully manage - and prevent - all IBS symptoms. You can control your IBS, not vice versa.

~ Heather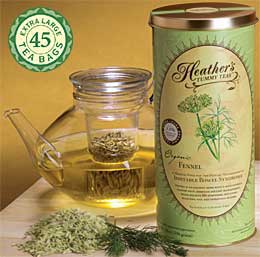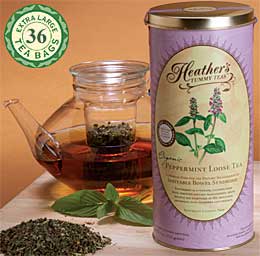 Fennel & Peppermint Tummy Teas - Now in New Jumbo Teabags!

Fennel is terrific for bloating & gas, Peppermint is great for IBS pain & spasms.

You are receiving this email because you have expressed interest in IBS news and information.


Unsubscribe from Heather's IBS Newsletter here.

Change your newsletter email address here.

If you are viewing this newsletter on a website and would like to subscribe for email delivery, please "Join the IBS Newsletter" here.

ANTI-SPAM PRIVACY & SECURITY POLICY
HelpForIBS.com
Heather's Tummy Care
80 S. Washington St, #304
Seattle, WA 98104 USA

© 2005 Heather Van Vorous, Heather's Tummy Care. All rights reserved.