Heather's IBS Newsletter ~ For Irritable Bowel Syndrome

Once a Year Sale ~ the IBS Self-Hypnosis Program and New! IBS Stress Kit!

No longer bloated and tired - and on the very first try!

Can you be too young for IBS? Ask Heather.

Employee fired for IBS - and sues.

Comfort food favorite!


Hello to everyone -

While I hear from many people who struggle for years with bloating, diarrhea, or constipation before finally finding help, this week I have a very different story to share. Sometimes, the first thing a person tries is exactly what they need - see how Joanna solved her bloating and more on the very first try!

Plus, we're continuing our just-once-a-year hypnotherapy sale. The IBS Audio Program is on sale for $79.95 (a $10.00 savings from the normal price of $89.95), and our new IBS Stress Kit, which includes the IBS Audio Program, is on sale for 20% off the suggested retail price (a savings of over $25)!

As always, we have a fabulous digestion-friendly recipe (a comfort food favorite I've been getting tons of requests for lately), and the latest IBS news and research.

Best Wishes,
Heather Van Vorous

Did a friend send you this newsletter? Sign up here for your own free subscription.

Comfort Food! Traditional Tuna Casserole

Many folks remember this meal fondly from their childhoods, but typically the recipe is made with a high-fat, dairy-based canned soup mix, plus lots of whole milk as well. This is a healthier alternative, and just as delicious - as well as very fast and easy to prepare. Enjoy!

4-6 Servings

3 c. dry macaroni or wide noodles
1 1/2 c. diced mushrooms
1 c. diced sweet white onion
1/2 c. diced celery
2 T. Acacia Tummy Fiber
1/4 t. celery seed
1/2 t. salt
10-12 oz. pkg. silken tofu, drained
2 (6 oz.) cans white tuna in water, drained
1 1/2 c. plain soy or rice milk
Baked potato chips (like Lays) or soda crackers

Preheat oven to 350F. Cook pasta in a large pot of boiling water with 2 teaspoons salt until tender. Drain.

While pasta is cooking, saute mushrooms, onion, and celery in a large nonstick skillet sprayed with a little cooking oil. Cook over medium high heat until very tender and golden, and the liquid released from mushrooms has evaporated.

Puree cooked veggies in a blender or food processor with celery seed, salt, and tofu.

In a 9" square baking pan or casserole dish, combine cooked noodles, pureed veggie/tofu mix, and drained tuna. Stir to mix well. Add soy/rice milk and stir gently. Top with crushed baked potato chips (or soda crackers) as desired.

Bake for 35-40 minutes, until golden brown. Serve with ketchup.

For a comforting cold weather meal, serve the casserole with Heather Cooks! 5 Minute Pumpkin Pie for dessert!

Are you just learning how to eat for IBS? A little intimidated at the thought of special IBS recipes? Not quite sure just what makes these recipes special in the first place? Don't worry! Find the answers to all your questions in the IBS Diet Kit.



~ Heather's Tummy Tamers Peppermint Oil Capsules ~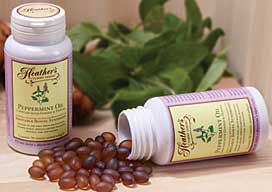 Peppermint Oil Caps Called "Drug of Choice for IBS"

Our Peppermint Oil Caps have the added benefits of fennel and ginger oils, and they help prevent abdominal pain, gas, and bloating!

No Longer Bloated and Tired!

Dear Heather,

I ordered a can of your Acacia Tummy Fiber and I wanted to write you about my experience. I'm 28 years old, and while I do not have IBS, I do have a sensitive GI tract, and sometimes eating an early breakfast can trigger a gastrointestinal spasm that lasts too long for my comfort.

I was taking Kaopectate and sometimes Imodium more often than I should have, because I couldn't not eat breakfast! The only foods I could eat that would not cause loose bowels were oatmeal (or organic oatmeal cookies), bananas, apples, and toast. However, it wasn't like this was daily or even regular. So it wasn't like I could predict it.

Sometimes no matter what I ate, I'd be just fine! However, those unpredictable times when my colon would spasm were very frustrating -- especially because I'm emetophobic. Not only do I have a fear of vomiting, I also have an irrational fear of getting diarrhea, and that led me to take anti-diarrheal medications when I did not necessarily need to.

Finally, a few weeks ago, I decided to research fiber supplements. I was diagnosed with fibromyalgia a few months ago, and I learned that the condition can cause GI problems, and even lead to IBS.

I came across your Acacia Tummy Fiber and thought it would be perfect. I don't get enough fiber in my diet anyway, and while I take acidophilous pills daily, I realized those pills wouldn't be enough.

Well, the canister came to my office, and I immediately took my measuring spoons, scooped out a generous half-teaspoon, and added it to my water bottle, which I then stirred and shook. I drank half the bottle in one sitting, then drank the rest over the course of the morning.

Within a few days, I noticed that my stomach was behaving extremely well. I tested out a bunch of foods that I knew might cause tummy upset, and I was fine! Plus, the fiber had me feeling full quickly, so I didn't need to eat as much. I stopped feeling bloated and tired after lunchtime, too. I keep the canister at my desk at work, since I'm more likely to use it there.

I'm going to keep taking the Tummy Fiber, probably for the rest of my life. It's been about three weeks, and I'm still taking just the half-teaspoon dose, but I'd like to go up to a full teaspoon starting tomorrow. I'm also going to recommend it to everyone I know with stomach issues, not just IBS.

You have an amazing product, and I am so glad that it's natural and gentle. I've never seen any fiber supplement like this before. This is also the first fiber supplement I've ever taken, so I am doubly pleased with the results.

Keep up the good work, and thank you so much.

Love,
Joanna P. from Gaithersburg, MD

Thank you so much, Joanna! ~ Heather

Did you miss the last reader letter from Susan, who went from "I'll just have to live with it" to so much better in just two weeks?

~ Heather's Tummy Fiber ~
For the Dietary Management of Abdominal Pain, Diarrhea, &, Constipation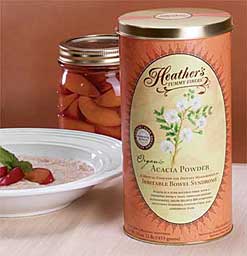 Organic Acacia ~ Pure Soluble Fiber
The prebiotic fiber that relieves both diarrhea and constipation!

** Very Economical ** Only 3 cents per gram of fiber!

Employee Suffering from IBS Sues for Lost Wages
A recent article in the New York Daily News reported a subway operator's discrimination suit against NYC Transit. The operator, a 60 year old woman, was grounded when her IBS worsened. Now she is appealing to a federal jury in Brooklyn to award her lost pay and monetary damages. NYC Transit has argued that no train operator is automatically dumped due to irritable bowel syndrome, but each case is assessed on the severity of the symptoms. Go here for more information about this article...

Daily Stress, Women, and IBS
A recent study in Nursing Research noted stress has been implicated as contributing to the initiation and exacerbation of bowel and discomfort symptoms in patients with irritable bowel syndrome (IBS). The study aimed to examine the relationships of daily self-reported stress to gastrointestinal (GI) and psychological distress symptoms both across women and within women in a comparison group of women without IBS and among subgroups of women with IBS.

The study found there were significant across-women correlations among mean daily stress, psychological distress, and GI symptoms in the total IBS group and the IBS bowel pattern subgroups. The study concluded gastrointestinal symptom distress is associated with self-reported stress in women with IBS, and IBS treatment protocols that incorporate strategies that decrease stress and psychological distress are likely to reduce GI symptoms. Go here for the IBS Stress Kit.

Go here for more information about this article...

Gut-Directed Hypnotherapy Effective for Persistent IBS in Children
A recent study in Gastroenterology confirms gut-directed hypnotherapy is "highly effective" for children with longstanding functional abdominal pain or irritable bowel syndrome (IBS).

Given that gut-directed hypnotherapy is effective for adults with IBS, the researchers wanted to test its value in children. They report gut-directed hypnotherapy was "highly superior" to standard medical care, yielding a significantly greater reduction in pain scores.

"We advocate that hypnotherapy become the treatment of choice in children with persisting complaints of either functional abdominal pain or IBS in whom first-line therapies such as education and dietary advice have failed," they write. Go here for gut-directed hypnotherapy.

Go here for more information about this study...



The Best Gut-Directed Self-Hypnosis Program for All IBS Symptoms

Now On Sale!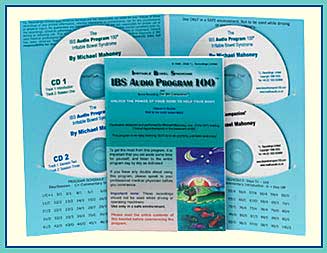 Gives an average 85% reduction of pain and bowel dysfunction symptoms.
Listen to IBS Audio Program 100 samples!

Age and IBS
"Can you be too young to develop IBS?"

Nope - it is possible to develop Irritable Bowel Syndrome at any age. The good news is IBS in children will respond to the same treatments that are effective for adults. (In fact, in some instances there are clinical studies specifically on children with IBS and the best treatments for them, including enteric coated peppermint oil capsules and gut-directed hypnotherapy.)

The most common age for IBS diagnosis is late teens to early twenties, but children as young as 4 have been formally diagnosed. There is a possibility that a person could be born with the disorder. IBS does seem to run in families, so I would be particularly suspicious when there are close relatives who have the disorder, even though researchers haven't yet found a solid genetic link.

It's crucial to rule out other digestive problems before you assume a child has IBS - at a minimum, have the blood work done to screen for celiac and inflammatory bowel diseases. If those turn up negative, the doctor may not want to run more invasive tests. However, this basic blood work is essential, so I would insist on it.

In addition to having the necessary exams, it's also critical the doctor verifies the child's symptoms match those medically established as definitive of Irritable Bowel Syndrome. The Rome Guidelines are the current standard for this definition, and they're detailed here.

If your child's doctor is not familiar with the Rome Guidelines, I'd suggest seeking a second opinion from a different doctor, preferably a pediatric gastroenterologist.

While waiting for a firm diagnosis, children can certainly eat according to the IBS guidelines. This won't hurt them if they don't have IBS (though the test for celiac will tell if they need to avoid gluten - a very different consideration than that of the IBS diet). They can also take a prebiotic soluble fiber supplement every day, as there are no health risks or side effects to that, though I would check with your doctor for the appropriate dosage for children under 12.

If a child is diagnosed with IBS, a prescription anti-spasmodic may be recommended. There is at least one anti-spasmodic medication (Pro-Banthine) considered to be a children's drug.

I think an even better alternative to these drugs is enteric coated peppermint oil capsules. These have clinical studies on their use specifically for children with IBS, and the results are fantastic. 75% of children with IBS receiving peppermint oil capsules had reduced severity of pain associated with IBS.

Personally, I gave up my prescription anti-spasmodics (from Pro-Banthine to Levsin to Donnatal) for peppermint oil capsules years ago, and I wish I'd had that option when dealing with IBS as a child. The capsules continue to work better for me than the drugs ever did to prevent severe pain and cramping, and they don't have any of the side effects like the prescriptions (such as dry eyes, dry mouth, and sleepiness).

A particularly fantastic option for children with IBS is gut-directed hypnotherapy (it's actually been called the "treatment of choice" by IBS researchers). A landmark study earlier this year found that after 3 months, there was a cure rate of 59% for hypnotherapy-treated subjects versus 12% in subjects receiving conventional therapy. After 1 year, the cure rate reached 85% for hypnotherapy-treated subjects and 25% for those receiving conventional therapy. The researchers defined a cure as a greater than 80% improvement in pain.

As always with IBS, knowledge about the disorder - and the multiple ways to treat it - is critical. One great resource is the First Year IBS book, which has special sections just for children. Their IBS concerns and issues can differ quite a bit from those of adults, and this is a topic quite close to my heart so I addressed it in detail.

~ Heather

Did you miss our recent "Ask Heather" and special interview with leading IBS therapist Michael Mahoney? Find it here...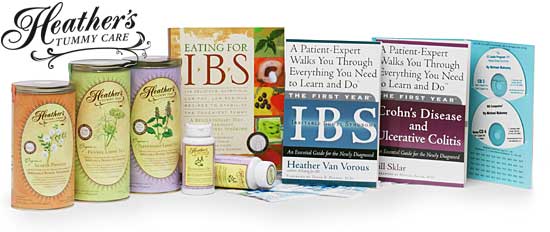 Shop at Heather's Tummy Store for IBS
HelpForIBS.com
The only store that's just for IBS - so we only carry the very best

You're on this newsletter list because you have expressed interest in IBS news and information.




Change your newsletter email address here.

If you are viewing this newsletter on a website and would like to subscribe for email delivery, please "Join the IBS Newsletter" here.

ANTI-SPAM PRIVACY & SECURITY POLICY
HelpForIBS.com
Heather's Tummy Care
80 S. Washington St, #304
Seattle, WA 98104 USA

© 2007 Heather Van Vorous, Heather's Tummy Care. All rights reserved.
USA Copyright Office Registration Number TXU 1-270-858 and others