September 17, 2015 ~ Scroll down for full newsletter or follow the links:



Special Letter »
Feeling 99% Better!
IBS Recipe »
Sweet Orange Corn Bread
Ask Heather »
Part 2 - A Diet for IBS and Heartburn?
  
Have questions? Call toll free (866) 640-4942.
Outside the US (206) 264 8069.

Enjoy the newsletter!
Heather Van Vorous & Heather's Tummy Care
Over 10 Years of IBS Business!


Did a friend send you this newsletter? Sign up here for your own free subscription.



~ Heather's Tummy Tamers Peppermint Oil Capsules ~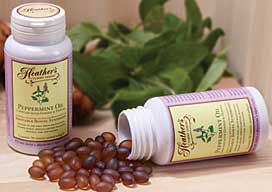 Peppermint Oil Caps Called "Drug of Choice for IBS"

Our Peppermint Oil Caps have the added benefits of fennel and ginger oils, and they help prevent abdominal pain, gas, and bloating!

Sweet Orange Corn Bread

This is lightly sweet, perfectly moist and zesty orange cornbread recipe. It's delicious toasted!

Adding Tummy Fiber is a fast and easy way to give an even better soluble fiber foundation to the bread.

Makes 9 x 5 inch loaf, 16 slices per loaf

Preheat oven to 350F.

1 1/2 cups soy, rice, or oat milk
1 teaspoon apple cider vinegar
1 cup yellow corn meal
1 cup unbleached white flour
1 tablespoon Tummy Fiber
1/3 cup granulated sugar (can be a little more or less, to taste)
1/2 teaspoon salt
1 teaspoon baking powder
1/2 teaspoon baking soda
1/4 cup olive, canola, safflower, or sunflower oil
Zest from one large orange

In a medium bowl stir together the soy milk and vinegar (mixture will slightly curdle); set aside. In a large bowl sift the dry ingredients and whisk them together to blend well. Set aside. Whisk the canola oil and fresh orange zest into the soy milk mixture.

Add the wet ingredients to the dry with the wire whisk, blending just until ingredients are incorporated. Pour batter into a loaf pan sprayed lightly with cooking oil. Bake for 40-50 minutes, until a toothpick or cake tester comes out clean. Cool on a wire rack before slicing.

For a light afternoon snack, have some toasted cornbread with a soothing cup of Peppermint Tummy Tea.

Are you just learning how to eat for IBS? A little intimidated at the thought of special IBS recipes? Not quite sure just what makes these recipes special in the first place? Don't worry! Come see the IBS Diet pages, and find the answers to all your questions.



The Best Gut-Directed Self-Hypnosis Program for All IBS Symptoms

Researchers have now called gut-directed hypnotherapy a "cure" for IBS!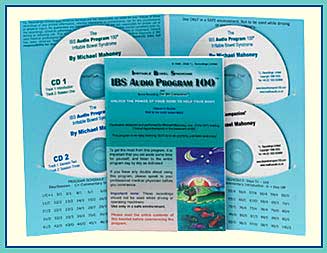 Gives an average 85% reduction of pain and bowel dysfunction symptoms.
Listen to IBS Audio Program 100 samples!

Feeling 99% Better!

Dear Heather,

I am not very good at expressing myself but I did want to thank you.

I have been diagnosed with IBS, although I truly never believed that was my problem. I have read a number of accounts on your website along with others. I do not believe I have the same symptoms as these others. However, as I have stated, I have been diagnosed with IBS.

I tried several prescription medications, most recently Zelnorm. Although Zelnorm did sort of help, I still never felt 100%. There were times I still had all my symptoms. My symptoms seemed to develop during the night. I would wake up with abdominal cramps/pain, severe headaches and just feeling terrible. I would vomit for hours (among other issues).

It got to the point I needed prescription medication to try to stop the vomiting. The vomiting was my biggest concern. It could last a couple days. While taking Zelnorm, I would only have these symptoms occasionally, which was at least once a month. Without it, it was once a week. Luckily, I work from home.

I obtained your web site from my health insurance carrier. A nurse/nutritionist would contact me monthly while on Zelnorm to see how I was doing. One time she suggested your site. WHAT A WONDERFUL IDEA SHE HAD!!!!!

I first bought your book Eating For IBS. I followed the suggestions and cooked some of the recipes. I was actually feeling better. I would only take Zelnorm occasionally. Then Zelnorm was taken off the market. I didn't know what I was going to do.

I purchased Acacia Tummy Fiber and have been using it for a couple months now. I am glad to tell you I feel 99% better. I say 99% because there are times when I do overdo it and feel a bit yucky.

But I can actually eat a salad as a meal. Before, even a small salad would send me over the edge. I know other people who have stomach/abdominal issues and I give them your website address and even share my Acacia Tummy Fiber.

Thank you very much for your help.

R. Morris

Thank you so much! It truly makes my day to hear how much better you're doing. ~ Heather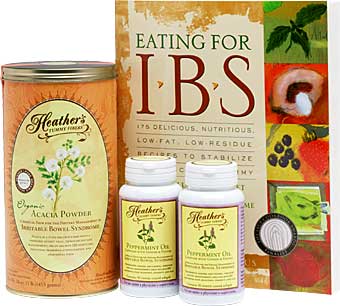 Try the IBS Diet Kit #2 - for Diarrhea AND Constipation!
Five Star Reviews!



* Eating for IBS - the Groundbreaking Diet and Cookbook

* Organic Acacia Tummy Fiber ~ for IBS Pain, Diarrhea and Constipation!

* Peppermint Oil Tummy Tamers with Fennel Oil ~ Prevent Bloating and Gas!



Part 2 - A Diet for IBS and Gerd?
"I have acid reflux and IBS as well. Can I follow the IBS diet or will this make my heartburn worse?"

Our last newsletter tackled part one of this rather involved issue. This week, we take on part two, including everybody's favorite splurge, chocolate - plus, what about fiber for reflux? Can it help or hurt? Read on...

Chocolate, in the form of unsweetened cocoa powder used for baking, is usually very tolerable for IBS, as both the fat and caffeine have been removed. Unfortunately, chocolate in any form can worsen reflux, so if you're prone to heartburn you may well have to forego this particular treat altogether. Why the discrepancy?

Chocolate contains theobromine, a compound that's also found in tea and coffee. Theobromine relaxes the esophageal sphincter muscle (just like peppermint), and can trigger reflux. So chocolate, like peppermint, is one of the few foods that can be perfectly safe for lower, but not upper, GI problems.

Other foods in this category are hot peppers, which contain capsicain. While they can be tolerated, especially in smaller amounts, by many folks with IBS, the capsicain can dramatically trigger reflux and you'll probably want to avoid hot peppers such as jalapenos, habaneros, cayenne, etc. altogether.

This does NOT mean you have to avoid all herbs and spices - to the contrary, most are actually digestive aids, and it's only the capsicain family you need to avoid. There's no need to stick to bland foods unless you actually want to. Feel free to use herbs and spices such as fennel, oregano, rosemary, basil, caraway, anise, ginger, cinnamon, and cloves. They're delicious and they'll benefit your digestion.

Some other general guidelines that are helpful for IBS are equally beneficial for reflux, particularly eating small meals frequently and taking soluble fiber supplements. Keeping your GI tract filled with soluble fiber throughout the day will make a world of difference in helping your digestion (both upper and lower) stay stable.

When it comes to your soluble fiber supplement, be extra careful to avoid citric acid, which makes many "orange" flavored supplements taste, well, orange. Citric acid is, rather obviously, acidic, and this can make a soluble fiber supplement highly problematic instead of helpful for your digestion.

Artificial sweeteners can also wreak havoc on both upper and lower digestive stability. Choose a plain, unflavored, unsweetened soluble fiber supplement like Acacia Tummy Fiber instead of a variety with harmful (and totally unnecessary) additions, and you'll get all the benefits without any risk.

Finally, the "no alcohol, no tobacco" rule for IBS (they're both GI irritants) also applies to reflux. So, if you have both digestive problems it's time to change any hard-partying ways (sorry).

~ Heather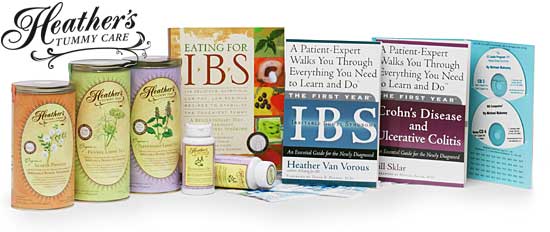 Shop at Heather's Tummy Store for IBS
HelpForIBS.com
The only store that's just for IBS - so we only carry the very best



You're on this newsletter list because you have expressed interest in IBS news and information.
Unsubscribe Here

Change your newsletter email address here.

If you are viewing this newsletter on a website and would like to subscribe for email delivery, please "Join the IBS Newsletter" here.

ANTI-SPAM PRIVACY & SECURITY POLICY
HelpForIBS.com
Heather's Tummy Care
80 S. Washington St, #304
Seattle, WA 98104 USA

© 2015 Heather Van Vorous, Heather's Tummy Care. All rights reserved.
USA Copyright Office Registration Number TXU 1-270-858 and others.