Peppermint Tummy Tamers Sale! Includes Bulk Kits and Diet Kits!
Use Promo Code SUMMERPEP10 for 10% Off!


Share!


July 30, 2015 ~ Scroll down for full newsletter or follow the links:



Special Letter »
IBS Trigger Foods List Saves a Trip to Europe!
IBS Recipe »
Tangy Picnic Potato Salad
Ask Heather »
A Diet for IBS and Heartburn?
  
Have questions? Call toll free (866) 640-4942.
Outside the US (206) 264 8069.

Enjoy the newsletter!
Heather Van Vorous & Heather's Tummy Care
Over 10 Years of IBS Business!


Did a friend send you this newsletter? Sign up here for your own free subscription.



~ Heather's Tummy Tamers Peppermint Oil Capsules ~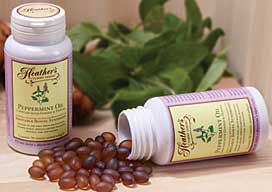 Peppermint Oil Caps Called "Drug of Choice for IBS"

Our Peppermint Oil Caps have the added benefits of fennel and ginger oils, and they help prevent abdominal pain, gas, and bloating!

Tangy Picnic Potato Salad

Potatoes are a terrific soluble fiber staple (remember, soluble fiber is the key to gut stability), and small red new potatoes work perfectly in this dish. Because their skin is so thin, and they are both cooked and chopped, you can leave these potatoes unpeeled. This will safely add insoluble fiber to the meal.

The tangy sweet-and-sour notes of this salad come from apple cider vinegar with a dash of sugar, and the addition of paprika and celery seed adds color as well as spice.

Traditionally, the delicious smoky flavor in warm potato salad recipes comes from bacon. In my IBS-friendly adaptation, high fat pork - a huge trigger for IBS - is replaced with soy or turkey bacon (and if you've never tried these, you're in for a wonderful surprise). This lets us lose the fat and red meat but keep the wonderful flavors.

Adding Tummy Fiber is a fast and easy way to give an even better soluble fiber foundation to the dish.

4-6 Servings

8 medium red or white skin potatoes (thin-skinned and waxy, not Russets)
6 oz. Fakin' Bacon (smoked tempeh), or low fat turkey or soy bacon, diced
1/4 cup diced sweet white onion, such as Maui or Walla Walla
2 tbsp olive oil
1/4 cup water
3/4 cup apple cider vinegar
1 1/2 tsp sugar
1/2 tsp salt
1/2 tsp paprika
1/2 tsp dry mustard
1/2 tsp celery seed
1 tsp Tummy Fiber Acacia
1/4 cup thinly sliced green onions

Boil potatoes till tender, and slice into one inch chunks while hot. Set aside.

While the potatoes are boiling, in a medium non-stick skillet over medium high heat, fry bacon and onion in oil until bacon is crispy and onion is golden. Add all remaining ingredients except Tummy Fiber, green onions and potatoes to skillet and stir well.

Pour skillet mixture over hot potatoes, sprinkle with Tummy Fiber, and fold together gently but well. Top with green onions and serve warm or at room temperature.

For a wonderful end to your picnic, follow this potato salad with Summer Strawberry Cheesecake!

Are you just learning how to eat for IBS? A little intimidated at the thought of special IBS recipes? Not quite sure just what makes these recipes special in the first place? Don't worry! Come see the IBS Diet pages, and find the answers to all your questions.



The Best Gut-Directed Self-Hypnosis Program for All IBS Symptoms

Researchers have now called gut-directed hypnotherapy a "cure" for IBS!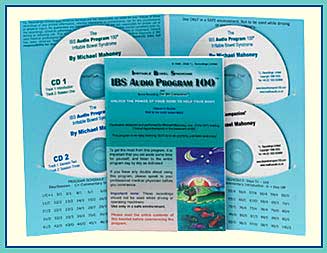 Gives an average 85% reduction of pain and bowel dysfunction symptoms.
Listen to IBS Audio Program 100 samples!

IBS Trigger Foods List Saves a Trip to Europe!

Heather,

Your IBS site is fantastic!!! Your food guides and suggestions on what to avoid and what helps IBS saved my European trip this spring. I was stressing out about being on a tour bus for 2 weeks during my trip to Italy. Emergency bathroom issues can be a huge embarrassment.

At times I thought about not going on the trip because of my IBS issues. I am 65 years old and have had issues for about 30 years. I was able to get 2 types of meds from my doctor, but your guide with the trigger foods really saved my trip, and my life.

Thank you so much!

Cindy

Thank you, Cindy! I am so thrilled you had a great vacation! That is fantastic! ~ Heather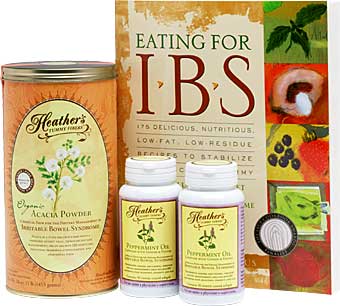 Try the IBS Diet Kit #2 - for Diarrhea AND Constipation!
Five Star Reviews!



* Eating for IBS - the Groundbreaking Diet and Cookbook

* Organic Acacia Tummy Fiber ~ for IBS Pain, Diarrhea and Constipation!

* Peppermint Oil Tummy Tamers with Fennel Oil ~ Prevent Bloating and Gas!



A Diet for IBS and Heartburn?
"I have acid reflux and IBS as well. Can I follow the IBS diet or will this make my heartburn worse?"

The bad news here is that people with Irritable Bowel Syndrome are statistically more likely to have upper GI problems (like GERD or acid reflux) as well. But, the good news is that the vast majority of dietary changes that help IBS will also help prevent or minimize heartburn - there are just a few extra considerations you'll need to take. This whole issue is actually something that requires a somewhat lengthy discussion, so this week we'll tackle part one:

The general IBS diet guidelines of low fat, high soluble fiber, and the careful addition of insoluble fiber, are well-suited to reflux as well. In particular, going low fat will be very beneficial for IBS and reflux both, so make sure you're avoiding the high fat trigger foods. While acidic foods can sometimes (but not often) bother IBS, they are very hard on reflux, so be careful with citrus, vinegars, and cooked tomatoes.

Coffee is an acidic food that is also a powerful GI tract irritant and it will wreak havoc on both your lower and upper digestive tract - please avoid it completely (even decaf!) Tea is not a safe replacement beverage, however; both black and green teas contain caffeine (problematic for IBS) and tannins (not good for reflux). Carbonated drinks and chewing gum increase the amount of swallowed air in your GI tract, and are also bad news for reflux and IBS both.

Herbal teas are an excellent option instead, with one big exception: peppermint, which is one of the single best herbs for IBS (particularly pain and cramping), is such a powerful smooth muscle relaxant (which is why it helps IBS) that it can seriously exacerbate heartburn.

Choose Fennel Tummy Tea, which will actively help both heartburn and IBS, or try chamomile or anise teas instead.

You may also be able to use peppermint in the form of enteric coated peppermint oil capsules, which do not dissolve in the stomach. Instead, they pass through the digestive tract intact until they reach the intestines, so they are often very helpful for people with both reflux and IBS who cannot tolerate peppermint in other forms (such as teas or candies). If you do have reflux and want to try peppermint oil capsules, it's usually best to take each capsule on an empty stomach, about one hour before a meal.

Sulfur-containing vegetables (garlic, onions, leeks, broccoli, cauliflower, cabbage, asparagus, and Brussels sprouts), can produce significant gas in the GI tract and this can trigger IBS attacks, and the sulfur can also exacerbate reflux. As with all other fruits and veggies, however, these are extremely nutritious foods with significant health benefits, so they need to be treated with caution but, if at all possible, not simply eliminated from your diet.

Next time, we'll tackle part two of this issue, including everybody's favorite splurge, chocolate - plus, what about fiber for reflux? Can it help or hurt? Coming soon...

~ Heather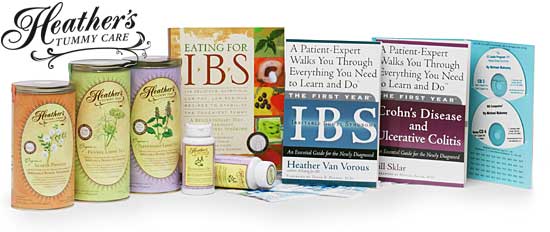 Shop at Heather's Tummy Store for IBS
HelpForIBS.com
The only store that's just for IBS - so we only carry the very best



You're on this newsletter list because you have expressed interest in IBS news and information.
Unsubscribe Here

Change your newsletter email address here.

If you are viewing this newsletter on a website and would like to subscribe for email delivery, please "Join the IBS Newsletter" here.

ANTI-SPAM PRIVACY & SECURITY POLICY
HelpForIBS.com
Heather's Tummy Care
80 S. Washington St, #304
Seattle, WA 98104 USA

© 2015 Heather Van Vorous, Heather's Tummy Care. All rights reserved.
USA Copyright Office Registration Number TXU 1-270-858 and others.

<***track***>