December 11, 2014 ~ Scroll down for full newsletter or follow the links:

Share!


Ask Heather »
How to Survive - and Enjoy - Holiday Travel with IBS!
Special Letter »
Life is Enjoyable After 40 Years of IBS
IBS Recipe »
Brer Rabbit Carrot Cake - Holiday Splurge, Still IBS Friendly!
  
Have questions? Call toll free (866) 640-4942.
Outside the US (206) 264 8069.

Enjoy the newsletter!
Heather Van Vorous & Heather's Tummy Care
Over 10 Years of IBS Business!

Did a friend send you this newsletter? Sign up here for your own free subscription.



Brer Rabbit Carrot Cake

This is a sweet, rich, luscious holiday dessert splurge that's just perfect for special occasions. Oh - and it's low fat, dairy free, and IBS friendly!

I love traditional carrot cake, but for reasons I've never been able to fathom most recipes are very high in fat. There is simply no need for that with this version, as the shredded carrots and crushed pineapple (that shredding and crushing minimizes the insoluble fiber risk, critical for an IBS gut) make the cake deliciously and virtuously moist.

This cake is scrumptious served plain, or you can add the icing for even more decadence.

Makes 16 Servings

Preheat oven to 350 F.

Spray a 10" non-stick bundt pan with cooking oil and set aside.

Sift into a large bowl and stir well to combine:

1 1/2 cups all-purpose unbleached white flour
1 tablespoon Tummy Fiber Acacia
1 1/2 teaspoons baking powder
3/4 teaspoon baking soda
2 teaspoons cinnamon
1/2 teaspoon allspice
1/2 teaspoon nutmeg
3/4 cup granulated sugar

In a separate large bowl beat with an electric mixer until well combined:

1/4 cup packed brown sugar
3/4 cup organic egg whites
1/3 cup canola oil
2 tablespoons fresh orange zest
1 teaspoon vanilla
1 1/2 cups packed finely shredded or grated carrots
3/4 cup canned crushed pineapple, with liquid

Add the wet ingredients to the dry with just a few swift strokes by hand. Do not overbeat or the cake will be tough. Pour batter into prepared pan and bake for 45-55 minutes, until toothpick or cake tester inserted into center comes out clean. Cool on rack for 10 minutes, then invert onto rack and cool to room temperature. Top with Sweet Orange Icing (do not top while cake is still warm).

Sweet Orange Icing:

3/4 cup sifted powdered sugar
1 1/2 teaspoons fresh orange zest
1 tablespoons fresh orange juice
1/2 teaspoon fresh lemon juice

Combine all ingredients and blend with a fork until smooth. Use immediately to top cake (if icing sits it will harden)

Are you just learning how to eat for IBS? A little intimidated at the thought of special IBS recipes? Not quite sure just what makes these recipes special in the first place? Don't worry! Get Eating for IBS and find the answers to all your questions.



~ Heather's Tummy Fiber ~
For the Dietary Management of IBS Pain, Diarrhea, &, Constipation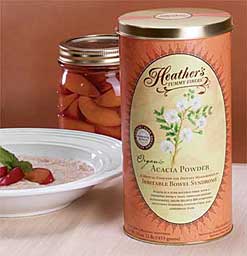 Certified Organic Acacia Senegal ~ Pure Soluble Fiber

The prebiotic fiber that relieves both diarrhea and constipation!

** Very Economical **

** 100% Acacia Senegal ** Never Low Grade Acacia Seyal

Life is Enjoyable After 40 Years of IBS

Dear Heather,

Just want to say thank you for all the wonderful information that is on your site and for the information that was sent to me with my order. I've had IBS for over 40 years and for the first time since I've been using the wonderful products, my life is more enjoyable.

My husband and I just love the Fennel Tummy Tea and your IBS cook book is the best.

Your Brer Rabbit carrot cake is just - wow. All of have my friends just love the cake so much, they don't realize it's healthy for them. Thank you for sharing such wonderful recipes.

Thanks again,

Lisa F.
Florence, SC

Thank you so much, Lisa! You just made my day!! ~ Heather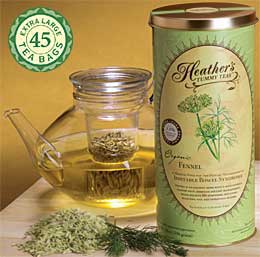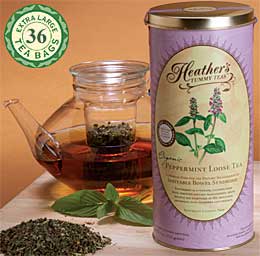 Organic High Volatile Oil Fennel & Peppermint Tummy Tea Bags

Extraordinary Quality ~ Very Economical

Fennel is terrific for bloating & gas, Peppermint is great for IBS pain & spasms.
Heather's Fennel Tummy Tea Heather's Peppermint Tummy Tea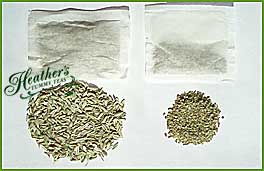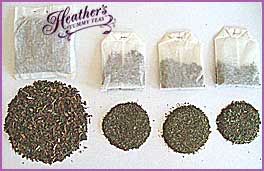 Compare for yourself! The pictures above show the huge difference in the quantity and quality of tea per teabag.




How to Survive - and Enjoy - Holiday Travel with IBS!

As usual with IBS, the best defense is a good offense, and for traveling this means taking time to think things through in advance. It's worth your while to make careful but flexible plans, take some simple precautions, and prepare to ask questions or make special requests on your trip to get your dietary and stress management needs met.

Feeling guilty about somehow being "difficult" in this regard is not allowed. Taking care of your health is a legitimate priority, holidays or not, and that's all there is to it.

For travel itself, whether car, plane or train rides, bring your own food and travel packets of your soluble fiber supplement to add to your travel meals or bottled water.

Do not assume that the meals being provided by travel services, or the tourist restaurants along your route, will offer IBS safe options. They probably won't. If you rely on fennel or peppermint tea to keep your symptoms in check, bring a supply of high volatile oil teabags with you as well, and just ask for hot water so you can brew your own.

It's important that you're extra careful to follow the IBS dietary guidelines from the first day of your trip to the last, as travel is always upsetting to your body even if you're not immediately aware of the effects. This physical stress can quickly rear its head in the form of an IBS attack, so focus on prevention at all costs. Precautionary efforts will let you enjoy the holidays, not suffer through them.

In addition to taking dietary measures, maintain your stress management program while traveling, at least to the best of your ability. Try to find a peaceful time and place each day to be alone and relax. (Taking a long hot bath before bed is one option.) Ask in advance for a quiet room if you're staying in a hotel.

If exercise is key to your IBS management, make it a priority of your trip. Take your work out clothes and shoes with you and unpack them first so you're ready to go. If you don't have the option of exercising as planned once you're actually on holiday, change tactics and adapt - find any variation that works and go with it. Even a long, leisurely walk every day can work wonders to help keep bowel function stable.

Disruptions to your sleep cycle are almost inevitable when traveling, particularly if you change time zones. Make an extra effort to overcome this potential trigger as quickly as possible. If you can, bring your own pillow (or just pillow case) with you. This is one of my favorite tricks for ensuring that I get good sleep even if I'm not in my own familiar bed. As a daily rule, try to go to bed earlier than you think necessary and get a little extra rest - this will definitely minimize your risk of attacks. Even sneaking a few naps here and there can make a world of difference.

If you need a full-on plan of attack for staying stable while traveling, get comprehensive information here in the First Year IBS. Remember, the whole point of taking a holiday is to end up happy and well-rested!

~ Heather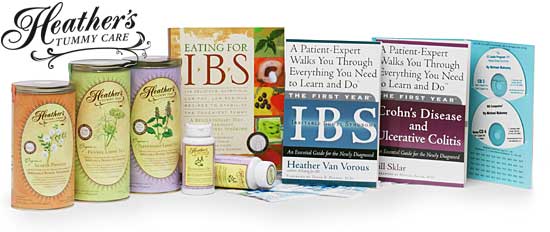 Shop at Heather's Tummy Store for IBS
HelpForIBS.com
The only store that's just for IBS - so we only carry the very best



You're on this newsletter list because you have expressed interest in IBS news and information.
Unsubscribe Here

Change your newsletter email address here.

If you are viewing this newsletter on a website and would like to subscribe for email delivery, please "Join the IBS Newsletter" here.

ANTI-SPAM PRIVACY & SECURITY POLICY
HelpForIBS.com
Heather's Tummy Care
80 S. Washington St, #304
Seattle, WA 98104 USA

© 2014 Heather Van Vorous, Heather's Tummy Care. All rights reserved.
Authored by Heather Van Vorous. May not be reproduced without permission.
USA Copyright Office Registration Number TXU 1-270-858 and others.

<***track***>