Share!


May 21, 2014 ~ Scroll down for full newsletter or follow the links:
Ask Heather »
Kitchen Cheating? Cook with Tummy Fiber!
IBS Recipe »
Wild Mushroom and Thyme Scrambled Eggs (Gluten Free Option!)
Special Letter »
No Lotronex, and No Longer Living in Fear!
  
Have questions? Call toll free (866) 640-4942.
Outside the US (206) 264 8069.

Enjoy the newsletter!
Heather Van Vorous & Heather's Tummy Care
Over 10 Years of IBS Business!

Did a friend send you this newsletter? Sign up here for your own free subscription.



Wild Mushroom and Thyme Scrambled Eggs on Sourdough Toast

Scrambled eggs are so easy to make safe for IBS - just omit the yolks and use only whites, and fry with cooking spray in a nonstick skillet. Adding sauteed wild mushrooms makes for a truly special breakfast dish, and the sourdough toast (or corn tortilla) gives a nice soluble fiber foundation.

Surprising tips - the touch of Sherry demonstrates how small amounts of alcohol can be safely incorporated into recipes for heightened flavor. And adding the Tummy Fiber gives a rich and creamy mouth feel to the eggs without having to add the yolks or extra fat.

This recipe is not just super fast and easy, but very flexible as well. Don't have wild mushrooms or fresh thyme? Regular button mushrooms work as well, as does any other fresh herb you like (oregano, basil, marjoram, whatever!) An easy gluten-free option is to substitute corn tortillas for the bread.

Makes 1 serving (easily doubled or tripled)

2 organic egg whites
1 t Acacia Tummy Fiber
dash salt
1/2 t minced fresh thyme, or 1/2 teaspoon dried
2/3 C assorted wild mushrooms (oyster, portabella, shitake, etc.), cleaned, chopped
1 garlic clove, minced
1 t - 1 T Sherry, Madeira, or Marsala, to taste
1 large slice sourdough bread, toasted (or 1 corn tortilla, toasted)

In a small bowl whisk together egg whites with Tummy Fiber, salt, and thyme. Set aside. In a small nonstick skillet sprayed with cooking oil sauté the mushrooms and garlic over medium low heat until tender, and liquid from mushrooms has evaporated. Add egg mixture and Sherry and cook, stirring, over medium low heat until egg has just cooked through. Spoon over toast or tortilla and serve.

Have a glass of Fennel Tummy Tea to drink with your scramble!

Are you just learning how to eat for IBS? A little intimidated at the thought of special IBS recipes? Not quite sure just what makes these recipes special in the first place? Don't worry! Get Eating for IBS and find the answers to all your questions.

~ Heather's Tummy Tamers Peppermint Oil Capsules ~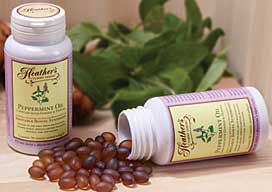 Peppermint Oil Caps Called "Drug of Choice for IBS"

Our Peppermint Oil Caps have the added benefits of fennel and ginger oils, and they help prevent abdominal pain, gas, and bloating!

No Lotronex, and No Longer Living in Fear!

Dear Heather:

I had a checkup with my gastroenterologist a few weeks back. He said your book The First Year IBS was very helpful to him. He gave me a prescription for Lotronex, saying I was the "perfect candidate. I'm glad I contacted you regarding this medication and appreciated your input.

After careful consideration and information gathering, I have decided not to take Lotronex. Had this medicine been prescribed when I was first diagnosed with IBS, I probably would have taken it. As it stands now, I haven't had any diarrhea for a long time. My bowels are regular, and I feel great. There is no reason for me to take this controversial medication.

I take two tablespoons of Heather's Tummy Fiber twice a day plus two Fibercon pills at lunchtime. With this regimen, I have discovered that I can now have an occasional glass of wine and eat some of the "trigger" foods without any diarrhea or pain.

It has been exactly one year since I completed the IBS Audio Program 100, which got me on me on the right track regarding stress and visualization. I still listen to the CDs occasionally for re-enforcement.

While I know I will never be free of IBS, I no longer live in fear and enjoy life to its fullest. I wish this for everyone who has IBS.

Thank you for all your help, and I will continue to update you. I want everyone to know how I got to where I am today.

Regards,
Ann B.

Thank you so much, Ann. This just makes my day! ~ Heather



Researchers call gut-directed hypnotherapy a "cure" for IBS!

The IBS Audio Program 100 - for All IBS Symptoms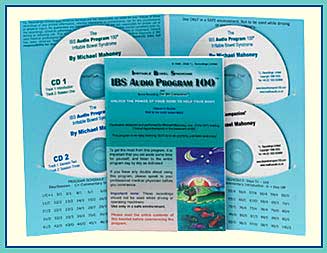 Gives an average 85% reduction of pain and bowel dysfunction symptoms.
Listen to IBS Audio Program 100 samples!

Kitchen Cheating! How Can I Cook with Tummy Fiber?

Ah, this one is easy! If it's sometimes a struggle to get enough soluble fiber foods into your diet, try cooking with Acacia Tummy Fiber. It's a fast and easy kitchen cheat that is a wonderful way to increase the soluble fiber in your diet.

I've been playing around in the kitchen with this for years now, and have had only successful results. Tummy Fiber is odorless and tasteless, and it will not thicken or gel liquids, so it's virtually undetectable in soups, scrambles, breads, pasta sauces, desserts, and more.

A super simple way to cook with Tummy Fiber is to add it to scrambles, as in the Wild Mushroom and Thyme Scrambled Eggs recipe featured above, or to any kind of soup. Try adding about 1 level teaspoon to 1 level tablespoon of Tummy Fiber for every two servings the recipe makes. Typically this will be about 3-4 level tablespoons of fiber for a large pot of soup or stew.

A foolproof method of incorporating the fiber into liquids without any lumps or bumps is to simply add the Tummy Fiber to a small cup or bowl first, and then whisk in about 1/2 cup of liquid. If you set aside this fiber mixture for a few minutes, and then re-stir, you'll have a perfectly smooth liquid you can then add to your remaining ingredients. Tummy Fiber does not change when it's heated or cooled, so you can safely bring it to a boil in soup or other liquids, or chill it and re-heat later, without any problems at all.

One of my favorite kitchen cheats with Tummy Fiber is using it to emulsify oils and liquids. This tip lets you use a lot less fat in scrambles, soups, sauces, dressings, etc. Just whisk in the Tummy Fiber to your wet ingredients until they emulsify, and you can turn many high fat trigger foods into IBS-friendly recipes.

If you'd like to try a dessert, the decadently rich Chocolate Silk Pudding is an easy option. Simply whisk 3 level tablespoons of Tummy Fiber into the rest of the dry ingredients, and continue from there. That's all there is to it.

You could add the fiber in a similar manner to any other pudding, custard, tart, or pie filling. I'm not sure the extra soluble fiber will then qualify a dessert as truly healthy, but it sure won't hurt!

If you'd like to bake with Tummy Fiber, this is an easy option as well. Its effects on doughs are actually so desirable that commercial bakers often use acacia.

In baking, acacia is a moisture stabilizer, a shelf-life extender, a mold inhibitor, and a dough conditioner. It can improve the texture and mouthfeel of products by holding a small additional amount of moisture in the products, and it can really improve products that go through a freeze/thaw or freeze/cook process. Tummy Fiber holds up under the heat of an oven, as it's a very stable molecule.

With all of these benefits, and the fact that it's an all-natural, gluten free source of soluble dietary fiber, you can see why acacia is being used by commercial bakers. But, you'll get all the same benefits when baking at home, and you can make sure your recipes are IBS friendly as well.

The general rule of thumb when baking with Tummy Fiber is to add a percentage that's based upon the amount of dry ingredients. You can add anywhere from .5% to 2% fiber relative to the dry ingredients. In practical terms, this means that for a bread or cake recipe you can add 1 level tablespoon of fiber per 1 cup of flour. This will make all sorts of quick breads, cakes, and brownies extra rich, moist, and fudgy.

Measure carefully, because if you add too much fiber your bread can turn out gummy.

A perfect way to try this for yourself is with everyone's perennial favorite, Peppermint Fudge Cake. I wouldn't have thought there was a way to improve upon this recipe, which is already moist, rich, delicious, low fat, dairy free, and even soothes the digestion with pure peppermint extract. But being able to effortlessly add even more soluble fiber to the recipe is, well, the icing on the cake!

Finally, if you don't even want to bother with recipes, you can simply sprinkle Tummy Fiber into prepared foods and it will disappear. This works beautifully for everything from tuna fish sandwiches to pasta dishes, from hot cereals to casseroles. There's no easier way to get the extra soluble fiber you need to keep your IBS stable!

~ Heather

Did you miss our recent "Ask Heather" and Why is high volatile oil peppermint special for IBS?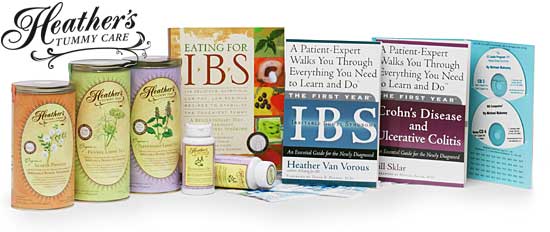 Shop at Heather's Tummy Store for IBS
HelpForIBS.com
The only store that's just for IBS - so we only carry the very best



You're on this newsletter list because you have expressed interest in IBS news and information.
Unsubscribe Here

Change your newsletter email address here.

If you are viewing this newsletter on a website and would like to subscribe for email delivery, please "Join the IBS Newsletter" here.

ANTI-SPAM PRIVACY & SECURITY POLICY
HelpForIBS.com
Heather's Tummy Care
80 S. Washington St, #304
Seattle, WA 98104 USA

© 2014 Heather Van Vorous, Heather's Tummy Care. All rights reserved.
Authored by Heather Van Vorous. May not be reproduced without permission.
USA Copyright Office Registration Number TXU 1-270-858 and others.