Share!


January 14, 2014 ~ Scroll down for full newsletter or follow the links:



Ask Heather »
Safe Drinks for IBS? Yes, There Are!
IBS Recipe »
Winter Herb Roasted Whitefish with Root Veggies
Special Letter »
3 Simple Things = No Longer Sick After 55 Years!
  
Have questions? Call toll free (866) 640-4942.
Outside the US (206) 264 8069.

Enjoy the newsletter!
Heather Van Vorous & Heather's Tummy Care
Over 10 Years of IBS Business!

Did a friend send you this newsletter? Sign up here for your own free subscription.





~ Heather's Tummy Tamers Peppermint Oil Capsules ~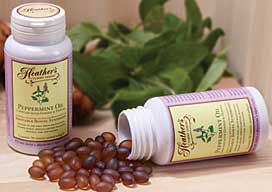 Peppermint Oil Caps Called "Drug of Choice for IBS"

Our Peppermint Oil Caps have the added benefits of fennel and ginger oils, and they help prevent abdominal pain, gas, and bloating!

Winter Herb Roasted Whitefish with Root Veggies

This is a super easy, wonderful cold weather one-dish supper with the added digestive benefits of strong dried herbs: oregano, peppermint, and fennel. It's a great trick to use herbal teas that are helpful for IBS in your cooking as well - they're not just for drinking!

For a delicious winter twist, use different root veggies along with or instead of the potatoes (rutabagas are wonderful!). This is a low fat, high soluble fiber recipe that's an easy, dependable favorite in my house.

Makes 4 Servings

3 large russet potatoes (or parsnips, rutabagas, turnips), peeled, cut into 1/4" slices
4 T olive oil, divided
3 garlic cloves, minced
1 1/2 t dried oregano
2 t Peppermint Tummy Tea leaf (use loose tea or rip open a teabag)
2 t Fennel Tummy Tea seeds (use loose tea or rip open a teabag)
1 t salt
1/4 t crushed red pepper flakes (optional)
1/4 cup white wine
1/4 cup water
4 halibut or any other thick white fish fillets, 4-6 ounces each
2 T dried parsley, divided
salt and pepper to taste
fresh lemon wedges for serving

Preheat oven to 450F. Spray a 13 x 9 inch baking pan with cooking oil. Spread potato/root veggie slices in pan, overlapping only where necessary. In a medium bowl blend 3 T olive oil, garlic, oregano, peppermint, fennel, salt, optional red pepper, wine and water. Pour over potatoes and spread with a rubber spatula.

Cover pan with foil or lid and bake 20 minutes. Uncover and bake 30-40 minutes more, until potatoes are tender. Place fish fillets on top of potatoes. Drizzle remaining 1 T olive oil over fish. Sprinkle fish with 1 T parsley. Bake uncovered just until fish is opaque in center, 15-20 minutes. Sprinkle with remaining 1 T parsley, salt and pepper, then squirt fresh lemon juice over and serve.

This dinner is wonderful with a cup of honey-sweetened Fennel Tummy Tea or Peppermint Tummy Tea!

Are you just learning how to eat for IBS? A little intimidated at the thought of special IBS recipes? Not quite sure just what makes these recipes special in the first place? Don't worry! Get Eating for IBS and find the answers to all your questions.

Get the IBS Diet Kit #1 - Comprehensive Help for IBS Pain, Bloating and Gas!

* Eating for IBS - the Groundbreaking Diet and Cookbook

* Organic Fennel Tummy Tea ~ Fast Relief of IBS Bloating and Gas!

* Peppermint Oil Tummy Tamers with Fennel Oil ~ prevent IBS pain and spasms!



Giving Up Coffee + 3 Simple Things = No Longer Sick After 55 Years!

Dear Heather:

I would like to take this moment to thank you with all my heart for your wonderful website that has helped me more than any doctor and all of the research I have done over my 55 years of life.

Your Acacia Tummy Fiber is wonderful and it is much less expensive and better than all of the products I have seen. The information you have for us has been invaluable.

I think between the 1 TB of Tummy Fiber first thing in the morning, Peppermint Tummy Tea following, and giving up the coffee (which I had no idea has an enzyme that tea does not), I have tremendously improved with those 3 simple things.

I have been sick for several days a week all my life, now hardly at all and it has been months since I discovered you. I will forever be grateful to you, dear Heather.

Absolutely feel free to use my comments on the website or the newsletter. I hope you continue changing people's lives for the better. Thanks for all you do.

Love and Light,
Leigh

Thank you so much, Leigh. I am so happy you are feeling better after so long. That is wonderful!! ~ Heather



~ Heather's Tummy Fiber ~
For the Dietary Management of IBS Pain, Diarrhea, &, Constipation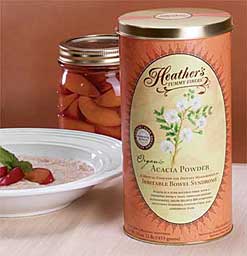 Certified Organic Acacia Senegal ~ Pure Soluble Fiber

The prebiotic fiber that relieves both diarrhea and constipation!

** Very Economical **

** 100% Acacia Senegal ** Never Low Grade Acacia Seyal

Safe Drinks for Irritable Bowel Syndrome
"Is there anything I can I drink besides plain water that's safe for IBS?"

I get asked this question all the time, and I love it, because I can give such a wonderful answer.

Yes! There are many, many drinks besides water that are safe for IBS, and some are downright helpful for preventing and/or relieving IBS symptoms like abdominal pain, bloating, and gas.

Herbal teas, fruit smoothies, soy coffees, Indian chais, flavored rice and soy drinks, even hot chocolate - there's quite a long list, so you have a lot of delicious options.

What matters most is that you avoid beverage triggers (dairy, caffeine, coffee, tannic acid, carbonation, alcohol, high fat content, artificial sweeteners). After that, you can focus on adding IBS aids (soluble fiber, beneficial herbs) to safe beverages. At worst you'll be drinking something that simply won't harm your IBS, and at best you can enjoy drinks that actively help.

Where to start? Well, for beverages that will directly address IBS symptoms, try:

Peppermint tea for abdominal pain, spasms, or cramps. Make sure the tea is organic, large leaf, and high volatile oil, as the stronger it is the more effective it will be. Medicinal strength is best.

Fennel tea for bloating and gas. As with peppermint, fennel tea should be high volatile oil, organic, and made with whole fennel seeds (not ground) for maximum medicinal strength.

Ginger tea for nausea (you can also brew a chunk of fresh gingerroot in freshly boiled water).

Chamomile tea for relaxing the gut and nervous system.

You can also use herbs and spices in naturally caffeine-free drinks such as my Sweet Ginger Chai Tea recipe. Don't want to bother making your own chai? Look for decaf versions ready-made in the tea/coffee aisle of grocery stores (Pacific and Oregon brands are both tasty).

If you're looking for a more filling drink, blend up a fresh fruit smoothie. Blending mechanically breaks down the insoluble fiber in fruit, making it much more tolerable for IBS. For an all-around digestive aid plus a soluble fiber foundation, try a blend of probiotics and prebiotics in your smoothie, such as the delicious Mango Passion Smoothie recipe.

Many rice, soy, oat, hemp, and almond milks, especially vanilla flavored, make great drinks in their own right. Chocolate soy milk makes a terrific hot chocolate - just heat and serve. Add a sprinkle of cinnamon for a healthy and delicious twist. For a frosty dessert treat, blend chocolate soy/rice milk with chocolate soy/rice ice cream.

Decaffeinated green and black teas are tolerable for many people with IBS - just watch out if you're prone to heartburn or reflux, as the tannic acid in teas can sometimes aggravate that.

Soy or herbal coffees, which are available in many different brands, are not only safe for IBS but delicious, especially brewed with a little soy or rice milk for extra creaminess. There are wonderful flavors like mocha and hazelnut available, so feel free to experiment and find your own favorite!

~ Heather

Coming next, what NOT to drink for IBS!

Did you miss our recent "Ask Heather" and IBS as a brain-gut disorder?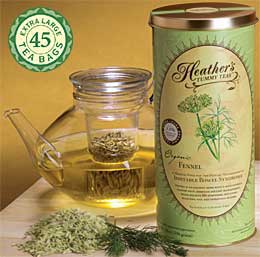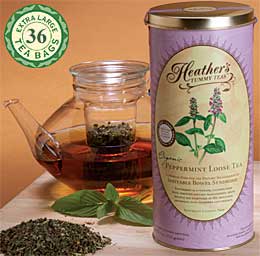 Organic High Volatile Oil Fennel & Peppermint Tummy Tea Bags

Extraordinary Quality ~ Very Economical

Fennel is terrific for bloating & gas, Peppermint is great for IBS pain & spasms.
Heather's Fennel Tummy Tea Heather's Peppermint Tummy Tea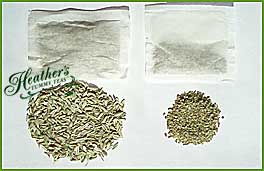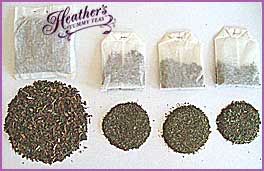 Compare for yourself! The pictures above show the huge difference in the quantity and quality of tea per teabag. The price comparison here is even more shocking!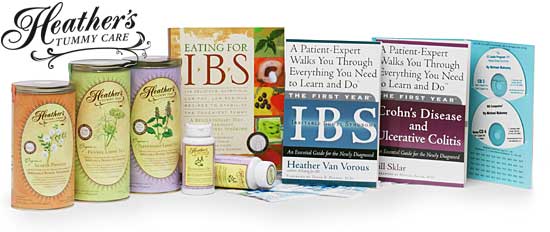 Shop at Heather's Tummy Store for IBS
HelpForIBS.com
The only store that's just for IBS - so we only carry the very best



You're on this newsletter list because you have expressed interest in IBS news and information.
Unsubscribe Here

Change your newsletter email address here.

If you are viewing this newsletter on a website and would like to subscribe for email delivery, please "Join the IBS Newsletter" here.

ANTI-SPAM PRIVACY & SECURITY POLICY
HelpForIBS.com
Heather's Tummy Care
80 S. Washington St, #304
Seattle, WA 98104 USA

© 2014 Heather Van Vorous, Heather's Tummy Care. All rights reserved.
Authored by Heather Van Vorous. May not be reproduced without permission.
USA Copyright Office Registration Number TXU 1-270-858 and others.