Share!




February 12, 2014 ~ Scroll down for full newsletter or follow the links:

Ask Heather » Worst Drink for IBS Ever?

News & Research » Spanx, but no Spanx - Squeezes your butt AND your bowels.

&nbsp &nbsp &nbsp &nbsp &nbsp &nbsp »Stop Mocking IBS! Vote for Our IBS Education Grant.

IBS Recipe » Veggie Confetti Lomein Stir Fry

Special Letter » Short & Sweet - Finally Better After 20 Years!


  
Have questions? Call toll free (866) 640-4942.
Outside the US (206) 264 8069.

Enjoy the newsletter!
Heather Van Vorous & Heather's Tummy Care
Over 10 Years of IBS Business!

Did a friend send you this newsletter? Sign up here for your own free subscription.



Veggie Confetti Lomein Stir Fry

This super easy Cantonese-style lomein has a wonderful smoky flavor that comes from a smidgen of toasted sesame oil. Because sesame oil has a low smoking point, it is usually unsuitable for stir-fries, but in this recipe it is used for that very reason. Just a tiny bit provides great flavor, and a dash of soy sauce finishes this dish nicely.

Cooking the veggies till tender makes their insoluble fiber much more IBS-friendly, and the noodles give a great soluble fiber foundation. Lomein makes a satisfying vegetarian dinner that comes together quite quickly on those weekday evenings when you don't have much time or energy to cook.

Makes 6 Servings

1 lb. package of fresh Chinese lomein noodles*
2 teaspoons canola or safflower oil
1 teaspoon toasted sesame oil
1 large garlic clove, minced
1 inch chunk fresh gingerroot, peeled and minced or grated
1 medium onion, roughly chopped
1 cup peeled then coarsely shredded carrots
1 1/2 cups coarsely shredded peeled zucchini
4 scallions, trimmed and sliced into one-inch lengths
Soy sauce to taste
white pepper to taste

Bring a large pot of water to boil and add the lomein noodles, cooking until just slightly tender but still quite chewy, about 1-2 minutes. Drain and rinse, then spray noodles lightly with cooking oil. Run your fingers through the noodles to separate the strands and distribute the oil, spraying a little more oil throughout the noodles to evenly coat them. Cut the noodles into shorter lengths with kitchen shears.

Heat the canola and sesame oil in a wok or large skillet over high heat until it just smokes. Add the garlic and ginger and stir fry just until fragrant, about 1 minute. Add the vegetables and stir fry until tender. Add the noodles and cook until they are just tender and have absorbed the liquid from the vegetables. Stir in soy sauce and white pepper to taste and serve.

*In the produce case at supermarkets by the refrigerated tofu, or at any Asian market.

Have a glass of Fennel Tummy Tea to drink with your dinner!

Are you just learning how to eat for IBS? A little intimidated at the thought of special IBS recipes? Not quite sure just what makes these recipes special in the first place? Don't worry! Get Eating for IBS and find the answers to all your questions.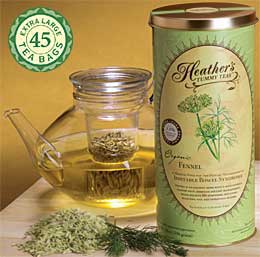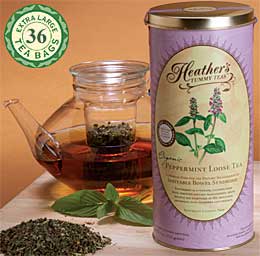 Organic High Volatile Oil Fennel & Peppermint Tummy Tea Bags

Extraordinary Quality ~ Very Economical

Fennel is terrific for bloating & gas, Peppermint is great for IBS pain & spasms.
Heather's Fennel Tummy Tea Heather's Peppermint Tummy Tea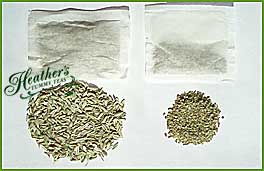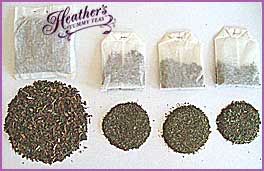 Compare for yourself! The pictures above show the huge difference in the quantity and quality of tea per teabag.




Short & Sweet - Finally Better After 20 Years!

Dear Heather,

Here is my feedback: I am 76 years old and have fought IBS for at least 20 years.

Finally, with your products and diet I am able to feel better and not let my gut rule my life.

Thank you,
Barbara L.

Thank you so much, Barbara. I am absolutely thrilled for you!! ~ Heather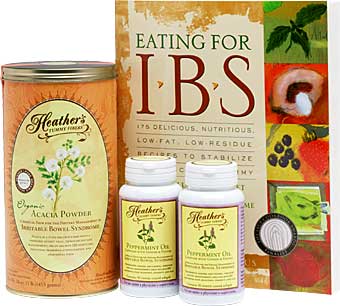 Get the IBS Diet Kit #2 - Comprehensive Help for IBS Diarrhea and Constipation!

* Eating for IBS - the Groundbreaking Diet and Cookbook

* Organic Acacia Tummy Fiber ~ Help Stabilize Bowel Motility!

* Peppermint Oil Tummy Tamers with Fennel Oil ~ prevent bloating and gas!





Spanx, but no Spanx - Shapewear Compresses Your Butt and Bowels

According to gastroenterologist Dr. John Kuemmerle at the Huffington Post, when you wear shapewear like Spanx, you're compressing not just your external figure, but your internal organs as well. And yes, that is exactly as uncomfortable - or downright painful - as it sounds.

Shapewear couldn't do its job if it wasn't tight. Unfortunately, this leaves your stomach, intestines and colon compressed, which can worsen acid reflux and heartburn.

Your digestive tract is directly affected. The intestines are meant to contract and move food along, but when they're compressed over a long period of time, the flow of digestion is stifled.

Those with functional bowel disorders such as irritable bowel syndrome should wear shapewear with caution. Shapewear can increase intra-abdominal pressure and actually provoke episodes of incontinence. Ouch. Go here for full article.

Stop Mocking IBS! Vote for Our IBS Education Grant

Do you think IBS education and research should be ridiculed? Former Secretary of Defense Robert Gates just heaped scorn on Senate Majority Leader Harry Reid's efforts to have Defense Department medical research funding include Irritable Bowel Syndrome.

Does IBS research deserve such disdain? Not if you're one of the 15-20% of Americans affected by this chronic, incurable disorder, marked by diarrhea, constipation, abdominal pain, and bloating. IBS plagues not just military women and men - it is the single greatest chronic health problem in America.

IBS affects more people than asthma, diabetes, and depression combined. What IBS patients need least is mockery. What they need most is knowledge.

Heather's Tummy Care, my company, is dedicated to serving people with IBS, and we're competing for a $25,000 Fedex Small Business grant to fund education, support, and help that allows people with Irritable Bowel Syndrome to successfully manage their symptoms through simple, safe and effective lifestyle changes.

If you'd like to see $25,000 spent on IBS education, and take a stand against the mockery of IBS, cast your vote here for the Heather's Tummy Care IBS grant today. Thank you! ~ Heather




~ Heather's Tummy Tamers Peppermint Oil Capsules ~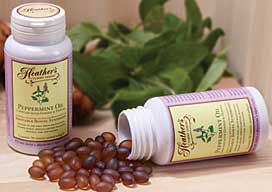 Peppermint Oil Caps Called "Drug of Choice for IBS"

Our Peppermint Oil Caps have the added benefits of fennel and ginger oils, and they help prevent abdominal pain, gas, and bloating!

Worst Drink for IBS Ever!

After our recent and very popular column about what's safe to drink for IBS, I received a lot of letters from folks asking what's NOT safe.

The short answer is, unfortunately, quite a few things.

Just knowing potential triggers is half the battle, so here's a rundown on what drinks you should really avoid altogether. There may be some individual exceptions to the drinks on this list, and I've tried to include those in as much detail as possible.

* Alcohol - it's a GI irritant and a colon carcinogen as well, so it's especially important to avoid altogether if you have an inflammatory bowel disease. Alcohol is more likely to trigger IBS attacks on an empty stomach, so some folks can drink a bit when they're generally stable and have just eaten. If you do drink, please choose wisely, and avoid adding other GI triggers to the equation (so no mixed drinks with dairy, coffee, high fat coconut milk, or carbonation). Some folks find wines more tolerable than hard liquor, and white wines more tolerable than red.

* Black Tea - mostly if you're prone to upper GI problems like heartburn or reflux. Acidic foods, such as the tannic acid in black teas, can trigger or exacerbate acid reflux. Green teas, especially decaffeinated versions, are often much more tolerable. Green tea is also phenomenally good for your overall health, so if you can tolerate the decaf variety, particularly blended with an IBS-helpful tea like fennel or peppermint, it's well worth drinking.

* Energy Drinks - what happens if you take everything awful for IBS that's in soda pop, then add extra artificial ingredients, caffeine, and other GI stimulants? You'll get the most terrible beverage for IBS ever invented. The only way to make it worse would be to add some booze and smoke a few cigarettes with it. I'm actually getting queasy just thinking about this...

* Meal Replacement Drinks - while these logically should be designed for optimum GI tolerability, they're not. I've yet to see a brand that doesn't contain dairy, added dairy proteins like whey, a high fat content, fructose, artificial flavors, artificial colors, caffeine, or all of these triggers combined. You're much better off making your own fresh fruit smoothie with soy milk or rice milk, and adding some Tummy Fiber to the blender.

* Diet, Slimming, or Detox Teas - usually these words are code for "harsh stimulant laxative", such as senna or cascara, or harsh diuretics. You have to read the labels to be sure, so be very careful you know exactly what you're dealing with here.

Feeling discouraged? Don't be! There are many delicious and safe beverage options for IBS, so don't focus on deprivation when you have a wonderful (and long) list of IBS-friendly drinks.

~ Heather

Did you miss our recent "Ask Heather" and What IS Safe to Drink for IBS?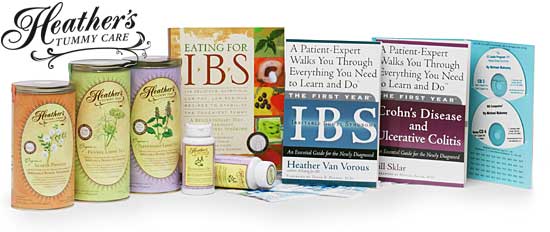 Shop at Heather's Tummy Store for IBS
HelpForIBS.com
The only store that's just for IBS - so we only carry the very best



You're on this newsletter list because you have expressed interest in IBS news and information.
Unsubscribe Here

Change your newsletter email address here.

If you are viewing this newsletter on a website and would like to subscribe for email delivery, please "Join the IBS Newsletter" here.

ANTI-SPAM PRIVACY & SECURITY POLICY
HelpForIBS.com
Heather's Tummy Care
80 S. Washington St, #304
Seattle, WA 98104 USA

© 2014 Heather Van Vorous, Heather's Tummy Care. All rights reserved.
Authored by Heather Van Vorous. May not be reproduced without permission.
USA Copyright Office Registration Number TXU 1-270-858 and others.