April 23, 2013 ~ Scroll down for full newsletter or follow the links:
Ask Heather »
Is Sugar an IBS Trigger? Can I Have My Cake & Eat It Too?
News & Research »
Gut-Directed Hypnotherapy Improves Life with IBS
IBS Recipe »
Brown Sugar Banana Bread
Special Letter »
How to Safely Leave the House Without an IBS Accident!
  
Have questions? Call toll free (866) 640-4942.
Outside the US (206) 264 8069.

Enjoy the newsletter!
Heather Van Vorous & Heather's Tummy Care
Celebrating 10 Years of IBS Business!

Did a friend send you this newsletter? Sign up here for your own free subscription.



Brown Sugar Banana Bread

This bread is a slight variation of my grandmother's recipe. I was raised by my grandparents and I learned to cook at the side of my beloved Grams. Just the smell of this bread baking takes me instantly back to my childhood and those rainy afternoons whiled away in the warmth and comfort of the kitchen. This recipe is, without a doubt, the best banana bread in the world, and it makes absolutely spectacular French toast as well. I love it for breakfast, snacks, and dessert!

Makes Two 9 x 5 inch loaves, 16 slices per loaf

Preheat oven to 350F.

Sift into a large bowl:

3 1/2 cups all-purpose unbleached white flour
1/2 teaspoon baking powder
2 teaspoons baking soda
1/2 teaspoon salt
3 tablespoons Acacia Tummy Fiber

Whisk dry ingredients with a metal whisk until well blended.

In a large bowl blend with an electric mixer until creamy:

6 organic egg whites
1/3 cup canola oil
1 1/3 cup brown sugar
1 tablespoon vanilla
3 cups mashed black bananas (6-8 bananas)

Add dry ingredients to wet and with a few swift strokes blend by hand until smooth. Pour into non-stick loaf pans sprayed with cooking oil and bake for 50-60 minutes or until a toothpick or cake tester inserted into the center of the loaf comes out clean. Cool on rack. Recipe doubles or triples easily, and extra loaves freeze well.

Have a glass of Fennel Tummy Tea to drink with your banana bread!

Are you just learning how to eat for IBS? A little intimidated at the thought of special IBS recipes? Not quite sure just what makes these recipes special in the first place? Don't worry! Get Eating for IBS and find the answers to all your questions.

~ Heather's Tummy Fiber ~
For the Dietary Management of IBS Pain, Diarrhea, &, Constipation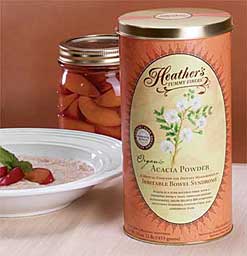 Certified Organic Acacia Senegal ~ Pure Soluble Fiber

The prebiotic fiber that relieves both diarrhea and constipation!

** Very Economical **

** 100% Acacia Senegal ** Never Low Grade Acacia Seyal

How to Safely Leave the House Without an IBS Accident

Dear Heather:

I had emergency surgery last year but was suffering from short gut syndrome as a result. I spent months on bananas, yogurt and rice in an effort to control it. I thought I was going to melt away like an ice-cream cone in July so fast was my weight dropping.

It wasn't until I found Acacia Tummy Fiber that my body slowly began to heal and my hope returned. Thanks to this product I have confidence that I can safely leave the house without an accident.

This product should be recommended to anyone suffering with intestinal complaints, not only IBS. It is a great safe alternative to drugs. Even so, the Tummy Fiber is not an instant cure. It takes time and patience to build up to the correct dosage.

I feel blessed to have found your website. Thank you.

Linda K.
Ontario, Canada

Thank you so much, Linda. You made my day! ~ Heather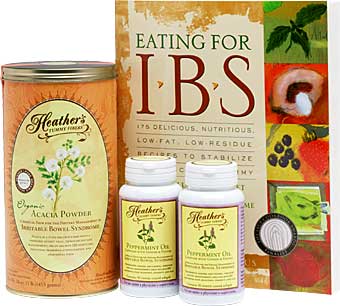 Get the IBS Diet Kit #2 - Comprehensive Help for IBS Diarrhea and Constipation!

* Eating for IBS - the Groundbreaking Diet and Cookbook

* Organic Acacia Tummy Fiber ~ Help Stabilize Bowel Motility!

* Peppermint Oil Tummy Tamers with Fennel Oil ~ prevent bloating and gas!



Gut-Directed Hypnotherapy Improves Life with IBS

Patients with refractory (treatment-resistant) irritable bowel syndrome indicated better illness-related quality of life after undergoing gut-directed group hypnotherapy in addition to medical treatment in a recent study in the American Journal of Gastroenterology. Researchers randomly assigned 100 adult patients with refractory IBS to receive either supportive talks with medical treatment (SMT, controls) or to undergo 10 weekly 45-minute sessions of gut-directed group hypnotherapy (GHT) within 12 weeks, in addition to SMT.

Both groups experienced reductions in abdominal pain, flatulence and constipation, but the hypnotherapy patients indicated significantly better quality of life, better physical well being, psychological well being, and life satisfaction. "Hypnotherapy is highly effective, even in treatment-refractory IBS..." the researchers concluded. "Given that IBS drug developments have been disappointing...hypnotherapy is a useful and harmless therapy option with no side effects."

Go here for full article.

Researchers call gut-directed hypnotherapy a "cure" for IBS!

The Best Gut-Directed Self-Hypnosis Program for All IBS Symptoms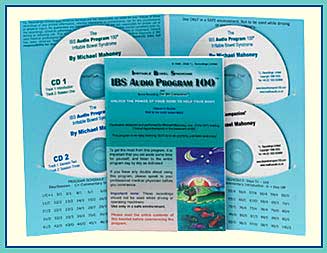 Gives an average 85% reduction of pain and bowel dysfunction symptoms.
Listen to IBS Audio Program 100 samples!

Sweet Success for IBS! Have Your Cake and Eat It Too

"Is sugar an IBS trigger? Should I use artificial sweeteners instead?"

While people with Irritable Bowel Syndrome do have to adjust their diets to control IBS symptoms, this does NOT mean a life of dessert deprivation. (Whew!)

In fact, replacing sugar with artificial sweeteners will likely make digestive problems worse, not better.

Plain baking and cooking sugars, such as granulated, powdered, and brown sugar, are simply sucrose, and sucrose is not an IBS trigger. Refined sugar may certainly not be a health food, but it isn't a GI stimulant or irritant. This means that digestion-friendly desserts need not be sugar-free, they must simply avoid or replace known IBS triggers like dairy, high fat levels, and excessive insoluble fiber.

IBS sufferers should be aware, however, that another type of sugar, fructose - fruit sugar - can cause diarrhea, gas, bloating, and cramps. Fructose is a naturally occurring simple sugar, and is found in concentrated amounts in many commercial drinks, high-fructose corn syrup, and fruit juice concentrates. Adding to the confusion, many people are misdiagnosed with IBS when they actually have fructose intolerance, which a simple breath test can diagnose.

Fructose accounts for less than 10% of the weight of much fresh fruit such as strawberries, bananas or apples. So, please don't eliminate all fresh fruits from your diet, as you need their nutritional benefits. However, dried fruit and fruit juices are far more concentrated sources of fructose, and you might have to restrict them, at least to some degree.

If you find yourself faced with eating more fructose than you're confident will be safe, make sure to take your Tummy Fiber first. This will at least give you an added measure of safety and help keep your gut calm.

In addition, remember that there is no such thing as an artificial sweetener that is proven safe for IBS. Aspartame, sucralose, saccharine, sorbitol, and other sugar alcohols (xylitol, maltitol) are popular artificial sweeteners, but they can all cause digestive side effects ranging from gas and bloating to severe abdominal cramps and urgent diarrhea. In some cases, they can provoke these symptoms in people who don't even have IBS, so imagine what they do to those with hypersensitive bowels.

Stevia, a natural sugar alternative that is becoming quite popular, is an IBS friendly option and not in the artificial sweetener category. Do read ingredients, however, as some commercial stevia blends add other IBS triggers to their products.

So don't worry, people with IBS can absolutely have their cake and eat it too. In fact, there are hundreds of delicious, IBS-safe dessert possibilities!

You can even make desserts that actively help IBS symptoms. The key to an IBS-friendly recipe is a high soluble fiber foundation, from ingredients and/or the addition of a prebiotic soluble fiber supplement such as Heather's Tummy Fiber, and the substitution of triggers with safe replacements.

Include herbs that are digestive aids, such as peppermint, ginger, or fennel for even better results.

For delicious proof, try the Brown Sugar Banana Bread recipe in this newsletter.

The sweet conclusion? There's no need for people with Irritable Bowel Syndrome to completely avoid sugar or eliminate desserts from their diet. They can have their cakes - and puddings, cobblers, tarts, or cookies - and eat them too.

~ Heather



~ Heather's Tummy Tamers Peppermint Oil Capsules ~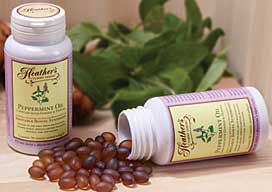 Peppermint Oil Caps Called "Drug of Choice for IBS"

Our Peppermint Oil Caps have the added benefits of fennel and ginger oils, and they help prevent abdominal pain, gas, and bloating!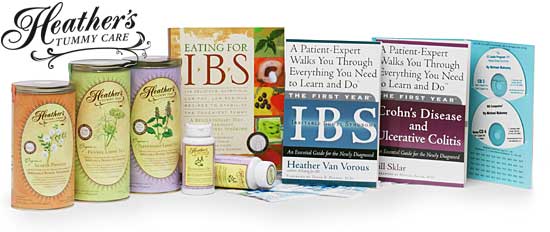 Shop at Heather's Tummy Store for IBS
HelpForIBS.com
The only store that's just for IBS - so we only carry the very best



You're on this newsletter list because you have expressed interest in IBS news and information.
Unsubscribe Here

Change your newsletter email address here.

If you are viewing this newsletter on a website and would like to subscribe for email delivery, please "Join the IBS Newsletter" here.

ANTI-SPAM PRIVACY & SECURITY POLICY
HelpForIBS.com
Heather's Tummy Care
80 S. Washington St, #304
Seattle, WA 98104 USA

© 2013 Heather Van Vorous, Heather's Tummy Care. All rights reserved.
Authored by Heather Van Vorous. May not be reproduced without permission.
USA Copyright Office Registration Number TXU 1-270-858 and others.