All Kits on Sale! Includes Bulk Kits! Take an Extra 10% Off!
Use Promo Code ALLKITS12


Stock Up On Your Favorite IBS Products!
Or Introduce Yourself to Heather's Tummy Care & Get Stable!


November 19, 2012 ~ Scroll down for full newsletter or follow the links:


Ask Heather »
How to Survive - and Enjoy - Thanksgiving Holidays with IBS!
Special Letter »
An ER Nurse Lands in Her Own Emergency Room with IBS?!
IBS Recipe »
Cranberry Sage Stuffing - Your Thanksgiving Safe Foundation
  
Have questions? Call toll free (866) 640-4942.
Outside the US (206) 264 8069.

Enjoy the newsletter!
Heather Van Vorous & Heather's Tummy Care
Celebrating 10 Years of IBS Business!

Did a friend send you this newsletter? Sign up here for your own free subscription.



Cranberry Sage Stuffing

This is a wonderfully old-fashioned stuffing with savory herbs and a light sweet-tart touch from the cranberries. Stuffing is a great soluble fiber foundation for your Thanksgiving meal - as long as it's low fat and dairy free! Remember that soluble fiber is what will keep your digestion stable, and let you safely add in insoluble fiber from chopped and cooked veggies or fruits such as the celery, onion, and cranberries. Enjoy.

Makes 8-10 servings

2 tablespoons olive or canola oil
1 cup celery, finely chopped
1 cup sweet white onion, finely chopped
1 cup finely chopped fresh cranberries
2 tablespoons packed brown sugar
1 tablespoon fresh chopped, or 1 teaspoon dried, sage
2 teaspoons fresh chopped, or 1 teaspoon dried, rosemary
7 cups French or sourdough bread or English muffins, toasted and cut into 1/2" cubes (about 12 slices)
1 tablespoon Acacia Tummy Fiber (optional, but very helpful)
1/2 cup vegetable or fat-free chicken broth
1/2 cup fresh orange juice OR 1/2 cup brewed, cooled Fennel Tummy Tea

Preheat oven to 325F. In a large non-stick skillet cook the celery and onion in the oil over medium heat until very soft and golden. Add cranberries, brown sugar, sage, rosemary, and salt and pepper to taste. Cook, stirring, for 5 minutes. Transfer mixture to a large bowl, add toasted bread cubes, and stir gently but thoroughly until well combined.

Spoon stuffing into a 3-quart casserole dish. Add the Acacia Tummy Fiber to a small bowl and stir in the broth and the orange juice (or fennel tea) till dissolved, then drizzle liquid over the stuffing and gently stir. Bake, covered, for 30 minutes. Uncover and bake 30 minutes more.

For a special Thanksgiving dessert, serve everybody's favorite Heather Cooks! DVD recipe, 5 Minute Pumpkin Pie!

Are you just learning how to eat for IBS? A little intimidated at the thought of special IBS recipes? Not quite sure just what makes these recipes special in the first place? Don't worry! Come see the IBS Diet pages, and find the answers to all your questions.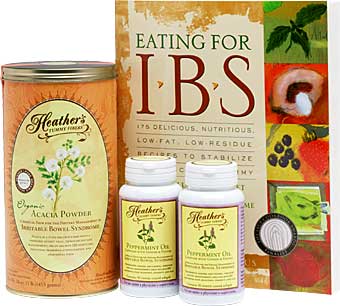 Try the IBS Diet Kit #2 - for Diarrhea AND Constipation!

* Eating for IBS - the Groundbreaking Diet and Cookbook

* Organic Acacia Tummy Fiber ~ for IBS Pain, Diarrhea and Constipation!

* Peppermint Oil Tummy Tamers with Fennel Oil ~ prevent bloating and gas!



An ER Nurse Lands in Her Own Emergency Room with IBS

Hi Heather

I started using the Tummy Fiber and Peppermint Oil Caps almost a month ago. This after having been to my regular care provider and the emergency room because of the pain. My inflammation became so bad that it spread to the mesentery lining.

I heard, "I am not sure what is causing it, but if you take the anti-inflammatory medications it should help it." That cost me almost $1700.00 with insurance.

I was so angry that none of them were concerned with the cause. Oh, did I mention I work in that emergency room as a nurse? Yes indeed I do. I shared my disappointment with the lead MD and also what I'd found to be the answer to my prayers.

I am elated to share with you that I have been able to return to an almost normal existence with your assistance. I faithfully take my Tummy Fiber 3 times a day, ensure I snack on the 'allowed' foods, have eliminated the naughty foods and have started on vitamin supplements to ensure nutrition.

Thank you very much for the assistance. I have also lost close to 8 pounds and inches around my waist. The bloating has gone.

I thought it was age and weight. Yes, the pain has gone without the damaging anti-inflammatory medications. The recipes from your book are easy and delicious.

Thank you, Thank You!!!!

Maureen Tuteur-Stish

Thank you so much, Maureen! I know many other people who have had awful experiences like this will really appreciate your story! ~ Heather



~ Heather's Tummy Tamers Peppermint Oil Capsules ~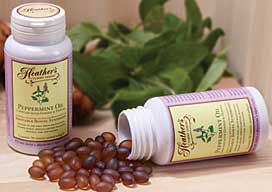 Peppermint Oil Caps Called "Drug of Choice for IBS"

Our Peppermint Oil Caps have the added benefits of fennel and ginger oils, and they help prevent abdominal pain, gas, and bloating!

Thanksgiving Holidays with IBS
"I'll be traveling over the holidays and going home for Thanksgiving. How can I stay stable while I'm out of the house for the holidays?"

First of all, have faith that it is definitely possible (and not even all that difficult) to have a great time during the holidays and keep your IBS safely in check. So let's take the holiday issues one at a time...

Thanksgiving Day

Remember that although it's an annual rite to stuff yourself like the Thanksgiving turkey, too much of any food at one sitting is a bad idea. Help keep your digestion stable by keeping your meal size reasonable, and wait a while before having seconds.

To help prevent overeating in the first place, have a good sized breakfast of a soluble fiber staple such as oatmeal or cream of rice cereal, and don't forget to add in your Acacia Tummy Fiber. At dinner, take just a little of everything and enjoy every bite. After the meal, go for a leisurely walk (instead of crashing on the sofa) to help keep your digestion on track.

Since Thanksgiving is traditionally centered around food - and lots of it - focus on the dishes that are both safe and delicious. For the turkey itself, choose just the white meat (no skin!) to keep your fat content low. Add a little cranberry sauce instead of gravy (which is pure fat), and get a good soluble fiber basis from the stuffing. (Check the fabulous recipe above for an IBS-friendly stuffing that's especially delicious.)

If you make traditional mashed potatoes with soy or rice milk instead of dairy, they'll be a terrific low fat, high soluble fiber foundation for the meal as well. The same thing goes for candied sweet potatoes - substitute small amounts of olive oil for tons of butter, and you'll have even more safe soluble fiber in your meal.

You don't have to skip dessert! There's no need to when you have a wealth of digestion-friendly options like 5 Minute Pumpkin Pie to choose from.

For an extra margin of safety in the first place, take a Tummy Tamer peppermint oil capsule before the meal to help offset the effects of the extra fat you might be eating despite your best efforts. If you start having problems after the meal, immediately have a cup of your Tummy Tea - peppermint for pain and spasms, fennel for bloating and gas.

Travel Tips

As usual with IBS, the best defense is a good offense, and for traveling this means taking time to think things through in advance. It will be worth your while to make careful but flexible plans, take some simple precautions, and prepare to ask questions or make special requests on your trip to get your dietary and stress management needs met.

Feeling guilty about somehow being "difficult" in this regard is not allowed. Taking care of your health is a legitimate priority, holidays or not, and that's all there is to it.

For travel itself, whether car, plane or train rides, bring your own food and travel packets of your soluble fiber supplement to add to your travel meals or bottled water.

Do not assume that the meals being provided by travel services, or the tourist restaurants along your route, will offer any safe choices whatsoever. Odds are they won't. If you rely on fennel or peppermint tea to keep your symptoms in check, bring a supply of high volatile oil teabags with you as well, and just ask for hot water so you can brew your own.

It's important that you're extra careful to follow the IBS dietary guidelines from the first day of your trip to the last, as travel is always upsetting to your body even if you're not immediately aware of the effects. This physical stress can quickly rear its head in the form of an IBS attack, so focus on prevention at all costs. Precautionary efforts will let you enjoy the holidays, not suffer through them.

In addition to taking dietary measures, maintain your stress management program while traveling, at least to the best of your ability. Try to find a peaceful time and place each day to be alone and relax. (Taking a long hot bath before bed is one option.) Ask in advance for a quiet room if you're staying in a hotel.

If exercise is key to your IBS management, make it a priority of your trip. Take your work out clothes and shoes with you and unpack them first so you're ready to go. If you don't have the option of exercising as planned once you're actually on holiday, change tactics and adapt - find any variation that works and go with it.

Disruptions to your sleep cycle are almost inevitable when traveling, particularly if you change time zones. Make an extra effort to overcome this potential trigger as quickly as possible. If you can, bring your own pillow with you. This is one of my favorite tricks for ensuring that I get good sleep even if I'm not in my own familiar bed. As a daily rule, try to go to bed earlier than you think necessary and get a little extra rest - this will definitely minimize your risk of attacks. Even scheduling a few naps here and there can make a world of difference.

If you need a full-on plan of attack for staying stable while traveling, get comprehensive information here in the First Year IBS. Remember, the whole point of taking a holiday is to end up happy and well-rested!

~ Heather

Did you miss the recent "Ask Heather" and how to get off laxatives? Find it here...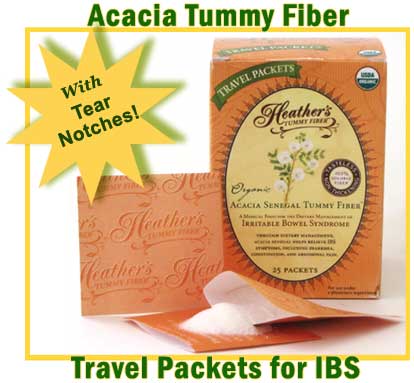 Certified Organic Acacia Senegal ~ Pure Soluble Fiber

The prebiotic fiber that relieves both diarrhea and constipation



You're on this newsletter list because you have expressed interest in IBS news and information.
Unsubscribe Here

Change your newsletter email address here.

If you are viewing this newsletter on a website and would like to subscribe for email delivery, please "Join the IBS Newsletter" here.

ANTI-SPAM PRIVACY & SECURITY POLICY
HelpForIBS.com
Heather's Tummy Care
80 S. Washington St, #304
Seattle, WA 98104 USA

© 2012 Heather Van Vorous, Heather's Tummy Care. All rights reserved.
Authored by Heather Van Vorous. May not be reproduced without permission.
USA Copyright Office Registration Number TXU 1-270-858 and others.