February 28, 2012 ~ Scroll down for full newsletter or follow the links:



Twitter

Ask Heather »
Wrapping Up the Seven Deadly Doctor IBS Sins
IBS Recipe »
Mushroom Thyme Breakfast Scramble
Special Letter (nope - a special poem!) »
A Sonnet for IBS Sufferers
  
Have questions? Call toll free (866) 640-4942.
Outside the US (206) 264 8069.

Enjoy the newsletter!
Heather Van Vorous & Heather's Tummy Care
Celebrating 10 Years of IBS Business!

Did a friend send you this newsletter? Sign up here for your own free subscription.



Mushroom & Thyme Breakfast Scramble

Scrambled eggs are so easy to make safe for IBS - just omit the yolks and use only whites, and fry with cooking spray in a nonstick skillet. Adding sauteed wild mushrooms makes for a decadent (but optional) touch, and the sourdough toast plus Acacia Tummy Fiber gives a nice soluble fiber foundation. A dash of Marsala or Sherry deliciously shows how small amounts of alcohol can be safely incorporated into recipes for heightened flavor.

I love this dish not just for breakfast, but for a light supper as well.

Makes 1 serving (easily doubled or tripled)

2 organic egg whites
1 teaspoon Acacia Tummy Fiber (optional)
dash salt
1/2 tablespoon fresh thyme, or 1/2 teaspoon dried
2/3 cup wild mushrooms (oyster, portabella, shitake, etc.), cleaned and finely chopped
(or substitute chopped white button mushrooms)
1 garlic clove, minced
1 teaspoon - 1 tablespoon Marsala, Sherry, or cooking Sherry, to taste
1 large slice sourdough bread, toasted

In a small bowl whisk together egg whites with Tummy Fiber, thyme and salt. Set aside. In a small nonstick skillet sprayed with cooking oil saute the mushrooms and garlic over medium heat until tender, and liquid from mushrooms has evaporated. Reduce heat to medium low, Add egg mixture and Marsala and cook, stirring, over medium heat until egg has just cooked through. Spoon over toast and serve.

Have a glass of lightly sweetened Fennel Tummy Tea to drink with your scramble!

Are you just learning how to eat for IBS? A little intimidated at the thought of special IBS recipes? Not quite sure just what makes these recipes special in the first place? Don't worry! Get Eating for IBS and find the answers to all your questions.

~ Heather's Tummy Tamers Peppermint Oil Capsules ~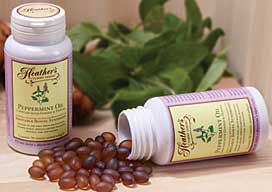 Peppermint Oil Caps Called "Drug of Choice for IBS"

Our Peppermint Oil Caps have the added benefits of fennel and ginger oils, and they help prevent abdominal pain, gas, and bloating!

A Sonnet for IBS Sufferers

Hi Heather, I wrote this sonnet for fun, so if you want to share online with others I give you the rights. My own problem is much better thanks to your help, and so it's just a way to say Thanks! The poem is really a request, and I know you're always on the lookout for just such a food!

The Holy Gruel
for Heather Van Vorous

I wish there were a food that I adored,
That I could ravenously gorge each meal,
A food that whether stale, frozen, or stored,
Would seduce my senses with its sex appeal.
Easy to chew and swallow, in its march
To make my body's nourishment complete,
It would contain no sugar, salt, or starch,
Would slaughter no animals for their meat.
This food would not only strengthen my heart
But also make my body feel just right--
It wouldn't give me gas to burp and fart,
Or keep me on the potty half the night.
If you could find me just one food like that,
I wouldn't mind a bit if I died fat.

John Godbey
Carrollton Texas


John, this is one of the sweetest things I have ever received. I thank you so much for your generosity and humor! ~ Heather

Did you miss the recent note from Marcia, an undomesticated princess with an amazing story?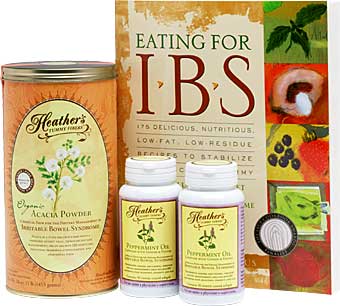 Get the IBS Diet Kit #2 - Comprehensive Help for IBS Diarrhea and Constipation!

* Eating for IBS - the Groundbreaking Diet and Cookbook

* Organic Acacia Tummy Fiber ~ Help Stabilize Bowel Motility!

* Peppermint Oil Tummy Tamers with Fennel Oil ~ prevent bloating and gas!



Seven Deadly Doctor Sins of IBS - Part 2

We're wrapping up our special series on IBS Basics this week. Recently, we addressed the first four deadly doctor IBS sins.

This time, we'll tackle the remaining common (and significant) areas where IBS patients need help from their doctors, but don't get it.

Please remember that it's up to you to work with your doctor in the following areas, but if that's just not possible the best solution I know is to persist in finding a new (informed, empathetic, and helpful) doctor.

5. Herbal medicine. More than half of all IBS patients try herbal medicines such as enteric coated peppermint oil capsules for pain and spasms, probiotic supplements for bowel irregularities, or fennel for gas and bloating - all of which have clinical studies demonstrating their effectiveness for IBS symptoms.

Peppermint oil caps have actually been called the "drug of first choice" for IBS patients with constipation or diarrhea, to alleviate general symptoms, and to improve quality of life.

People would like their doctors to inform them of the best ways to use herbal medicines and if there are any safety concerns, but most say that their doctors simply don't know anything about this subject.

6. Understanding their diagnosis. IBS patients see an average of three physicians over three years before receiving a diagnosis, but they are rarely given a clear explanation of what, exactly, IBS is. Patients frequently report uncertainty about the test results (or lack thereof) used to obtain their diagnosis, and they are looking for assurance that their diagnosis is accurate. They want to understand exactly what causes their symptoms, and they need to hear that IBS will not lead to other illnesses such as colon cancer.

Many patients express frustration with the lack of basic IBS anatomical information provided by their physicians, including the frequent omission of any discussion of the brain-gut disorder that underlies IBS symptoms. Patients feel at a loss to treat their IBS when they're not even told what IBS is.

7. IBS is not taken seriously. IBS patients repeatedly report having their complaints diminished or outright dismissed by their own physicians. The most common refrain they hear is that IBS is "all in their heads", IBS is "not a serious problem", and that there is nothing that can be done for IBS so they should just "learn to live with it." Every one of these statements is false, and this type of denigration has catastrophic results.

The severity of IBS can be measured by its direct costs (use of healthcare-related services such as physician visits and diagnostic tests), which have been estimated to range from $1.5 to $10 billion annually in America. The indirect costs of IBS (loss of hourly wages resulting from missed work or diminished work productivity resulting from absences for physician visits or incapacitating symptoms) are estimated to be much greater - approaching $20 billion annually.

The costs of IBS can be measured not just in currency but in lives. In 2004 the American Gastroenterological Association reported that 38% of IBS patients in one study had contemplated suicide because of their symptoms. Hopelessness due to symptom severity, interference with life, and inadequacy of treatment were highlighted as crucial issues for all IBS patients. It's tragically clear that a significant number of IBS patients cannot "just live with it."

In summary, while there is an obvious need for effective IBS patient educational programs, much of the feedback I receive from people (and even research studies) indicate that physician education clearly needs to come first.

Doctors now have more scientific knowledge and an improved range of treatment options that can provide relief for IBS sufferers. Unfortunately, too many physicians seem to be completely unaware of this fact, and it's their IBS patients who pay the price. Please don't be one of them.

~ Heather

Did you miss our recent "Ask Heather" and why high volatile oil peppermint is special for IBS?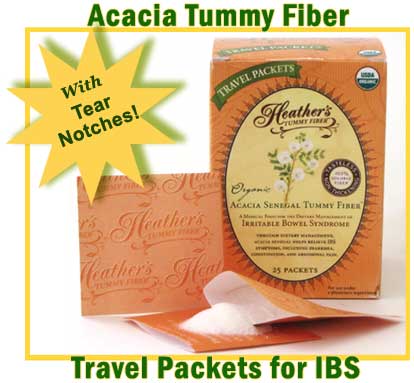 Certified Organic Acacia Senegal ~ Pure Soluble Fiber

Prebiotic fiber!
Relieves both diarrhea and constipation!

100% Acacia Senegal ** Never Low Grade Acacia Seyal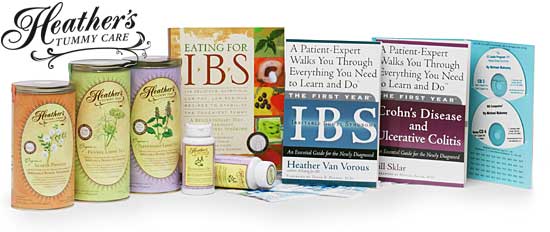 Shop at Heather's Tummy Store for IBS
HelpForIBS.com
The only store that's just for IBS - so we only carry the very best



You're on this newsletter list because you have expressed interest in IBS news and information.


Change your newsletter email address here.

If you are viewing this newsletter on a website and would like to subscribe for email delivery, please "Join the IBS Newsletter" here.

ANTI-SPAM PRIVACY & SECURITY POLICY
HelpForIBS.com
Heather's Tummy Care
80 S. Washington St, #304
Seattle, WA 98104 USA

© 2012 Heather Van Vorous, Heather's Tummy Care. All rights reserved.
Authored by Heather Van Vorous. May not be reproduced without permission.
USA Copyright Office Registration Number TXU 1-270-858 and others.