Free Shipping! All Orders Over $39 Shipped in the USA!

Use Promo Code FREESHIP9A



September 27, 2011 ~ Scroll down for full newsletter or follow the links:



Twitter

Ask Heather »
What's the Worst Drink for IBS Ever?
IBS Recipe »
Bumper Crop Zucchini Bread
Research & Press »
Infuriating Study: Colonoscopies More Painful for IBS Patients
Special Letter »
Outstanding Recipes with No Triggers! Eating for IBS
  
Have questions? Call toll free (866) 640-4942.
Outside the US (206) 264 8069.

Enjoy the newsletter!
Heather Van Vorous & Heather's Tummy Care
Celebrating 10 Years of IBS Business!

Did a friend send you this newsletter? Sign up here for your own free subscription.



Bumper Crop Zucchini Bread

The perfect way to use an abundance of summer garden zucchini! This is one of my favorites - my grandmother's delicious old-fashioned recipe. It's slightly sweet, very moist, and so heavenly it's hard to believe it's good for you. The zucchini gives a wonderfully rich texture with very little added oil, and the cinnamon is a delicious digestive aid.

The Tummy Fiber, while optional, will make the bread even richer and moister, and will add extra soluble fiber.

Makes two small 9 x 5 inch loaves, 12 slices per loaf

Preheat oven to 325 F.

Sift into a large bowl:
3 cups all-purpose unbleached white flour
3 tablespoons Acacia Tummy Fiber
1 teaspoon salt
1 teaspoon baking soda
1 tablespoon ground cinnamon
1/4 teaspoon baking powder

Whisk dry ingredients with a metal whisk until thoroughly blended. Set aside.

In another large bowl beat well with an electric mixer until light and foamy:
6 organic egg whites

Beat into the egg whites:
1/2 cup canola oil
1 1/2 cups packed brown sugar
2 cups grated unpeeled zucchini
2 teaspoons vanilla

Add dry ingredients to wet with a few swift strokes by hand just until well blended. Pour batter into two non-stick loaf pans sprayed with cooking oil. Bake for about 50-60 minutes or until a toothpick or cake tester inserted into the center of the loaf comes out clean. Cool on racks.

This bread freezes beautifully, so if you have a huge crop of zucchini make a bunch of extra loaves and freeze them for future breakfasts and snacks.

Have a glass of lightly sweetened Fennel Tummy Tea to drink with your zucchini bread!

Are you just learning how to eat for IBS? A little intimidated at the thought of special IBS recipes? Not quite sure just what makes these recipes special in the first place? Don't worry! Get Eating for IBS and find the answers to all your questions.

Get Free Shipping On US Orders Over $39!

Use Promo Code FREESHIP9A

~ Heather's Tummy Tamers Peppermint Oil Capsules ~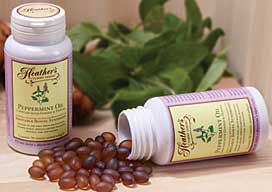 Peppermint Oil Caps Called "Drug of Choice for IBS"

Our Peppermint Oil Caps have the added benefits of fennel and ginger oils, and they help prevent abdominal pain, gas, and bloating!

Outstanding Recipes with No Triggers!

Hi Heather!

I wanted to express my sincere gratitude for your outstanding IBS cookbook and for the helpful resource information you provide on your website.

After 8 weeks of severe lower abdominal pain, I was diagnosed last month with IBS. To be honest, I was relieved because I thought my diagnosis was going to be cancer or something life-threatening because of the pain I was in.

I accepted my diagnosis and moved onto the challenge of finding options for cooking for myself and my family. You see, my husband and I love to cook creative, ethnic foods. We love playing with spices and various marinades and rubs. I thought my days of creative cooking were over...until I bought your cookbook.

The recipes are outstanding and I have tried many of them. No trigger issues at all. My favorite recipe was the rich chocolate silk pie. Best of all, nobody even realizes that they are eating recipes from an IBS cookbook - not guests or my family.

Thank you for taking the time to perfect this fantastic cookbook!

P.S. I literally just finished making Dreamy Lemon Rice Pudding 10 minutes ago. Can't wait to try it!

Warmly,
Leza R.

Thank you so much, Leza! Writing Eating for IBS was the first thing I ever did in the whole IBS field. It just makes my day that the diet information and recipes are still current and helpful - and the book is still the number one IBS best-seller! - after ten years of publishing. I am so happy you're feeling better! ~ Heather

Did you miss the recent letter from Amanda, who has seen a huge difference after just five days of the Eating for IBS diet?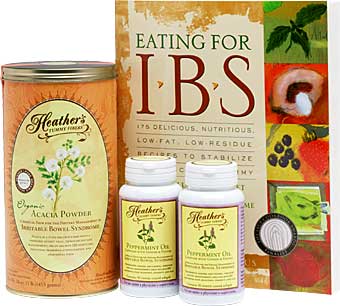 Get the IBS Diet Kit #2 - Comprehensive Help for IBS Diarrhea and Constipation!

* Eating for IBS - the Groundbreaking Diet and Cookbook

* Organic Acacia Tummy Fiber ~ Help Stabilize Bowel Motility!

* Peppermint Oil Tummy Tamers with Fennel Oil ~ prevent bloating and gas!



Colonoscopies More Painful for IBS Patients

A study in the Journal of Gastroenterology and Hepatology investigated differences in pain perception during colonoscopy between IBS patients and non-IBS patients. The study further assessed the sensitivity, specificity, and predictive values of pain scores in order to diagnose IBS.

A total of 217 patients were included. The pain scores of IBS patients were higher than those of the healthy controls. The study concluded that a colonoscopy can be useful in identifying IBS patients, with the additional benefit of excluding organic disorders of the lower gastrointestinal tract. Go here for full article.

As an aside, I find it horrifying that the conclusion of this study is not a call to physicians to take extra measures to prevent pain during colonoscopies of IBS patients. Instead, the researchers are advocating using the degree of pain patients experience to indicate a diagnosis of IBS.

Colonoscopies should not be painful for any patient, whether they have IBS or not. If the patient is in pain during the procedure, then the doctors performing the procedure are doing something wrong. ~ Heather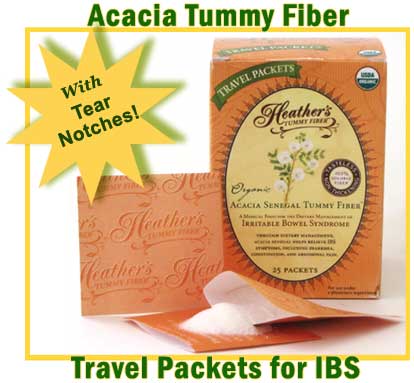 Certified Organic Acacia Senegal ~ Pure Soluble Fiber

Prebiotic fiber!
Relieves both diarrhea and constipation!

100% Acacia Senegal ** Never Low Grade Acacia Seyal

What's the Worst Drink for IBS Ever?

I get asked so often what' safe to drink for IBS - and what's not safe to drink - that I thought it was time to cover this topic again.

There are quite a few things to avoid drinking if you have IBS, but remember that just knowing potential triggers is half the battle. There may be some individual exceptions to the drinks on this list, and I've tried to include those in as much detail as possible.

In general, though, you're best to avoid these bad boys altogether, and give your love to the wealth of delicious, safe alternatives instead.

* Coffee - Both regular AND decaf coffees contain an enzyme that's an extremely strong GI tract irritant. In addition, the caffeine in coffee is a GI stimulant, and coffee is highly acidic, which can aggravate the upper GI symptoms (such as acid reflux or heartburn) that many people with IBS are prone to.

Sometimes people with IBS-constipation come to rely on coffee for its laxative effect, but because it's such a harsh irritant it's likely to cause cramps, spasms and rebound diarrhea. It can also worsen constipation if it causes intestinal spasms severe enough to seize up the colon to such an extent that motility is slowed or outright halted.

If I had to name one of the all-time worst beverages for IBS, coffee might win the prize...but wait! There's something even more terrible, so keep reading....

* Soda Pop - The only IBS-safe ingredient in soda pop is the water. Most commercial brands are sweetened with high fructose corn syrup, and fructose is a very poorly digested sugar. What does this mean? It means it can cause cramps, spasms, bloating, gas, and diarrhea.

Does this mean that diet soda is a safer bet? Nope - artificial sweeteners are even worse. Splenda, NutraSweet, Equal, saccharine, sorbitol, and all other artificial sweeteners can trigger IBS symptoms.

Many soda pops also contain caffeine. All of them are carbonated, and carbonation can cause or increase gas and bloating, or trigger intestinal spasms. If I had to actually design a deadly-for-IBS drink, I'd come up with something just like soda pop.

* Dairy - But wait, what if it's low fat? What if it's lactose-free? What if it has live cultures? Doesn't matter, doesn't matter, doesn't matter.

It's not just the fat and the lactose in dairy that can trigger severe IBS symptoms. All dairy beverages contain components such as the proteins whey and casein, which can cause severe digestion problems. Avoid dairy altogether, and if you need a replacement use soy, rice, oat, or nut non-dairy substitutes. There are a ton of different brands, products, flavors, and more on the market now, at regular grocery stores as well as health food markets.

* Alcohol - it's a GI irritant and a colon carcinogen as well, so it's especially important to avoid if you have an inflammatory bowel disease. Alcohol is more likely to trigger IBS attacks on an empty stomach, so some folks can drink a bit when they're generally stable and have just eaten. If you do drink, please choose wisely, and avoid adding other GI triggers to the equation (so no mixed drinks with dairy, coffee, high fat coconut milk, or carbonation). Some folks find wines more tolerable than hard liquor, and white wines more tolerable than red.

* Black Tea - mostly if you're prone to upper GI problems like heartburn or reflux. Acidic foods, such as the tannic acid in black teas, can trigger or exacerbate acid reflux. Green teas, especially decaffeinated versions, are often much more tolerable. Green tea is also phenomenally good for your overall health, so if you can tolerate the decaf variety, particularly blended with an IBS-helpful tea like fennel for bloating or peppermint for pain and spasms, it's well worth drinking.

* Energy Drinks - what happens if you take everything awful for IBS that's in soda pop, then add extra artificial ingredients, caffeine, and other GI stimulants? You'll get the most awful beverage for IBS ever invented. The only way to make it worse would be to add some hard liquor and smoke a cigarette with it. I'm actually getting queasy just thinking about this...

* Meal Replacement Drinks - while these logically should be designed for optimum GI tolerability, they're not. I've yet to see a brand that doesn't contain dairy, added dairy proteins like whey, a high fat content, fructose, artificial flavors, artificial colors, caffeine, or all of these triggers combined. You're much better off making your own fresh fruit smoothie with soy milk or rice milk, and adding some Tummy Fiber to the blender.

* Diet, Slimming, or Detox Teas - usually these words are code for "harsh stimulant laxative", such as senna or cascara, or harsh diuretics. You have to read the labels to be sure, so be very careful you know exactly what you're dealing with here.

Feeling discouraged? Don't be! There are many delicious and safe beverage options for IBS, so don't focus on deprivation when you have a wonderful (and long) list of IBS-friendly drinks.

~ Heather

Did you miss the recent Ask Heather and what about sugar for IBS?

Get Free Shipping On US Orders Over $39!

Use Promo Code FREESHIP9A

Researchers call gut-directed hypnotherapy a "cure" for IBS!

The Best Gut-Directed Self-Hypnosis Program for All IBS Symptoms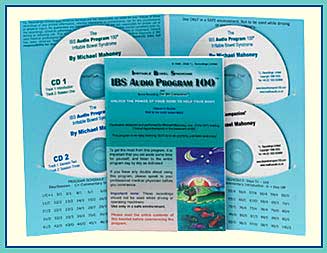 Gives an average 85% reduction of pain and bowel dysfunction symptoms.
Listen to IBS Audio Program 100 samples!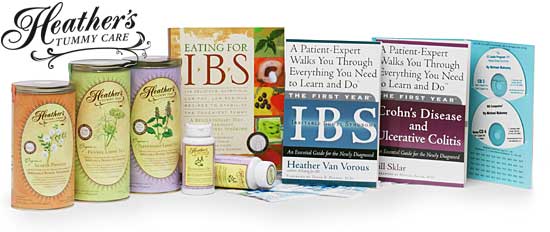 Shop at Heather's Tummy Store for IBS
HelpForIBS.com
The only store that's just for IBS - so we only carry the very best



You're on this newsletter list because you have expressed interest in IBS news and information.


Change your newsletter email address here.

If you are viewing this newsletter on a website and would like to subscribe for email delivery, please "Join the IBS Newsletter" here.

ANTI-SPAM PRIVACY & SECURITY POLICY
HelpForIBS.com
Heather's Tummy Care
80 S. Washington St, #304
Seattle, WA 98104 USA

© 2011 Heather Van Vorous, Heather's Tummy Care. All rights reserved.
Authored by Heather Van Vorous. May not be reproduced without permission.
USA Copyright Office Registration Number TXU 1-270-858 and others.