August 16, 2011 ~ Scroll down for full newsletter or follow the links:

Twitter

Ask Heather »
Is Sugar an IBS Trigger? Can I Have My Cake & Eat It Too?
IBS Recipe »
Peach Apricot Cobbler
News & Research »
Colon Cleansing Not Beneficial, May Be Dangerous
Special Letter »
Haven't Felt This Good in a Long Time!
  
Have questions? Call toll free (866) 640-4942.
Outside the US (206) 264 8069.

Enjoy the newsletter!
Heather Van Vorous & Heather's Tummy Care
Celebrating 10 Years of IBS Business!

Did a friend send you this newsletter? Sign up here for your own free subscription.



Peach Apricot Cobbler

Fruit cobbler is a wonderful old-fashioned dessert that's traditionally topped with a high fat butter (or even lard) based biscuit dough. My version is so much healthier, and uses just a small amount of canola oil for richness. The biscuits are especially light and tender from the clabbered soy milk, which is simply soy milk blended with vinegar. This step replaces the traditional buttermilk, so you can avoid the digestive upsets from dairy while keeping the tang and fluffy texture buttermilk lends to baking.

Choose the freshest, ripest fruit you can find for this recipe, and for extra digestive stability peel the fruit to reduce the insoluble fiber level. To peel peaches or apricots, simply drop the whole fruit into a large bowl filled with boiling hot water, and let sit for about 5 minutes. Remove the fruit and the skins should slide right off. The Tummy Fiber adds even more soluble fiber stability to this fantastic dessert - enjoy!

8 Servings

Filling:
2 C pitted, peeled fresh apricots
2 C pitted, peeled fresh peaches
1/3 C - 2/3 C sugar (to taste)
1 T cornstarch
1 T Acacia Tummy Fiber
1 T fresh lemon juice

Biscuits: 2 C sifted unbleached white flour
2 t baking powder
3/4 t baking soda
1/2 t salt
2 T granulated sugar
4 T canola oil
1 C soy or rice milk
1 t apple cider vinegar

Preheat oven to 425F.

For Filling: Chop apricots and peaches, then stir all filling ingredients except lemon juice together in a medium saucepan, and bring mixture just to a boil. Remove from heat and add lemon juice. Spray an 8" or 9" baking pan or casserole dish with cooking oil spray, and fill pan with fruit mixture.

For Biscuits: In a large bowl, sift then whisk dry ingredients. In a small bowl blend together soy milk and vinegar until mixture thickens slightly, and then blend in oil. With a fork blend wet ingredients into dry until well-mixed. Drop dough by tablespoonfuls onto the fruit filling in pan (have spoonfuls lightly touch - this will help them rise). Bake for 18-22 minutes until golden brown, and a toothpick inserted into a biscuit comes out clean.

Have a glass of lightly sweetened Fennel Tummy Tea to drink with your dessert!

Are you just learning how to eat for IBS? A little intimidated at the thought of special IBS recipes? Not quite sure just what makes these recipes special in the first place? Don't worry! Get Eating for IBS and find the answers to all your questions.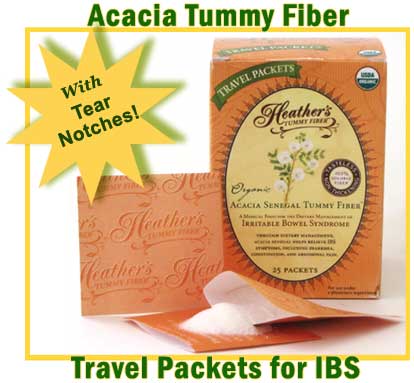 Certified Organic Acacia Senegal ~ Pure Soluble Fiber

Prebiotic fiber!
Relieves both diarrhea and constipation!

100% Acacia Senegal ** Never Low Grade Acacia Seyal

Haven't Felt This Good in a Long Time!

Dear Heather:

First off a HUGE thanks for creating this website and writing your books! I've been following your diet guidelines for five days and have seen a huge difference! I am a fan already.

I haven't felt this good in a long time. I love your cookbook and love the fact that I can get more recipes online too.

I received my IBS Diet Kit within three days (it was like Christmas morning)! I am so excited that I now have something that works for me and my body.

I was tired of taking Pepto all the time (I am afraid of what that might have done to my body too).

Again, thank you for sharing your knowledge and having a website where we can all chat and share recipes! I didn't know where I could send this note but hopefully you get to read my note of thanks! Of course you can use it! I am truly excited to find something that works!

Life is what you make it. :-)

Amanda Savoy

Thank you so much, Amanda. You made my day! ~ Heather

Did you miss the recent note from Sarah, an absolutely amazing fourteen year old girl who helped herself?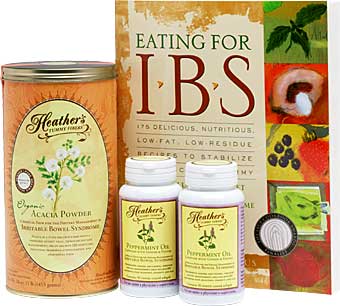 Get the IBS Diet Kit #2 - Comprehensive Help for IBS Diarrhea and Constipation!

* Eating for IBS - the Groundbreaking Diet and Cookbook

* Organic Acacia Tummy Fiber ~ Help Stabilize Bowel Motility!

* Peppermint Oil Tummy Tamers with Fennel Oil ~ prevent bloating and gas!



Colon Cleansing Not Backed by Science and Can Be Dangerous

Colon cleansing has no evidence to support its use, and can lead to pain, vomiting, and fatal infections, according to a new report in the August Journal of Family Practice.

Colon cleansing has been practiced since antiquity as a means of enhancing health through ridding the body of toxins. These procedures are similar to enemas, except that volumes in excess of 50 liters sometimes are used, and the procedure may be done repeatedly. The liquids used often contain herbal extracts such as cat's claw, burdock, and milk thistle, or other substances such as coffee, enzymes, and probiotics.

Among the benefits touted for colon cleansing are improvements in circulation, immune function, and alleviation of ailments such as headache and fatigue.

Users can perform the procedure themselves, but many visit hydrotherapists or colon hygienists. These providers may be certified by groups such as the International Association for Colon Hydrotherapy, but are not necessarily licensed healthcare providers.

They are required to have little more than a high school diploma and certification in cardiopulmonary resuscitation, according to Mishori and colleagues.

In their report, Mishori and colleagues scanned published literature on colon cleansing and found case reports of air embolism, septicemia, and fatal parasitic infections. The liquid preparations used for colon cleansing are classified as food supplements and are not approved as safe or effective by the FDA, the authors explained. However, the devices, such as irrigation systems, are FDA Class III. If these devices are used in ways beyond what is medically accepted, such as in preparation for gastrointestinal procedures, the manufacturer must seek FDA approval.

"During the past decade the FDA has issued numerous warning letters to manufacturers for unapproved use of the devices for colon cleansing," the authors noted.

Go here for full article.

Researchers call gut-directed hypnotherapy a "cure" for IBS!

The Best Gut-Directed Self-Hypnosis Program for All IBS Symptoms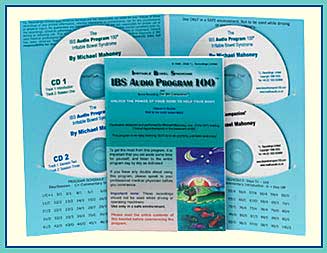 Gives an average 85% reduction of pain and bowel dysfunction symptoms.
Listen to IBS Audio Program 100 samples!

Sweet Success for IBS! Have Your Cake and Eat It Too

"Is sugar an IBS trigger? Should I use artificial sweeteners instead?"

While people with Irritable Bowel Syndrome do have to adjust their diets to control IBS symptoms, this does NOT mean a life of dessert deprivation. (Whew!)

In fact, replacing sugar with artificial sweeteners will likely make digestive problems worse, not better.

Plain baking and cooking sugars, such as granulated, powdered, and brown sugar, are simply sucrose, and sucrose is not an IBS trigger. Refined sugar may not be a health food, but it isn't a GI stimulant or irritant. This means that digestion-friendly desserts need not be sugar-free, they must simply avoid or replace known IBS triggers like dairy, high fat levels, and excessive insoluble fiber.

IBS sufferers should be aware, however, that another type of sugar, fructose - fruit sugar - can cause diarrhea, gas, bloating, and cramps. Fructose is a naturally occurring simple sugar, and is found in concentrated amounts in many commercial drinks, high-fructose corn syrup, and fruit juice concentrates. Adding to the confusion, many people are misdiagnosed with IBS when they actually have fructose intolerance, which a simple breath test can diagnose.

Fructose accounts for less than 10% of the weight of much fresh fruit such as strawberries, bananas or apples. So, please don't eliminate all fresh fruits from your diet, as you need their nutritional benefits. However, dried fruit and fruit juices are far more concentrated sources of fructose, and you might have to restrict them, at least to some degree.

If you find yourself faced with eating more fructose than you're confident will be safe, make sure to take your Tummy Fiber first. This will at least give you an added measure of safety and help keep your gut calm.

In addition, remember that there is no such thing as an artificial sweetener that is proven safe for IBS. Aspartame, sucralose, saccharine, sorbitol, and other sugar alcohols (xylitol, maltitol) are popular artificial sweeteners, but they can all cause digestive side effects ranging from gas and bloating to severe abdominal cramps and urgent diarrhea. In some cases, they can provoke these symptoms in people who don't even have IBS, so imagine what they do to those with hypersensitive bowels.

People with IBS can absolutely have their cake and eat it too. In fact, there are hundreds of delicious, IBS-safe dessert possibilities!

You can even make desserts that actively help IBS symptoms. The key to an IBS-friendly recipe is a high soluble fiber foundation, from ingredients and/or the addition of a prebiotic soluble fiber supplement such as Heather's Tummy Fiber, and the substitution of triggers with safe replacements.

Include herbs that are digestive aids, such as peppermint, ginger, or fennel for even better results.

For delicious proof, try the Peach Apricot Cobbler recipe in this newsletter.

The sweet conclusion? There's no need for people with Irritable Bowel Syndrome to avoid sugar or eliminate desserts from their diet. They can have their cakes - and puddings, cobblers, tarts, or cookies - and eat them too.

~ Heather

Did you miss the recent Ask Heather and why high volatile oil peppermint is special for IBS?



~ Heather's Tummy Tamers Peppermint Oil Capsules ~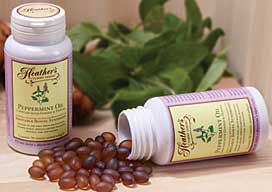 Peppermint Oil Caps Called "Drug of Choice for IBS"

Our Peppermint Oil Caps have the added benefits of fennel and ginger oils, and they help prevent abdominal pain, gas, and bloating!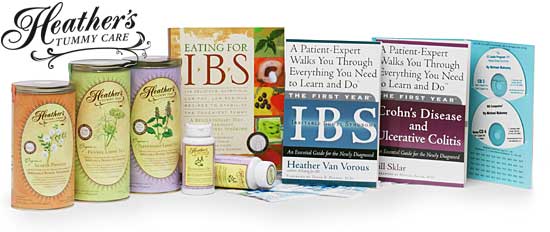 Shop at Heather's Tummy Store for IBS
HelpForIBS.com
The only store that's just for IBS - so we only carry the very best



You're on this newsletter list because you have expressed interest in IBS news and information.


Change your newsletter email address here.

If you are viewing this newsletter on a website and would like to subscribe for email delivery, please "Join the IBS Newsletter" here.

ANTI-SPAM PRIVACY & SECURITY POLICY
HelpForIBS.com
Heather's Tummy Care
80 S. Washington St, #304
Seattle, WA 98104 USA

© 2011 Heather Van Vorous, Heather's Tummy Care. All rights reserved.
Authored by Heather Van Vorous. May not be reproduced without permission.
USA Copyright Office Registration Number TXU 1-270-858 and others.