All Kits on Sale! Plus New Bulk Kits! Take an Extra 10% Off!
Use Promo Code KITSQ2


Stock Up On Your Favorite IBS Products!
Or Introduce Yourself to Heather's Tummy Care & Get Stable!


Hello ~ We're introducing bulk discount kits of our best-selling products! The bulk kits will normally be 15% off, but use the promo code KITSQ2 through this newsletter only and you'll get an extra 10% off on top of that!

New bulk kits are available for Tummy Fiber Acacia Pouches, Tummy Tamers Peppermint Oil Caps, Fennel Tummy Teabags, and Peppermint Tummy Teabags!

Plus, this special sale applies to all of our regular kits as well, including the popular Diet Kits and the Big Kahuna Kit! See all of our kits here.

Extra bonus for USA customers - order more than one kit for no extra shipping cost!

Have questions? Call toll free (866) 640-4942. Outside the US (206) 264 8069.


  
Enjoy the newsletter!
Heather Van Vorous & Heather's Tummy Care
Celebrating 10 Years of IBS Business!

May 10, 2011 ~ Scroll down for full newsletter or follow the links:

Special Letter » When IBS Pain is Worse than Giving Birth, What Helps?

IBS Recipe » Zesty Lemon Asparagus Pasta

Research & Press » Science Learns Why Peppermint Helps IBS Pain

Ask Heather » Get Heather's Tummy Care in Local Stores and Get a 50% Rebate!

Did a friend send you this newsletter? Sign up here for your own free subscription.



Zesty Lemon Asparagus Pasta
One of my most popular spring recipes ever! It's perfect with first-of-the-season asparagus, and its lovely bright green color is so welcome after a long winter. The
Tummy Fiber
not only adds extra soluble fiber for digestive stability, it also gives the sauce a rich, velvety creaminess that is simply luscious.
Servings: Makes 4
Ingredients:
1 lb. fresh asparagus, ends trimmed
zest (grated yellow skin) of 1 fresh lemon
2 tablespoons extra-virgin olive oil
1 tablespoon
Acacia Tummy Fiber
1 lb. angel hair pasta or pasta of choice
1/4 cup soy or rice Parmesan cheese
salt and pepper
Directions:
Cut asparagus into 1 inch pieces, setting aside tips. In a large stockpot cook asparagus stems in 5-6 quarts boiling water with 1 tablespoon salt until very tender (about 7-9 minutes). Transfer asparagus with a slotted spoon to a blender (do not drain pot). Cook asparagus tips in same boiling water until just tender, about 4-5 minutes. Transfer tips with slotted spoon to colander (do not drain pot).
Puree asparagus stems (not the tips) with lemon zest, olive oil, Tummy Fiber, and 3/4 cup asparagus cooking water until smooth.
Cook pasta in boiling asparagus cooking water until it's still very al dente (firm to the tooth). Reserve 2 cups cooking water and drain pasta. In drained stockpot, add pasta, asparagus tips, asparagus sauce, and 1/2 cup reserved water. Cook over high heat, stirring, about 4-5 minutes until pasta is done to taste and coated with sauce, adding a little more cooking water (1/4 cup at a time) if necessary. Stir in soy/rice Parmesan and salt and pepper to taste. Serve immediately.
Are you just learning how to eat for IBS? A little intimidated at the thought of special IBS recipes? Not quite sure just what makes these recipes special in the first place? Don't worry! Get Eating for IBS and find the answers to all your questions.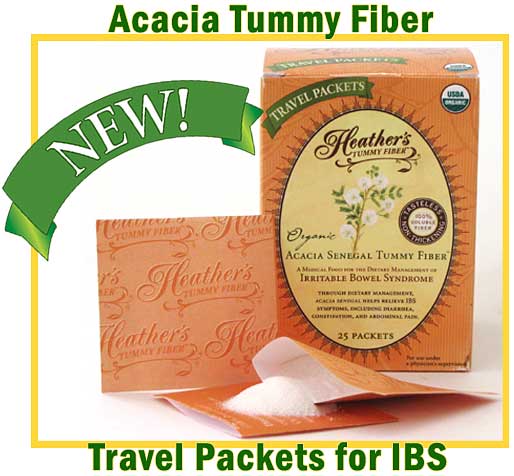 Certified Organic Acacia Senegal ~ Pure Soluble Fiber

The prebiotic fiber that relieves both diarrhea and constipation

Science Learns Why Peppermint Helps IBS Pain

A study in the medical journal Pain recently reported that peppermint activates an "anti-pain" channel in the colon. This contributes to relief of pain from Irritable Bowel Syndrome.

"Our research shows that peppermint acts through a specific anti-pain channel called TRPM8 to reduce pain-sensing fibers, particularly those activated by mustard and chili," researcher Dr. Stuart Brierley said.

"This is potentially the first step in determining a new type of mainstream clinical treatment for irritable bowel syndrome. This is a debilitating condition and affects many people on a daily basis, particularly women, who are twice as likely to experience irritable bowel syndrome," Brierley added.

Peppermint is often recommended by alternative medicine practitioners as a treatment for irritable bowel syndrome, or IBS. Go here for full research article. Did you catch our January Newsletter to literally see why Peppermint Tummy Tea is so special for IBS pain?



~ Heather's Tummy Tamers Peppermint Oil Capsules ~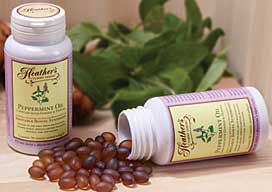 Peppermint Oil Caps Called "Drug of Choice for IBS"

Our Peppermint Oil Caps have the added benefits of fennel and ginger oils, and they help prevent abdominal pain, gas, and bloating!



Get Heather's Tummy Care in Local Stores and Get a 50% Rebate!

The full line of Tummy Care products just for Irritable Bowel Syndrome is now available at hundreds of stores across America, and a handful of stores in Canada too!





Print Your Rebate!
  
Here's a great incentive to shop locally!


First purchase at a local retail store? We'll refund 50% of your purchase price - up to a $50 rebate!


Send your receipt to:
Heather's Tummy Care REBATE,
80 S. Washington St. #304,
Seattle, WA, 98104.


We'll send you your rebate!
If you'd like a store in your area to carry Heather's Tummy Care, all you have to do is ask them!

There is a one-page handout that you can download and print here, and give to the manager or buyer at your local health food store, drug store, or grocery store. The handout gives them all the information they need to start carrying any or all of the Heather's Tummy Care products.

So, if you've been frustrated by not being able to buy your Tummy Care locally, here's your chance to make your voice heard.

~ Heather

Did you miss the recent Ask Heather and the good antibiotic for IBS?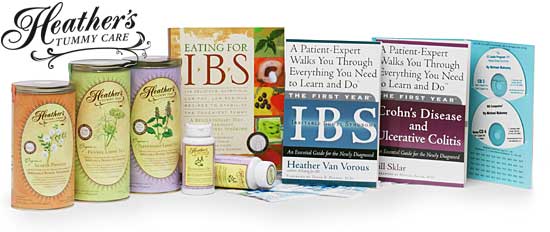 Shop at Heather's Tummy Store for IBS
HelpForIBS.com
The only store that's just for IBS - so we only carry the very best



You're on this newsletter list because you have expressed interest in IBS news and information.


Change your newsletter email address here.

If you are viewing this newsletter on a website and would like to subscribe for email delivery, please "Join the IBS Newsletter" here.

ANTI-SPAM PRIVACY & SECURITY POLICY
HelpForIBS.com
Heather's Tummy Care
80 S. Washington St, #304
Seattle, WA 98104 USA

© 2011 Heather Van Vorous, Heather's Tummy Care. All rights reserved.
USA Copyright Office Registration Number TXU 1-270-858 and others.