Free Shipping! All Orders Over $49 Shipped in the USA!

Use Promo Code FREESHIP311



March 15, 2011 ~ Scroll down for full newsletter or follow the links:



Special Letter »
Finding Stability in a Life with IBS!
IBS Recipe »
Decadent Banana Streusel Coffee Cake
Research & Press »
Exercise - Helps or Hurts IBS?
» Can Gluten Cause IBS Symptoms If You're Not Gluten Intolerant?
Special Events »
See New Stores, Hy-Vees, & Upcoming Tummy Care Events!
  
Enjoy the newsletter! &nbsp &nbsp&nbsp
~ Heather Van Vorous


Did a friend send you this newsletter? Sign up here for your own free subscription.



Decadent Banana Streusel Coffee Cake

A fantastic cross between banana bread and traditional coffee cake! This recipe is moist, rich, delicious, and very IBS-friendly. It's low fat and high soluble fiber, with no dairy or trigger foods. The streusel is optional, but a very special touch!

Makes 12 Servings

Preheat oven to 325F.

Spray a 10 inch bundt pan with cooking oil and set aside.

Sift together in large bowl and whisk together well:

1 level Tablespoon Acacia Tummy Fiber
2 Cups all-purpose flour
2 Teaspoons baking soda
1 Tablespoon cornstarch
1 Cup packed dark brown sugar
1/2 Teaspoon salt
1 Teaspoon nutmeg
1 Teaspoon allspice

Whisk together by hand in medium bowl:

2 Cups mashed ripe bananas (bananas should be black to be fully ripe)
1/4 Cup canola oil
1 Tablespoon vanilla extract
1/3 cup finely chopped walnuts

Add the wet ingredients to the dry with a few swift strokes just until blended. Pour into bundt pan. Top with streusel:

Streusel:
2 Tablespoons finely ground walnuts
2 Tablespoons brown sugar
1 Tablespoon canola oil

Bake 50-60 minutes, until a toothpick comes out with moist crumbs. Cool on rack.

Have a glass of lightly sweetened Fennel Tummy Tea to drink with your coffee cake!

Are you just learning how to eat for IBS? A little intimidated at the thought of special IBS recipes? Not quite sure just what makes these recipes special in the first place? Don't worry! Get Eating for IBS and find the answers to all your questions.

Get Free Shipping On US Orders Over $49!

Use Promo Code FREESHIP311

~ Heather's Tummy Tamers Peppermint Oil Capsules ~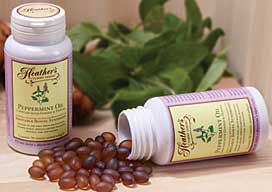 Peppermint Oil Caps Called "Drug of Choice for IBS"

Our Peppermint Oil Caps have the added benefits of fennel and ginger oils, and they help prevent abdominal pain, gas, and bloating!

Finding Stability in a Life with IBS!

Hi Heather,

I just placed an order for Acacia Tummy Fiber. I've written before, but it bears repeating. This fiber has given my husband and me a stability in our life that had been missing for years. We feel healthier than we ever have - partly our own efforts of course, but mainly due to your wonderful products.

After I placed the order I went on to check your latest newsletter and saw the photos of the wonderful field of peppermint.

Your work not only helps IBS folks, it provides leadership in the organic food production movement. In a time of great discontent and uncertainty, you and your staff provide a ray of hope in a sometimes dim looking future. It restores my faith in humanity.

All the best,

Jennifer James
Rose Bay, Nova Scotia

Thank you so much, Jennifer! I am really overwhelmed by your kind comments. ~ Heather

Did you miss the recent letter from Carol, an IBS patient who helps her doctor help others with IBS?



Get Free Shipping On US Orders Over $49!

Use Promo Code FREESHIP311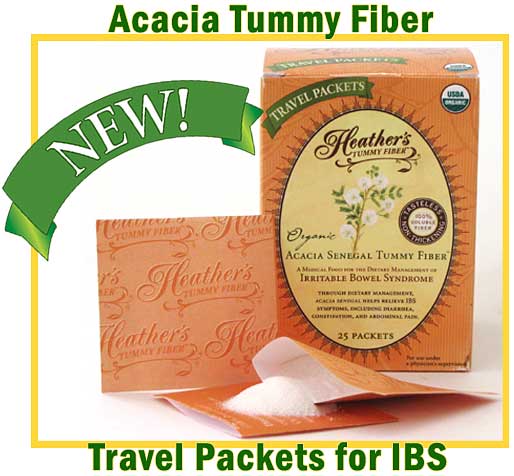 Certified Organic Acacia Senegal ~ Pure Soluble Fiber

The prebiotic fiber that relieves both diarrhea and constipation

Exercise Helps or Hurts IBS?

A recent clinical trial in the American Journal of Gastroenterology reported that people with irritable bowel syndrome may be able to find some relief by getting regular exercise. The study, of 102 adults with the disorder, found that those who were told to get some more exercise had better odds of seeing improvements with cramps, bloating, constipation and diarrhea.

After three months, 43 percent of the exercisers showed a clinically significant improvement in their symptoms, meaning it was making a difference in their daily lives. That compared with a quarter of the participants who maintained their normal lifestyle.

For people who are currently less active, even a moderate increase in exercise may curb irritable bowel symptoms, according to senior researcher Dr. Riadh Sadik, of the University of Gothenburg in Sweden. According to Sadik, exercise may be helpful for several reasons. Past studies have shown that it can get things moving along in the gut, relieving gas and constipation. (Vigorous exercise, however, may worsen bouts of diarrhea.) Regular exercise may also have a positive influence on the nervous and hormonal systems that act on the digestive tract.

At the end of the study, the exercise group reported greater improvements on a standard questionnaire on IBS symptoms. They were also less likely to show worsening symptoms. Of the exercise group, 8 percent had a clinically significant increase in IBS symptoms, versus 23 percent of the comparison group.

That, according to Sadik, suggests that for a considerable number of people remaining sedentary may only worsen IBS. "If you have IBS, then you can increase your physical activity to improve your symptoms," Sadik said. "If you stay inactive, you should expect more symptoms." Go here for full research article. Check here for comprehensive treatments for IBS.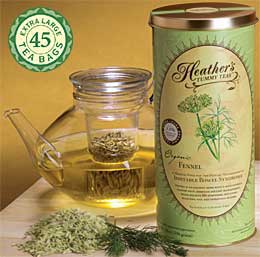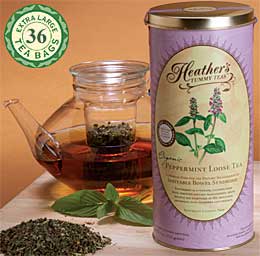 Organic High Volatile Oil Fennel & Peppermint Tummy Tea Bags

Extraordinary Quality ~ Very Economical

Fennel is terrific for bloating & gas, Peppermint is great for IBS pain & spasms.
Heather's Fennel Tummy Tea Heather's Peppermint Tummy Tea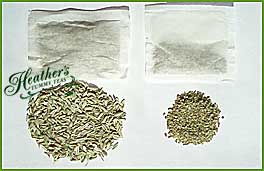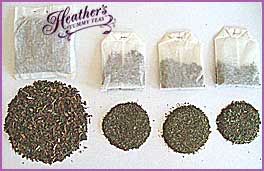 Compare for yourself! The pictures above show the huge difference in the quantity and quality of tea per teabag. The price comparison here is even more shocking!


Can Gluten Cause GI Problems If You're Not Gluten Intolerant?

A recent clinical trial in the American Journal of Gastroenterology noted that despite increased prescription of a gluten-free diet for gastrointestinal symptoms in individuals who do not have celiac disease, there is minimal evidence that suggests that gluten is a trigger. The aims of this study were to determine whether gluten ingestion can induce symptoms in non-celiac individuals and to examine the mechanism.

Study participants received either gluten or placebo in the form of two bread slices plus one muffin per day with a gluten-free diet for up to 6 weeks. Symptoms were evaluated using a visual analog scale and markers of intestinal inflammation, injury, and immune activation were monitored. A total of 34 patients (aged 29-59 years, 4 men) completed the study. Adherence to diet and supplements was very high.

Of 19 patients in the gluten group, 13 patients (68%) reported that symptoms were not adequately controlled, compared with 6 out of 15 patients (40%) on placebo. Patients were significantly worse with gluten within 1 week for overall symptoms, including pain, bloating, satisfaction with stool consistency, and tiredness. Anti-gliadin antibodies were not induced. There were no significant changes in fecal lactoferrin, levels of celiac antibodies, highly sensitive C-reactive protein, or intestinal permeability.

The study concluded that non-celiac gluten intolerance may exist. Go here for full research article. Check here for gluten-free IBS supplements.




Get Free Shipping On US Orders Over $49!

Use Promo Code FREESHIP311

Researchers call gut-directed hypnotherapy a "cure" for IBS!

The Best Gut-Directed Self-Hypnosis Program for All IBS Symptoms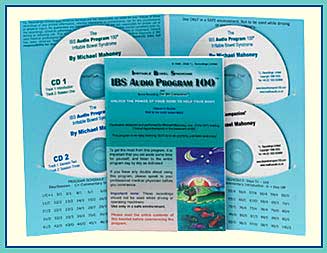 Gives an average 85% reduction of pain and bowel dysfunction symptoms.
Listen to IBS Audio Program 100 samples!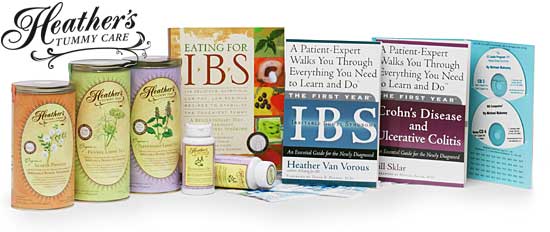 Shop at Heather's Tummy Store for IBS
HelpForIBS.com
The only store that's just for IBS - so we only carry the very best



You're on this newsletter list because you have expressed interest in IBS news and information.


Change your newsletter email address here.

If you are viewing this newsletter on a website and would like to subscribe for email delivery, please "Join the IBS Newsletter" here.

ANTI-SPAM PRIVACY & SECURITY POLICY
HelpForIBS.com
Heather's Tummy Care
80 S. Washington St, #304
Seattle, WA 98104 USA

© 2011 Heather Van Vorous, Heather's Tummy Care. All rights reserved.
USA Copyright Office Registration Number TXU 1-270-858 and others.